Seton Halt: Five Things the Pirates Must Do To Get Going Again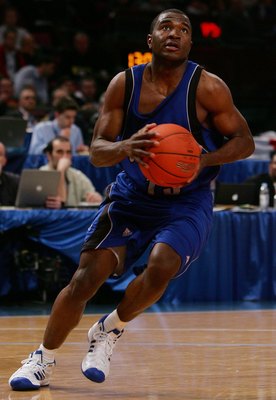 The 2009-10 season is now over for the Seton Hall men's basketball team after its 87-69 loss to Texas Tech in the first round of the NIT on Tuesday.
At the beginning of the season there was much hope for this Pirates team, which had many incoming transfers and returning starters.
Many fans believed that this could be the year that Seton Hall finally would finally finish in the upper half of the Big East standings and make its first NCAA tournament in four years.
However, things have not gone as planned.
The team announced Wednesday that coach Bobby Gonzalez had been dismissed. Gonzalez was dealing with more than just the loss, too, as Pirates player Robert Mitchell, whom Gonzalez kicked off the team last weekend, was arrested Tuesday on kidnapping and robbery charges.
The Pirates are now going in the opposite direction, and instead of their future being bright, it looks like it will be very dim for another few seasons to come.
Here are five things Seton Hall must do to make sure the program keeps moving forward in the right direction.
Hire a Coach Who Can Recruit Players from New Jersey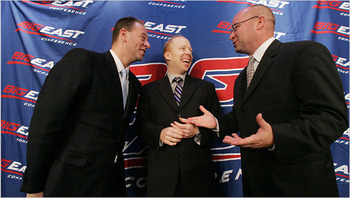 One thing ex-coach Bobby Gonzalez was criticized for was his inability to recruit players within New Jersey and the Metropolitan area.
His only players on the roster from New Jersey were guard Jordan Theodore and incoming recruit Fuquan Edwin.
Meanwhile, all of the state's and surrounding area's top talent are fleeting to programs far away like West Virginia, Syracuse, and Villanova.
If the Pirates want to win the Big East, they must make sure they can get a coach who can keep New Jersey's talent in New Jersey.
Make Sure Jeremy Hazell Doesn't Leave for the NBA Draft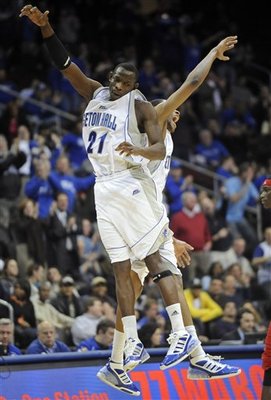 Jeremy Hazell is the star and leading scorer for the pirates.
After posting incredible offensive numbers of 20.4 points per game and shooting a solid 34 percent percent from behind the arc, many fans and scouts believe that Hazell is ready for the next level.
If Hazell does decide to leave, the Pirates will be without their top scorer and will likely be a basement team in the Big East next season.
I saw this team without Hazell on the court this season, and they looked horrible offensively. Not only does Hazell affect the game when he's shooting, but even just being on the court gives Seton Hall an advantage because of his ability to draw double-teams and a lot of defensive attention.
Hazell must stay for his senior year in order for Seton Hall basketball to get back to moving in the right direction.
Without Pope, There Is No Hope: Keep His Temper Controlled
Some may argue that Hazell is Seton Hall's MVP, but I would argue otherwise.
Herb Pope has not only been the most consistent player for the Pirates this season, but also the most dynamic. After all, he did average a double-double.
In the loss to Texas Tech at home in the first round of the NIT Tuesday night, Pope was ejected early for throwing a punch below the belt. As a result, the Pirates were embarrassed on their home court to a questionable Texas Tech team by a score that wasn't even that close: 87-69.
Focus on a Tougher Non-Conference Schedule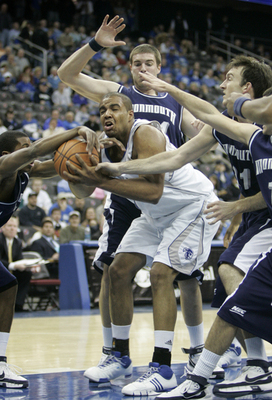 Going 9-9 in the Big East would be the closest thing to a sure NCAA bid nowadays; however, when you go 9-3 in a non-conference schedule that ranks 195th in the country, that will do major damage to your NCAA tournament chances.
Just ask Virginia Tech.
The Pirates played great in Big East play. They pulled off nine wins and played the contenders tough, losing three times in overtime and only losing to Syracuse by seven points.
However, the Pirates only had one non-conference win of note, at Cornell.
If the Pirates want to make it to the NCAA tournament anytime soon, they must focus on playing better teams out of conference. Even if they lose these games, at least their non-conference SOS will be more respectable, which will help their resume on future selection Sundays.
Make the Home Court a Real Advantage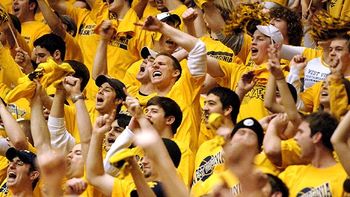 When you go to a Seton Hall game at the Prudential Center, do you feel like you're in a college basketball environment?
I didn't think so.
The atmosphere inside the Prudential Center during a Pirate's game lacks energy. The student section is present but not loud enough to be a factor.
Other Big East schools like Syracuse, West Virginia, and Villanova have true home-court advantages that can fuel their home teams and rattle their opponents.
If the Pirates want to be successful in the future, they must have the home edge during big games against the top of the league.
Who knows? maybe they could have knocked off West Virginia, Marquette, or even Syracuse this year in those close home games, which would have maybe been enough to get them an NCAA bid.
Keep Reading