San Francisco 49ers 2010 Seven Round Mock Draft 3.0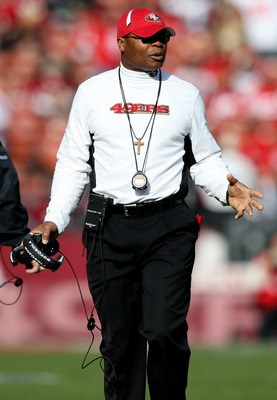 The draft is just over a month away and it is time for the third version of my seven round mock draft for the 49ers. In this version I have a couple of big name players dropping to the Niners that would be tough to draft but fit in their best player on the board technique. Here is where I think that the Niners might go with their eight picks over seven rounds.
Round one, pick 13 overall: Bryan Bulaga OT (Iowa)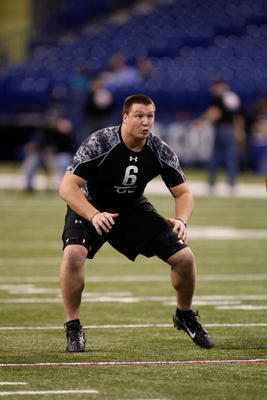 People have him rated anywhere from the second best tackle to the bottom of the top level tackles. He is a good character guy which will go a long way with Mike Singletary. Will be able to come in and start at RT from day one.
Round one, pick 17 overall: Dez Bryant WR (Oklahoma State)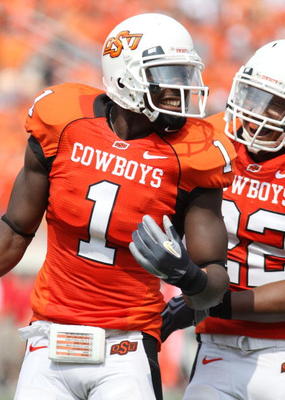 It is hard to imagine the 49ers taking another WR represented by Eugene Parker but if the Niners are truly committed to taking the best player available they will. Bryant's bargaining position would not be as good as Crabtree's because of the threat of a lockout and his dropping draft stock. Parker also knows that San Francisco is willing to let a player hold out.
Round two, pick 49 overall: Terrence Cody DT (Alabama)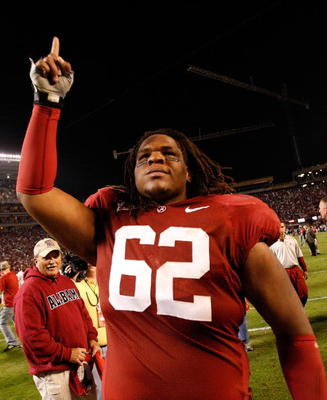 I will hold firm in my belief that if Cody is available in the second round that the 49ers will take him. While he is overweight, he seems to genuinely like playing football and wants to improve his draft stock. Penalties for coming in overweight could be added to his contract to give him that extra incentive. The bottom line is he is a prototypical NT in a 3-4 defense.
Round three, pick 79 overall: Myron Rolle S (Florida State)
Third round may be a little high for Rolle but don't put it past the Niners to reach for a player if he is highly rated on their board (The Niners were prepared to take Michael Oher at 10 if not for Crabtree and he fell all the way to 23). He has the character that Singletary desires as well as the size that McCloughlan is looking for. This combo could make him shoot up the 49ers board.
Round four, pick 110 overall: Brandon Carter OG (Texas Tech)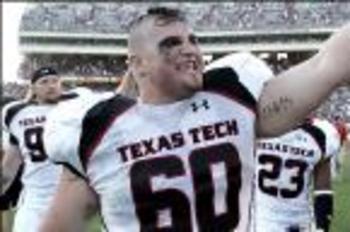 The tattoos and face paint might scare people off but Carter does not have off the field issues.He has good size (6'6" and 329lbs) and is quick for his size. He can compete with Chilo Rachal at RG this year and be a replacement for David Bass if he leaves in free agency next year.
Round five, pick 141: Myron Lewis CB (Vanderbilt)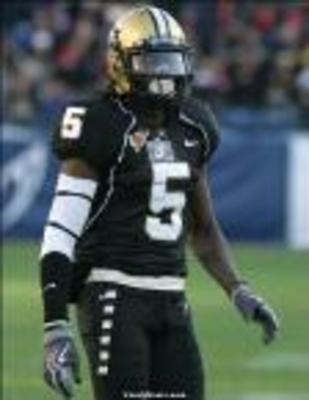 Lewis has a good size speed combo (6'2" with a 4.42 40 yd dash) and played against top competition in the SEC. He also has good hands intercepting 10 passes during his college career. He would add some depth to the secondary.
Round six, pick 172 overall: Clifton Geathers DE (South Carolina)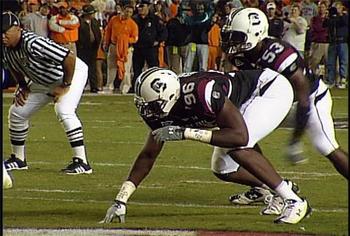 At 6'8" and 299 with a brother already in the NFL, Geathers is a low risk-high reward prospect in the sixth round. He has never lived up to his physical potential but with the right coaching could be a solid DE in the league.
Round seven, pick 208 overall: James Williams OT (Harvard)
Played at a lower level of competition and will need to add some bulk to his frame but with Tony Paschos signing with Cleveland and Barry Sims potentially leaving the 49ers will need some depth at OL even if they have to start him on the practice squad.
Keep Reading

San Francisco 49ers: Like this team?