Prime Time Tennis for March 18, 2010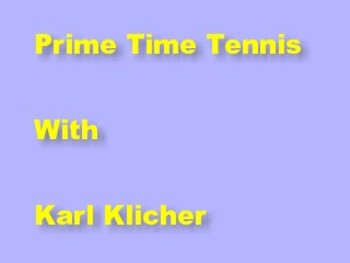 Good Evening,
I am Karl Klicher and this is "Prime Time Tennis." "Prime Time Tennis" is a weekly tennis news show reporting to you live and pre-recorded events in the tennis world because with all the choice of the information super highway, we provide you with an artery blockage.
Rub it in then get your (bleep) 'n tennis elbows off the table.
Now here are today's top stories and past glories in the tennis world:
Pete Sampras, Andre Agassi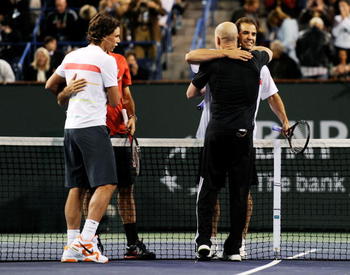 It is worldwide news that both Andre Agassi and Pete Sampras engaged in a somewhat uncomfortable and personal exchange in last Friday's "Hit For Haiti." While most of the world cringed, Hollywood was fascinated and came a calling.
Agassi and Sampras are rumored to be in talks to develop a full-blown reality series to follow "Two And A Half Men" starring rehab veteran Charlie Sheen. It is not clear what the name of the show will be but there are working titles being floated around such as:
Bad Stunt Doubles for Mini-me and the Hulk
Haiti On Hiatus
That's Uncomfortable
Introvert vs Eccentrovert
and last but not least:
I will shut up with the smart remarks if you can pull that racket out of my a**.
Maria Sharapova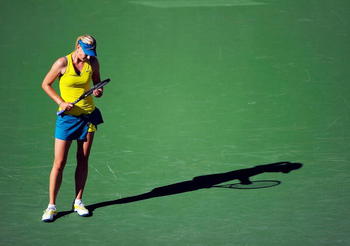 Maria Sharapova bowed out early in the Indian Wells tournament and lost against Zheng Jhie of China 6-3, 2-6, 6-3. The defeat was cheered on by men worldwide not because of overwhelming support for the Chinese player, but because Sharapova will now be able to make the Sport's Illustrated Swimsuit Edition.
Sharapova later confessed that she did some math before getting motivated for the Indian Wells Tournament. While the winner of the tournament will walk away with a cool $700,000, Sharapova is raking in $2.3 Million from Sports Illustrated. As a great hard-working Russian scientist once said, "You do the math..."
Alisa Kleybanova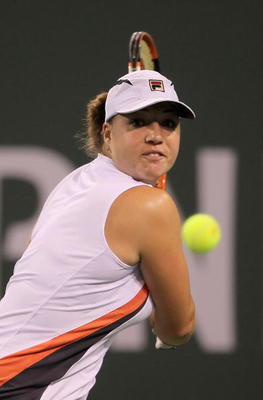 While Russians may be disheartened by the early exits of Sharapova and Azarenka, they still have Alisa "it ain't ova" Kleybanova. Kleybanova sent Kim Clijsters of Belgium back to the land of chocolates to advance to the fourth round.
Clijsters and her fellow countrywoman Justine Henman being eliminated early, headed back to Belgium. Let's see: two women together in need of consoling with unlimited supply of chocolate. Oh yeah, the Easter Bunny's coming early, my friends!
Roger Federer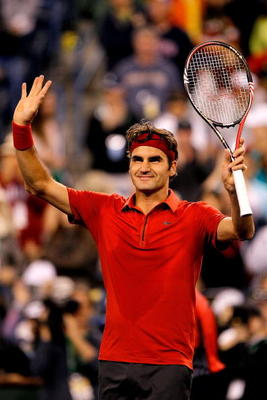 For those of you who have not been to the Bleacher Report in 2010, we here at Prime Time Tennis would like to bring you up to speed about what kind of articles have been written since the Australian Open. Here it is in a nutshell:
Roger Federer blah blah blah blah blah...Rafael Nadal..uh ohhh....blah blah...oh no...blah blah.. ???? blah blah blah. Roger and Rafa ..blah blah blah blah ..Rafa and Roger blah blah blah blah... Roger Blah and Rafa Blah... Blah BLAH!
Pete Sampras (duck!) and Andre Agassi (duct tape!) Blah blah blah...Power Rankings (yeah baby)!!!! Andy Murray beaten....boo hoo ...boo hoo...boo hoo...we still have no champion...woe is Great Britain! He's 22-years-old and made two finals but no wins....throw the guy a party anyways! Get off his ass about winning and he will!! Sorry those last two or three lines were sort of mine.
Andy Roddick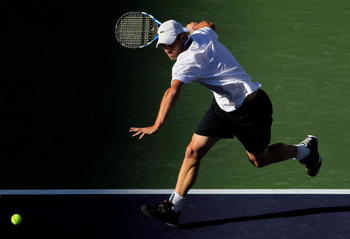 American No.1 Andy Roddick smoked out Thiemo (the Baker) De Bakker of the Netherlands 6-3, 6-4. Roddick admitted to having an easier time in defeating his nemesis as opposed to their last tight match at the Australian Open.
"This time I knew what the Baker was cooking and I served him up some hot topspin spice." Roddick will next face Jurgen Melzer of Austria. He confessed he does not know very much about his next opponent.
"Jergen? I will be expecting some clean play because wasn't it his family that runs the soap company?"
When it was pointed out that that info was indeed wrong, Roddick responded "Whatever, I am just going to be concentrating on beating the Germans they keep sending over to me."
Well folks that is game, set, and match! This is Karl Klicher for Prime Time Tennis saying Good Night and if you miss hitting your balls, you will stay at love.
Keep Reading