Top 5 CURRENT NCAA football coaches.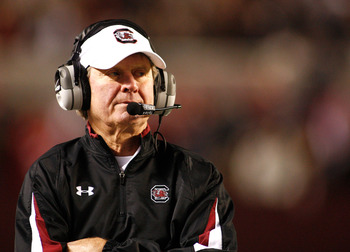 In order to be a successful program in today's modern era of college football, you must have excellent coaching. This doesn't just mean someone who is good with X's and O's. No this means you need someone who is great at scheduling, knows how to recruit and most of all, knows how to win. There have been many to come and go throughout the world of coaching. Very few have reached the top of their profession, but when you think of great coaching, you must think of names like Woody Hayes, Bear Bryant, Bo Schembechler, Lou Holtz, Bobby Bowden and many others. Each year a new coach emerges to the top of the list, however only a certain few have been able to maintain a high number of wins, as well as huge recruiting classes. This list shows the 5 greatest (in my opinion) of the current coaches in NCAA FBS (Formerly Div-1). As you will see, I have included not only their W-L record, but an accumulated record of their bowl wins and championship wins, if applicable. So sit back and enjoy the list I have put together of the 5GREATEST CURRENT NCAA COACHES.
CHRIS PETERSEN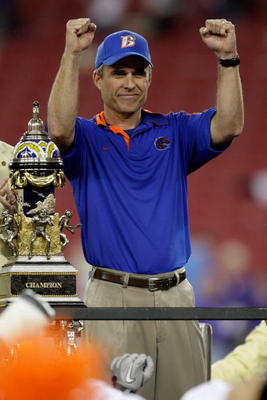 #5 – Chris Petersen
Chris Petersen has done ALLOT with Boise State in his 9 seasons (5 served as OC). When he took over the reigns on December 16th, 2005, he knew there was a long and hard task in front of him of keeping the program not only among the top in the WAC but to obtain the title as a "premier football program" to the rest of the country. With a record of 49-4, which includes 2-2 in bowl games and most important 2-0 in the BCS, he has done just that. One more feat he has been able to do for not only the program, but the entire conference, is to make sure pollsters and fans pay attention to more conferences than just the Elite.
MACK BROWN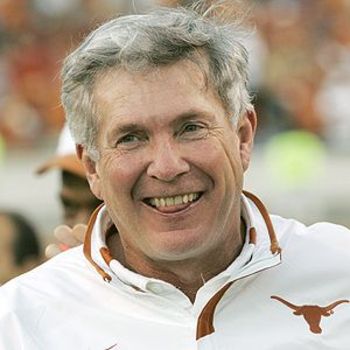 #4 – Mack Brown
Mack has brought tons of success to the Texas Longhorn football program. He has put together a stellar record of 128-27 while with the Longhorns. This includes a record of
8-4 in bowl games, 3-1 in BCS bowl games and 1 national championship. He has led the 'Horns to at least a share of 6 Big 12 South titles and 2 outright Big 12 titles. His success has relied greatly on his defense and excellent ability to recruit. Being the state school in one of the most football rich states in the country doesn't hurt the recruiting battle any. There is no doubt in anybodies mind that Mack Brown is one of the most dominant forces in college football coaching these days.
JIM TRESSEL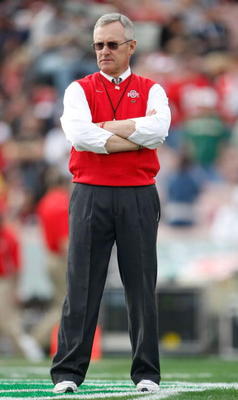 #3 – Jim Tressel
After careful consideration about which coach would place 3, 4 and which would place 5, I had to give Tressel the nod over Petersen for two reasons. A. He plays tougher competition each year being the Big 10 and B. Tressel has won a BCS National Championship, something Chris Petersen has not yet been able to obtain. Tressel has been able to put together a record at OSU of 94-21 which included 9 consecutive winning seasons (seven 10+ win seasons), 4 BCS bowl wins, 3 NC appearances and 1 BCS title. This resume' is enough to send any AD into back flips in order to get a coach like this. Ohio State will no doubt keep Tressel as long as he will stay.
URBAN MEYER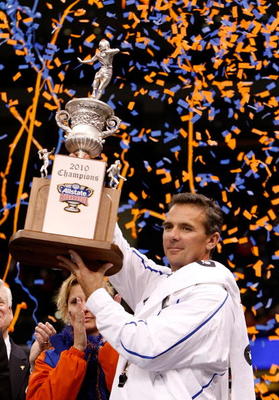 #2 Urban Meyer
"I will coach the fastest team in America." This was a claim that Urban Meyer made just days after announcing that he would coach the Florida Gators football team. I think most could agree that he did just that. Over the last 5 seasons, Urban has put together a 57-10 record (32-8 within the SEC), a 4-1 record in bowl games, 3-0 in the BCS and 2 BCS titles. He has no doubt put the University of Florida back on the map over the last 5 years, and has done so using the same speed he promised years ago. Most would agree that his best recruit, or his claim to fame if you will, was recruiting Superman himself, Tim Tebow. Whether or not Urban returns to coach the Gators in 2010, I think that most teams cringe when looking at the date when they have to suit up against them. I guess it doesn't hurt that the Gators closed up yet another recruiting class, believed by many to be the best of ALL TIME.
NICK SABAN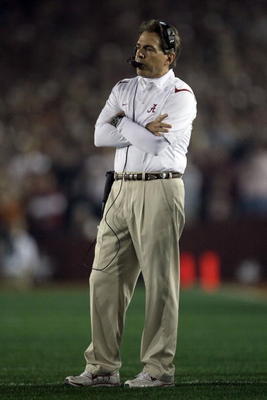 #1 Nick Saban
Nick Saban is the ONLY coach to have won 2 national championships at 2 different schools during the BCS era. He has been the HC at two SEC schools during the last decade and put together a record of 81-24, this included a 48-16 record in the SEC, 5-3 in Bowl games, 3-1 in the BCS and 2-0 in title games. When Saban took over LSU, they were 50-52 from 1991-1999. Saban then held a 48-16 record in only 5 seasons. He then took over an ailing Alabama Crimson Tide team, and was able to bring them from mediocrity to atop the college football world, a feeling that a Tide fan over the age of 35 has been accustomed to. After only three seasons in Tuscaloosa, Saban already has 1 national title and a statue in front of Bryant Denny stadium to forever enshrine his legacy with greats like Gene Stallings, Wallace Wade and Bear Bryant.
Keep Reading

Alabama Crimson Tide Football: Like this team?