My personal 5 Favorite Matches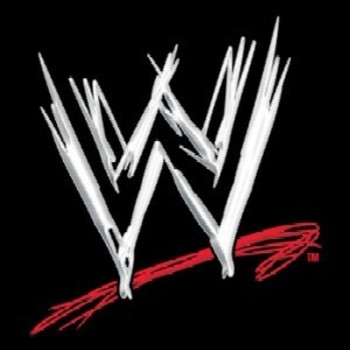 This is a list of my top 5 matches. I have alot of favorites but these are the ones that have stuck in my memory over the years as my all time favorites.
There are some that may surprise you and there are some that may be no brainers, but they're all my favorites.
I don't know what else to say but the intro has to be 300 charecters so I'm writing this part o.k. that's enough.
Enjoy
Evan Bourne vs John Morrison ECW 4/4/09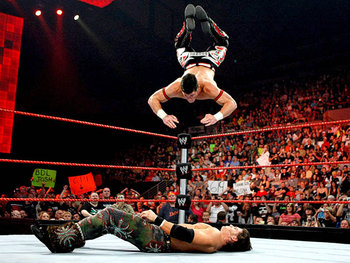 This match was the last ECW before the 2009 supplemental draft, which saw John Morrison go to Smackdown, and he left with a bang.
Great high spots, but what do you expect with the two of the best high flyers in the WWE.
The match went back and forth, you're really not sure who was going to win.
John Morrison and Evan Bourne are great. This match proved that
Morrison is great even without The Miz, who he is 100% better than.
Seriously I don't see what everyone else does in Miz, I think he's extremely annoying and he isn't anything special in the ring.Everytime he says "Really?" I want to tear my ears off, I still can't stand him. But this slide show isn't about him, so I will move on.
Evan is a great wrestler too, actually I think he's better. This match shows why Bourne deserves better than he gets in the WWE. He should at least get a legitimit title shot, and not just a glorified jobber.
This was a wonderful match to see.
Shawn Michaels vs The Undertaker Wrestlemania 25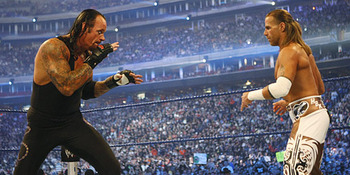 I am sure that this a surprise to no one, as it is probably a favorite of yours as well.
This match was held last year at Wrestlemania 25, Shawn Michaels representing the good and Undertaker representing the evil. As shown in the picture.(Michaels wearing white, Taker wearing Black)
The fans were split right down the middle on this one, (I rooted for Michaels.) as the match started, but at the end everyone just thought it was a great match and there really wasn't rooting for either way.
The match started off slow pace, but the pace quickened. Exchanges of theire signature moves and submission holds, back and forth. It saw Michaels able to escape The Undertaker's signature chokehold, Hell's Gate and dodge multiple attempts at the chokeslam while his adversary, Undertaker blocked attempts at Michaels' superkick dubbed the Sweet Chin Music.
The action went to the outside of the ring with Michaels attempting a backflip from the top rope called the moonsault, only to have The Undertaker swat away the attempt; this was followed by The Undertaker climbing into the ring, obtaining a running-start, and jump straight over the top rope, only to have Michaels dodge the attack and pull the nearby cameraman (Sim Snuka) into harms way with The Undertaker hitting the cameraman with The Undertaker nearly landing on his head.
He remained on the floor of the arena with the referee checking to see if he was alright before he headed into the ring and proceeded to count; , but he managed to return to the ring by a count of nine.
The match continued with both men performing all of their respective finishing moves to with both men unable to win through these moves. The Undertaker finally won the match after Michaels ascended the top rope, attempting to perform another moonsault only to be caught in the midst of the move by his opponent to be dropped by his finishing maneuver, the Tombstone Piledriver, and pinning him.

All in all the match lived up to the hype and some more, earning a 2009 slammy. Which is why I think it is a mistake to have another match between them, why mess with perfection.
Randy Orton vs Mick Foley Backlash 2004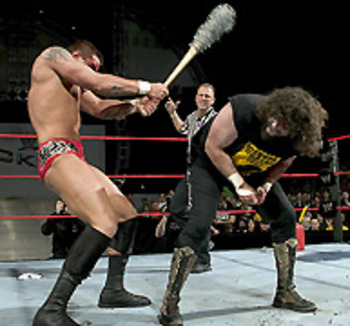 My next favorite match is Randy Orton and Cactus Jack for the WWE Intercontinental Championship.
This match took place at Backlash 2004. It was a hardcore match which means anything goes and you can be pinned anywhere.
This was back in the Evolution days, and before the match even though it was a hardcore match Orton told Evolution to stay back so he could do it himself.
The match went all over the ramp and floor. One spot in the match saw Cactus lie a barbed wire baseball bat between Orton's legs and perform a leg drop.
Cactus continued to use the bat, as he poured gasoline on it and tried to light it on fire.
Raw General Manager Eric Bischoff, however, interrupted and informed Cactus that he would be disqualified and the event would end if he lit the bat on fire.
Towards the end of the match, Orton managed to execute an RKO on Cactus onto the barbed wire baseball bat. Orton pinned Cactus afterwards to win the match and retain the WWE Intercontinental Championship.
Rob Van Dam vs William Regal Wrestlemania X8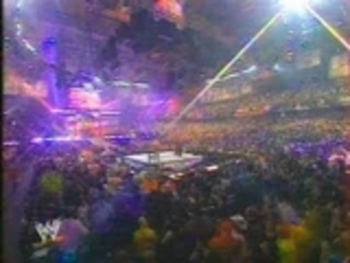 Normally every match that William Regal is in is boaring to me, but this one is one of my favorites.(probably because RVD carried him.)
Wrestlemainia 18 in the Toronto Skydome, first match of the night, if I'm not mistaken.
During the entrances William Regal is wearing IC Championship upside down, which shows how smart he is.
Anyway the match was good, it went back and forth, you really weren't sure on who was going to win.
Twice in the match, Regal tried to use brass knuckles to set up the Power of the Punch on RVD, but on both occasions Van Dam kicked them away.
RVD won the match after a Five-Star Frog Splash to win his first Intercontinental Championship.
Shawn Michaels vs Shelton Benjamin Gold Rush Tournament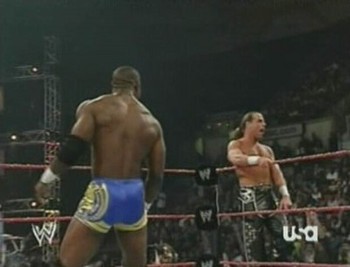 This was a part of the Gold Rush Tournament to crown a new #1 contender for the World Heavyweight Championship and it was a match that lived up to all the expectations the fans had for it and then some.
This match made Shelton Benjamin look like an absolute superstar as he was able to utilize his strength and agility to dominate HBK for the majority of it. Shelton Benjamin went toe to toe with HBK better than John Cena, Randy Orton, or any of the other young wrestlers.
This match was so fast-paced that if you blinked, you would probably miss something.
It seemed as though Shelton had an answer to all of HBK's offense and just when it seemed like Shelton was going to score the upset, one of the best finishers to a match I've ever seen happened.
Shelton attempted to springboard onto HBK, but Michaels responded by taking Shelton's head off with Sweet Chin Music while Benjamin was still in the air. Awsome finish to one of the most exciting matches I've ever seen.
Keep Reading