March Madness 2010: West Region Coach Power Rankings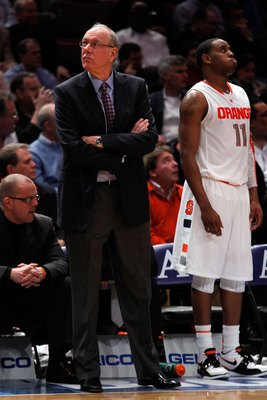 With the brackets being released Sunday night, March Madness has officially begun. Filling out your personal bracket has become more American than voting. Sixteen teams make up each bracket (not counting the play-in game), and each game is every bit as much about good coaching as it is about the performance of the players.
A coach has to motivate his team to either pull an upset or avoid one, as well as knowing when to make a substitution and drawing up plays during late timeouts that can lead to game-winning shots.
In this second article of a four-part slideshow, I'll be breaking down the power rankings of the head coaches in the West region of the NCAA tournament. My formula is weighted among four categories in order to create as unbiased a perspective as I can, but some coaches have been penalized for various reasons, which will be explained in their respective slides.
The formula is as follows: career wins in Division I are worth five percent (the experience of a coach), wins in their last ten games are worth 35 percent (the momentum a team currently has), total NCAA tournament appearances are worth 20 percent (again, the experience of a coach and how many times he led his team this far), and titles are worth the remaining 40 percent (for those that have been here and won it all).
Note: These are the rankings for the coaches, not their teams.
16. Mike Lonergan—Vermont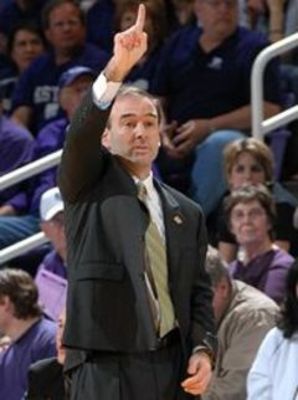 Wins: 103
Wins in last 10: 9
Tournament Appearances: 1
National Titles: 0
Lonergan has been at Vermont for five years now, and has done an impressive job following Tom Brennan. He's led the Catamounts to at least 24 victories three times now, and is building Vermont into the class of the America East.
Lonergan spent more than 10 years in Division III, leading Catholic to the Division III title game in 2001. By no means is he a bad coach, but there are some pretty good ones in the West region, and I don't think anyone expects his team to upset Syracuse. But with a stronger non-conference schedule next year, if Vermont keeps this up, they might make it to the Big Dance as higher than a 16-seed.
15. Tony Barbee—UTEP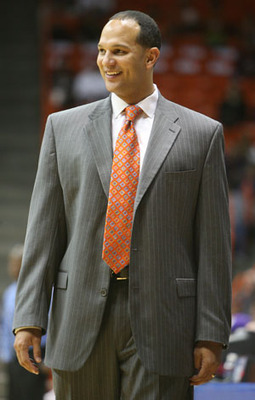 Wins: 79
Wins in last 10: 9
Tournament Appearances: 1
National Titles: 0
The only loss put up by his Miners in their last 10 games came in the C-USA tournament finals to bubble-buster Houston, but that's not going to discourage UTEP's Tony Barbee. In spite of having less experience than Lonergan, I'm giving Barbee the nod because his team played a tougher non-conference schedule than Vermont.
Not only that, they actually won a few of the non-conference matchups. They split two meetings with fellow qualifier New Mexico State, as well as beating Oklahoma and Air Force. The Miners didn't do too badly in their losses to Mississippi and Texas Tech either. The fact that the head coach of a mid-major team isn't afraid to schedule games against big schools shows me he has guts and the will to win.
With Calipari gone, C-USA is anyone's conference to win any given year, and if Barbee's 26-6 record this year is any indication of things to come, don't be surprised if UTEP makes a habit out of showing up in the field of 65.
14. Johnny Jones—North Texas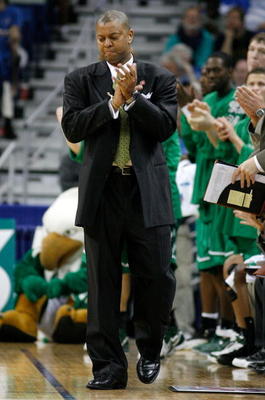 Wins: 164
Wins in last 10: 10
Tournament Appearances: 2
National Titles: 0
The Mean Green didn't much before conference play began, but they got hot at the end of the year and dominated their way to an automatic bid by winning 11 straight.
Jones is well-established at North Texas, serving as head coach since 2001. Taking a closer look at his numbers, he's done a pretty solid job for a school normally overshadowed by its football team. He's won 20+ games four years in a row, and has set the school record for the most consecutive seasons finishing over .500.
An assistant at his alma mater, LSU, during the Shaquille O'Neal years, Jones knows how to recruit, which is a crucial skill to have in the state of Texas. They might not upset Kansas State, but I wouldn't count on North Texas to just roll over and play dead. Jones will push his players harder than that.
13. Billy Kennedy—Murray State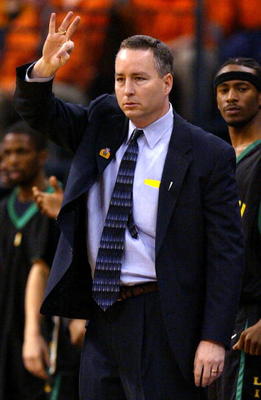 Wins: 187
Wins in last 10: 9
Tournament Appearances: 2
National Titles: 0
The fact that Kennedy, whose team is being discussed far and wide as a team likely to pull a big upset over their first round opponent (Vanderbilt), is this low on the list tells you the strength of the coaches in this bracket.
In his four years at Murray State, Kennedy has never finished lower in conference standings than tied for second. He also hasn't had a losing year since 2002-03 at Southeastern Louisiana. This year, with a 30-4 record, might be Kennedy's finest hour.
The worst team to beat them this year was 21-13 Western Kentucky. Does that tell you something? Kennedy has these kids motivated, and they might be this year's surprise Cinderella team. Don't take the Racers lightly.
12. Greg Kampe—Oakland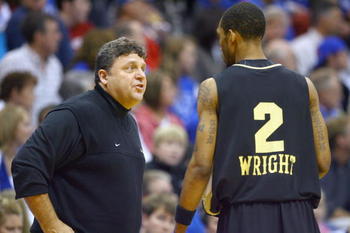 Wins: 418
Wins in last 10: 10
Tournament Appearances: 6
National Titles: 0
Kampe is the man in Oakland. He's been their head coach since 1984–when they were a member of Division II.
Out of Kampe's 418 wins, only 166 have come since Oakland made the jump to D1, but I'm not going to hold that against him. If anything, the fact that his success helped them move up is a strong statement.
In 2005, Oakland pulled a massive upset in the Summit League tournament finals, getting their automatic bid to the NCAA tournament with a 13-19 record. Even more impressive than that, the Golden Grizzlies won their play-in game, getting Oakland their first tournament win in Division I in their first chance.
With 26 wins this year, Oakland made the tournament in a more convincing fashion. They probably won't beat Pitt in the first round, but not for lack of coaching. Kampe is the reason Oakland is even here.
11. Chris Mack—Xavier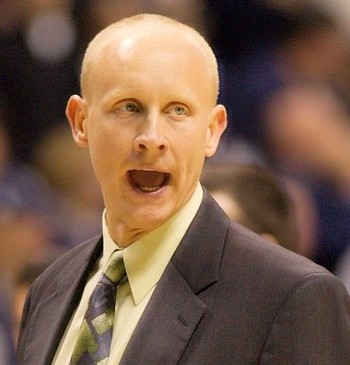 Wins: 23
Wins in last 10: 8
Tournament Appearances: 1
National Titles: 0
Before you chew my head off for putting a coach with a fifth-seeded team this low on my list, allow me to explain.
This was Mack's first season at the helm, taking over for Sean Miller, who left to take the Arizona job. The program was already built by Miller, so I can't give Mack too much credit for recruiting, but he did coach the team to 23 wins and a strong showing in the ever-dangerous Atlantic 10.
Experience is the only thing holding Mack down on this list. Historically, Xavier coaches have gone on to bigger and better things. Miller is now in Arizona. Before him, a guy named Thad Matta ran the team before jetting off to Ohio State. Before him, the late Skip Prosser, who became the beloved coach of the Wake Forest Demon Deacons before his tragic heart attack in 2007.
In spite of Mack's low position on the list, I have Xavier going far in the tournament. How far? I'll tell you later in an article of bold predictions.
10. Frank Martin—Kansas State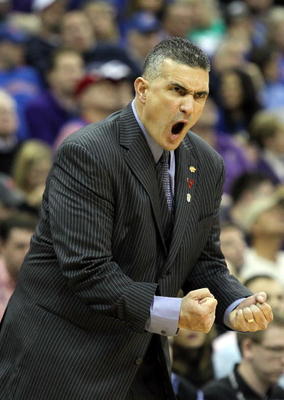 Wins: 69
Wins in last 10: 7
Tournament Appearances: 2
National Titles: 0
Again, don't kill me over this one. Martin did an excellent job in Manhattan this year, and has for the last three years since Bob Huggins left. I'm not here to sell the man short. But his age and lack of experience are what holds him down.
This is Martin's first head coaching job in college basketball, and in his third season, he won Big 12 Coach of the Year. That's quite an impressive job. His first season saw the Wildcats in the NCAA tournament for the first time since 1996. And with this year's home upset of the Jayhawks, it marks the first time K-State beat Kansas in Manhattan since 1983.
I think Martin is doing an excellent job, and the Wildcats will go far in the tournament. But considering it's only his second tournament appearance, I can't rank him too highly on this list. He just doesn't have the experience yet.
9. Brad Stevens—Butler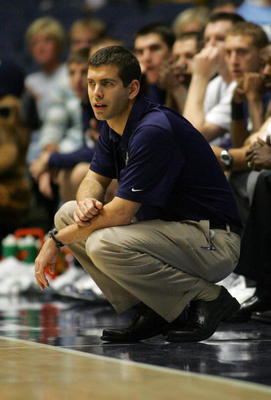 Wins: 84
Wins in last 10: 10
Tournament Appearances: 3
National Titles: 0
I really can't wrap my head around ESPN's fascination with the Horizon League power. It's not a strong conference, and Butler has won exactly one game in their previous two tournament appearances under Stevens.
Personal biases aside, Butler did finish ranked No. 8 in the country in the final coaches poll before the tournament began, yet still only receive a fifth seed from the selection committee. They made the effort to play some good non-conference teams, but does losing to Minnesota, Clemson, and Georgetown get outweighed by beating Ohio State and Xavier?
Still, to only lose four games all year, all out of conference, you must be doing something right. And it's pretty amazing that Stevens is already having this kind of success at 33 years old. That's not a typo; the guy started his job at Butler at 30.
They have a favorable draw against UTEP in the first round, and having four players average double-digit points per game shows that Stevens still believes in basketball as a team sport. You can't win it all if you don't play like a team, so I give him credit for sticking to a traditional style of coaching.
8. Dave Rose—BYU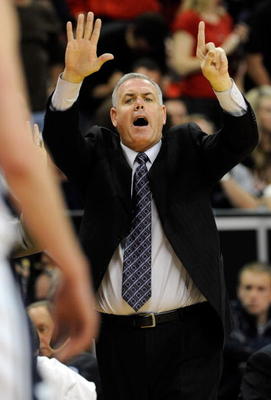 Wins: 124
Wins in last 10: 7
Tournament Appearances: 5
National Titles: 0
As I'm compiling this list, I'm amazed at how many of these coaches have spent their entire career with one school. Rose is another to add to that list. In his fifth season at BYU, the Cougars are preparing for their fourth straight NCAA tournament berth.
BYU was quietly a very good team this season, overshadowed by Steve Alford's Lobos, but there isn't much difference between the two teams. The Cougars played one more game, which they lost, but put up impressive wins against the likes of Arizona, Arizona State, Nevada, and Nebraska.
I like Rose for the same reason I like Brad Stevens: he has four players averaging 10+ points per game. It's a well-rounded team that plays in a quality conference (the Mountain West got four bids this year), and he's averaging about 25 wins per season. Not too bad.
7. Billy Donovan—Florida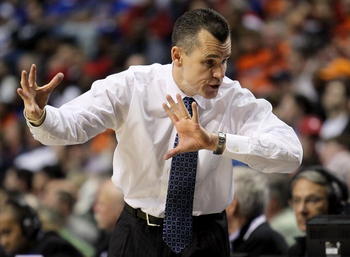 Wins: 366
Wins in last 10: 4
Tournament Appearances: 10
National Titles: 2
This is a tough call for me. I support the Gators whenever possible because I have family connections to the university, so I want to rank Donovan higher on this list, especially after two recent national titles. According to my formula, Donovan got the fourth-highest coaching score in this bracket, but I have two good reasons for penalizing him.
First of all, the past two seasons saw the Gators slip into the NIT instead of the NCAA tournament, a long way to fall after two straight national titles. To be fair, the Gators won a combined 49 games in those two seasons, so it wasn't a bad coaching job by any means, but it was a disappointment for what the Gator fans were expecting.
Second, and more important, Florida dropped six of their last 10 games. Only one other team did that badly down the stretch and still made the tournament: Villanova. I don't think they have the momentum to be relevant in this year's tournament.
Don't take this the wrong way. I like Donovan, and I think he's a pretty solid coach, but this isn't his year. And after his near-departure for the Orlando Magic, I'm not sure how much I trust the guy. Combine everything and that's why I've got a coach with two championships only ranked seventh among coaches in his region.
6. Kevin Stallings—Vanderbilt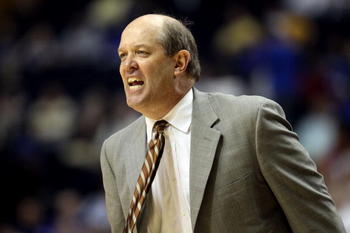 Wins: 336
Wins in last 10: 7
Tournament Appearances: 6
National Titles: 0
Three out of his five previous NCAA tournament appearances, and two out of three at Vanderbilt, have seen Kevin Stallings win at least one NCAA tournament game. Those two times he's done it in Nashville have seen the Commodores reach the Sweet Sixteen. Translation: when he's on his game, he's really on.
Stallings has taken Vandy to eight postseasons in 11 years with the team, and only has one career losing season. He also learned from a great coach, spending five seasons as an assistant under Roy Williams at Kansas before taking the head coaching job at Illinois State.
His first-round matchup against Murray State is as anticipated as any 4-13 matchup in recent memory. Don't miss it.
5. Jamie Dixon—Pittsburgh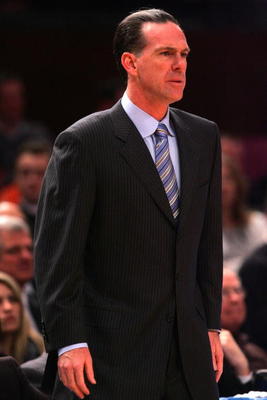 Wins: 187
Wins in last 10: 8
Tournament Appearances: 7
National Titles: 0
You might be surprised to see Dixon this low on the list, and you'd be right to wonder why. He's lost a few painful games this year, including a particularly bad stretch where the Panthers lost four of five.
Nevertheless, Dixon is consistently good in the Big Dance. In his previous six years at Pitt (again, the only job he's ever had), only once did the Panthers fall in the first round. Two years saw Sweet Sixteen appearances, and last year, the Panthers made it to the Elite Eight.
Plain and simple, Jamie Dixon wins games. When this year's 24 wins is the worst season he's recorded so far, you've got a coach you can count on.
4. Leonard Hamilton—Florida State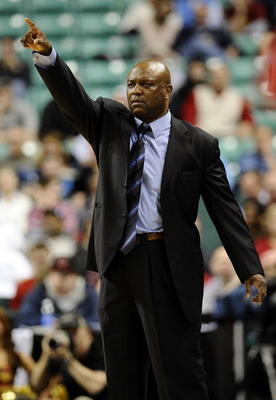 Wins: 353
Wins in last 10: 6
Tournament Appearances: 4
National Titles: 0
Another quiet team, Florida State finished tied for third in the ACC this year with Virginia Tech (the absolute biggest snub in the tournament, but you'll hear about that in another article when we get to Wake Forest).
Hamilton has had an interesting career. He started off at Oklahoma State, leaving in favor of the Miami job and being replaced by the now-legendary Eddie Sutton. In 2000, he made the mistake of leaving a decent program for a lousy NBA team, the pre-Gilbert Arenas Washington Wizards.
Since taking the Florida State job, Hamilton has really come into his own and has arguably made the school's basketball program more relevant than Seminole football. Horribly under-seeded at ninth in the West region, Florida State doesn't have much of a fair chance this year, but not because of their head coach.
3. Mark Few—Gonzaga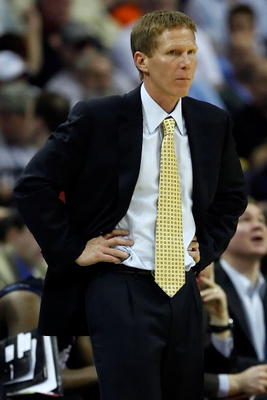 Wins: 290
Wins in last 10: 8
Tournament Appearances: 11
National Titles: 0
I'm not going to lie. This is another team I have bias against, and you'll know that if you read my previous article about the most overrated teams in sports. Still, I'm looking at this objectively, and Few's numbers are indeed solid.
Few has led America's favorite mid-major school to four Sweet Sixteens in his previous 10 seasons in Spokane, and has advanced to the second round three more times. While I'm not impressed with the competition in the WCC, Gonzaga did have the guts to play Duke, Michigan State, Wisconsin, Cincinnati, and Wake Forest this year, beating the Badgers and Bearcats.
Few does tend to dominate his own conference, only losing once during the regular season to San Francisco, and in the conference tournament finals to St Mary's. Considering past numbers, the Bulldogs have a 70 percent chance to move on past the first round, and that's good enough for me. Few has won at least 23 games every season, and his success at Gonzaga deserves recognition.
2. Tubby Smith—Minnesota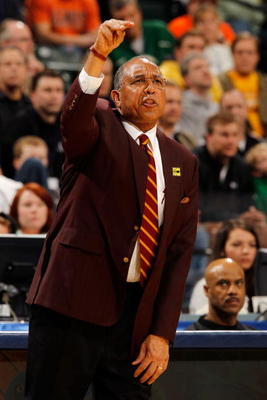 Wins: 443
Wins in last 10: 7
Tournament Appearances: 16
National Titles: 1
While the Golden Gophers only received a 12-seed in this year's tournament, I'm still impressed by Smith. Leaving Kentucky in 2007 because he didn't feel he was performing up to Kentucky's standards, he has since done an impressive job turning Minnesota into a respectable tournament team.
You have to go back to the 1992-93 season to find a year where Smith didn't put up 20 or more wins. He made up for it the following year, taking the same Tulsa Golden Hurricanes team to the Sweet Sixteen, starting a three-year streak of winning two tournament games, the third season being at Georgia.
When Rick Pitino left Kentucky for the Boston Celtics, Smith stepped in and led the team to a national championship in his first season. In his tenure at Kentucky, the Wildcats never went out in the first round, something his successor, Billy Gillespie, can't claim.
Smith has the experience necessary to go far this year. Ultimately, because Minnesota gets stuck facing Xavier in the first round, I don't think it'll happen. Still, he's done a great job, and he deserves the respect of his peers and the fans for his continued efforts.
1. Jim Boeheim—Syracuse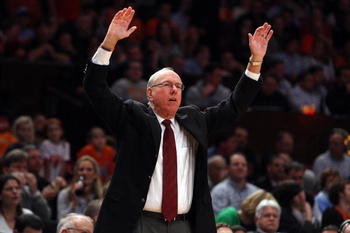 Wins: 827
Wins in last 10: 7
Tournament Appearances: 27
National Titles: 1
Did you honestly expect anyone else to take the top spot?
I don't even need to talk up what a great coach Boeheim is. His accomplishments speak for themselves. He's been with Syracuse since 1976, and only missed the postseason once in that time: 1992-93 for violations.
Jim Boeheim is Syracuse. He played guard for the Orangemen (as they were known at the time) from 1962-66, became an assistant coach at his alma mater in 1969, and took the reins in 1976, not looking back. He previously lost two championship games, but not exactly to unknown coaches: 1987 to Bob Knight, and 1996 to Rick Pitino.
But it wasn't until 2003, behind the strength of Carmelo Anthony and Gerry McNamara, that Boeheim finally won a national title.
I'm just going to start listing accomplishments: no losing seasons, four Big East coach of the year awards, three Final Fours, four Elite Eights, 14 Sweet Sixteens, 26 NCAA tournament appearances, a 2008 Gold Medal as an assistant coach for USA basketball at the Olympics, 32 20-win seasons, is in the basketball hall of fame, and won the longest game in the history of the Big East conference, a six overtime classic last year against UConn.
And that's not even everything, but I'll stop there. Boeheim is one of the most decorated coaches of all time in any sport, and is hands-down the best coach in the West bracket.
Keep Reading