Lions, Tigers, and Bears; Oh My! Ranking Each NHL Team's Mascots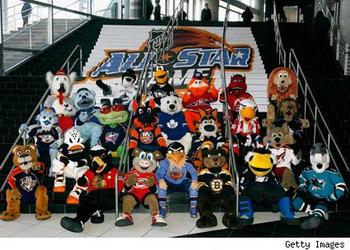 As the famous Dorothy once said in the popular 1930s film, the Wizard of Oz, "Lions, bears, and tigers? Oh my!"
It's a good thing she isn't around today, and if any of you feel an emotional connection to her, you should probably stop reading this slideshow right now. That warning comes in effect because the lighter side of NHL hockey is still pretty vicious...that is, if cartoon bears, stuffed fireflies, and fluffy cotton St. Bernards are freaky to you.
While the NHL winds down its season and teams fight for their spot in the 2010 playoffs, 26 team mascots are hard at work waving flags, shooting rolled-up T-shirts, and, from time to time, even signing paw-tographs. These are the fluffy, stuffed icons of the NHL, all cute and cuddly and friendly.
But all of those huggable smiles are going to end right now, because we're pitting each and every mascot against each other in a fight for the finish to find out who is the true mascot champion of the National Hockey League.
Dallas, Edmonton, Philadelphia, and New York [Rangers] are going to be happy, at least for today, that they don't have a mascot for themselves, because this ranking could be bloody, messy, and deadly...
...I was just kidding...hopefully...
26. Carlton the Bear—Toronto Maple Leafs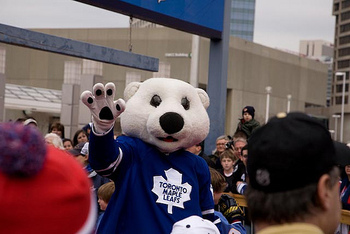 Carlton the Bear simply has absolutely nothing to do with the Toronto Maple Leafs...he's not even a very good-looking bear.
He's a fan favorite (there are lots of fans in Toronto to become the favorite of) and an adequate cheer-er, but Carlton's over-sized nose and teddy bear-like complexion don't score him high on my rankings.
"Don't score him high" refers to last place.
25. Stormy—Carolina Hurricanes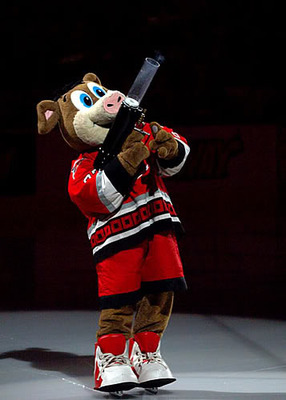 The only thing that really fits here is the name "Stormy" and the "Hurricanes" title.
Other than that, what exactly do the words "stormy" and "hurricane," stuffed cartoon hogs, and ice hockey have to do with each other?
Yeah, we couldn't come up with any ideas, either.
If they trashed the blue mega-wide eyes, freaky sheepish grin, and floppy ears that look like they could be made from pipe cleaners, maybe the face would look acceptable. However, that would basically mean he'd have to face at all...which, come to think of it, would definitely be an improvement.
24. Sparky the Dragon—New York Islanders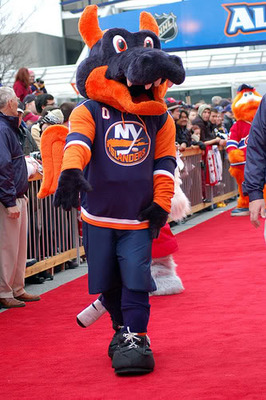 Combine angel wings, devil horns, cartoon eye sockets, a few not-too-threatening cotton "fangs," and the NY Islanders' color theme, and what do you get!?
Sparky the Dragon, of course! He's the official mascot of the New York Islanders and also the leading candidate to become the newest character on five Saturday morning PBS shows!
Sorry, though, I don't have time to say anything more...Sparky and I have to get on our gear on for our fire-breathing battle at 1:00 this afternoon.
23. Howler the Coyote—Phoenix Coyotes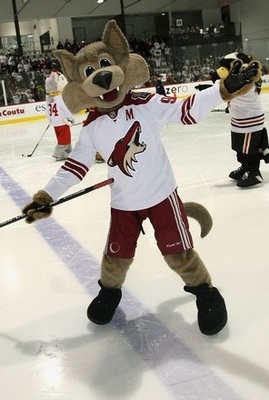 Oh, I think I just found a partner for Sparky on his latest TV show!
After Howler leaves for a Hollywood career, the Phoenix Coyotes will be hoooooooooooowling for a new mascot. Or, at least, their six current fans in Arizona will be for about two seconds.
22. Slapshot—Washington Capitals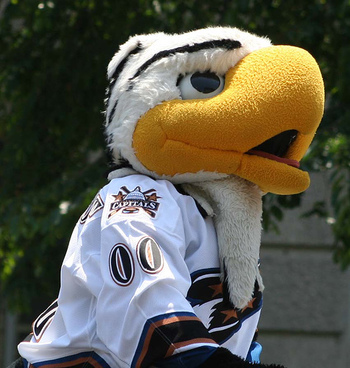 All right, I'll admit, a U.S. Capitol building walking around on two (or maybe more) legs would definitely be worse than this. But a bald head eagle with a huge golden beak, a turkey gobbler-thing hanging down from his chin, and a not-so-bald black-streaked forehead just doesn't come across as very attractive.
21. Spartacat—Ottawa Senators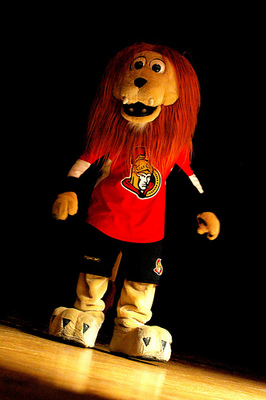 20. Sabretooth—Buffalo Sabres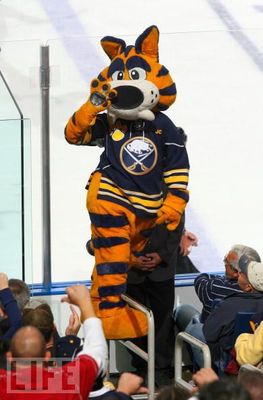 19. Stinger—Columbus Blue Jackets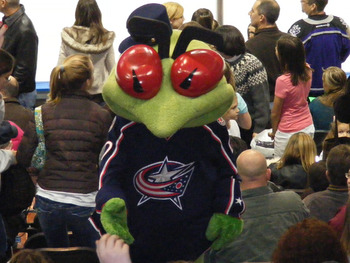 18. Thunderbug—Tampa Bay Lightning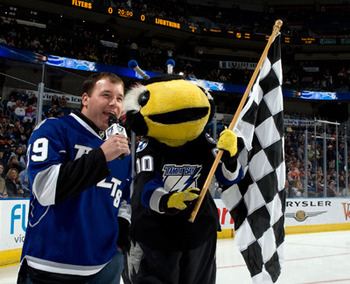 (The yellow thing with the antennas, not the announcer with the microphone)
17. Al the Octopus—Detroit Red Wings
The only mascot on this list that's truly made of plastic, but at least he's also the biggest team icon the NHL has!
16. Bernie the St. Bernard—Colorado Avalanche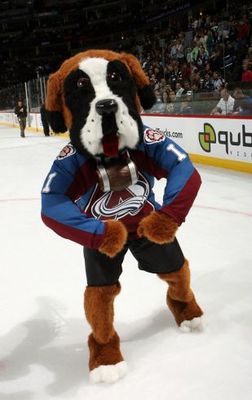 15. Wildwing—Anaheim Ducks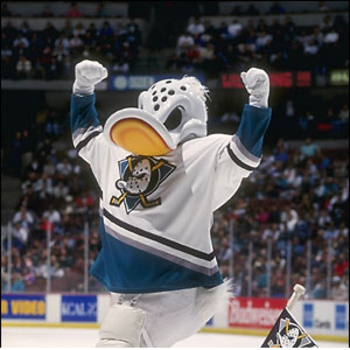 14. Youppi—Montreal Canadiens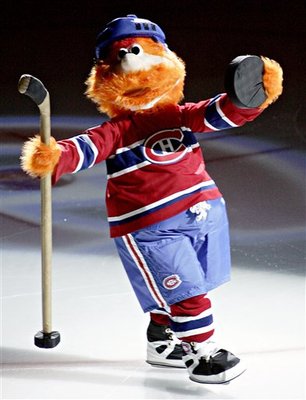 Youppi may be unrecognizable, quite chubby, and not very Canadian-looking, but he's the only mascot ever to switch sports (he was the mascot of the Montreal Expos until 2004) and it's just impossible not to love that face!
13. Nordy—Minnesota Wild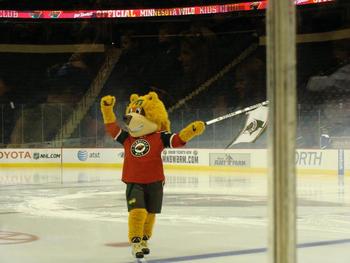 12. Stanley C. Panther—Florida Panthers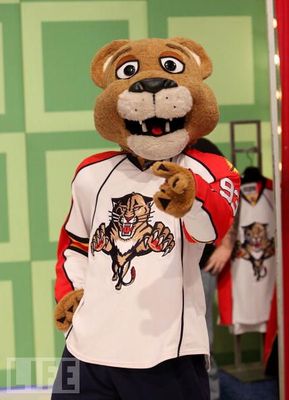 11. Louie—St. Louis Blues
10. Bailey—Los Angeles Kings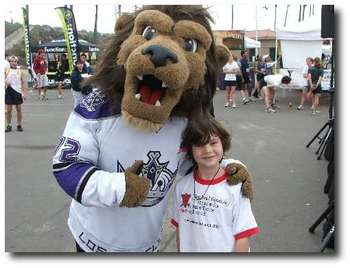 It took me much longer than it should've to figure this out, but the connection between Lions and Kings (if you still don't get it, you might need to get your brain checked) finally dawned on me. It's actually a pretty awesome lion, if you ask me, but some fat guy with a crown might've been better.
9. Harvey the Hound—Calgary Flames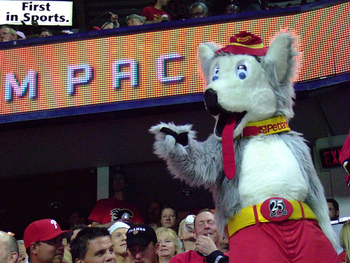 Disregarding the '60s-style belt and collar, the NHL's first mascot, Harvey the Hound, has quite a bit of class to him.
He's established himself as a key part of any Calgary Flames hockey experience, and that long, red, droopy tongue earns him half this rank alone!
8. Gnash—Nashville Predators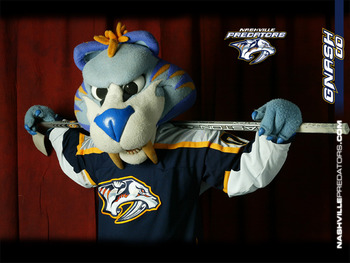 Who doesn't want a mascot with an orange hair tie that also has fangs? While the designers seem a bit mixed up with that, Gnash is actually a worthy NHL mascot. It's a clever play on "Nashville" as a title, and who doesn't want a squishy triangular blue nose and blue and orange stripes along their cheek?
7. Blades the Bruin—Boston Bruins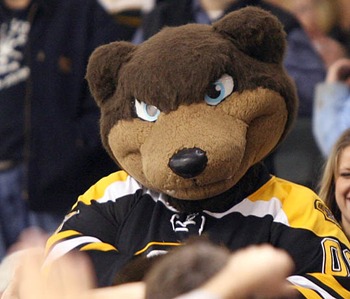 Ahh...that face...it reminds of my grandmother after I had done something naughty...so,so freaky! That grizzly also just looks about as fierce as these things get, and someone finally managed to make the blue oversized eyes look like they meant to be there.
"Blades" might deserve a new name, though...
6. Thrash—Atlanta Thrashers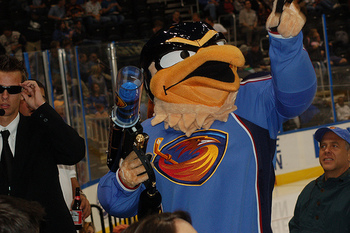 In an example much like the Bruins', I wasn't previously aware that a "Thrasher" was a hawk, but what else would it be? Also, Atlanta's designers get props for making him look fierce yet not quite like the villain in the next version of "Batman."
Thrash also does a terrific job getting the often scarce crowd in Philips Arena pumped up and involved as much as possible, including perhaps my favorite sign held up by a mascot, seen at this link:
http://bleacherreport.com/articles/313363-nhl-notes-what-happened-last-weekend-to-home-ice-advantage
5. Fin the Whale—Vancouver Canucks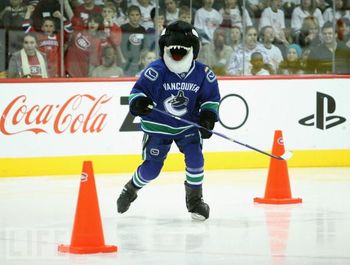 Ahh...it just looks like he's ready to swallow you whole even while he's doing a skating drill!
The one letdown on Fin is that the mascot is made up of only a head, but I think it goes along well with the Canucks theme. Those white eyes nearly on top of his head make it look more realistic than most of these others, too.
4. NJ Devil—New Jersey Devils (No Kidding)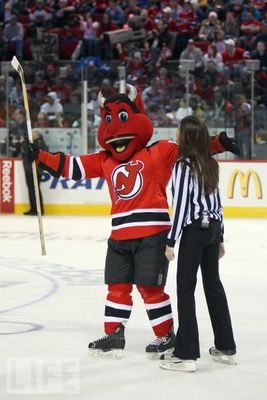 While I wasn't aware that even the New Jersey Devil was interested in attractive women, he's still a well-designed mascot with not only relevance to the team but also a fan-oriented guy.
Just don't poke any kids with the silver curved horns, and the NJ Devil (hopefully we can disregard the very out-of-place "milk mustache") is a legitimate top-five team icon.
3. Iceburgh—Pittsburgh Penguins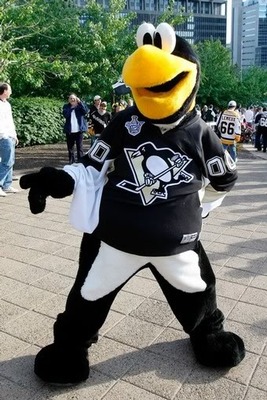 After two attempts at using a real penguin as the mascot ended up slightly fatal for at least the penguins involved, maybe Pittsburgh's now found a mascot to keep. Despite his goofy, disproportionate face, Iceburgh (a play on words with "iceberg" and "Pittsburgh") is just irresistibly funny to look at.
And, while I've been criticizing overdone eyes all day long, Iceburgh's puffy ones are half the reason he's in the top three!
2. SJ Sharkie—San Jose Sharks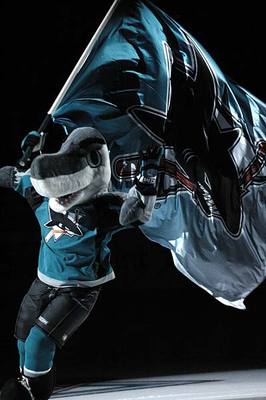 The tradition of Sharkie carrying out the Sharks' flag to open the game is common with plenty of mascots, but the ritual just seems more fitting where huggable, lovable SJ Sharkie is around. The name itself sounds cute, and Sharkie makes sure he lives up to that and not the reputation those teeth could create.
1. Tommyhawk - Chicago Blackhawks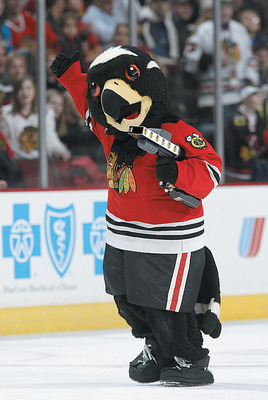 It's just impossible not to love Chicago's own Tommyhawk.
While I'm relying just on hope that he's not shooting anything more harmful than shirts out of that gun, it's all thumbs-up for Tommy. Yes, the "Blackhawks" name refers more to the Indian tribe, but the actual Black Hawk (with those adorable, innocent red and black eyes) just make you want to stand up and cheer.
Even the tail feathers are great, like the rest of him. In fact, it's three thumbs-up for Tommyhawk, the coveted No. 1 NHL mascot in today's rankings!
Now, I told you, wasn't that so bloody and grueling?
Keep Reading