March Madness: Eight Guys You Should Know
Once upon a time, there was a skinny freshman guard playing for a tiny private school just outside of Charlotte, N.C. He was a tough little kid with the same gunner mentality his father, a former NBA player, had once possessed.
However, not many people knew who he was until he put a scare into big, bad Maryland by scoring 30 points vs. the Terrapins in the first round of the 2007 NCAA Tournament.
Over the next two seasons, Stephen Curry made his name by elevating his game and his team, the Davidson Wildcats, when the pressure was the highest. Namely, March Madness.
Young Steph always seemed to make his Papa, Dell Curry, proud in the NCAA tournament. His sophomore year he led Davidson all the way to the Elite Eight before losing to the eventual national champion Kansas.
Along the way, he averaged 32 points a game and, if you didn't remember him from '07, you certainly knew who Stephen Curry was after the 2008 Big Dance.
Curry's continued his personal wizardry into his junior season, when he averaged almost 29 ppg and 5.6 assists. But his performance alone could not push the Wildcats into a third consecutive NCAA Tournament.
In spite of that, Stephen Curry will always be remembered by college hoops fans for what he did when the lights were the brightest.
Who will be the next to take a page out of Curry's book and use the Madness as a way to inject himself into mainstream American culture? Here are eight players, each from a separate portion of the bracket, you should be prepared to watch.
PG Juan Fernandez, Temple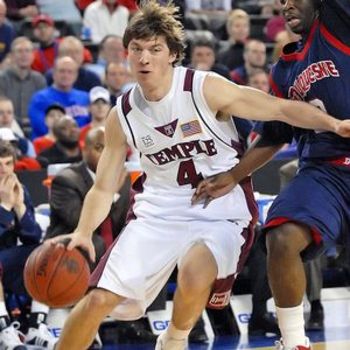 If I didn't tell you, you'd be hard-pressed to believe that Temple point guard Juan Fernandez is just a sophomore.
In his two years with the Owls, the Argentinian has emerged as a coach on the floor for head man Fran Dunphy and looks to be on track to follow in the footsteps of countrymen Manu Ginobili and Pepe Sanchez all the way to the NBA.
Sanchez, the former Temple point guard, is largely responsible for Fernandez becoming an Owl. After seeing Fernandez play, he contacted his alma mater and gave the coaching staff his recommendation.
That was all it took for Dunphy and the result has been two Atlantic-10 championships in two years for Fernandez.
The numbers (12.6 ppg and 3.6 apg) do not tell the tale for Fernandez. He is a consummate floor general. A true point guard and a leader.
He possesses great on-on-one ability and can get his shot almost at will against even the toughest defenders.
Fernandez does as good a job as anyone in the country getting and keeping his teammates involved in the game. He can be selfless to a fault despite almost always being the smoothest player on the court.
Like in Temple's most recent loss, at Charlotte all the way back in January. Fernandez only attempted five shots in that 74-64 upset by the 49ers.
Since then, Fernandez has led the Owls to 12 straight wins and a No. 5 seed in the top half of the East bracket. It won't be easy for Temple, who faces off against Cornell on Friday, but you can be sure that wherever the Owls go, Juan Fernandez will be leading them.
SG Anthony Johnson, Montana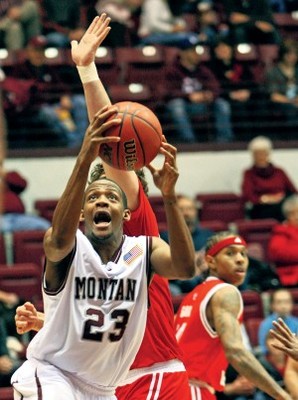 Montana senior Anthony Johnson is a bomber. Pure and simple.
The 6'2" shooting guard makes 46.4% of his shots from three-point range and leads the Grizzlies in scoring at almost 20 points per game.
Johnson's team revolves around his ability to take over anytime they need him. To put it in perspective, no other Montana player even averages double digits in scoring.
That places a big bulls-eye squarely on Johnson when opposing defenses prepare to play Montana.
In spite of all that defensive attention, Johnson was able to light up the scoreboard and lead the Griz to a win vs. favored Weber State in the Big Sky tournament championship game. Johnson's 42 points, 34 in the second half, established a new Big Sky tourney record.
Johnson will need to be as lethal as ever this Thursday when he squares off against head coach Steve Alford's New Mexico Lobos in the first round of the NCAA Tournament.
And while it may not look so good for Montana right now, given that No. 14 seeds are 0-12 in the Big Dance since 2007, Johnson and his teammates can draw inspiration from watching 2006 NCAA Tournament highlights.
That season, unheralded 14-seed Northwestern State from the Southland upset the heavily favored third-seeded Iowa Hawkeyes from the Big 10 conference.
What does one thing have to do with the other, you may ask? Iowa's coach at that time was Steve Alford. Coincidence? Probably. But when you're an underdog like Montana, you take whatever you can get.
Win or lose, though, Anthony Johnson should be worth the watch.
SF Edwin Ubiles, Siena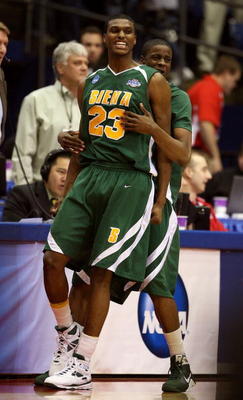 Siena senior Edwin Ubiles is one of the most versatile players in this year's NCAA Tournament. At varying points in his career with the Saints, Ubiles has played every position on the court except for center.
The 6'6" swingman has been a model of consistency averaging 15 points, 4 rebounds, and 2 assists per game since coming in as one the most highly-touted recruits in school history.
More importantly, Ubiles has been the keystone player for a Saints team that will be making it's third consecutive NCAA Tournament appearance when they tip off against a Purdue team missing its' own stalwart, Robbie Hummel.
Without Hummel, Ubiles and his Siena teammates could actually become the first No. 13 seed to ever be favored in a first-round NCAA matchup.
One thing is for sure, Siena will undoubtedly be the most fashionable "upset" pick in all of your bracket pools and be looking to advance to the Sweet 16 for the first time in school history.
If the Saints are to make it beyond the second round this year, Edwin Ubiles will likely have a lot to say about it.
However, if Friday's game turns out to be Ubiles' last at Siena, it will not be the end of his basketball career. NBA scouts are always looking for long, athletic guys like Ubiles who can play a number of roles.
C Omar Samhan, St. Mary's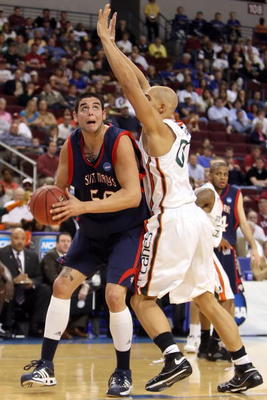 The first thing you notice about St. Mary's Omar Samhan, besides his 6'11" frame, is his confidence. Watch the Gaels center play one time and you understand where he gets his brashness.
Samhan is a man among boys and has absolutely dominated the West Coast Conference this season, increasing his per game numbers across the board, becoming St. Mary's leader on the floor.
Samhan is the only pivot player included on this list because perimeter play is most essential to playing well and advancing in the NCAA postseason.
However, few teams feature a guy in the post who can take a game over like Samhan can.
His fate depends on PG Mickey McConnell and SG Mathew Dellavedova feeding him in the post, but when they're successful, Samhan has an array of low-post moves he uses to get buckets or get to the free throw line.
Based on Samhan's 21 points per game, the Gaels' back court is doing their job.
Samhan has also elevated his defensive game this year. He's pulling down 11 rebounds and blocking 3 shots a game.
His smack talk and huge presence down low cause opposing teams to alter and miss shots, yet Samhan manages to avoid foul trouble and be on the court for 32 minutes a game.
Richmond, like St. Mary's, is one of the little-known powers this year in college basketball.
But the Gaels have the experience of playing in the 2009 NCAA Tournament to fall back on when they take on the perimeter-oriented Spiders this Thursday.
If Samhan performs like he has so far this season, St. Mary's will stand a good chance of moving forward and facing Villanova in the second round.
PG Jimmer Fredette, BYU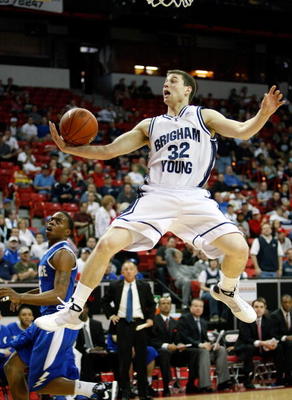 BYU's Jimmer Fredette is without a doubt on the short list of best players in college basketball. Overall. Not just "that you've never heard of."
The 6'2" point guard is an up-tempo ball handler who can drive the ball to basket or pull up and stick a three with equal aplomb.
Unlike the majority of his Cougar teammates, Fredette has the ability to play with more athletic teams.
He has gone for more than 25 points on 11 occasions this season, topping 40 or more twice.
While Fredette is not a pure shooter, he always manages to find a way to score even if his jumper is absent. And he keeps his BYU teammates involved, averaging almost five dimes a game.
Fredette is on fire entering Thursday's NCAA Tournament slate vs. Florida.
The Cougars' junior guard set a Mountain West Conference tourney record with 75 points in two games and was named one of the 26 finalists for the John R. Wooden Award, thereby solidifying his status as an elite Division I basketball player.
Now it's time for the determined and talented Fredette to lead BYU to their first win in the Big Dance since 1993...when he was just four years old and dreaming of March Madness.
SG Randy Culpepper, UTEP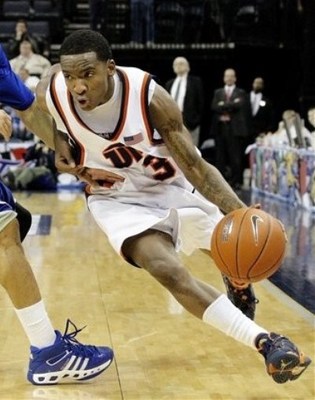 UTEP junior guard Randy Culpepper wants to show you that his conference, Conference USA, has players outside of Memphis.
The lithe six-footer led the Miners to a 15-1 record in C-USA on his way to earning Player of the Year honors.
Culpepper is a powder keg of points, just waiting to explode at any moment. He can beat you from downtown or by penetrating and breaking down opposing defenses.
Along with teammate Derrick Caracter, a Louisville transfer, UTEP has as formidable a duo as any team in the country. Caracter's post game is the perfect complement to Culpepper.
If defenses drop back and try to deny the big forward, Culpepper can light it up from outside. If they overplay the perimeter, like Thursday's opponent Butler does, Culpepper can drive and dish.
It's been a winning formula for the Miners so far this year, but their Horizon League adversaries boast an abundance of NCAA Tournament experience.
Culpepper should have a dramatic athletic advantage and should give the Bulldogs all they can handle. Maybe even more.
SG James Anderson, Oklahoma State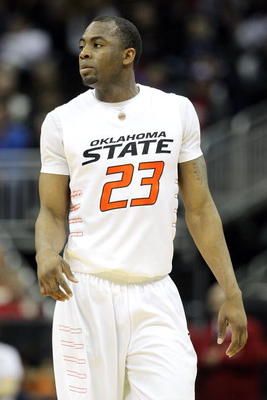 I know, I know. James Anderson plays for Oklahoma State. In arguably the strongest basketball conference in the land this year, the Big 12. How does a guy like this qualify as an unknown?
I'd wager that if you're from outside the Big 12 viewing area, you probably aren't familiar with the 6'6" shooting guard.
Face it. Kansas and, early on, Texas dominated the national coverage for the Big 12 this season.
There's a good chance that many of you wouldn't know Anderson if he walked up and slapped you in the face. In a manner of speaking, that's what he's hoping to do Friday vs. Georgia Tech.
Yellowcats' frosh Derrick Favors is certainly going to dominate most of the pre-game hype surrounding this game, but Anderson and his 22.6 ppg average want to leave you with the most lasting impression.
Anderson is arguably the best shooting guard in the country. That's not hyperbole, it's an opinion shared by many college hoops heads out there.
He lit Kansas up for 27 points when his Cowboys handed the Jayhawks their first loss, 85-77, back on Feb. 27. And that wasn't Anderson's only victory over Kansas.
He also beat out KU point guard Sherron Collins and was named the unanimous Big 12 Player of the Year.
This year's Big Dance is almost certainly the last chance for you to check out Anderson's game before he moves on to the NBA.
Anderson has picture-perfect form on his lethal jumper and, just like another former Cowboy, John Starks, has no conscience. His length can wreak havoc on defense and when Anderson takes the ball to the hole.
In short, James Anderson may be the best player on this list. I just had to make sure you knew what to expect.
SG Aubrey Coleman, Houston
Houston's Aubrey Coleman is not only the second Conference USA player on this list, he is also the most infamous.
The high-scoring swingman used up five of his allotted 15 minutes of fame last season when he stepped on the face of Chase Budinger during a game at Arizona.
Video of the incident went viral on YouTube and caused a 24-hour uproar within the national media.
That was then. This is now.
This season, Coleman has been able to put all the controversy behind him to lead the nation in scoring at a 25.6 ppg clip and lead his Cougars to a C-USA tournament title.
The resulting ticket to the Big Dance will give you an opportunity watch possibly the country's most explosive player demonstrate his abilities against another one of the country's premier players, Maryland's Greivis Vasquez.
Expect shots, shots, and more shots from Coleman in Friday's game vs. the Terps. Coleman accounts for almost one-third of Houston's season shot total and has 239 more field goal attempts than teammate Kelvin Lewis, who is second on the team.
Coleman is not, however, a chuck-and-duck kind of player. He shoots a very respectable 43% from the field while also contributing seven rebounds and almost three assists a game.
The 6'4" senior is a ball hog in the best of ways and if the Cougars have any chance to break through and pull off a first-round upset over their ACC foes, they will need a big game from their biggest star.
Tune in and prepare to be entertained.
Keep Reading