My WrestleMania 26 predictions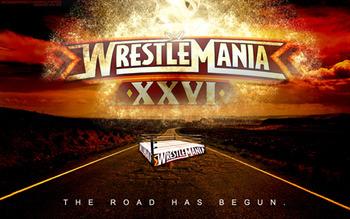 In this slideshow I will predict what may happen at WrestleMania 26. I will also go through each scenario of what could happen with different outcomes of each match. WrestleMania 26 has the potential to be one of the best WrestleMania's in a long time. Here is what could happen at the greatest sports entertainment event this year.
Money in the Bank ladder match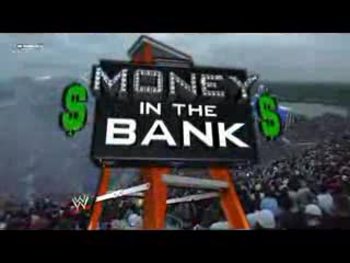 The first match I will go through is the Money in the Bank ladder match. Here are the possible outcomes:
1) Christian: Perhaps the most obvious winner of the match would be Captain Charisma. This would set up a dream feud between Christian and Edge that fans have wanted to see for a long time. This would also give Christian the world title match that he has been deserving for a long time.
2) Shelton Benjamin: Benjamin has been in more MITB ladder matches than anyone in the WWE. He deserves to finally win one. Benjamin is also probably the best athlete that the WWE has right now. He has a great move set and experience to become a world champion. However, Benjamin will nevre have the mic skills or the charisma to be a world champion. So his chances here are slim.
3) Kofi Kingston: Everyone loves Kofi Kingston. He would definitely put buts in the seats as a world champion. Also his feud with Randy Orton earlier this year proves that he could be a legitimate champion. However, Kingstons push has been cooled off lately making it seem less likely that he would win the MITB ladder match. However, if the WWE wants to rekindle Kofi Kingston's fire, watch out for Kingston winning this match.
4) Drew McIntyre: The hand picked prodigy of the WWE. McIntyre has proved he has the in ring ability to be a potential great superstar. However, McIntyre has not done enough yet to be a legitimate world champion. His chances in this match are not too great.
5) Matt Hardy: Puts his heart and soul on the line for the WWE. However, is that enough? Hardy has never been seen as a world champion by fans or Mr. McMahon. However, it could be Hardy's time to finally shine at WM26. Dont count him out just yet.
6) Kane: The only reason Kane would win this match is that the WWE finally sees that Kane needs more than a one day championship reign. However, dont count on it. Kane doesnt really mind not being a champion so he probably wont be a threat in this match.
7) Evan Bourne: Bourne has enormous talent but he isnt even a midcard talent yet. Bourne will probably do some awesome moves in this high-flying match but dont count on him pulling down the briefcase.
8) Jack Swagger: Swagger is an up and coming superstar. He has put on great matches with John Cena and held the ECW championship for a long time. However, his mic skills are terrible and he hasnt had any decent feuds in a long time. Swagger could get to the world championship material one day but not now. Dont count on him winning the match.
9) Dolph Ziggler: Another up and coming talent that isnt quite ready yet. Ziggler has switched from a joke to a decent heel. However, Ziggler hasnt had any decent feuds since Rey Mysterio. Dont count on Ziggler winning this match this year.
10) MVP: MVP is long overdue for a world title shot. This guy has held the US Championship longer than any superstar in the WWE. He works hard and will play in any storyline the WWE gives him. However, MVP has cooled off recently and is in a tag team with Mark Henry. With no legitimate push going in to WrestleMania 26 it will be hard for MVP to pull this one off.
My prediction: Christian wins
ShoMiz vs. John Morrison and R-Truth for the unified tag team titles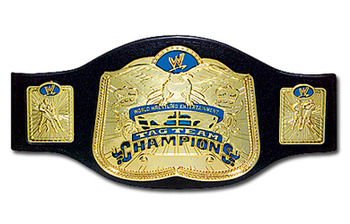 I don't really see the point in this match at all. Why John Morrison isn't in the MITB ladder match is still not clear to me. But here is what could happen during this match:
1) ShoMiz wins: This would be the most obvious outcome. It would help push ShoMiz into being a dominant tag team and being taken more seriously.
2) John Morrison and R-Truth win: This outcome is unlikely. The only reason this would happen would be for ShoMiz to split up and continue on their single careers and maybe have them feud with each other. This would also bury John Morrison's single career which is not good for any WWE fan.
My prediction: ShoMiz wins
CM Punk vs Rey Mysterio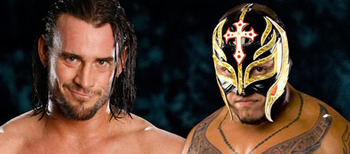 This match could ultimately steal the show at WrestleMania. Both great superstars with a heated feud heading into WrestleMania. Here is what could happen:
1) Rey Mysterio wins: The good guy prevails over the bad guy and everyone is happy. Also would make Mysterio the little guy who prevails over the big guy again. This would help make Mysterio more of a babyface.
2) CM Punk wins: This would make Punk one of the most dominant heels in the WWE by defeating everyone's favorite little guy. Also Mysterio is planning on taking time of after WrestleMania so it would make sense to have Punk jump up as a major heel at WrestleMania and it wouldn't hurt Mysterio's image at all.
My prediction: CM Punk wins
Randy Orton vs. Ted DiBiase vs. Cody Rhodes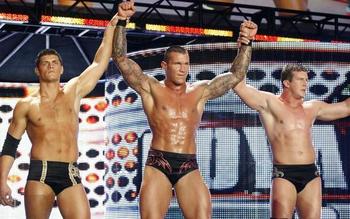 This is a very interesting match that could either help DiBiase or Rhodes or push Orton to being the leader he always said he was. Here's what could happen:
1) Randy Orton wins: Orton has always been the leader of Legacy. Him winning would prove this point and give him satisfaction in knowing that he is the best.
2) Cody Rhodes wins: Rhodes has always been Orton's protege. Having him win here would put him above his leader and give him a big push.
3) Ted DiBiase wins: DiBiase has always been the odd man out of Legacy because he isn't as much like Orton as Rhodes is. However, DiBiase has proven time and time again that if he wants he could ultimately beat Orton. Having him win here would push his already blooming career.
My prediction: Ted Diase wins
Sheamus vs Triple H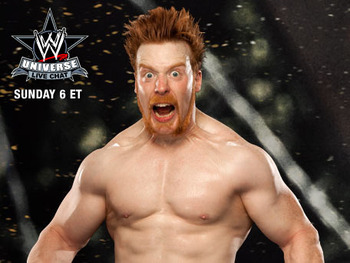 Another match that leaves fans wondering why? What is the point?? Well there could be some point to this match in the long run
1) Sheamus wins: If this happens then this match wont be meaningless. It would give Sheamus a huge boost by beating the Game at the biggest stage of them all.
2) HHH wins: There would be no point to this. HHH just burying a young superstar for no reason. HHH loves Sheamus's talent and wants to put him over at WrestleMania. There is no way HHH wins this match
My predictions: Sheamus wins
Bret Hart vs Vince McMahon w/ special ref. Stone Cold Steve Austin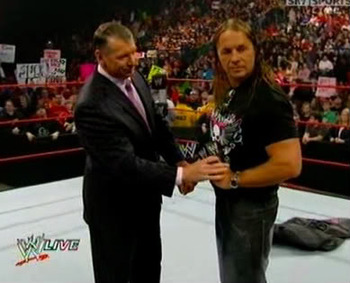 This match will pain the eyes of real wrestling fans. However it will ultimately bring closuer to the Montreal incident in 1997 and thats all the WWE needs.
1) Vince McMahon wins: Why?? This doesnt bring any closure to the incident and will have WWE fans upset. Also Stone Cold Steve Austin wouldn't let this happen.
2) Bret Hart wins: Woohoo the good guy wins and everything is settled. Very predictable. And he will probably get help from Stone Cold. Ultimately Vince will probably admit that he was wrong and everyone will be happy.
My prediction: Bret Hart wins
John Cena vs. Batista for the WHC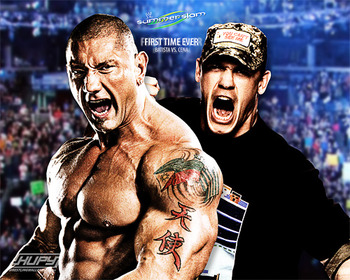 This match will probably not be great but will be at least a decent match. I could see this going either way.
1) John Cena wins: Cena always wins at WrestleMania so why should this one be any different? Superman will come out and beat the animal to regain what is "rightfully" his.
2) Batista wins: This could happen to push Batista into being the biggest and baddest heel in the WWE. Beating Cena at WrestleMania would make Batista look unbeatable. But why would the WWE have Batista beat Cena for a second straight time at a major PPV?
My prediction: John Cena wins
Edge vs. Chris Jericho for the WWE title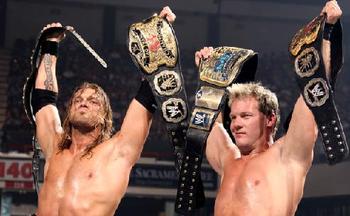 This will ultimately be the best match at WrestleMania 26. Two of the best technical wrestlers the WWE has ever seen. Heres what could happen:
1) Chris Jericho wins: I dont see this happening. Jericho is a good heel and has a right to be champion but whats the point of him winning here?
2) Edge wins: Edge just came off of a Royal Rumble win and has all of the momentum in the world. Also if Edge wins this match and Christian wins the MITB match then everyone can get what they've waited so long for.
My prediction: Edge wins
Shawn Michaels vs. The Undertaker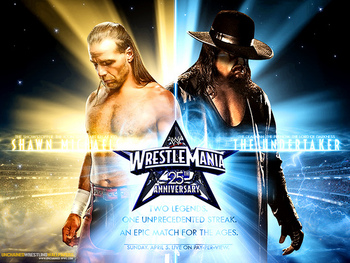 I hope this match is as great as it was last year. This match is so hard to predict but I will give it a shot.
1) Shawn Michaels wins: The showstopper wins the match and ends the streak. There is no one else more deserving to end the streak than HBK. However, this match could give Michaels a reason to retire.
2) The Undertaker wins: The streak lives on and Shawn Michaels gets a storybook ending to his career. However, if Shawn Michaels doesn't end it this year then who will? Will the deadman ever lose at WrestleMania?
My prediction: Shawn Michaels wins the match. At the end of the match, Undertaker gets up and shakes Michaels hand. Undertaker announces that he is retiring since he cant beat the best at the biggest stage. The lights go out and Undertaker vanishes. Shawn Michaels then starts to celebrate. HHH comes out and congratulates Michaels. Michaels then announces that he has reached the pinnacle of his career and he is also retiring. Bret Hart and Vince McMahon then come to the ring with Michaels. All four men celebrate and WrestleMania ends on an emotional note.
Keep Reading