Fantasy Football Head2Head: Maurice Jones Drew versus Ray Rice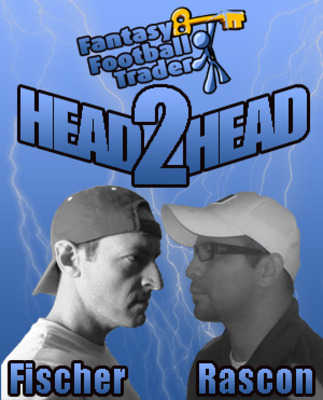 Ray Rice emerged from the Raven three-headed RB committee the year before to have a sensational sophomore season that he punctuated with a 159-yard, 2-touchdown gem in the wild card game against the New England Patriots.
Meanwhile, Maurice Jones-Drew did not disappoint in his first full season as the lead dog back for a Jacksonville Jaguar team that is clearly rebuilding, racking up 16 touchdowns for a team that finished 7-9 with a largely unheralded, but young supporting cast.
Maurice Jones-Drew and Ray Rice are two of the young studs in the game that both got their opportunity to be the feature back in 2009 and did not disappoint. Obviously you would like to have both running backs on your team in 2010. But chances are you'll have to choose one or the other.
Fantasy Football Traders' Jon Rascon (MJD) and Jeremy Fischer now present their cases, Head2Head style.
The Case For Maurice Jones Drew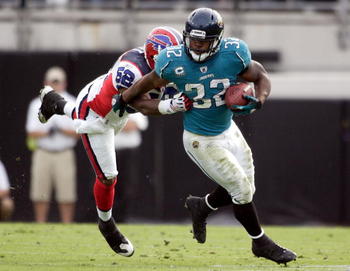 As the lead-in above alluded to, with Fred Taylor finally out of the mix, Maurice Jones-Drew finally got a chance to be the feature back in Jacksonville after three tantalizing seasons where he nearly averaged 13 touchdowns a year.
And guess what? He made the most of it, accumulating 1,391 yards and scoring 16 touchdowns. MJD can do it all; he can tote the rock between the 20s, catch passes out of the backfield and most importantly, SCORE once he is in the red zone.
How many times do fantasy owners get frustrated when their guy gets all the yards and then comes out when they get inside the five? MJD owners don't have that worry. And, MJD is only going to be 25 years old this year, so you know he's got plenty left in his tank.
That Jacksonville finished with a losing record and struggled in every facet of the game last year couldn't even slow down the MJD train from putting up respectable numbers throughout the season last year.
But scratch beneath the surface, and you'll see that Jacksonville is excitingly young at several positions. At wideout, Mike Sims-Walker and Mike Thomas both emerged to give the Jaguars a couple of wide receivers that can help "spread the field" for MJD.
The Jags also used their first two picks last year to draft their bookend tackles of the future, Eugene Monroe and Eben Britton. With their crash course rookie season now behind them, Monroe and Britton are ready to provide MJD and the rest of the Jaguars' skill-position players solid protection, which will keep drives alive longer than in the past.
Lastly, not that it has mattered in the past, but MJD has proven to be extremely durable. Just take a look at his games played stat since he came into the league... enough said.
Simply put, MJD is the obvious pick in this head to head.
The Case For Ray Rice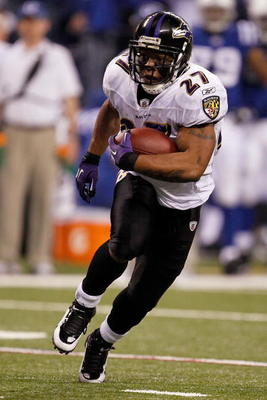 One word sums what why Rice is the pick here: Potential.
While I'm certainly concerned that the Ravens want, and probably will, keep Willis freaking McGahee, I think that MJD has now maxed out his value, while Rice still has room left to grow.
The addition of Anquan Boldin to finally give the Ravens a passing attack, and keep defenses from loading the box on Rice, is a big key for Rice's value heading into 2010. I think it's quite telling that Rice rushed for 1,339 yards (almost as much as MJD) and seven touchdowns last year against eight and nine-man fronts. Imagine the growth in production now that he won't have to deal with that.
Additionally, Rice was an underrated pass catcher last season. He caught 78 balls for 702 yards receiving and a touchdown. That's approximately 328 yards more in receiving than MJD. And while they have added Boldin, the Ravens will most likely lose Derrick Mason, leaving them with Boldin as the first option in the pass game and Rice as the second. I don't think his receiving yards will fall off that dramatically in 2010.
So with his receiving yardage holding steady, but less packed defensive fronts to contend with, his rushing yardage should go up.
The Jags have yet to add that type of game changing upgrade to their team, and I don't think their youngsters will make that big a leap in 2010. That means you'll get about the same production with MJD in 2010, as you did in 2009, which is not bad. But you'll get more with Rice.
Eat your Rice!
Maurice Jones Drew: The Rebuttal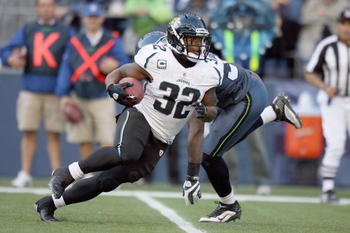 Rice? I prefer meat and potatoes. And the "meat and potatoes" of fantasy football is scoring touchdowns. And all MJD has done the moment he has entered the league is score touchdowns.
Why mess with a good thing? Especially when MJD did his damage in 2009 behind two ROOKIE tackles? Even if the Jags waste an early round pick on Tim Tebow, the improvement by the rookie tackles this upcoming year will all but assure MJD of AT LEAST the same statistical season he had in 2009, if not provide a few more scores.
J-Fish, I'd seriously buy your "potential" argument if McGahee (The U!) wasn't there. And LeRon McClain wasn't there. And Anquan Boldin wasn't coming. And Derrick Mason didn't just resign. And Donte Stallworth wasn't just signed (okay, scratch that "improvement").
Not to mention the Ravens could still take another pass catcher (tight end) in the first or second round. This ain't yesteryear's Ravens that relied and died on the defense and run game. This Ravens team is being designed to be equally proficient on offense as it is on defense. There are now options everywhere on the offense. But that means more mouths to fill on a regular basis.
Conclusion? Rice might not be as "filling" as you think.
He is what he is, a nice little utility back that can do damage between the 20s. Get first downs. Nothing wrong with that at all. But if you get a choice between Rice and MJD, take MJD and prepare to feast on not only first downs but more importantly... TOUCHDOWNS!
Ray Rice: The Rebuttal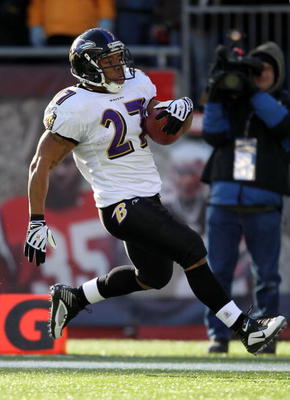 First, let me just say how unbelievably wrong it was for you to take shots at both Tebow and Stallworth. Tebow is freaking sai...what? Oh, sorry. He's graduated college and can't throw or take a snap from under center. My bad. And Stallworth? Well, I'm not sure why he's not in jail right now. So let's just get down to the "meat and potatoes".
You apparently have lost all definition when it comes to fantasy football. A "nice little utility back" is someone like Darren Sproles. A back that gets about 300+ yards rushing, 400+ receiving, scores a few times and is a nice change of pace. When you rack up over 2,000 total yards rushing/receiving and cash in eight times, you are not a utility back.
So that sound you just heard was your credibility being flushed down the toilet, Mr. Rascon.
I am not worried about McGahee or McClain taking that much away from Rice. And in your feeble attempt to refute my previous case, you actually made it for me.
Adding that many upgrades will only enhance, and make easier, the run game that the Ravens are TRULY committed to. So again, there's more upside with Rice increasing his numbers, while MJD's stay stale.
Nobody likes a stale MJD!
Keep Reading