Top 10 Reasons the Seahawks Should NOT Draft Jimmy Clausen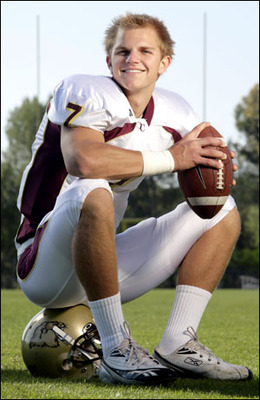 First off, this is all in good fun. I'm sure there are many Seahawk fans who are also fans of the Irish, and to you people I just want to say, I hope he doesn't get picked by the Seahawks for his own professional good. Any other team he'd be great on, I promise. To you non-Irish fans I just want to say, I hate Jimmy Clausen. The guy reminds me of a Leaf. Now, let it be known that I won't waste your time with inappropriate humor. As you've seen already I didn't make any jokes to correspond to this slide's picture, even though he gave me all the material I would need to make this entire slideshow in one sitting...on a helmet. Come on, I have a little more class than that. If I do offend any of you...oh well. I have like six fans and odds are I won't offend many of them. I promise I'm writing this for the well-being of the Seahawk organization. I operate under the delusion that people high up with the Seahawks read my articles on a continual basis, and my articles help them in making their professional decisions. The best choice they could make in the draft is to pass up on this man. I'm looking forward to the "how dare you" comments.
Reason No. 10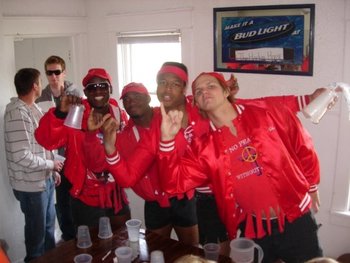 The man has won far more Beer Olympics than he has football games.
This should probably be the number one reason but for humor's sake it's No. 10. If you could make an argument that he didn't win very much because his defense was awful I would withdraw my entire position on Clausen being a dingus. Afterall, winning is the goal. Unfortunately, I don't see how anyone can make that argument when he never lost by more than a touchdown this last season. That tells me his defense kept him in it and he just didn't have the killer instinct to make the big fourth quarter comeback, or it tells me when games were close he didn't know how to put them away.
On a side note, I can translate the message he's trying to convey, that is the blood's gang sign for "kill whitey."
Reason No. 9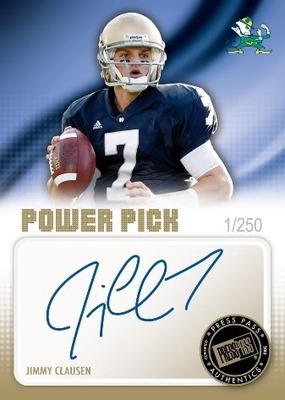 I don't know what you see when you read his signature, but doesn't that look an awful lot like Jill 7? As a psychology major this worries me. The subconscious is a very interesting part of the human psyche. It is a collection of repressed memories, fears and desires stored deep within the human persona. With so much repression comes an eventual release resulting in manifestations known as Freudian slips. Do you want a QB who deep down wants to be a Jill? The wiseman might try to turn that on me and say, "Kyven, could it be that when you look at him deep down you see a Jill?" To which my reply would be "yes, but not an attractive one. Just a Jill of a quarterback."
Nice try wiseman.
Reason No. 8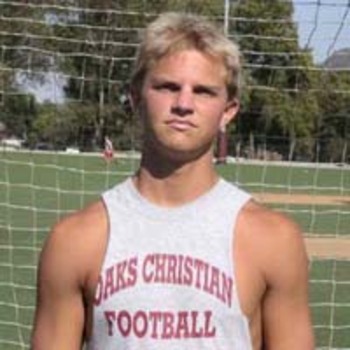 If you're going to wear that at least match the lip gloss to the pink in your torn muscle shirt. If you want to be a supermodel quarterback like Tom Brady you're going to have to learn to match better...and play better.
Reason No. 7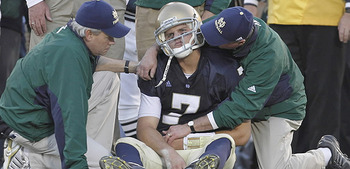 I like to call this photo, "When Jimmy's feeling sad." When Jimmy's feeling sad in college he has the finest crew in all the country that rush to his side, rub his belly, and whisper sweet nothings into his ear. When Jimmy's feeling sad in a Seahawks uniform his only comfort is the boo'ing from the loudest fans in the country and Norton Jr. screaming into his fragile eardrum.
Reason No. 6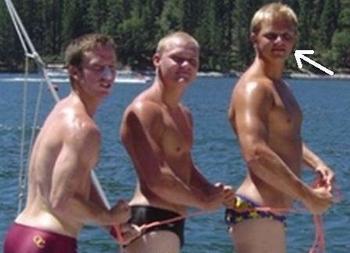 Imagine this: it's Seafair, you've only downed about three brewskies so you're not scheduled to spew for another three or so hours. Suddenly you turn and on the neighboring vessel you find the three amigos shooting you this tenacious look. Three hours simply is out of the question at this point and you upchuck. Imagine that, Seafair after Seafair after Seafair until his contract is up or until he's released. Heaven forbid they don't have a tall table to put their cooler on and bend over to grab every drink.
Reason No. 5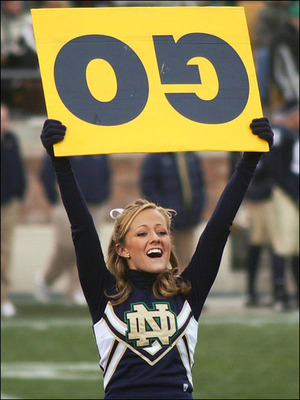 When girls that get paid to cheer for you (in scholarships and free beer) don't even want to, how can you expect people who have to pay to get into the games to cheer you on?
Reason No. 4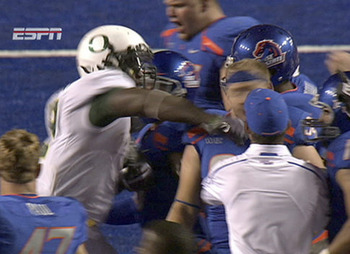 If the coaches decide to take Clausen they're still going to need to address OT and DE or S with their next two picks. When it comes time to pick a running back it'll more than likely be in a late round. If this is the case and Gerhart is off the board, there's a high probability that Lagarrette Blount will be the back chosen by the Seahawks.
Clausen is known for his arrogance and we've all seen how Blount reacts to arrogance and pride. Just picture Clausen coming off his first loss a Seahawk pissed off at every one else for them sucking and him being so awesome. The second he gets into Blount's face for not catching that screen pass on 4th and 23 that sailed 10 yards over the coaching staff on the sidelines, it's lights out for Clausen.
Having realized what I just said, I now believe Clausen should be our quarterback of the future if we draft Blount too.
Reason No. 3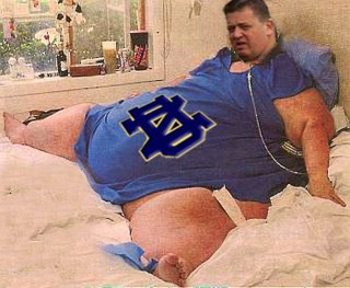 Clausen and Weis have grown very very close over the years like Elliot and E.T. What one feels so does the other and we all know how much Weis has let himself go over the past couple months. Right now Clausen seems to be doing fine. He seems to have replaced the very large hole in his heart that Weis used to fill with the fame and attention that comes with being a possible top-10 pick in the NFL Draft. When the bright lights have faded and he's just another rookie quarterback with a losing record he'll think back to the good old days with Papa Charlie, let himself go, and share Weis' same bedridden fate.
Reason No. 2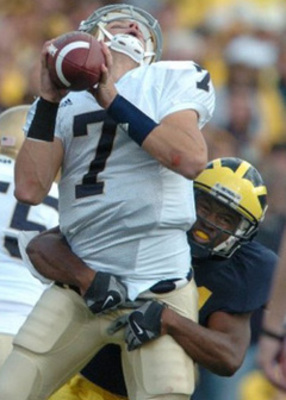 In college Clausen may have not been afraid to take contact from behind by defenders penetrating his line but in the pros, size does matter. Sure he can take a punch to the eye but can he take on Big Willy Smith when he's right in his face. I don't think I could bear to watch.
Reason No. 1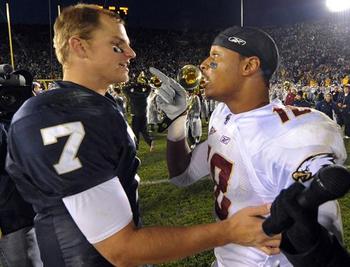 In college Clausen's nickname was The Groper. Groping, inuendoing, and cupping (pictured here) were just a few of his tenacious skill moves that left opponents crippled with fear and shame. We are all aware of the strictly enforced sexual harassment rules the NFL has enforced and the NCAA plans to put in place in 2012. If you're worried about the Hawks signing Brandon Marshall due to fear of inevitable suspension then you have no room to talk about wanting Clausen. I still can't believe his deviant smirk in this photo while his opponent is clearly angry and frightened due to Jimmy's advances. HE SAID NO, JIM!
Keep Reading

Seattle Seahawks: Like this team?