2010 NCAA March Madness: Kansas Gets Tough Draw, but Stays Close To Home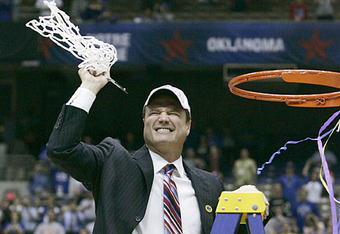 After viewing Kansas' upcoming schedule in the NCAA Tournament, one can't help notice that the Jayhawks don't have to travel to a distant destination to play in any of their scheduled venues. Although KU lucked out as far as where they are competing, the Jayhawks were stung by the tournament committee in terms of which teams they drew as prospective opponents.
Kansas may have to face each of the two schools that handed them their only losses of the season, but let's take a look at the potential opponents, round-by-round:
First Round: (1) Kansas vs. (16) Lehigh – Lehigh should be a cakewalk for Kansas if head coach Bill Self keeps his team focused on the game at hand. The elite Jayhawks shouldn't have too much trouble keeping Zahir Carrington, Marquis Hall and Patriot Conference Player of the Year CJ McCollum in check for 40 minutes.
The Mountain Hawks' finished the season strong by winning eight of their final 10 games, but they haven't faced a team nearly as talented as Kansas yet. Expect the Jayhawks to dole out a 20-25-point drubbing, and end the Patriot League champions' impressive season on Mar. 18.
Next on the road to the Sweet 16 in the second round for Kansas would be either (8) UNLV or (9) Northern Iowa.
UNLV has played pretty well this season, but "pretty well" is only good enough for fourth place in the highly competitive Mountain West Conference. The Rebels stumble into the Big Dance as they put up a shameful 45-spot against San Diego State in their last game in the Mountain West Tournament. However, UNLV's 46 RPI tells us that while they will not take Kansas lying down, they'll probably be lying down once the Jayhawks are through with them.
If RPI is to play a strong factor in dictating tournament winners, then Kansas had better take Northern Iowa (17 in RPI) seriously should the Panthers beat UNLV in the first round.
Northern Iowa posts an impressive 28-4 record after winning the Missouri Valley Conference. This team provides a balanced offense led by senior center Jordan Eglseder. Although Northern Iowa could beat Las Vegas and advance past the initial round, they'll likely hit an impasse dressed in Jayhawk blue come Mar. 20.
Once Kansas moves towards the round of 16, trouble could be on the horizon from a couple of out-of-conference powerhouses in (5) Michigan State or (4) Maryland, who will likely dispatch (12) New Mexico State and (13) Houston, respectively.
Maryland tied (1) Duke for best record in the ACC during the regular season, while Michigan State achieved the same feat in the Big 10 with (4) Purdue and (2) Ohio State.
Kansas has the necessary size to match up against the Terrapins and the postseason experience to hang with coach Tom Izzo and the Spartans, who advanced to the championship game against North Carolina last season.
Unless intangibles prove to be the difference-maker in either of these potential matchups, Kansas should roll through to the conference quarterfinals after facing their first legitimate challenge.
In order for the Jayhawks to advance from the Elite Eight to the Final Four, they will have to face one of the following opponents:
(6) Tennessee, (11) San Diego State, (3) Georgetown, (14) Ohio, (7) Oklahoma State, (10) Georgia Tech, (2) Ohio State (15) Santa Barbara
Tennessee possesses an inspirational leader in head coach Bruce Pearl, but is coming off an embarrassing 75-45 shellacking against Kentucky in the SEC Tournament semifinals despite a home-state advantage. However, the Vols are responsible for one of the two blemishes on Kansas' record this season.
On Jan. 10, a then-14-0 Jayhawk squad that was brimming with confidence traveled to Knoxville, and was handily defeated 76-68. Kansas apologists, in search of a way to place a positive spin on the defeat, hailed the loss as a necessary wake-up call during a long season. A subsequent 13-game winning streak proved the wake-up call theory to be valid, and the Jayhawks would not lose until they suited up in Stillwater, OK on Feb. 27.
Oklahoma State finished a mediocre seventh place in the Big 12, but played like champs when Kansas came to town. Despite four starters scoring double-digit points, the Jayhawks left town on the business end of an 85-77 Cowboy beatdown.
San Diego State, Ohio, Houston and UCSB are mid-major overachievers in the Midwest bracket who will likely endure their demise in the first two rounds of the tournament. If any of these four teams ends up wearing the proverbial glass slipper a couple weeks from Selection Sunday, defense will serve as a key factor that paves the road to Indianapolis come April.
Based on their impressive defensive performances throughout the season, my hunch is that the Gauchos and Aztecs will make the most noise (note: my California residency has nothing to do with my picks) of the aforementioned four underdogs. But the mid-major programs will likely not be able to keep up with the more battle-tested also-rans from superior conferences like the ACC, Big 10 and Big East.
Georgia Tech missed a big opportunity to improve its tournament seeding when the Yellow Jackets failed to pull out a victory against Duke in the Atlantic Coast Conference Championship game on Mar. 14. Alas, GT's road to the Final Four will go through the Jayhawks, and the Jackets shouldn't pose too much of a threat having finished seventh in the ACC.
Georgetown, like Georgia Tech, came close to winning their conference title, but West Virginia's Da'Sean Butler single-handedly prevented that from happening in the Big East Championship game. While the 22nd-ranked Hoyas present a physical presence led by center Greg Monroe to match up against Cole Aldrich, GU will have to forget about the prior heartbreaking loss to WVU, and start their Big Dance fresh by beating up on the Ohio Bobcats of the Mid-American Conference.
While we're discussing schools within the Buckeye state, Ohio State, which is arguably the hottest team headed into the tournament, currently stands as Kansas' biggest challenge to get to Indy next month. So long as OSU can hold off unheralded James Anderson and underachieving Oklahoma State in the second round, the Buckeyes should have a clear path until they meet Kansas in the Elite Eight.
Kansas is favored to win the Midwest Region, and the relative proximity of their scheduled games (Oklahoma City during the first and second rounds, St. Louis during the Sweet 16 and Elite Eight) to the campus in Lawrence bodes well for the Jayhawks and their fans for two reasons:
First, Jayhawk Nation will spend less time traveling across the country unlike most other programs, and should be fresher for game action.
Second, Kansas stands to have the closest thing to home court advantage all the way to Indianapolis, where they may again serve as a regional favorite against the likes of east coast-based Syracuse and Duke once they reach the Final Four.
Since Duke received even better treatment than Kansas with regards to being hooked up by the NCAA tournament committee (Kansas for locations, Duke for competition - the Blue Devils' draw is cupcake city), fans should not be the least bit surprised to see Kansas play Duke for the National Championship on Apr. 5 in Indiana.
This title game would be a grand finale for the Jayhawks' only senior, All-American Sherron Collins. Duke is a smallish team, and Collins would be a key factor in defending the Blue Devils' perimeter attack.
The Jayhawks should be expected to come closer to repeating their championship run from the 2007-08 postseason as opposed to their horrific effort during the 2005-06 tournament, when they lost to 14th seeded Bucknell in the opening round.
The latter performance was an important growing experience for Self, a mistake he vows not to make again during a year when he arguably has his most talented team ever.
This article is
What is the duplicate article?
Why is this article offensive?
Where is this article plagiarized from?
Why is this article poorly edited?

Kansas Jayhawks Basketball: Like this team?