2010 NCAA Tournament Bracket: Breaking Down the East Region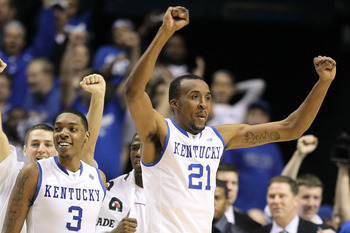 The Selection Show is over, I beat Joe Lunardi 31 correct seeds to 27, and so now it's time to focus on the games themselves.
The East appears to be the second most difficult region in the draw behind the Midwest, but who is the team to beat? What high seed is going down early?
What game am I looking forward to the most? Who's the best player in the region? And what's the best storyline?
Find out the answers to these questions and more in my East Regional breakdown.
The Team to Beat: West Virginia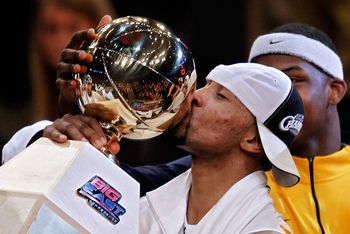 Kentucky might be the No. 1 seed in this bracket, but I think No. 2 West Virginia may be the team to beat in the East.
The Big East tournament champions got snubbed from the top-seed line despite having a far better record against the RPI top 25 than Duke (6-4 vs. 1-3), and UK is the unfortunate No. 1 that gets stuck with the Mountaineers in its region.
Over the past couple weeks, the young Wildcats have struggled against lower-tier teams like Alabama and Mississippi State, while WVU has been busy knocking off heavyweights Georgetown (twice) and Villanova.
Mountaineers forward De'Sean Butler has scored at least 20 points in four of his last five games, and fellow swingman Kevin Jones is shooting nearly 52 percent from the field this season.
West Virginia has the added advantage of playing regional games at a familiar Big East location: the Carrier Dome in Syracuse.
Upset Special: Wake Forest over Texas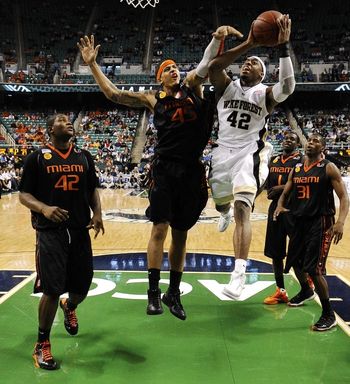 A 9 seed beating an 8 is hardly an upset, but I don't see too many lower seeds winning first round games in this region.
The trendy pick right now seems to be No. 12 Cornell over No. 5 Temple, with ESPN analyst Jay Bilas going so far as to say the Big Red should've been a 5 seed themselves (despite losing to Penn and not having a single top-50 win), but I don't see that happening.
The Owls are the team that got under-seeded, probably deserving a 3 after beating Villanova and winning both the Atlantic 10 regular-season and tournament titles.
In fact, Temple beat those same Penn Quakers by 15 on the road in January.
Most Anticipated Game: West Virginia vs. New Mexico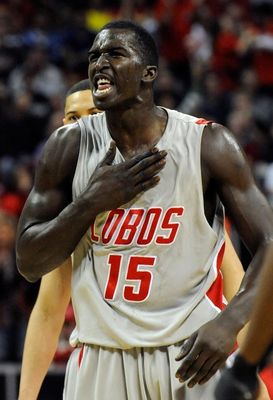 I'm looking forward to a possible Sweet 16 showdown between No. 2 West Virginia and No. 3 New Mexico.
Both of these teams could've been seeded a line higher and neither has a true center on its roster.
The Mountaineers' tallest player is 6'9" Devin Ebanks, who averages 11.8 points per game. For the Lobos, it's 6'8" A.J. Hardeman, who scores 7.1 points per contest.
West Virginia and New Mexico are also pretty even in nearly every statistical category from points per game (73.0 vs. 76.6) to field-goal percentage (43.4 vs. 44.1).
Player to Watch: John Wall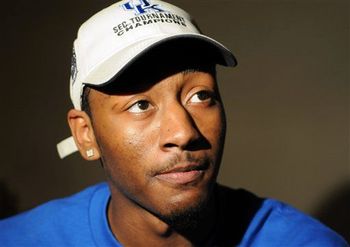 This will be your only chance to watch John Wall play in the NCAA tournament, so you better be watching.
The freshman guard and Player of the Year candidate will most likely jump to the NBA in a few months, so it'll be interesting to see how the young standout performs under the bright lights of March Madness.
All he's done this season is average 16.9 points and 6.3 assists per game, while leading Kentucky to a 32-2 record.
Best Storyline: Bob Huggins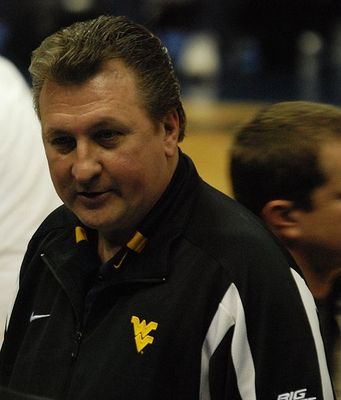 Can Bob Huggins lead his alma mater to its first Final Four since 1959? The coach has already led West Virginia to its first-ever Big East tournament championship this season and now he'll try to do one better.
Huggins is seventh among active Division I coaches with 616 victories, but he hasn't reached the national semi-finals since he took Cincinnati there in 1992.
You're Gonna Hear About Lavoy Allen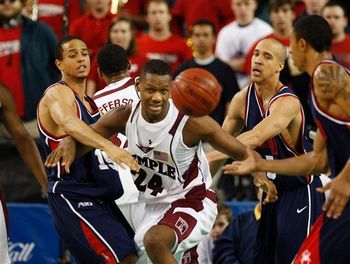 Temple's 6'9" junior forward Lavoy Allen is averaging a double-double this season with 11.7 points and 10.9 rebounds per game.
He scored 17 and pulled down an incredible 21 boards in a victory at La Salle on Feb. 28, part of a nine-game winning streak by the Owls.
Allen will now look to lead fifth-seeded Temple to the Sweet 16.
The Pressure is on John Calipari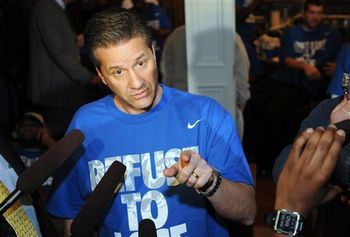 The pieces are all in place for John Calipari to finally win his first national championship after reaching the Final Four with UMass in 1996 and coming oh-so-close with Memphis two years ago.
The question is: Can Coach Cal lead this group of freshmen to six consecutive victories over the top competition the country has to offer?
Remember, Kentucky hasn't defeated a team seeded higher than fourth in this year's tournament (Vanderbilt).
Keep Reading

Kentucky Wildcats Basketball: Like this team?