2010 Theme Songs for Big Ten Basketball Teams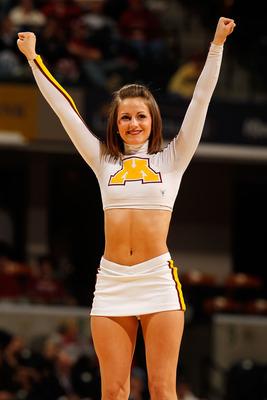 The NCAA has recently unvieled a new version of "One Shining Moment" with Jennifer Hudson. One Shining Moment is the song that CBS plays while it shows a video of the games won by the NCAA Champion during their magical run through the tournament. Listening to Hudson sing the new version got me wondering what theme song would be appropriate for each of the teams in the Big Ten Conference now that the season has come to a conclusion. Yes, there will be more old school classics . . . . and the teams will be listed in reverse order of how I would rank the teams at the end of the year after the Big Ten Tournament.
Iowa Hawkeyes - B.B. King, The Thrill is Gone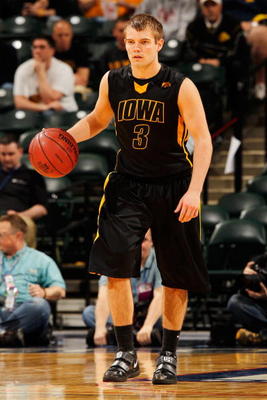 ". . . The Thrill is gone, It's gone away from me, The thrill is gone baby, The thrill is gone away from me, Although I'll still live on, But so lonely I'll be,"
Cully Payne, pictured above, played well as a freshman point guard for the young Hawkeyes. Matt Gatens and Eric May are also decent players but Iowa is not a very deep or talented team. Iowa will need to get a healthy infusion of talent if they are going to turn things around in Iowa City. Iowa lost by 15 or more points on eight occassions. Iowa won 10 games this year but only one of their victories, Northwestern, was against a team with a winning record.
Indiana Hoosiers - Elton John, Candle in the Wind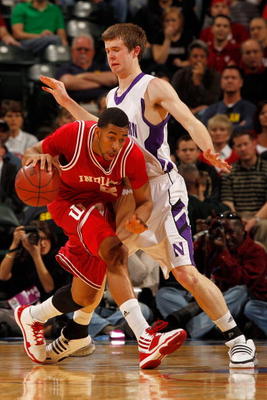 ". . . And I would have like to have known you, But I was just a kid, Your candle burned out long before, your legend ever did."
Indiana is a basketball program rich in tradition as the Hoosiers won three NCAA tournament championships under the General Bob Knight. However, the last time the chair throwing red sweater vest basketball guru won a championship was in 1987. None of the present players on the Indiana squad were even born when Indiana won its last championship.
On January 21, Indiana was 9-9 overall and 3-3 in the Big Ten. While no one expected Indiana to compete for the Big Ten Championship, they were the initial surprise story in the conference. Unfortunately, midnight came early and Indiana went on to lose their next 10 games.
The Indiana faithful have hope that the present kids will be able to bring the program back to its days of past glory especially if Christian Watford, pictured above, stays and Maurice Creek comes back healthy from his season ending knee injury.
Penn State Nittany Lions - Bobby Blue Bland, Stormy Monday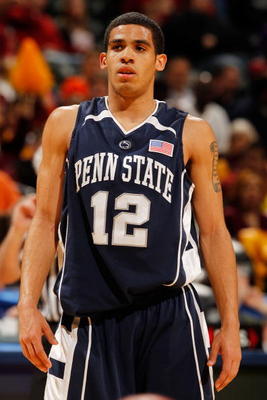 ". . . They call it stormy Monday, but Tuesday's just as bad, Lord and Wednesday's worse, Thursday's oh so sad."
The Nittany Lions came into the season with a chip on their shoulder after not making the NCAA Tournament last year. Talor Battle, pictured above, was a legitimate Big Ten Player of the Year Candidate and after getting out to a solid 8-4 non-conference start, Nittany Lions fans had reason to believe that their team would be in the hunt for an NCAA bid. Penn State instead crashed and burned losing their first 12 games of the Big Ten season. Fortunately, Penn State won three of their last six and of the three games they lost was only by a combined margin of 14 points. Kudos to Battle and Penn State for battling to the very end of the season.
Michigan Wolverines - Paul Simon, Slip Sliding Away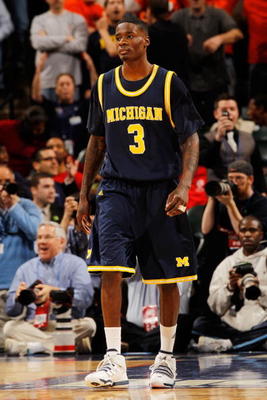 ". . . These are the very words she uses to describe her life, She said a good day ain't got no rain, She said a bad day is when I lie in the bed, And I think of things that might have been."
Michigan is one of the most difficult teams to figure out in the Big Ten. The Wolverines were ranked among the top 20 teams in the nation at the beginning of the year on the strength of their two stars Manny Harris and DeWayne Sims.
Sims and Harris came ready to play and have not missed a beat with their scoring and rebounding prowess. Michigan however has not been able to get any consistent scoring from any of their remaining starters or from their bench. Too often, Michigan fell in love with the three point shot and with too many players shooting below 32 percent from beyond the arc Michigan shot itself out of games. As a result, the Wolverines struggled all season long to win games and ended up with a 15-17 record. What might have been will be the refrain for the Wolverines . . .
Northwestern Wildcats - James Ingram, Just Once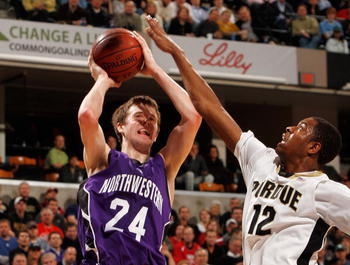 "Just once can't we figure out what we keep doing wrong? Why we never last for very long? What we are doing wrong? Just once can't we find a way to finally make it right?"
The Wildcats were so close to receiving a NCAA tournament bid this year. After beating Minnesota late in the season, Northwestern was 17-8, 6-7 with six games left on its schedule Penn State (twice),Chicago State, Iowa, Indiana and Wisconsin. A 20 win season and top half finish in the Big Ten conference was in the grasp of Northwestern. The drought of having never made the NCAA tournament was going to end for the Wildcats. . . but Northwestern returned to their old form by finishing with only 19 wins.
Next year, John Shurna, pictured above, and Kevin Coble will lead Northwestern into the NCAA tournament. Of course, the Wildcats play their home games within a short distance of the friendly confines of Wrigley Field.
Illinois Fighting Illini - Eagles, The Best of My Love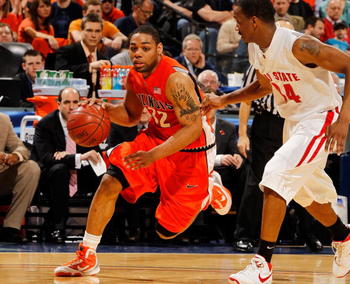 Eagles, The Best of My Love, "But every mornin' I wake up and worry, what's gonna happen today, You see it your way and I see it mine, but we both see it slippin' away"
The Illini ran out of time on their rollercoaster ride. They started the year very strong jumping out to a 4-0 record. The Illini then stumbled in losing two games against Utah and Bradley at the Las Vegas Invitational. The Fighting Illini then won four in a row including wins over #19 Clemson and #24 Vanderbilt. Just when it looked that Bruce Weber had figured out his team, the Illini then dropped three out of their next four games. No problem, Illinois started the Big Ten season winning its first three games.
Staying to the script, the fighting Illini then lost their next three games. As Illini fans appeared to be heading to the exits with their team on the bubble, the team responded again winning their next five games including wins over #5 Michigan State 78-73 and #13 Wisconsin 63-56.
Unfortunately, the Illini would then go on to lose five of their last seven games and fail to make the tournament. Oh, what could have been had the Illini knocked off Ohio State in the semi-final game of the Big Ten Tournament.
Purdue Boilermakers - Beatles, Yesterday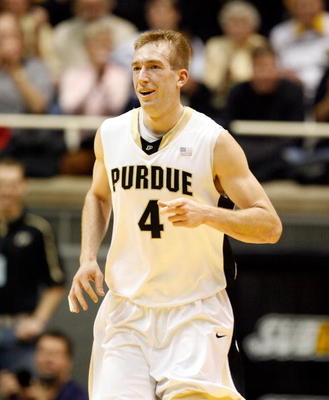 "Yesterday, all my troubles seemed so far away, Now it looks as though they're here to stay, . . . Suddenly, I'm not half the man I used to be, There's a shadow hanging over me, oh, yesterday came suddenly"
Purdue have three solid players in E'Twaun Moore, JaJuan Johnson and Chris Kramer but it is clear that they are a different team without Robbie Hummel, pictured above, in the lineup. Purdue was a sentimental favorite to make it to the Final Four in their backyard in Indianapolis but without Hummel they will be hard pressed to get beyond the Sweet Sixteen.
Minnesota Golden Gophers - Alicia Keys, I Keep Fallin'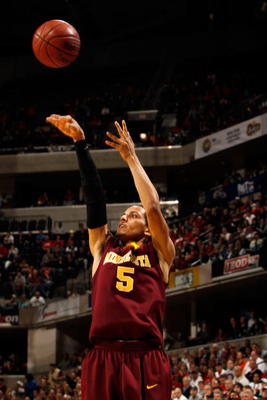 "How do you give me so much pleasure, And cause me so much pain, Just when I think, I've taken more than would a fool, I start fallin' back in love with you"
Minnesota started the season among the top 25 teams in the country and things looked rosey when they beat No. 10 Butler in the Anaheim Classic. Minnesota however did not know what to do with prosperity and stumbled often during the season. Minnesota appeared to be headed to the NIT on March 2 when they got completely destroyed by Michigan 83-55. Then when it appeared that all was lost for the Gophers, they reeled off four victories including wins over Michigan State and Purdue to make it to the Big Ten Tournament championship game.
Wisconsin Badgers - Phil Collins, Against All Odds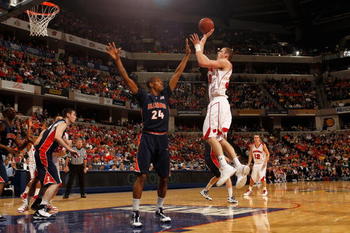 "Because we've shared the laughter and the pain, and even shared the tears
You're the only one who really knew me at all"
Wisconsin was supposed to be rebuilding this year. The Badgers were going to be a bubble team that would have to struggle to make it to the tournament. In hindsight, such talk must have seemed ludicrous to Coach Bo Ryan as he has somehow managed to get his squad to the NCAA tournament every year he has been at the helm.
Coach Ryan's work this year is even more amazing given that Jon Leuer and his 6'10, 240 pound solid low post presence has missed nine games. No problem, next man in for the Badgers.
Of course, when your coach is Bo Ryan and he believes in you probably think you can overcome the odds against you . . . .
Michigan State Spartans - Queen, Crazy Little Thing Called Love
"There goes my baby, She knows how to rock and roll, She drives me crazy, she give me hot and cold fever, Then she leaves me in a cool, cool sweat"
Coach Izzo has built a program in East Lansing where the expectation is that the Spartans will be playing for a National Championship year in and year out. The Spartans are led by Kalin Lucas and Raymar Morgan, pictured above. The youngsters on the team appear to be playing on the court well enough just in time for Michigan State to make another deep run in the tournament. Unfortunately, Coach Izzo has been driven crazy with off-court issues; he recently suspended starting point guard Chris Allen and has had to discipline other players such as Lucas during the course of the season.
Ohio State Buckeyes - Chuck Berry, Johnny B. Goode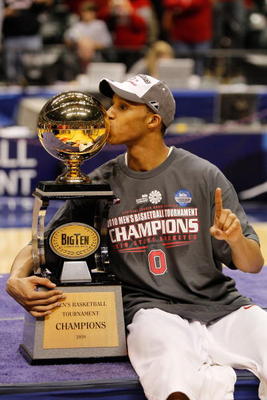 "Maybe some day, your name will be in light, saying: Johnny B. Goode tonight! Go go, go Johnny go go go!"
Big Ten Player of the Year Evan Turner, pictured above, has his eyes on being the man who brings a National Championship back to Ohio State. It is unfair to David Lighty, Jon Diebler and the rest of the Buckeyes to say they are not a quality team without Turner but like the relationship between Hummel and Purdue, Ohio State is a good team without Turner but they are a possible Final Four team with Turner.
Keep Reading