NCAA Tournament 2010: Breaking Down Syracuse's Path Through the West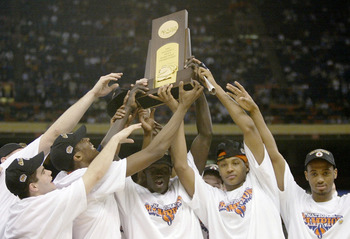 March Madness is once again upon us—that time in which college hoops fans everywhere will be shirking their real world responsibilities to obsess over the hoops action and the state of their brackets.
Inevitably, many knowledgeable fans will confidently enter their picks into their office pool believing this will finally be the year, only to end up losing to the boss' wife who made all of her picks based on the different mascots.
It seems these people take home the prize far too often, doesn't it? How is it that the most hoops-crazy fan never seems to win?
Although it seems to be purely an occurrence of horrible luck, in reality the greatest downfall of most brackets is probably homerism. As a huge Orange fan, there's a reason that I've only managed to win two bracket pools, both of which were in the same season. Syracuse was in the NIT that year, thus removing any bias I had in making my selections. Every other year, great picks were for naught because I let my heart put the Orange in the Final Four when my brain was warning me about an early exit.

It could be more of the same this year. I'll inevitably pick my Orange to end up among the last four teams playing, for better or worse. This season though—my heart and my head are in agreement. Despite a meaningless loss to Louisville after clinching the Big East regular season title and then finally succumbing to blood-rival Georgetown after two relatively easy wins during the year, the Orange have the look of a Final Four to me.
And so, with my clear bias out in the open I'd like to offer a breakdown on Syracuse's road through the Houston region towards Indianapolis.
Watching the Selection Show, I have to admit it didn't take long for the committee to give me a serious shock. Duke getting the third 1-seed was a surprise, as I was convinced that West Virginia would grab the last No. 1 and Syracuse would be third overall. However, the announcement that really left my jaw sitting on the floor was the draw the Orange received for the first round.
I'm going to be having nightmares for the next few days, as Syracuse prepares to exact revenge on Vermont, who famously upset a fourth-seeded Syracuse team in the first round of the 2005 tournament. However, my own paranoia aside, when picking brackets the last thing anyone should ever do is pick a No. 16 seed to upset a No. 1 seed. When filling the bracket, don't even think about trying to pick the upset here. Even if it were to happen, it won't hurt you to miss this one, because nobody else is going to pick that anyway.
Now that I've got that off my chest, here's how I believe the rest of the West region will shake out:
First Round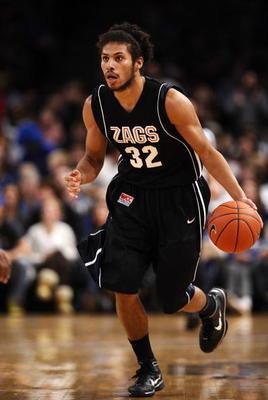 No. 1 1 Syracuse beats No. 16 Vermont
No. 8 Gonzaga beats No. 9 Florida State
No. 5 Butler beats No. 12 UTEP
No. 4 Vanderbilt beats No. 13 Murray State
No. 6 Xavier beats No. 11 Minnesota
No. 3 Pitt beats No. 14 Oakland
No. 7 BYU beats No. 10 Florida
No. 2 Kansas State beats No. 15 North Texas
Just a few notes:
Gonzaga and Florida State is nearly a tossup, as most 8/9 games are. At the end of the day though, Gonzaga is probably a bit better than the Seminoles so they're my pick to play Syracuse in the second round.
A No. 12 seed upsets a No. 5 seed almost every year. However, you shouldn't worry about that while making selections. Always go with the team you believe will win and don't pick a No. 12 seed just for the sake of picking the upset. Knowing that this scenario always happens is only worthwhile if you pick the correct game. This year, UTEP will be a tempting No. 12 seed for prognosticators to advance to the second round, but for this region I believe fifth-seeded Butler will survive the dreaded No. 5/12 matchup.
Based on how they played in the Big Ten, I was extremely tempted to take Minnesota over Xavier for the upset. Conference tournaments are rarely a good indicator of how teams will play in the Big Dance though and based on the regular season, Minnesota does not have the look of a team that is a threat to go very far.
Second Round
No. 1 Syracuse beats No. 8 Gonzaga
No. 5 Butler beats No. 4 Vanderbilt
No. 3 Pitt beats No. 6 Xavier
No. 2 Kansas State beats No. 7 BYU
Butler shouldn't have a whole lot of trouble with Vanderbilt, who may be a bit overseeded. They have a decent record at 24-8, but the SEC wasn't particularly strong this year and they suffered a number of bad losses to Cincinnati, Illinois, Western Kentucky, Georgia and South Carolina.
Pittsburgh and Xavier makes for a terrific second round matchup. It will be close, but given the choice I'd take a second-place Big East team over the best of the A-10 nine times out of 10.
Sweet 16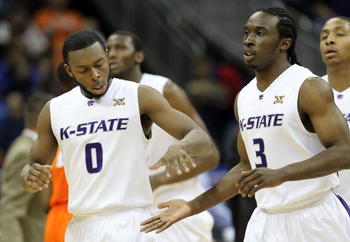 No. 1 Syracuse beats No. 5 Butler
No. 2 Kansas State beats No. 3 Pitt
Butler is a team that might give Syracuse some issues. They have two starters shooting respectable percentages from three-point range in Selvin Mack and Willie Veasley who combined for over 24 ppg. They've also picked up some good wins this season against Ohio State and Xavier. However, I think talent wins out here. Syracuse has too many weapons for Butler to contain and they should win in a tough game.
Kansas State and Pittsburgh should make for another interesting game. Pittsburgh is a team that frequently struggles in the NCAA Tournament though, making the Elite Eight for their first time since the tournament expanded to 64 teams. The Sweet 16 has spelled disaster for the Panthers historically and it probably will again this season.
Elite 8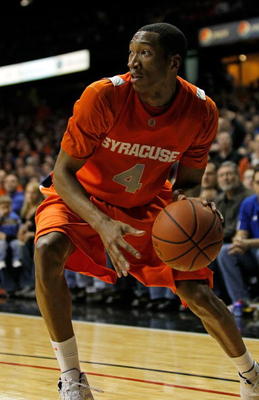 No. 1 Syracuse beats No. 2 Kansas State
Back in 2003 when the Orangemen won the national title, they carved a bloody path through the Big 12, taking down Oklahoma State, Oklahoma, Texas and Kansas. While those results really have very little to do with what happens this season, the continuing issue that Big 12 teams have to deal with in matching up with Syracuse is that they don't see the zone defense very often.
The difference in this one will be Syracuse's defense and K-State's lack of quality shooters to extend the zone. Unless someone unexpectedly gets red hot from three-point range, Kansas State will struggle to score against the Orange and Syracuse could end up cruising to a relatively easy victory.
Final Four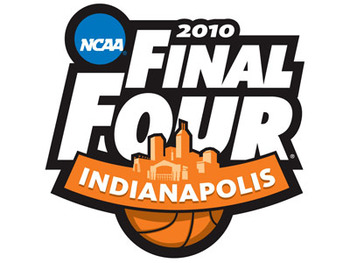 The Final Four is one of the greatest spectacles in all of sports. By this point, if they've survived early round upsets, the best teams are usually firing on all cylinders—absolutely focused on the goal.
What happens from here is anybody's guess. It's been clear who the elite teams are for most of the season. Kansas, Syracuse and Kentucky have the best body of work over the course of the entire year and I believe all three will reach Indianapolis. The remaining No. 1 seed Duke is not at the same level as these three, and I believe they will be upset in the Elite Eight by Villanova.
So the four teams I expect to see invading Indianapolis in early April are Kansas, Syracuse, Kentucky and Villanova.
Keep Reading

Syracuse Basketball: Like this team?