2009-10 SEC Basketball Postseason Awards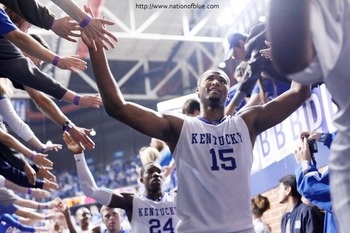 The 2009-10 SEC regular-season has come to an end, and it's been a surprisingly predictable one for the most part.
The league has rebounded from a weak 2008-09 season, and seems poised to push at least four, and as many as six, teams into the Big Dance.
Three teams stand ranked as the SEC Tournament begins. Second-ranked Kentucky has lost just two games, the Volunteers of Tennessee stands 13th and an underrated Vanderbilt squad is ranked 20th.
The Eastern division has once again asserted its dominance this season, as the division's top four squads have a perfect 24-0 record against the West.
Mississippi State and Ole Miss predictably lead the West, though Arkansas surprised many by making a push for the division.
Georgia was the noteable performance this season, as Fox has turned around the program in Athens despite the Bulldogs' 13-16 overall record. UGA has taken down three ranked teams and boasts an RPI in the Top 100.
More storylines await you as this year's awards lie on the following pages.
2009-10 SEC Coach of the Year: John Calipari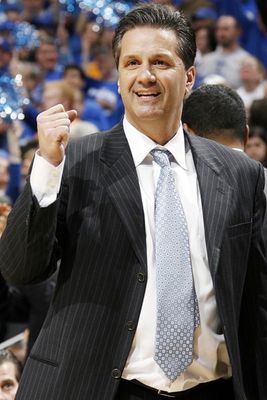 There's not much argument to this choice, in my opinion.
His honesty may be in question, but his coaching prowess isn't. The Wildcats saw their historic program miss the NCAA Tournament for the first time in recent memory in 2008-09, and the expulsion of head coach Billy Gillispie resulted.
Calipari, who built UMass and Memphis into national powerhouses, was tabbed and immediately wrangled up a recruiting class that made history. Kentucky's talent was undeniable, but neither was its youth.
Many suspected, myself included, that Kentucky's youth would cost them a chance at an elite-level season. They, and I, were wrong. Calipari's effort at keeping his very young team focused and motivated through every game has been astounding, as has been the team's reversal of fortunes from a year ago.
So long as Calipari can avoid the NCAA's probing eye - for the third time - he appears to have placed the Blue nation back on top, where it's used to being.
(Coaches' Pick: Kevin Stallings, Vanderbilt)
2009-10 SEC Player of the Year: Jarvis Varnado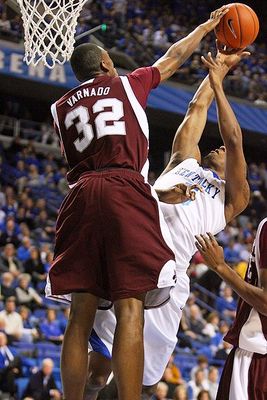 Some may think this is a contraversial pick, but read the defense below before judgement is passed. I dare say once the argument is made, you will understand this perspective, if not agree.
Though he did not play for the league's best team, which is customary for the media's picks with this award, Jarvis Varnado was the league's best all-around player.
Varnado averaged 13.5 points per game, just 2.1 points less than the media's pick of Kentucky's DeMarcus Cousins. Varnado, once a defensive specialist, tuned his offensive skills and developed moves under the basket to complement his dominant defensive presence.
The two-time First-Team All-SEC member led the league in rebounding at 10.6 per game, joining Cousins as the league's only players to average a double-double on the season.
The three-time National Defensive Player of the Year also blocked 4.77 shots a game, easily the best in the SEC and second-best nationally. This marked the first time in three years Varnado didn't finish as the nation's best shot-blocker. Varnado also became the NCAA's all-time leading shot-blocker this season, and has unquestionably indirectly altered more shots than he has gotten his massive hands on.
Add in Varnado's 57.6 percent shooting percentage, second-best in the conference, and there seems to be little question that Varnado is the league's best all-around player.
Though Cousins, the other favorite for this title, scored a bit more, Varnado did so more efficiently. Varnado rebounded better and was well more than doubly as potent on defense.
As for UK's other star, Wall, he scored and passed well, but easily led the entire conference in turnovers and - in my opinion - wasn't as important to his squad as Cousins.
Jarvis Varnado deserves this award, and he has it from this writer.
(Coaches' Pick: John Wall, Kentucky)
2009-10 SEC Freshman of the Year: DeMarcus Cousins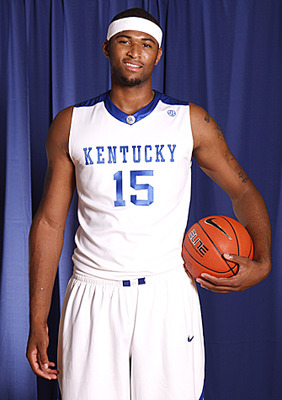 The fact that one team (Kentucky) had two players either receiving or competing for the SEC Player of the Year award is just plain scary.
For me, Cousins gave Varnado a huge battle for Player of the Year honors. Though he fell a bit short, he dominated this category.
Cousins joined Varnado as the only two SEC players to average a double-double, and was Kentucky's most vital player in its quest to a 29-2 record.
Scoring 15.6 points and 10.1 rebounds per game, he also ranked third in the conference at 53.8 percent from the field.
This man-sized creature has made his mark in the Kentucky history books, and will be a very rich man after the 2010 NBA draft.
(Coaches' Pick: DeMarcus Cousins, Kentucky)
2009-10 All-SEC First Team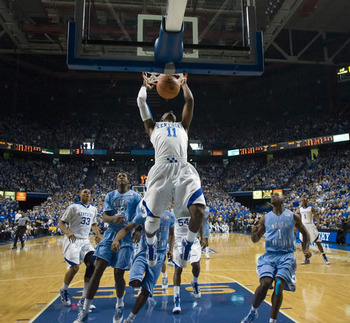 Jarvis Varnado (MSU) - 13.5 ppg, 10.6 rpg, 4.77 bpg, 57.6% FG
Varnado, my choice as SEC Player of the Year, was one of two SEC players to average a double-double in the regular season. He's a three-time National and SEC Defensive Player of the Year and broke the NCAA all-time career blocks record this year. He led the SEC in rebounding and blocks.
DeMarcus Cousins (UK) - 15.6 ppg, 10.0 rpg, 53.8% FG, 1.81 bpg
Cousins was a very close number two for conference player of the year, and for good reason. The freshman was the only other SEC player to average a double-double, ranking second in rebounding and third in field-goal percentage.
John Wall (UK) - 16.8 ppg, 4.1 rpg, 6.23 apg, 1.80 spg
Wall was much-hyped before the season, and has mostly lived up to that hype. He ranks fifth in the league in scoring and leads the SEC in assists. He also turned the ball over 120 times, though, keeping him out of the SEC Player of the Year race.
Devan Downey (USC) - 22.5 ppg, 3.3 rpg, 2.74 spg, 3.48 apg
Downey isn't an efficient player at all, but leading the SEC in scoring by nearly five points warrants a first-team selection. He also led the league in attempts (nearly twenty a game) and didn't even come close to the top ten in percentage.
Trey Thompkins (UGA) - 17.9 ppg, 8.4 rpg, 48.6% FG, 76.6% FT
Thompkins did everything for the Bulldogs this year, and had some big games to help Fox's squad top some big teams. He ranked second in the league in scoring and fourth in rebounding.
2009-10 All-SEC Second Team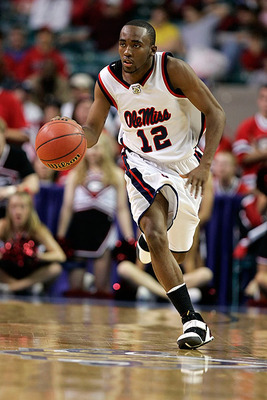 Chris Warren - 17.2 ppg, 1.8 rpg, 3.40 apg, 83.0% FT
Warren has turned into more of a shooter than a pass-first point guard, but it has served his team well at times. Polynice can also pass well, and Warren is the better shooter: 41.5 percent from three.
Tasmin Mitchell (LSU) - 16.8 ppg, 9.4 rpg, 43.3% FG, 1.3 spg
Mitchell was the Tigers' entire offense this season, and he was a potent one. Too bad his senior season was wasted on a bad team. He ranked fourth in scoring and third in rebounding.
Patrick Patterson (UK) - 14.9 ppg, 7.5 rpg, 58.4% FG, 39.3% 3PT
Former All-SEC Freshman, Patterson is first-team worthy but was overshadowed by Cousins and Wall. Patterson was stronger and more physical on defense than Cousins. He finished atop the SEC in field-goal percentage, 12th in scoring and sixth in rebounding.
Rotnei Clarke (Arkansas) - 15.1 ppg, 2.4 rpg, 42.7% 3PT, 82.7% FT
Clarke is a pure shooter, but he's the best in the league. He easily led the SEC in three-point percentage throughout the entire season, and was one of the best free-throw shooters.
Courtney Fortson (Arkansas) - 17.9ppg, 5.2 rpg, 5.7 apg, 75.9% FT
Fortson might have competed for the first team, but sat out a significant amount of the season due to off-the-court issues. He turned the ball over prolifically, but rebounded abnormally well for a guard.
2009-10 All-SEC Freshman Team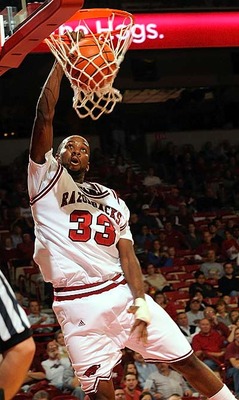 DeMarcus Cousins (UK) - 15.6 ppg, 10.0 rpg, 53.8% FG, 1.81 bpg
Cousins was Kentucky's most important player, and that's saying a lot as a freshman. Cousins finished seventh in the league in scoring, second in rebounding and fourth in blocks.
Marshawn Powell (Arkansas) - 14.9 ppg, 6.7 rpg, 50.0% FG, 1.3 bpg
Powell started out as the league's most impressive freshmen, but quickly fell behind the Kentucky kids. He's set to dominate for the 'Backs next season. He ranked 11th in scoring and 14th in rebounding.
John Wall (UK) - 16.8 ppg, 4.1 rpg, 6.23 apg, 1.80 spg
Wall was a standout for Kentucky, and is almost certainly gone to the NBA after this season. He ranks fifth in the SEC in scoring and first in assists.
Kenny Boynton (Florida) - 13.3 ppg, 2.6 rpg, 37.1% FG, 2.7 apg
Boynton led the Gators offensively and will be the team's leader in 2010-11. He ranked 22nd in the league in scoring.
John Jenkins (Vanderbilt) - 11.0 ppg, 2.1 rpg, 46.8% FG, 47.6% 3PT
Jenkins is the most underrated shooter in the league, and could take the conference by storm next season. Keep a look out for this guy.
Keep Reading

Kentucky Wildcats Basketball: Like this team?