10 in 10: Maple Leafs Top Ten Fighters in the Past Decade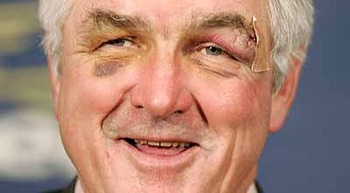 When Brian Burke joined the Leafs last season, there was a promise for more "pugnacity, testosterone, truculence and belligerence." With the 'battle' in the Battle of Ontario all but lost since returning from the lockout, Leafs Nation was excited by the prospect of a more 'rough and tumble' team.
With the acquisitions of Mike Komisarek, Colton Orr, Wayne Primeau, Francois Beachemin and more recently Dion Phaneuf, the Leafs are finally beginning to become a team that is hard to play against. While this will hopefully result in some more wins in the near future, the Toronto Maple Leafs are slowly becoming a more exciting team to watch.
There is nothing worse for a Leafs fan than to see their beloved Buds being pushed around. For this reason, players who wear their hearts on their sleeve are often adored by Leafs Nation. These players, not coincidently, are usually willing to drop their gloves on a whim to stand up for their team.
Pat Quinn himself embodied the true spirit of a Maple Leaf. As one of the most loved coaches in Maple Leafs history, he always came to the rink ready to do battle. Always seen chewing his gum, he never gave the refs a break, and often could be seen mixing it up verbally with opposing coaches. There was no one that loved to win more than Quinn.
This list not only represents the toughest Maple Leafs of the past decade, but it also includes many of my favourite players and surely many of Leafs Nation's favourites as well.
It is something that all Maple Leafs fans love. There truly is nothing better than a pest donning the Blue and White. This Top Ten list salutes the men who loved to get under opponent's skin, throw a few fisticuffs, and provide fantastic entertainment for all of Leafs Nation.
10: Nathan Perrott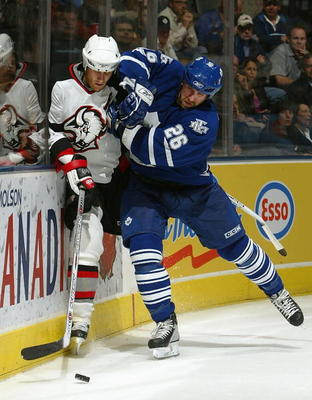 Nathan Perrott was one of the most spirited fighters to ever put on a Maple Leafs jersey. No matter who he was facing he always provided a barrage of fists for opponents to deal with. While he was no heavyweight, Perrott was always willing to duke-em-out. The 2003-04 fourth line of Perrott, Belak and Domi ensured that no team left town without a few bumps and bruises.
9: Kris King
King barely made the cut for this list, with the last season of his career being the 1999-2000 campaign. Unfortunately for Leafs fans, Kris King only had a three year spell with the Buds. Never willing to back down from a challenge, he managed to rack up 37 majors over his three year tenure.
8: Bryan McCabe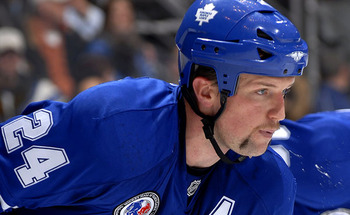 While McCabe is best known for his ability to put the puck in his own net, any man that is willing to fight Zdeno Chara, get rag-dolled by him, and then show up to the rink the next day should be respected (a little). It was always fun to watch him destroy opponents with his infamous 'can-opener', and he always provided the fans with a hard-nosed effort.
7: Colton Orr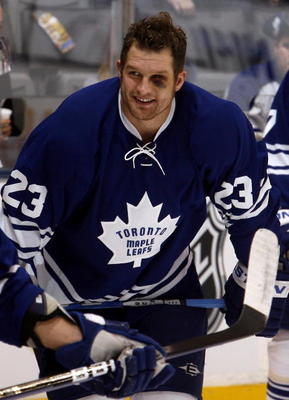 Only in his first season in Toronto, Orr has already established himself as a player that other teams don't want to mess with. He has contributed to putting some of the 'battle' back into the Battle of Ontario with his slugfests with Matt Carkner. Already with 19 fights this season, Leafs Nation is looking forward to witnessing some more Orr beatdowns in the coming seasons.
6: Wade Belak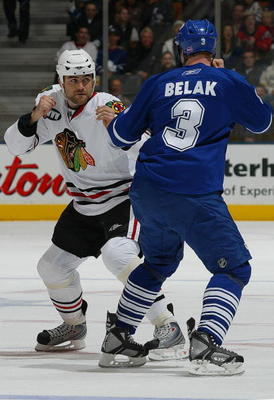 Wade Belak was always willing to drop-em with the biggest and best fighters in the NHL. Duking it out 66 times over five seasons with the Buds, Belak had the ability to throw serious haymakers with both hands. It was a sad, sad day for Leafs when Cliff Fletcher traded him to the Panthers on the Trade Deadline in 2008.
5: Wendel Clark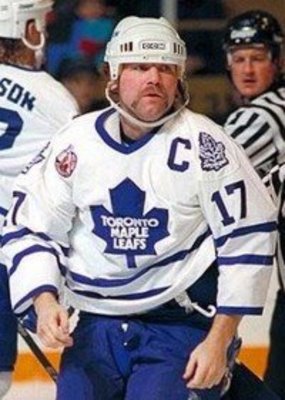 Like Kris King, Clark played his last games with the Leafs in the 1999-2000 season. Don't get me wrong, if this list was for players in the past twenty years, Clark would be right at the top. One of the most loved players to ever play in the Gardens, number 17 left everything he had on the ice each and every game. He was always the first to stand up for his teammates, and had no problem mixing it up.
4: Gary Roberts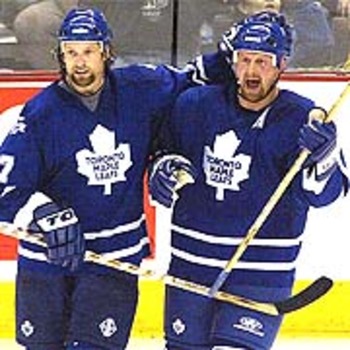 Roberts had an impressive mix of talent and muscle. He is undoubtedly the Leafs' most effective fighter in the past 10 years, as it was a rarity to see 'Scary Gary' overmatched in a bout. He brought an edge to the Leafs line-up on a nightly basis, and added a physical presence next to Mats Sundin on the first line.
3: Shayne Corson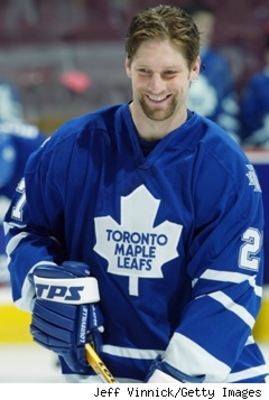 Bash Brother #1: The antics of brother-in-law's Darcy Tucker and Shayne Corson will never be forgotten by Leafs fans. One of his more memorable moments came in the 2001-2002 post-season, with the Leafs playing against the New York Islanders. Corson dropped the gloves with 6'6 Eric Cairns and was badly outmatched. After getting his head beaten in by Cairns, Corson gave him a piece of his own mind, giving him a kick to his shins. Corson will not be remembered for his ability to put goals up on the board for the Leafs, but rather the antics and gritty effort that he and Tucker could always be relied upon to provide.
2: Darcy Tucker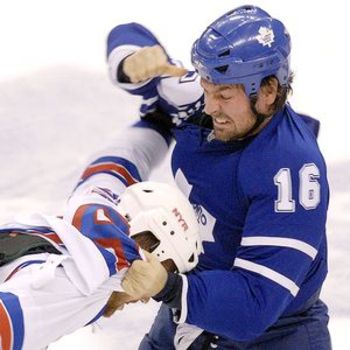 Bash Brother #2: Can enough be said about Darcy Tucker? From starting fights before games with Sean Avery, to his contributions to the Battle of Ontario, to the frightening glare that he always gave to his opponents, he truly was a Maple Leafs through and through. While he didn't necessarily win every fight that he started, he could always be counted on to spice up any game.
1: Tie Domi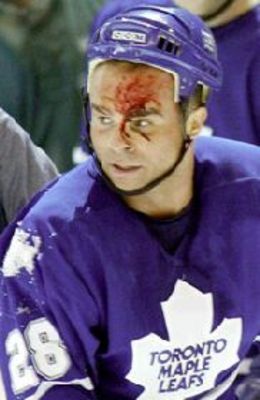 Was this ever really in question? Over his career with the Blue and White, Domi dropped the gloves some 185 times. At 5'10, Domi was undersized against almost every opponent he faced. This however, didn't stop him from providing Leafs fans with years of entertainment, and it didn't matter if he was fighting players or fans.
Keep Reading

Toronto Maple Leafs: Like this team?