Kansas City Chiefs: 2010 Mock Draft Version 3.0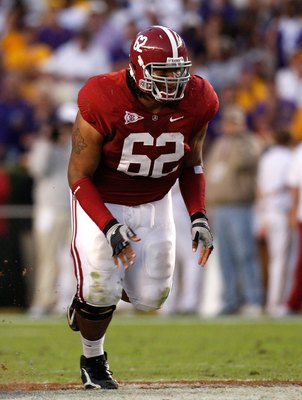 The first two weeks of free agency have gone by fast, and the Chiefs have made a splash. But, the Chiefs have focused offensive side of the ball (which isn't a bad thing), with only one new signing and one re-signing on the defensive side. The Chiefs recently picked up two Pro Bowl-upgrades in RB Thomas Jones and C Casey Wiegmann. So I expect the Chiefs to really beef up their defense during the draft.
Round One, Pick No. 5: Bryan Bulaga, OT, Iowa
Even though the Kansas City Chiefs have been making few free agency moves on the defensive side of the ball, I think the trend will remain through round one. I am really becoming a Bryan Bulaga guy; he reminds me exactly of Matt Light on the Patriots. Even Scott Pioli said he really likes this guy. The Chiefs will practically have their offense set for 2010 with this pick.
Round Two, Pick No. 36: Terrence Cody, NT, Alabama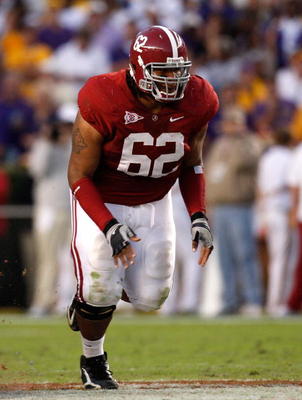 Finally, a defensive move! Terrence Cody is the perfect pick here, and will be an immediate starter. I'm sure all you are asking why I put Cody this high: it's so the Chargers don't get him. If the Chargers don't pick him up in the first round, this is a no-brainer for the Chiefs.
Round Two, Pick No. 50: Brandon Spikes, ILB, Florida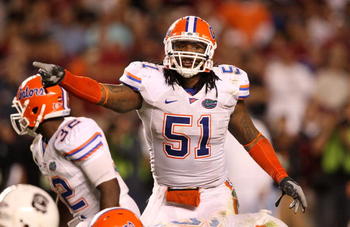 Brandon Spikes is as solid as a ton of bricks; he is a ball hawk with NFL size and strength. Spikes isn't that fast of a linebacker, but speed isn't really his game. Spikes would likely be a starter alongside Derrick Johnson. Out of all the remaining players, Brandon Spikes reminds me of Derrick Johnson the most.
Round Three, Pick No. 69: Cam Thomas, NT, North Carolina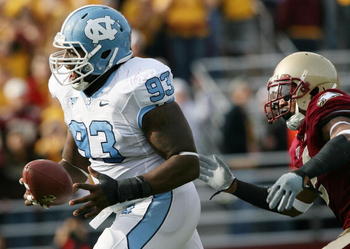 I am pretty sure all of you are wondering why in the world would the Chiefs draft two nose tackles within two rounds? O.k., even though it sounds like a bad pick, it isn't.
Cam Thomas and Terrence Cody would form a good duo in a nose tackle rotation. Cody will likely be a first and second down player, because he's a better run stuffer than Thomas, and Thomas will be the guy on third down because he's faster.
Round Four, Pick No. 100: Anthony McCoy, TE, USC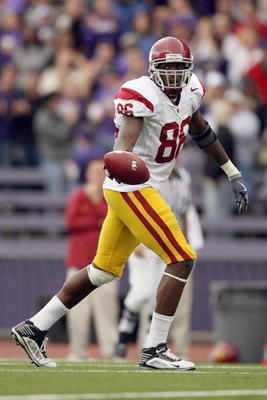 It was reported that the Chiefs are very interested in Anthony McCoy's services, which is a good thing. McCoy is considered one of the best tight ends in this class, and would start right away for the Chiefs. The Chiefs will have two big tight ends to throw to then, with the 6'5" McCoy and 6'8" Leonard Pope.
Round Five, Pick No. 133: Myron Rolle, SS, Florida State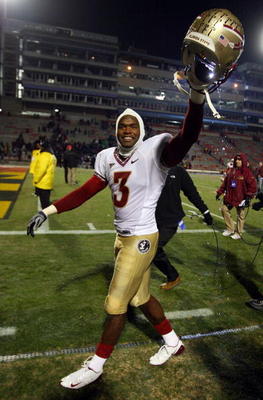 Although Myron Rolle didn't play his senior season, he is still a very tempting pick that could go anywhere in the draft. Rolle had a very good Senior Bowl, and had a decent combine as the second strongest defensive back. Rolle is not much of a big-play guy, but he plays with strength and intelligence. Rolle could be a immediate starter.
Round Five, Pick No. 144: George Selvie, OLB/DE, South Florida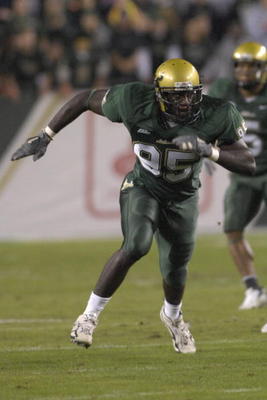 George Selvie went from a potential top-10 pick to a late round pick. Selvie had a surprisingly bad senior year and a terrible combine. Selvie would likely be behind Mike Vrabel on the depth chart, and will have to work his way onto the field.
Selvie ran a 4.89-40, although he was projected to come in around 4.68. Despite a bad senior year and combine, he would get some decent playing time in games.
Round Six, Pick No. 164: Trindon Holliday, KR/PR, LSU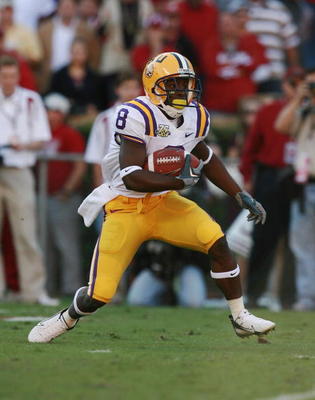 The Chiefs did not pick up Darren Sproles this offseason to take care of the returning duties, so it is likely they will go find a returner in the draft. Holliday was the third fastest player at the combine with a 4.34-40. Holliday could become the immediate starter for the return duties because Jamaal Charles needs a break.
Keep Reading

Kansas City Chiefs: Like this team?