2010 NFL Draft: Indianapolis Colts Seven-Round Mock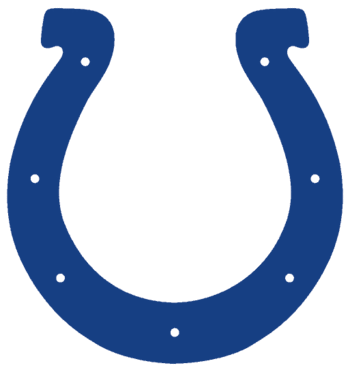 Playing arm-chair GM for a Super Bowl team is a bit more challenging than getting on a soapbox and laying out a strategy on how to fix perennial losers like Detroit or Cleveland.
The Colts have the luxury of returning the Peyton Manning-led aerial attack featuring the emerging Pierre Garcon and Austin Collie.
Wide receiver Reggie Wayne and tight end Dallas Clark are among the best at their positions.
Jeff Saturday leads a once-dominant but suddenly vulnerable offensive line. Joseph Addai and Donald Brown would be more productive if Indianapolis focused more on the run game. But that's the tradeoff when Manning is lining up under center.
Resigning Gary Brackett was critical but the loss of Marlin Jackson makes the cornerback position one of the primary weaknesses the father and son team of Bill and Chris Polian will focus on in the draft.
That and improving their interior defensive line, along with replenishing a few spots on the offensive line, will be among the Colts top priorities. Even with Brackett back on board, they might look to add some speed and explosiveness to the linebacking corps.
If the light goes on for Fili Moala, this season maybe the defensive line will be in better shape, but that's a risk Polian might not want to take by passing up a bigger defensive tackle in the third or fourth round.
Often ignored outside of serious Colts fans and media circles is the atrocious return game, which hasn't been exactly thoroughbred or stallion-like the past two seasons. In fact, the Colts ranked among the league's worst in both kick and punt return yards per kick.
While cornerback is a major need, you'd think the other half of the secondary would be solidified with Pro Bowl-caliber players Bob Sanders and Antoine Bethea at strong and free safety, respectively. Unfortunately, that's not the case.
Sanders is a personal favorite but despite unquestionable toughness, his durability has been frustrating for Colts fans. He's missed more games than he's played thus far in his injury-riddled career since Indianapolis drafted him in 2004.
If, and it's a big if, he completely recovers from past injuries (primarily last year's biceps tear) and avoids the IR, Sanders will make up one half of the best safety tandem in the league.
Two-time Pro Bowl free safety and current restricted free agent, Antoine Bethea, should remain in Indianapolis after they placed a first-round tender on the former sixth-round pick out of Howard University. That's good news for Colts fans as they should expect to see both players on the field to open the 2010 season.
FIRST ROUND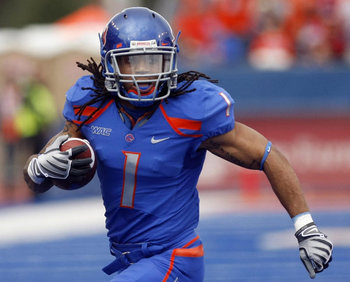 Best Case: Kyle Wilson – Boise State (CB / 5-10 / 195)
The Detroit Lions hope this doesn't come to fruition, since they were enamored with the confident, athletic defensive back during the Senior Bowl and may be hoping he's available at the second pick in the second round.
His custom-mural RV has been well-documented but Wilson backs it up on the field as a playmaking cornerback and return specialist.
He fills two glaring weaknesses and just might be more successful than the highly-regarded Joe Haden.
Worst Case: Vladimir Ducasse – Massachusetts (OT / 6-5 / 335)
Do they need an infusion of size and strength perhaps along with a road-grading lineman prospect? Yes, especially if they want to improve their rushing attack.
But it's somewhat of a catch-22 because even though their run game was disappointing, it was more a product of the system—a system that includes one of the best quarterbacks in NFL history being blocked for by an atypical group of lineman.
Their offensive game plans will almost always be slanted towards the pass for the foreseeable future.
With that being said, the Colts should focus on finding the best available talent on the defensive side of the ball.
SECOND ROUND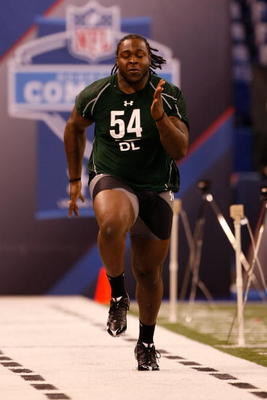 Best Case: Cam Thomas – North Carolina (DT / 6-5 / 335)
A few things working in Thomas' favor are; his massive size-strength combination, Butch Davis' pro-style defense schemes and, most importantly, his dominating performance during the week of the Senior Bowl.
He would instantly add the critical mass Larry Coyer missed last year implementing his attacking version of Tony Dungy and Ron Meeks standard Cover 2.
Teams were able to effectively run against the Colts, especially up the middle. This compounded their problems further because it kept Manning & Co. off the field.
Worst Case: Tim Tebow – Florida (QB / 6-3 / 235)
Jim Sorgi is now backing up the "other" Manning, so the Colts using a pick on a young quarterback to groom as Peyton's insurance policy makes sense.
Also, what other quarterback would you want a fledgling signal-caller to learn the ropes from, not only from an on-field approach but also in terms of preparation and professionalism.
However, with more pressing needs, Polian will likely wait until the later rounds to find a backup—if at all.
THIRD ROUND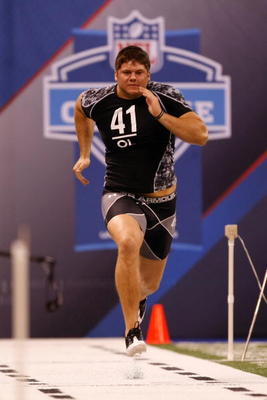 Best Case: Jared Veldheer – Hillsdale [D-II] (OT / 6-8 / 315)
The Colts had their own rags-to-riches story this past season but not quite at the Kurt Warner shelve-stocking to League MVP level. Kyle DeVan was substitute teaching in January 2009 and wound up starting in the Super Bowl one year later.
An extremely hard worker, DeVan is better suited to fill a reserve role at either Guard position.
Charlie Johnson is a restricted free agent with a second-round tender which all but ensures he will return. However, like DeVan, he seems to be more of a versatile first-choice reserve.
Jeff Saturday is still as good as it gets at his position but depending on their plans for the so far, underwhelming Tony Ugoh, Indianapolis still needs a Left Tackle and, or, to a lesser extent—Guard.
I had the pleasure of catching one of Veldheer's games this past fall when the Chargers took on Wayne State University—which also has their own small-school star and fast-rising 2010 draft prospect, Joique Bell.
The Grand Rapids, Mich., native stands out wherever he goes whether it's against the 21 other players on the football field or among the small throng of students at Hillsdale College—with an enrollment of approximately 1,300 students.
He might be the best athlete of the entire list of offensive lineman prospects in this draft and his performance at the combine only solidified what a small group of NFL execs—including Hillsdale alum and Cleveland Browns General Manager, Tom Heckert.
But he's no longer in the minority of placing Veldheer high on his teams' board as Veldheer caught the eye of NFL personnel in attendance at Lucas Oil Stadium.
Worst Case: Navorro Bowman – Penn State (LB / 6-1 / 245)
A list of transgressions checkered Bowman's time in Happy Valley. Failing to serve any of the 100 hours of community service stemming from a 2007 altercation in which he and a teammate beat down a fellow partygoer added an extra year of probation to his file.
He was suspended for a couple of games during his career and telling his probation officer he occasionally smoked marijuana didn't help his situation. The Colts already have a young, 245-pound, hard-hitting linebacker on the team who is primed to break out this season.
Philip Wheeler was dubbed as one of the best pass rushing linebackers but he's done little to justify the hype—yet. It's way too early to officially label him a bust in Larry Coyer's defense.

In fact, I think Wheeler will actually excel exponentially in his third season.
The defense quietly flew under the radar for years using a standard Cover 2 scheme and Ron Meeks. But while they didn't completely abandon it, Coyer installed much more flexibility, disguises and blitzes with his 4-3 base.
So, while players like Wheeler didn't really fit the role of a typical Cover 2 linebacker with his aggressive, blitzing style perhaps another year of tweaking by Coyer will finally put him in a position to succeed.
Additionally, Bowman's character concerns are more suited for a different AFC team (Bengals) than the squeaky-clean Colts.
FOURTH ROUND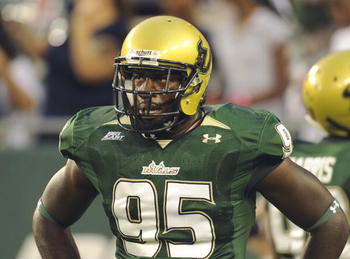 Best Case: George Selvie – South Florida (DE / 6-4 / 250)
Dwight Freeney and Robert Mathis make an explosive, pass-rushing duo as bookend defensive ends but with the release of Raheem Brock, 32, they will look to address depth concerns.
Several reports claim Selvie projects as a prototypical defensive end-linebacker hybrid in the NFL. However, the Colts have no problem lining up "undersized" ends on the edge if they can get to the quarterback.
Selvie may go one round earlier but whether he's a third or fourth-round pick, the pass-rushing terror will likely motivate him throughout his career as the spotlight shifted towards teammate, and probable first-round selection, Jason Pierre-Paul.
Worst Case: Kurt Coleman – Ohio State (S / 5-10 / 190)
While Bob Sanders has proved to be very fragile, he will be ready to roll when training camp begins. Despite the elite talent of Bethea, the tender placed on him should be enough to keep teams at bay.
Adding another defensive back for depth reasons isn't a bad idea but a cornerback-sized safety with average-to-below-average speed isn't the type of player teams prefer to use at the safety position.
I actually like Coleman quite a bit as a football player for his toughness and willingness to stick his nose in against the run but not for the Colts.
FIFTH ROUND
Best Case: Brandon Carter – Texas Tech (OG / 6-7 / 338)
With longtime offensive line coach Howard Mudd's retirement, many are wondering how much the Colts will differ from the respected positional coach's preference for lighter, quicker lineman who excel at pass protection.
As long as Peyton Manning is dropping back to throw, the easy answer is, well, not much.
Carter is known by most for his intimidating appearance including his skin rife with tattoos everywhere—including a cobweb on his head and the Ultimate Warrior-esque mascara face paint.
While he tried to tone it done for the combine interviews, it shouldn't disguise the fact Carter was one of the key cogs in Mike Leach's pass-happy offense as he often dominated in pass protection but he's strong enough to be an asset on running plays too.
Several All-American and All-Big 12 honors have decorated his career in Lubbock, Texas.
Newly acquired free agent Adam Terry is a humongous player (6'8", 335 pounds) but he's been disappointing for the Ravens since being selected in the second round out of Syracuse.
Note: Indianapolis traded their 2010 sixth-round pick for a '09 seventh-round pick which Polian used to select punter Pat McAfee.
SEVENTH ROUND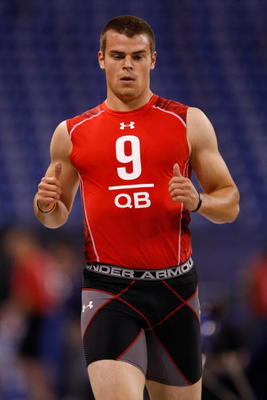 Best-Case: Tim Hiller – Western Michigan (QB / 6-4 / 230)
There are several quarterbacks in this draft who I believe would fit seamlessly into the Colts system by learning without much pressure under Peyton Manning. One of those prospects is the tall and extremely intelligent quarterback from Parma, Ohio, Tim Hiller.
Had he declared after his amazing Junior season (36 TD and 3,725 yards) perhaps Hiller would be among the first few quarterbacks selected. His senior season was nowhere near as productive, but I'm absolutely befuddled as to a couple of scouting reports on Hiller calling his arm weak.
I'm not sure they were watching the same MAC quarterback I was but by no means is Hiller's arm strength in question. The four-year 4.0 student actually has a very strong arm but it's his accuracy on the intermediate routes that needs improvement.
With nice size to scan the field, impressive intelligence and a top-notch work ethic the Colts would be wise to take Hiller and let him learn the ropes under the guidance of Peyton Manning.
Keep Reading