Berry or Punt? - Chiefs Have Tough Decision at #5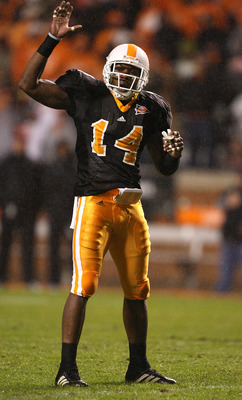 The Chiefs find themselves in a similar position to others in the top 10, having numerous holes to fill in this year's draft. With the last two first round picks coming on the defensive line, it's highly unlikely the Chiefs spend big money there. The recent signing of Shaun Smith, as well as the hopeful emergence of Dorsey, Jackson, and Magee will likely eliminate the DL from 1st round consideration (even if Suh or McCoy is somehow available).
Cassel - I'm not saying I'm sold, but I'm willing to wait another year with a more capable OL and WR corps. Eliminate Bradford/Clausen.
The recent signing of Thomas Jones to spell Jamaal Charles eliminates any dire need for running back depth - especially in the early rounds.
At LB, the Chiefs re-signed Mike Vrabel and have tendered DJ. Tamba Hali made a nice transition last year, however, the mess of backers remaining include Corey Mays, Jovan Belcher, Andy Studebaker and Demorrio Williams. This is a group which has to play better as a whole for the Chiefs in 2010, both in stuffing the run, and pressuring the passer. Pick #5 seems a reach for McClain, but I wouldn't rule it out quite yet.
Casey Wiegman signed (3/12), eliminating the hogwash of moving Waters to center. However, Wade Smith is gone and RG/RT remains problematic. Moving Branden Albert to RT in favor of a stud LT is a viable thought. Enter in to the discussion Russell Okung and Brian Bulaga.
Defensive back is a troubling area for the Chiefs. In Brandon Flowers, the Chiefs have a building block. However, Brandon Carr was inconsistent last year and safety play was dismal in 2009. I'm wondering if the Jarrad Page era is over, just as Bernard Pollard's bell rang last year - anyone still scratching their head on that one? Regardless, corner and safety have to be areas to target at some point in 2010. Enter Eric Berry and Joe Haden.
Let's run through some scenarios for the Chiefs...each with their pros and cons. In a way, I think the Chiefs have begun to show their hand with their recent activity, but let's just dive in and see! Anyway you slice it, the big 3 problem areas continue to be OL, LB, and safety - followed oh so closely by WR.
Scenario #5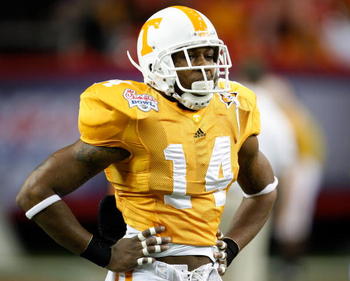 Let's assume the "experts" know what they are talking about, though that's quite a reach. Here's an example of a popular scenario:
STL - Bradford
DET - McCoy
TB - Suh
WAS - Okung
KC - Berry
Sounds fantastic to me. Check a need off the books. The problem? How many OL will go in round one? I don't care at this point. We have our game changer on defense! Maybe, just maybe we can nab OL in round two - Vladimir Ducasse, Charles Brown, or Rodger Saffold could step in and challenge for a starting spot.
Scenario #4
OK, now we have a problem. St. Louis grows weary of the fragile left shoulder of Bradford, causing a ripple effect below.
STL - Suh
DET - McCoy
TB - Berry
WAS - Okung/Bradford
KC - Bulaga or trade down with SF/SEA
Washington, you're killing me...but I'm not hitting the panic button yet. I like Bulaga and think he can be a serviceable OT for years to come. And, again we check off one of the big three. Problem - are we looking for a starter at #5, or an all-pro?
My suggestion - if Berry is not there, find a dancing partner fast. Seattle and San Franciso could fit, allowing the Chiefs the opportunity to fill two needs instead of one.
I'm thinking Seattle is confident we won't nab Bradford/Clausen and won't partake. SF however needs OL help nearly as bad as we do and they oblige. We take their #13 and #17 picks...gladly.
At #13, the Chiefs select Trent Williams. At #17, we select Taylor Mays.
Check, two solid guys instead of one.
Scenario #3
In this scenario, Washington leaves the door open by taking Clausen, giving us a choice between Okung/Berry. Honestly, taking either man would make sense for the Chiefs. As I've stated before, I think if Berry's available, he's our guy.
However, the phone is ringing off the hook - Seattle wants Okung and Cleveland wants Berry, and neither want to be disappointed. Let's roll the dice with Seattle and move back a spot, picking up another pick later in the draft. They get their guy in Okung, we get our guy in Berry. Worst case scenario, they take Berry - and we pick up Okung and can draft a WR/LB later.
STL - Bradford
DET - Suh
TB - McCoy
WAS - Clausen
SEA (from KC) - Okung
KC (from SEA) - Berry
Scenario #2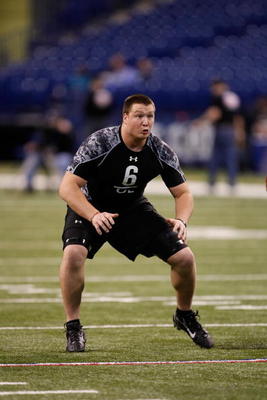 St. Louis gets cold feet on Bradford, and the Rams are not willing to spend a third consecutive 1st round pick on a defensive lineman. They trade down with Tampa, who wants to make sure they get their guy in McCoy. Washington also passes on Bradford/Clausen and steal our guy.
TB (from STL) - McCoy
DET - Suh
STL (from TB) - Okung
WAS - Berry
KC - Bulaga or trade down
We entertain calls again from CLE and SF, but SEA wants Bradford and are not willing to waste this opportunity - afterall, the Chiefs could trade Cassel to Denver and draft Bradford...yeah right, but I'm just saying.
Seattle takes Bradford, we move down a spot to #6 and pick up Bulaga and another late round pick.
Scenario #1
OK, let's cut through the smoke-screen pre-draft talk. Trades in the top-5 are highly unlikely, although an uncapped season may spur more activity. The picks fall tough for the Chiefs, losing their LT and safety in the first 4 picks. Washington doesn't need another high dollar DT and Clausen is over-rated. As I said earlier, I doubt the Chiefs stuff more money in to the DL. There is trade value with McCoy on the board, but can we make a deal? I don't think so and we make a mistake, reaching for McClain at #5 instead of taking the second best OL.
STL - Bradford
DET - Suh
TB - Berry
WAS - Okung
KC - McClain
Oh dear, two years in a row, two desperate reaches. Let's hope we don't see this come about.
With the 5th pick in the 2010 NFL draft...
The Kansas City Chiefs select Eric Berry, Safety from the University of Tennessee.
All signs point to this guy - he can transform our defense immediately. No longer will we have to watch Antonio Gates run the seam without fear. No longer will we have to witness arm tackles in the secondary. Finally, there's a ball hawk out there who can lay some wood. Turnovers follow, as do the "W's" and Pioli is back on top again.
No other guy in this draft can change the complexion of this team faster. And that's exactly what we need.
Keep Reading

Kansas City Chiefs: Like this team?