2010 NFL Mock Draft: Picks 17-32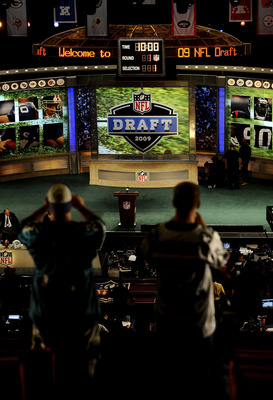 This is a follow up to my 2010 NFL Mock Draft: Picks 1-16. In this slideshow, as you may have already guessed, I will show the last half of my 2010 Mock Draft. These picks are all up for discussion, and I will keep my mind open to your opinions. Thanks so much for reading this, it means a lot to me to get your input, as I don't know the ins and outs of every city and every team
Here is the link to the first half of my 2010 NFL Mock Draft:
http://bleacherreport.com/articles/359206-2010-nfl-mock-draft-picks-1-16
17th Overall Pick - Brian Bulaga - Iowa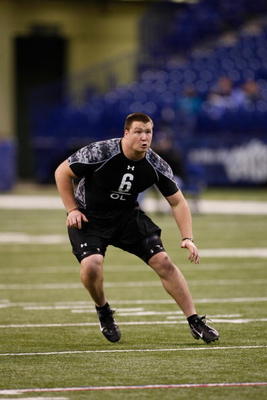 With the 49ers second first round pick, I'd expect them to make a pick to improve their offensive line. If Alex Smith is indeed going to be the starter next season, a great offensive tackle would really help to add some cushion to Smith's game. Bulaga is a great pick here, as some draft boards have him as high as the top 10. Bulaga challenges Okung for the title of "best in class" in terms of tackles. Last season, San Francisco allowed 40 sacks, and if fans of the team want Alex Smith to stay healthy and produce, that number must decrease. As I said before, Bulaga is a great tackle prospect, and I think any team would be happy to get him this low. The last thing you want is David Carr taking the reigns.
18th Overall - Kyle Wilson - Boise State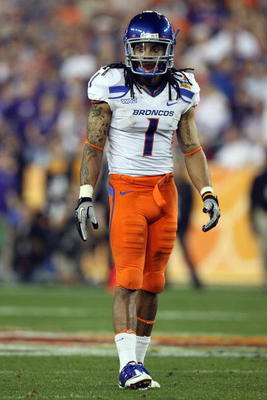 The Steelers had only 12 interceptions last season, and Troy Polumalu is returning from multiple knee injuries, so his production may be suspect. The Steelers don't really have a ball-hawking corner, with only 2 of those 12 total interceptions coming from cornerbacks. Deshea Townsend is 34 years old, and the Steelers other corner, Ike Taylor, is going on 30. Kyle Wilson is a kid with huge upside, and he had a fantastic Senior Bowl week. NFL Network draft analyst Mike Mayock had nothing but praise for this kid, and despite his size (5'10", 194 lbs), he is one of the most physical coverage guys in his class. I think that Wilson can be a huge addition for the Steelers' secondary, and he will add an element of aggressiveness that will put an already potent Pittsburgh defense back on top.
19th Overall Pick - Sergio Kindle - Texas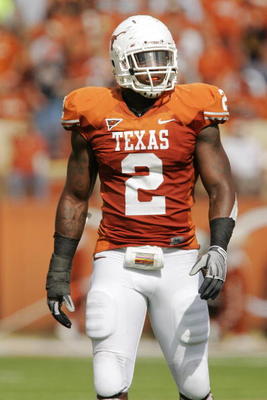 Sergio Kindle is probably the best outside linebacker in his class, and the Falcons could use some help at that spot. At 6'4", 224 lbs, Kindle is a great physical prospect. The Falcons had 27 sacks last season as a team, and the individual with the most sacks, John Abraham, is 31 years old. Abraham most likely has two or three good seasons left in him, but after that the Falcons will need a dominant pass rusher who can fill the gaping hole that he will leave. Last season at Texas, Kindle had 3 sacks, 17 TFLs, and a whopping 31 quarterback hurries. In the National Championship Game alone, Kindle had 2.5 sacks. Kindle would be a great pickup for Atlanta, and he is the perfect candidate to fill in for Abraham as well as study his gameplay until that time comes.
20th Overall - Mike Iupati - Idaho
The Houston Texas are just a few pieces away from being playoff contenders, and snagging a road-grading guard like Mike Iupati will put them one huge step closer to achieving that goal. Last season, Texans running back Steve Slaton's production faltered partly because of a sub-par offensive line. Duane Brown hasn't lived up to expectations at left tackle, and other than that the Texans have a very raw and untested group up front. Mike Iupati could step into a starter role immediately, and many scouts believe that he can be one of the elite guards in the league. Iupati is aggressive, and he has been called a "mauler" by many draft experts. Iupati is very versatile, and he could occasionally step in at tackle if need be. If the Texans can get him at No. 20, he can be an anchor on the line for many years.
21st Overall Pick - Taylor Mays - USC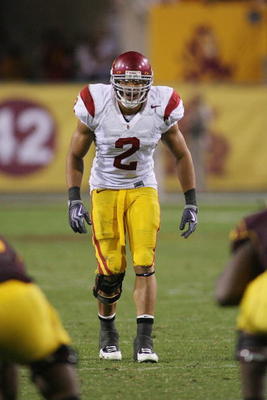 If Taylor Mays is still on the board here, look for the Bengals to snatch him up. With the Bengals signing of free agent wide receiver Antonio Bryant, that eliminates any chance of Golden Tate going here. Coach Marvin Lewis likes USC players, and Taylor Mays is a great one. He is rediculously fast for his size (6'3"), and he displayed that at the 2010 Combine by running a 4.43 40-yard dash time. However, by staying another year at USC, many say that his draft stock took a hit, mainly because he saw a decline in production this past season. Despite this, Mays would be a great addition to an already stellar Bengal secondary. The Bengals finished 9th in the league in total interceptions last season, but I think Mays would be more of a tackler than a ball hawk. He probably won't, but he could play linebacker. Just sayin'.
22nd Overall Pick - Brandon Graham - Michigan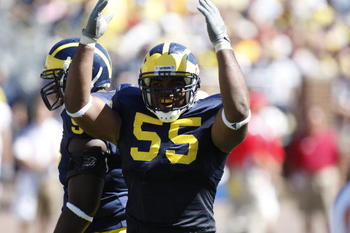 The Patriots need some serious help in the pass rush department, and I think everybody knows it. The usually stalwart Patriots defense finished the 2009 season ranked 23rd in the NFL in total sacks, compared to 2nd in the league in 2007. Granted, since the 2007 season the Patriots have lost Richard Seymour, Mike Vrabel, Tedy Bruschi, and this season, Jarvis Green. However, if the Patriots want to get back to the tops in the league, they need to go back and restructure their defense, which was mainly what made them so good in the first place. Oh yeah, they have that guy Brady too, I guess he's pretty good. Anyway, Brandon Graham had a stellar season playing for a mediocre team at Michigan, where he was a one man show. He also lead all of Division I in tackles for loss. At the Senior Bowl, Graham was in a league of his own, making fellow first rounder Mike Iupati look silly on a few occasions. With his size (6'1", 263), he would fit best at the linebacker spot in the 3-4 that the Pats run. Graham has great speed and tenacity, and I think he will make opposing QBs go crazy.
23rd Overall Pick - Trent Williams - Oklahoma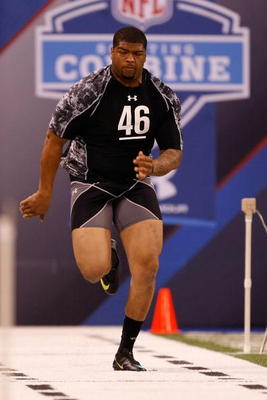 The Packers had one of the worst offensive lines in the NFL last season, perhaps THE worst. Aaron Rodgers got sacked a ton, and that really does need to change if the Packers want to challenge the Vikings for NFC North supremacy. Trent Williams is a great value pick here, as he may very well be off the board at this point. It is rare that you get a tackle this good at 23rd overall. Williams is capable of stepping in as a starter immediately, and he could perhaps split time with current LT Alan Babre, or start right out of the gate at RT. Williams has as good of an attitude as I've seen, and he is a studious player with a solid work ethic. Williams would be one of the keys to reviving an offensive line that was reminiscent of swiss cheese last season.
24th Overall Pick - Jared Odrick - Penn State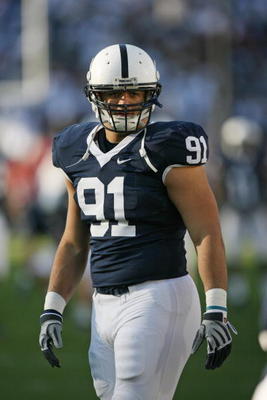 With an aging defensive line, it is time for a changing of the guard in Philly. Jared Odrick is a multi-talented defensive tackle who could double as an end, but he is chiefly listed as a tackle. At Penn State last season he had a stellar year, in which he was named the Big Ten Defensive Player of the Year. Odrick is a very disruptive defensive player, who is capable of busting through offensive lineman and causing problems. Odrick is 6'5" and 296 lbs, and he is one of the top defensive tackles in one of the best DT classes ever. He is a great pickup for the Eagles at number 24, and he seems to be a guy who has the attitude to make an quick impact for whatever team he is taken by.
25th Overall Pick - Jermaine Gresham - Oklahoma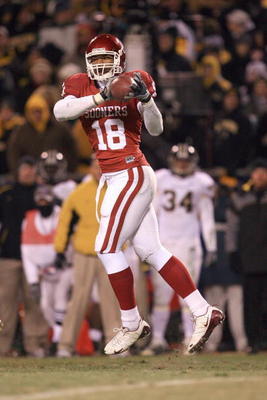 It seems that Jermaine Gresham has been the Ravens pick ever since he declared for the draft. Ravens starting TE Todd Heap is turning 30 next season, and it is high time for Baltimore to find his eventual successor. Gresham is the best tight end in his class, and he would be the Ravens best bet for a sure-handed tight end. Despite a few injuries, Gresham is still raved about by draft scouts, and most think he will be a solid NFL player. In 2008, his last full season as a Sooner, Gresham was named an All-American, and that season he put up 950 yards and 14 TDs. Before picking Gresham, I think that all teams interested want to make sure that he can still play up to par after tearing his ACL before the 2009 season.
26th Overall Pick - Anthony Davis - Rutgers
With former Cardinal top pick Levi Brown not going to plan at left tackle, it may be time to find a new guy to fill in at that spot. At this point, Anthony Davis may very well be gone, but if teams are smart they won't pick him. Davis is a lazy guy with a poor work ethic, and personally I wouldn't want him on my team. However, Davis does have impressive physical tools, which is why he may get some consideration in the top 15 picks. At 6'6", Davis has prototypical NFL size for an offensive tackle, and he was names a Second Team All American as well as a First Team All Big East. It will be interesting to see how/if Davis can translate his game from the Big East to the NFL. In a nutshell, he'd be the best tackle available at this juncture, and the Cardinals need a tackle to replace Brown, as well as protect possible starter Matt Lienart.
27th Overall Pick - Charles Brown - USC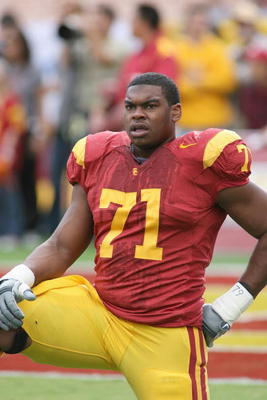 Flozell "The Hotel" Adams is really getting up there in years, and the Cowboys have been putting off finding a replacement for some time (I don't consider Robert Brewster a replacement). The next time Flozell karate chops someone and get suspended, they'll need a valid guy to step in. With five tackles gone, Charles Brown of USC is left as the best tackle available. At USC, Brown was a First Team All American as well as a First Team All Pac 10 selection. Brown played in the Senior Bowl, but he was perhaps upstaged or forgotten because of the great deal of publicity that fellow lineman Mike Iupati and Vlad Ducasse were getting. At USC, Brown did a great job at protecting now New York Jets starter Mark Sanchez, and it will be interesting to see if he can do the same for another quarterback.
28th Overall Pick - Ryan Matthews - Fresno State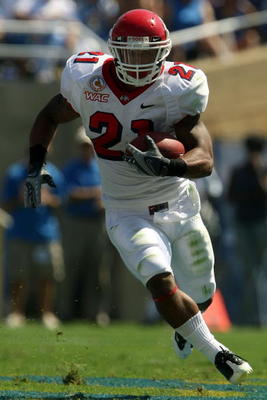 With the loss of LaDanian Tomlinson, it is evident that the Chargers will need a new running back that can take a lot of snaps. Darren Sproles isn't that guy, and they will need a RB in the draft after not pursuing one in free agency. Ryan Matthews is the second best back in his class behind the electric C.J. Spiller, who will never fall this low. Despite coming from a small conference school like Fresno State, Matthews still has the right stuff to be an elite NFL runner. He has ideal size (6'0", 218 lbs.) and he rushed for over 1,800 yards at Fresno State last season. At the Combine, he ran a 4.45 40 yard dash, as well as 19 reps in the bench press. He won't kill guys with his speed, but he'd still be a dangerous offensive weapon in San Diego.
29th Overall Pick - Golden Tate - Notre Dame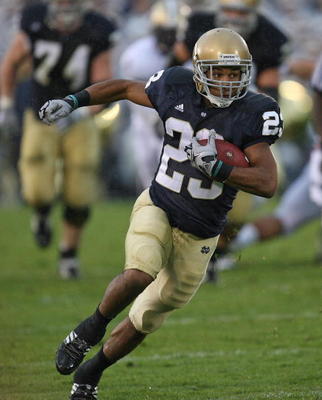 With the emergance of Mark Sanchez as the Jets long term gunslinger, it's time they gave him some more ammo. Last season, the Jets gained Braylon Edwards, who is a pretty good legitimate No. 1 receiver. However, the Jets now need a guy with some speed who can be a home run hitter. I like to compare Tate to the Vikings' Percy Harvin, the reigning Offensive Rookie of the Year. Tate and Harvin are very similar players, both 5'11", and they both have amazing speed. At the Combine this year, Tate put up a blazing 40 yard dash time, which helped to scare off some of his doubters. If Edwards can limit his drops, he and Tate can form a dangerous duo for young Sanchez.
30th Overall Pick - Brian Price - UCLA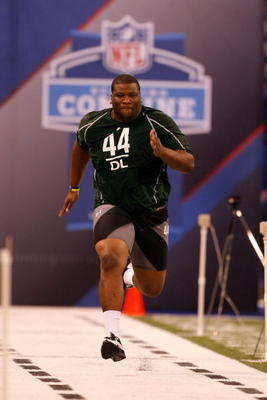 With the "Williams Wall" beginning to show some cracks, it is time for the Vikings to find some new bricks. Brian Price is one brick that Minnesota would love to have. Pat Williams is 37 years old, and Kevin Williams (no relation) isn't far behind at 30. Brian Price is yet another solid defensive tackle, and he is built just like the guys he will be replacing. Price gobbles up a lot of space, and he can be a nuisance to opposing offenses. Not really much else to say here, as this pick is simply building for the future. Not a whole lot that Minnesota needs at this point.
31st Overall Pick - Maurkice Pouncey - Florida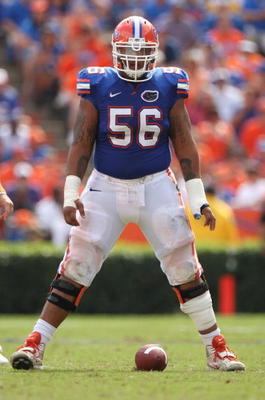 Maurkice is another great value pick, as it may be a miracle if he falls to the Super Bowl runner up Colts. The Colts would be getting some serious talent for No. 31. Pouncey, like Price, is just another pick that fills a need. Jeff Saturday, although still very talented, isn't getting any younger. Saturday has been an integral part of the Colt's success as well as Peyton Manning's success. It would be better to grab Pouncey, have Jeff Saturday tutor him on the position for a few more seasons until he hangs it up, and then let Pouncey step in like nothing happened. It would be better for Peyton if the team got a new center sooner, so that he could get comfortable, rather than just signing some new face in free agency. Bill Polian would be dancing in the streets of Indianapolis if Pouncey falls this far.
32nd Overall Pick - Sean Witherspoon - Missouri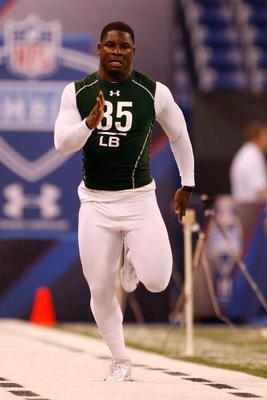 There isn't much that the Super Bowl champion Siants need right now, but with Scott Fujita signing the dotted line for Cleveland, that leaves a hole at linebacker. Sean Witherspoon has been the Saints' pick forever, and basically everyone agrees on it. He is the best linebacker available this far into the draft, and he still has a great deal of talent. He fits perfectly into the Saints defensive scheme, and he can pick of passes as well as tackle. Not a whole lot to say on this pick either, other than you should expect it to happen come draft day.
Keep Reading