The Octagon Girls of UFC 111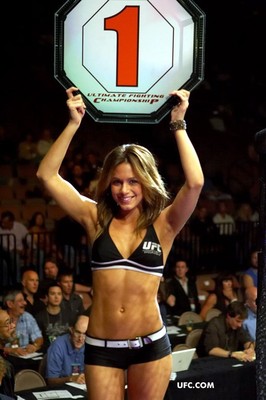 Not only are UFC events some of the most exciting in the world of sports, but they are also the most pleasing to the eyes.
Not the fighters—they're grotesque—but because of the Octagon Girls.
In an exciting development, former Octagon Girl and current UFC All Access host Rachelle Leah will be putting on the bikini once again and strutting her stuff in the Octagon.
Whether she'll be filling in for one of the two on duty right now or just coming in as a special guest, we don't know, but anytime you can highlight Rachelle and the two other fine Octagon Girls, you gotta do it. Enjoy.
Rachelle Leah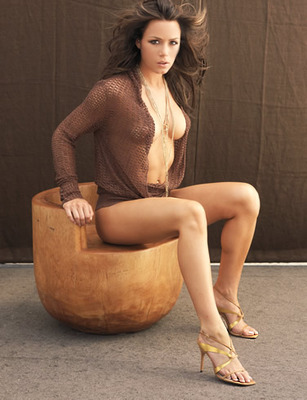 Rachelle Leah left UFC a little while ago, but she'll be returning for UFC 111. Not since Joe Rogan lost his voice have I been more excited for an MMA event.
Rachelle Leah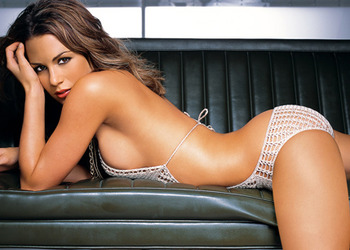 Rachelle started modeling professionally at age 18, but up to that point she was actually studying to become a paramedic.
I'm glad she chose modeling, but can you imagine riding in an ambulance with Rachelle Leah? I'm pretty sure I would just be magically healed.
Rachelle Leah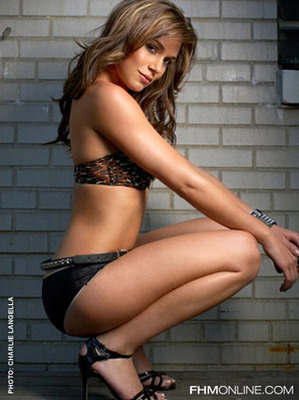 Not just a pretty face, Rachelle did some acting, including an indie film with Chuck Liddell, and was soon introduced to UFC.
In her second appearance she was approached about becoming a full-time ring girl. Of course she accepted. If I could get a job where I walked around holding a sign and looking good, I'd take it too.
Rachelle Leah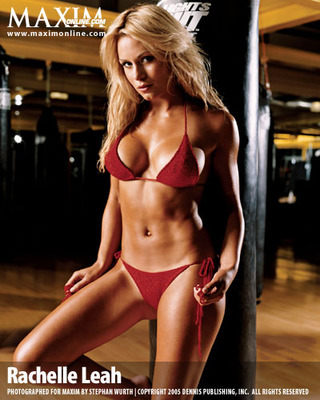 Not only does Rachelle look smoking hot with her regular hair color, but on the special occasions that she goes blond, she looks just as good.
That's what we call "multi-talented," folks.
Rachelle Leah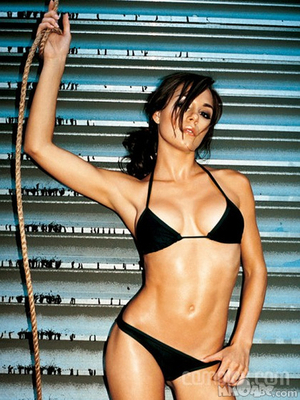 Rachelle Leah may not be a full-time ring girl any more, but she's never too far from MMA. She hosts UFC All Access, which airs before major UFC events.
That's all well and good, but I have to admit, I'm pretty excited about seeing her rock that bikini once more.
Arianny Celeste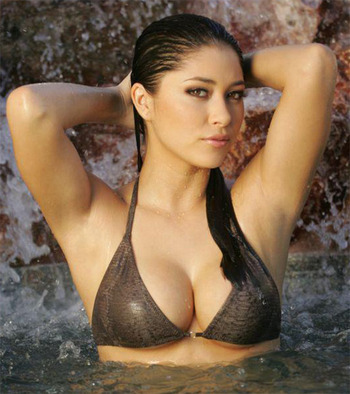 By far one of the hottest ring girls ever to grace the Earth, Arianny Celeste is one of the few original left after UFC did some housecleaning.
It was a shocker that they let some of those girls go, but letting Arianny leave would have been a mistake of epic proportions.
Arianny Celeste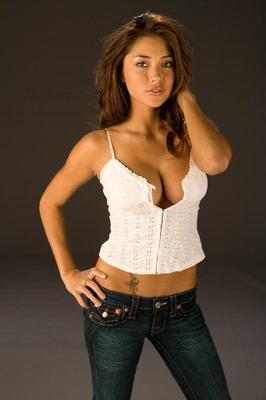 Arianny was your typical model-turned-ring girl, but now she is anything but typical.
Not only is she basically the face of the Octagon Girls now, she has also become a huge fan of the sport.
Arianny Celeste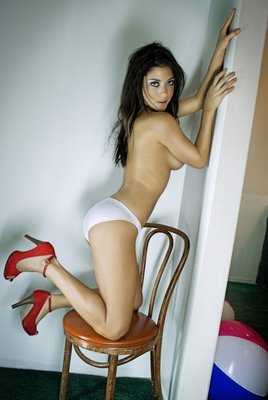 Want a shot with Arianny? You probably don't have one, but if you're willing to give it a shot, she likes funny, ambitious guys who just be themselves and don't try any cheesy pickup lines.
If you still need more help, just try this one: "Hey baby, are you sure you're not a fighter? Because you are a knockout!" That one's not cheesy at all. It's genius.
Arianny Celeste
Arianny enjoys her occupation as a "professional hot chick," but she has other ambitions, including acting and singing. She has recorded some original songs, which I'm sure are excellent, and I'm sure it's only a matter of time before she hits it big.
Okay, maybe not, but "professional hot chick" isn't a bad way to go through life.
Arianny Celeste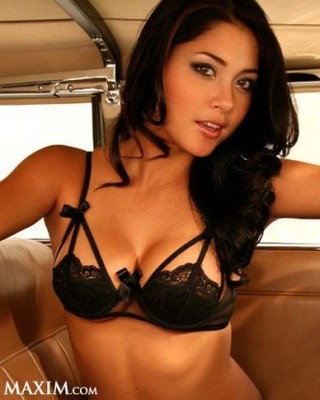 Seriously, Arianny is one fine specimen of a woman. MMA is exciting enough without the ring girls; maybe other sports could use her to get more excitement.
Who would have been against her showing up in Vancouver, telling you which round the curling matches were in?
Chandella Powell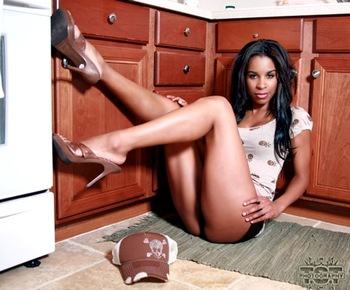 When UFC jettisoned two of their Octagon girls, they also took on Ms. Powell. Nobody knew much about her other than she had posed for Playboy and had a rocking body, but really, what else do you need to know?
Chandella Powell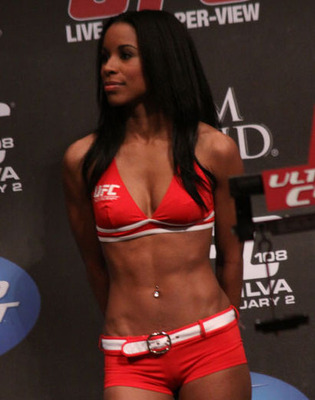 Here is Chandella in action, and I have to say, she looks pretty damn good. That uniform does her quite nicely.
Chandella Powell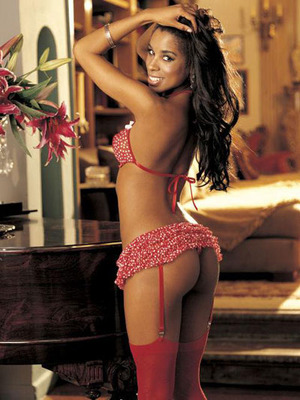 Chandella is a big fan of sushi, like her fellow Octagon Girl Arianny. Really, like most models, she just enjoys food that tastes as good going down as it does coming back up.
Wait for it...there you go.
Chandella Powell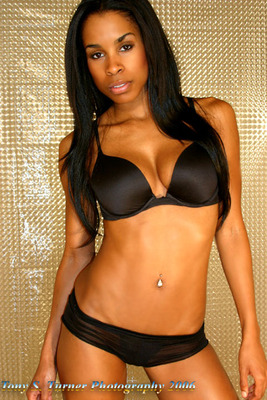 Chandella does have some strange taste in music, though. Her two favorite artists are Lady Gaga and Rascal Flatts. Could there be a stranger two choices?
Maybe something like Papa Roach and Celine Dion. No, wait, those are community leader Dave Morrison's two favorite artists.
Chandella Powell
You know, UFC doesn't pay all the bills, so Chandella has to pick up extra work here and there. One of the places she does that is as a server at the Playboy Club.
To practice for UFC events, she will come through with a card to tell you which course you're on.
Keep Reading