For The Sake Of Real Madrid Cantera: Support Manuel Pellegrini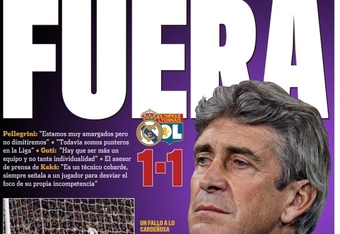 After the disappointing draw with Lyon at the Santiago Bernabeu, Real Madrid crashed out of the Champions League in the Round of 16 for the sixth consecutive time, the supposed "Real Madrid papers" went on the offensive yet again against Manuel Pellegrini.

What Marca & AS are doing to Pellegrini is extremely shameful, they are giving a bad name to Real Madrid with their Anti-Pellegrini campaign because everyone thinks Marca & AS are puppets of Real Madrid like Sport & El Mundo Dportivo are of FC Barcelona.

Humph.....I wish they were like Sport & EMD, at least they would have spent their energies in mocking FC Barcelona and their shitty signings like Chyngringsky and Ibrahimovic, but instead Marca & AS are a fungus growing around Real Madrid which comes up with bull-shit against Real Madrid (you attack the manager, you attack the club) and makes Real Madrid look bad.

Okay so we were humiliated by Alcorcon, okay we crashed out of the Champions League in the Round of 16 for the sixth time running but we should consider that Manuel Pellegrini was given a set of 23 player at the start of the season in which more than half the players starting are new, and to get a such a team playing good football and getting results in no time at all is a big accomplishment, and as a bonus we're leading the La Liga. Manuel Pellegrini should be praised for what he's done, but instead both AS & Marca never miss a chance to criticize him.

Even Jorge Valdano acknowledges the fact that keeping Manuel Pellegrini would be good for the team, he said, "Much has to be done this season, and I'm sure it will be done. Manuel Pellegrini is still in the plans of the team as the coach."

So take that Marca & AS, Jorge Valdano still trusts him despite your shameless campaign!

The only thing we can be critical about Manuel Pellegrini is that he doesn't trust the academy enough, but we can't really blame him, no manager will trust players of 18-19 (17 for Sarabia) age playing in the Segunda B division if his job was on the line, and idiots like the ones at Marca & AS were criticizing him at every step he made.

We have seen this happen in the past as well, managers have their jobs on the line every season, and in their "struggle" to keep their jobs and get results, they don't trust the academy players enough and the academy never get any chances let alone enough chances to prove themselves.

And in search of chances, many talented players end up leaving our team and then we need to spend money to buy our own players back when they excel elsewhere or we end up buying their shittier replacements (Gago et all).

The Castilla has a refreshed stock of players now with the last of the Juan Mata generation—Alberto Bueno left the club, and I really like the new talent present in the Cantera: Pablo Sarabia, Samuel Alonso "Samu" Saiz, Rodrigo, Marcos Alonso, Javier Acuna, Javi Hernandez, Derik Osede, Mosquera, lvaro Morata, Alejandro Fernandez, Kamal Mohamed etc, and then there are Adam Sazai and Miquel Palanca who are out on loan.

I don't want them to leave us and then play against us, and that is possible only with a stable manager, we have already lost many good players like Juan Mata, Alvaro Negredo, and Jose Manuel Jurado due to fickle management. Haven't you ever wondered why did players from the academy stopped coming up from the academy after the sacking of Vicente Del Bosque?

Only a manager who has stayed long at the club would know who to bring up and when, but if we keep on sacking managers this isn't going to possible, what is the point of saving Pablo Sarabia from Arsenal time and again if we will never have a manager who would have the balls to call him up?

It really shouldn't bother us if we don't win a trophy this season, Pellegrini needs to stay, he is taking steps in the right direction, and we should stop giving a shit about what the media has to say about us because it's just their envy speaking, they love to see us fail (English and Catalan media).

Whoever says Pellegrini should be sacked isn't a real fan of Real Madrid, he's just there because of the big names we buy.

I'm with the idea of keeping Pellegrini, no matter the number trophies this season, I just want Real Madrid and the Cantera to flourish like it used to.

Hala Madrid!

For more about the AS & Marca's Anti-Pellegrini Campaign visit "Madridista Mac."
This article was previously published on "Real Addicts: Addicted To Real Madrid."
This article is
What is the duplicate article?
Why is this article offensive?
Where is this article plagiarized from?
Why is this article poorly edited?

Real Madrid: Like this team?