2010 NFL Mock Draft: Detroit Lions Mock No. 1 (Mar. 11)
Now that the Combine is officially over and Pro Day workouts have begun, I figured now is as good a time as ever to make my first official mock draft (of the year), Detroit Lions style.
This mock will take into account recent free agent acquisitions Kyle Vanden Bosch, Nate Burleson, and Jonathan Wade, as well as newcomers via trade Corey Williams and Chris Houston.
Enjoy!
First Round, No. 2 Overall: Ndamukong Suh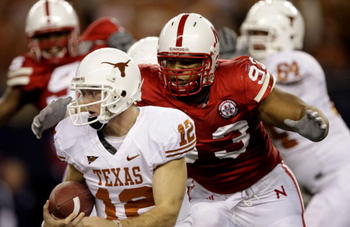 I still believe that the Lions would like to trade out of this pick, but I just don't think it will happen. The only way a trade at No. 2 happens is if Suh goes No. 1 overall and a team trades up for the QB of their choice.
So, this pick comes down to four players. I will immediately eliminate Eric Berry because you just can't justify paying a safety $11 million guaranteed.
I don't think this will be McCoy anymore either because of the addition of Corey Williams. He is a penetrating three-technique like McCoy and is 20-plus pounds heavier.
Russell Okung is an option here, and there have been plenty of reports that the Lions like him. However, I'm not sure if he has the mean streak in the run game that the Lions would like out of a LT.
I was one of the few guys that touted McCoy over Suh not too long ago (even though I admitted that Suh was currently more talented). With the addition of Williams, Suh's style will add more to the defense than McCoy would at this point.
The Lions have to pay quite a bit but get a great player in the process.
Second Round, No. 34 Overall: Trade!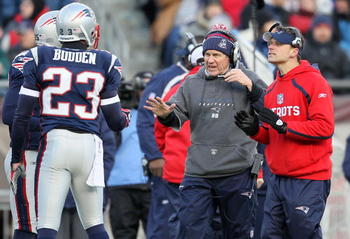 With the new schedule for the NFL Draft, teams will have an entire night to work trades after the first round.
Generally the top of the third round is the time that trades almost always happen, but this new setup will make the top of the second a prime trade position.
Someone will drop out of the first round, and some team will be willing to trade up. In this case I am going to use the Pats and guess that they trade up for Golden Tate, as they have nobody opposite Randy Moss and Tate would be a good complement as he would keep people from doubling Moss over the top constantly.
The Lions receive: Picks No. 44 (second round), No. 116 (fourth round), and pick No. 180 (sixth round).
Second Round, No. 44 Overall (via Patriots): Devin McCourty, CB, Rutgers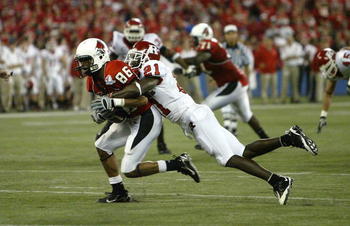 The Lions realize that they can trade back a mere 10 spots and get still get a very good corner.
The Lions got a good look at McCourty at the Senior Bowl, and with Kyle Wilson likely off the board in round one, McCourty becomes the next best corner available.
He would fit nicely in the press man coverage scheme that Gunther Cunningham and Jim Schwartz are using and has some return skills as well.
Pairing McCourty with Chris Houston and Jonathan Wade at nickel would be at the very least an upgrade over Phillip Buchanon, Will James, and Eric King. Not to mention all three would be young players and allowed to grow, along with Louis Delmas, together.
Third Round, No. 66 Overall: Dexter McCluster, RB/WR, Ole Miss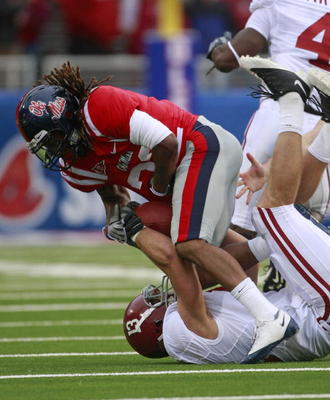 My hope is that McCluster's +4.5 40-yard dash time at the Combine will allow him to drop to the third round, where the Lions can snatch him up.
He has the ability to play in the slot as well as run the ball, which would help to solve two problems for the Lions. He would likely be the Lions' version of Percy Harvin...though he would have a slightly different role.
Most of Harvin's touchdowns came on long passes this season, but McCluster may lack the straight line speed to run go routes effectively. He would, however, be great in a Wes Welker-type role where he could use his quickness underneath to get open and be a security blanket for Matthew Stafford.
In addition, he could help in the backfield and give Maurice Morris a break while the team waits for Kevin Smith to get back from injury.
McCluster may not be the fastest guy, but his quickness, versatility, and toughness makes him worthy of this selection nonetheless.
Fourth Round, No. 97 Overall: Austen Lane, DE, Murray State
The Lions try to strike small-school gold in the fourth round on the defensive line two years in a row.
Obviously, as with Sammie Hill, opposing talent will be an issue with Lane. But in my opinion, the kid has a lot of upside.
He has good size at 6'6" and 275 pounds and will now have Kyle Vanden Bosch as a mentor. KVB could help the Lions groom him into an eventual replacement and bring him up to NFL speed from his Div. I-AA opponents in college.
Fourth Round, No. 116 Overall (via Patriots): Sam Young, OL, Notre Dame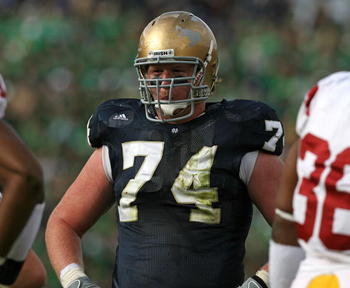 I do not know if Sam Young can play guard effectively, but that isn't why I think he should be the pick here.
I think he has the capability to play RT at the NFL level, and the Lions need to start thinking about a possible replacement for Gosder Cherilus if things don't work out this season.
In addition, if it weren't for a less than spectacular senior season, Young would've been a second round talent in last year's draft. This could be an indicator that he's a risky pick, but he looked good at the Senior Bowl, and to be honest he has fairly good value in the middle of round four.
If Gos does pick it up, the Lions will need depth behind him with Jon Jansen likely leaving, and let's be honest, having someone pushing Cherilus every year wouldn't be a bad thing.
Fifth Round, No. 145 Overall (via Falcons): Thomas Austin, OL, Clemson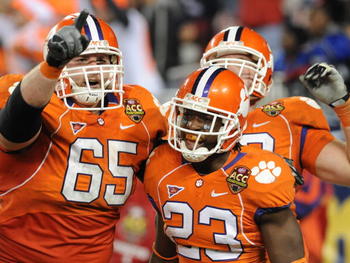 Most people would probably prefer Brandon Carter here. In my opinion, the only thing that Carter has over Austin is the hair (which he shaved for the combine).
Austin has the versatility to play center or guard and for that reason is more valuable in my mind.
Sixth Round, No. 180 Overall (via Patriots): James Starks, RB, Buffalo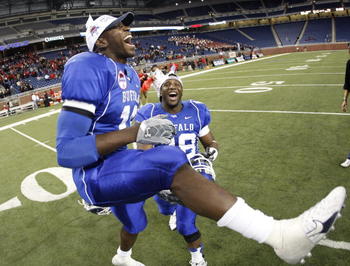 I was very impressed with Starks at the Combine, but he is coming off a shoulder injury that cost him his entire senior season.
Still, you can't argue with his production: 1,300-plus yards in 2008 and a whopping 16 touchdowns. His most impressive stat, however, was his 52 receptions in 2008.
Even if the Lions pick up McCluster, they will probably look to add another body. Starks would compete with DeDe Dorsey for that last roster spot at RB.
Seventh Round, No. 198 Overall: Rico McCoy, LB, Tennessee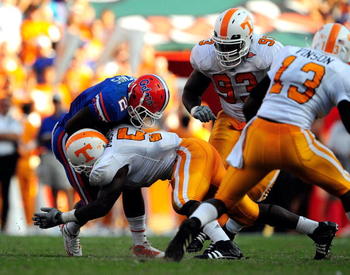 McCoy was ridiculously productive at Tennessee. His 2009 season stats included 114 total tackles and six forced fumbles. However, he could be this year's version of Zack Follett.
McCoy has an incredible nose for the football, but the big knock on McCoy is that he's only 215 to 220 pounds. However, in the seventh round he's worth a shot...and you can't argue with production. He would be a great special teams add.
Honorable Mention: Caleb Campbell, Army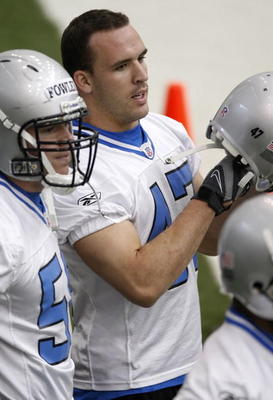 For those of you who have forgotten (perhaps because it is too painful to think about) about the 2008 draft, let me remind of you of who Caleb Campbell is.
A former standout for the Army football team, Campbell was drafted in the seventh round by the Lions when Rod Marinelli was the coach. The plan was to move him to OLB from safety, where he played in college.
However, the Army decided that very year that members of the Army who were pursuing a career in athletics, who had previously been allowed to do so, must serve two years of active duty before being allowed to move on to sports.
It just so happens that Campbell's two years are almost up. He is applying for a two-month advanced leave so that he will be able to accept the one-year offer the Lions have extended to him.
It's a feel-good story worth mentioning, and I wish Caleb all the best of luck.
Keep Reading

Detroit Lions: Like this team?