2010 NFL Free Agency: Who Will Be the Cleveland Browns' Next QB?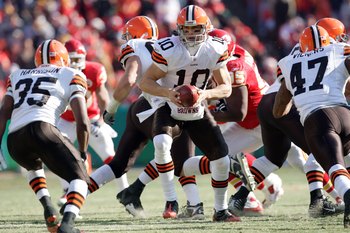 The last few days have been full of action and drama around the Cleveland Browns headquarters in Berea, Ohio.
The revolving door at the quarterback position continues to turn as the offseason moves forward.
Derek Anderson is gone, Seneca Wallace is trying on his brand new jersey, and Brady Quinn twists in the wind.
Quinn is used to dangling in the air, unsure of his future in Cleveland. It's been his defining role since being drafted by the Phil Savage management team in the first round of the 2007 NFL Draft.
Bad decisions, bad coaching, and bad play have all contributed to Quinn's current, and constant, dilemma.
According to ESPN's Adam Schefter, the Browns are shopping Quinn in a trade, but not actively looking to get rid of him.
What this means is that if the right deal comes along, they're willing to part with him.
What this also means is that the front office is not excited about the prospect of Quinn starting under center in 2010 and are seeing if the grass is greener on the other side.
Here's a look at a few of the many players in the Cleveland Browns' quarterback saga:
Jake Delhomme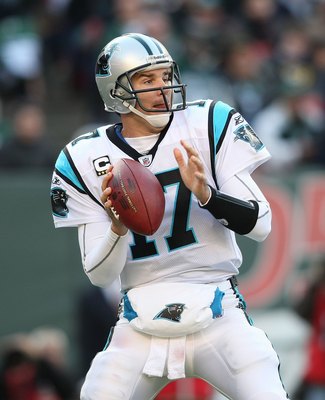 Jake Delhomme was cut by the Carolina Panthers last week. He is 35 years old and hasn't been the same since melting down against the Arizona Cardinals in the 2008 playoffs.
This option is disgusting to even think about.
Yes, Delhomme took the Panthers to a Super Bowl, and he is a Pro Bowl quarterback. However, that Super Bowl appearance was in 2003, and Derek Anderson was a Pro Bowl quarterback, so that argument is invalid.
There is no good reason to give the reigns of the team to an aging quarterback with confidence issues.
Better to leave the ball in Quinn's hands, where there is a better possibility of a turnaround.
Kevin Kolb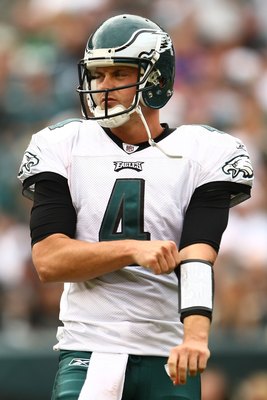 The reason you don't see Donovan McNabb here is because Jake Delhomme filled the "aging quarterback" quotient of the slideshow.
Browns General Manager Tom Heckert just came over from the Philadelphia Eagles, who recently gave Michael Vick his roster bonus. This leaves the Eagles with three viable quarterbacks, and none of these guys want to be the No. 3 quarterback.
Since McNabb probably is too expensive a trade to make, Kolb would be the logical move here. He'll come much cheaper, he is much younger, and best of all, he has no history of choking in the playoffs like the master McNabb.
Seneca Wallace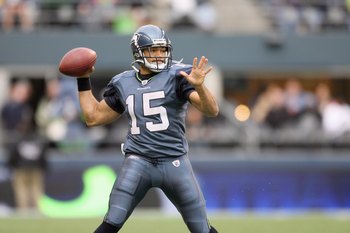 Seneca Wallace is now officially on the Browns' roster after having passed his physical.
Cleveland Browns Team President Mike Holmgren has a history of taking backup quarterbacks for other teams and turning them into successful starters, but Wallace is much older at this point in the process than either Brett Favre or Matt Hasselback was.
Wallace is in kind of the same boat as Quinn, in that he hasn't had the requisite 32 starts Holmgren said you need to make an accurate determination on whether to keep or cut a starting quarterback.
So the question is: Why jump through all those hoops for Wallace when you already have Quinn on the roster?
Plus, Quinn is younger.
Holmgren should be explaining this better. Not that he's obligated to, but the fan base and media held Eric Mangini's feet to the fire last year, so fair is fair.
Draft Pick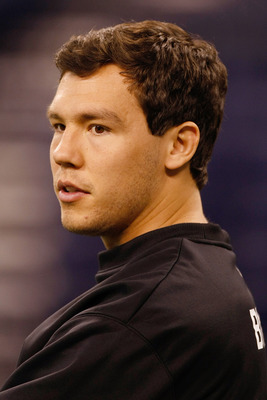 The Browns have the seventh pick in the draft next month, so drafting a starting quarterback also becomes an option.
Whether it's Sam Bradford, Jimmy Clausen, or Colt McCoy, Holmgren will have his pick of at least one of those three names when the Browns come on the clock.
Holmgren also could, and probably will, draft a quarterback in the later rounds, which would mean Quinn has very little time to improve, assuming he's still on the roster.
Brady Quinn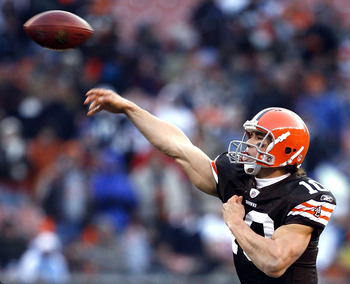 Then there is the hometown boy already on the roster, already beloved by the fans, and already with one victory against the Pittsburgh Steelers.
Quinn has had a rocky road in Cleveland—some of it his fault, much of it not.
Quinn's ill-advised holdout in 2007 led to the ascension of Derek Anderson and Quinn's riding of the bench for parts of 2008 and 2009.
Injuries contributed to his inability to get many starts, but his play on the field was uneven between the two seasons.
Bad coaching in 2008 and 2009 can not be discarded. The offense last year under coordinator Brian Daboll was anemic and painful to watch.
That being said, it is up to the player to perform, and Quinn's play wasn't anything to get excited about.
The mystery continues, and there doesn't appear to be an endgame in sight.
In other words, a typical Cleveland Browns offseason!
Keep Reading

Cleveland Browns: Like this team?