Power-Ranking College Football's Top 25 Teams by Returning Starters
This past winter, a record number of players decided to forgo their senior seasons and enter the NFL under the threat of a rookie salary cap next year.
The validity of that threat aside, the effect it will have on college football next year will be profoundly felt.
Many of 2009's top teams will feature all new faces on offense and defense. In a sport that places so much emphasis on experience and returning starters, that might not be welcome news.
Using Phil Steele's list of returning starters by team, and taking a closer look at the departures, I've re-ranked the top 25 football teams for 2010 based on the number and strength of starters coming back this fall. I'm 100 percent confident this list will shock you.
Also Receiving Votes: LSU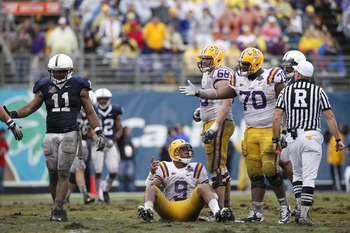 The Tigers picked a bad year to return only 12 players total.
The defense loses seven, including three gone from the defensive line, and Chad Jones, a top safety and crucial piece of the puzzle. CB Patrick Peterson and MLB Kelvin Sheppard will need to get LSU's newest players up to speed quick.
And that offense...well, it's shot full of holes. Two offensive linemen gone, plus underrated RB Charles Scott, WR Brandon LaFell, and ATH Trindon Holliday, who never lived up to his promise as the SEC's fastest man.
With the recruiting effort Les Miles and Co. have put into this team, there's reason to believe the backups might be an improvement. But I'm in the "Les Miles really doesn't know what he's doing" camp until I see evidence to the contrary. Bumpy road ahead.
Also Receiving Votes: USC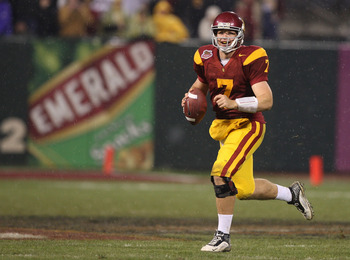 I've been kind to USC all week, calling them the bravest program in college football (which I stand by) and arguing they're poised to dominate college football recruiting for the next decade (which I don't look forward to).
Now, it's payback time.
The Trojans return one of the smallest pools of talent (12) in a BCS conference, including only five starters on offense from a unit that never reached full strength last year.
Matt Barkley is still your future No. 1 draft pick, but the rebuilding process on the offensive line and in the defensive backfield could take more time than Trojans fans are willing to accept.
Judging from the wallop job Oregon and Stanford put on the defense, this wasn't a very strong unit to begin with.
The Trojans can't sell the "reloading, not rebuilding" line anymore (or, at least we don't need to buy it).
Yes, they've recruited well without fail, and their rosters are probably stacked. But until they start looking like the USC of old, it would be foolish to rank them like they are.
No. 25: Alabama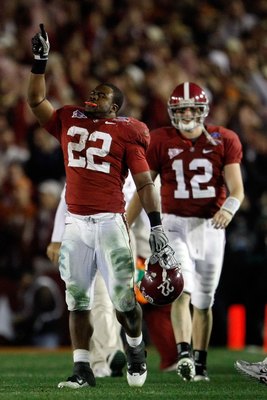 Am I the only person that sees this team struggling?
How do you replace both cornerbacks (plus four backups), an entire defensive line, and two top linebackers and feel confident that you're gonna roll to another national championship?
I understand that Mark Ingram, Greg McElroy, and Julio Jones are back, and that Nick Saban has recruited like getting the nation's No. 1 class would make him taller.
But lighting up scoreboards is not the way Alabama wins, is it?
No, balance has been the name of the game, and at seven offensive, three defensive starters returning, this is one of the most imbalanced teams in the country.
Don't forget the departures of two key offensive linemen, Mike Johnson and Drew Davis.
I see Alabama lingering in the top 25 (but nowhere near the top 10) at year's end. Their brand is strong, and they won't lose more than four games.
But if the SEC is half as competitive as it thinks it is, the Tide should be a much easier target than we're all pretending they are.
No. 24: Mississippi State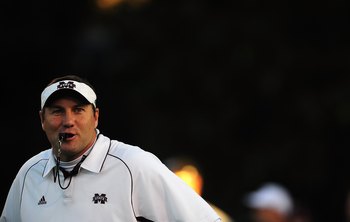 The Mississippi State Bulldogs played one of the toughest schedules in college football under a rookie head coach and came out 5-7 with a beatdown of Ole Miss in the Egg Bowl and a narrow loss to the Florida Gators to their name.
Seventeen starters return from that team, and Dan Mullen is absolutely cleaning up as a recruiter in one of the most talented states in the Union.
I'd be willing to bet they crack the top 25 at least once in 2010, and I'd like to be one of the first to say so.
No. 23: Pitt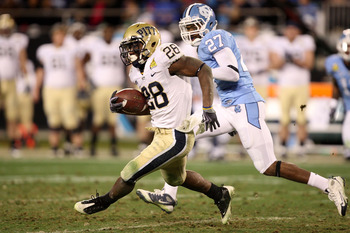 Pitt's defense got a big boost when Greg Romeus decided to stick around for his senior season.
But at only 12 returning starters, I have serious concerns about the Panthers' chances at reloading. All three interior linemen depart, which will hurt Pitt's interior running game, their bread and butter last year.
Gone is CB Aaron Berry, an underrated but productive tackler in the running game, as well as both defensive tackles and Pitt's middle linebacker, so the rush defense is an area of major concern.
Oh, and Pitt still needs either Pat Bostick or Tito Sunseri to step up and play quarterback.
Dion Lewis has got a lot of juking to do for this team not to fall flat.
No. 22: Auburn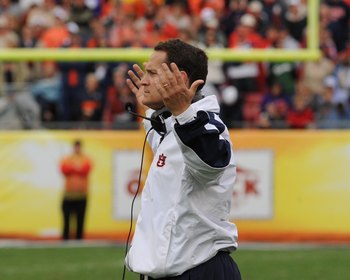 Sixteen starters return for the Tigers, an encouraging number for a fanbase looking forward to more progress in year two of the Gene Chizik experiment.
But make no mistake—this was not a strong group of players, especially on defense. The Auburn D ranked last in the conference in scoring, and the offense was, for the most part, inconsistent.
Auburn loses Chris Todd (or maybe it's the other way around), as well as underrated RB Ben Tate, who turned out to be a stud at the NFL Combine (and was productive last year as well).
Finding a quarterback and running back from Auburn's suddenly loaded roster will be Gus Malzahn's top priority. The Tigers will also need help on the D-line, as they lose Antonio Coleman and Jake Ricks.
Experience is a plus, so I'm vouching at least a little confidence in the time these players have put in. But for 16 returning starters, this is a really low ranking, as you'll see.
If Cameron Newton is as good as many think he is, the Tigers could be surprise contenders for the SEC title game. I'm not counting any chickens yet.
No. 21: Iowa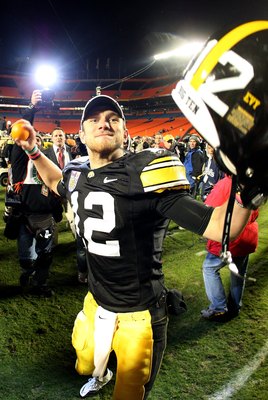 The Hawkeyes don't lose too many, but their losses are massive: OT Bryan Bulaga, destined to be a top 10 and maybe a top five NFL draft selection; Amari Spievey, a shutdown corner who rarely got thrown at last year, with good reason; Tony Moeaki, a great block-and-release tight end and an all-conference selection; A.J. Edds, a powerful linebacker terrific in run coverage; and Pat Angerer, probably the Big Ten's best middle linebacker last year.
In all, 14 starters return. The offense should continue to produce now that every tailback is healthy and Ricky Stanzi is channeling Stallone from the end of Rocky IV.
But DC Norm Parker better have some strong candidates at middle linebacker and boundary corner in waiting, or Iowa's lofty expectations will be taking a hit sooner than they expect.
No. 20: Texas
Despite Garrett Gilbert's encouraging performance in the national championship, the offense will struggle to replace three offensive linemen from a unit that really wasn't its strength last year.
Getting back tight ends Greg Smith will help the Horns' zone-blocking plays and also assist in the passing game.
Most of all, UT needs another wide receiver threat to take the place of the talented Mr. Shipley. None of Malcolm Williams, John Chiles, and James Kirkendoll ever stepped into a solid No. 2 role last year. Darius White or Mike Davis could challenge for some freshman playing time if they can't take the pressure.
On defense, the Longhorns lose a host of NFL-caliber talent. Will Muschamp has his work cut out replacing both interior tackles, end Sergio Kindle, linebacker Roddrick Muckelroy, and free safety Earl Thomas.
A backup from UT's talented rolls must emerge to fill in for Thomas, who tied for the most interceptions in the country last year.
It's a wide-open year in the Big 12 South with the Sooners on their own rebuilding adventure. May the best defensive backfield win.
No. 19: Florida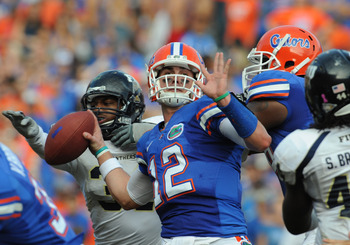 I have no idea what Florida's offense is going to look like, but I can say holding on to Mike Pouncey at center is the difference between winning and losing a few games and racking up a load of rushing yards.
On defense, the outlook is also grim. You know the names, and they're all gone: Brandon Spikes, Joe Haden, Carlos Dunlap, Major Wright, Dustin Doe.
Next year's Gators have had a little more experience than your typical backups. Spikes spent time on the sideline last year for an Achilles injury and also the eye-gouging thing, and that gave A.J. Jones and Jonathan Bostic time to fill in and get a taste of the action.
But the D-line and the defensive backfield have a lot of questions to answer early. Like their Crimson foes, I don't expect this team to get out of 2010 unscathed.
No. 18: Virginia Tech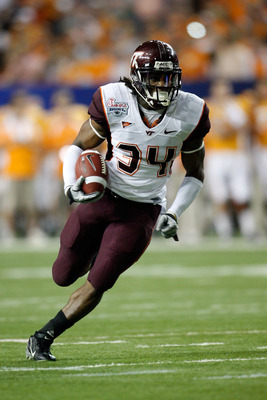 Four returning starters is an alarmingly low number for a defense that played really out of sorts last year, and Virginia Tech, for all its salt, doesn't recruit at the level of a Florida or an Alabama, so I have less faith in its ability to reload.
Three new faces on the defensive line (which lost Cody Grimm), plus three more in the secondary, is either a fresh start or a red flag, depending on what you think of DC Bud Foster.
This has to be the year Virginia Tech unleashes the beast on offense. Tyrod Taylor is a senior, and RB Ryan Williams is the ACC's record-breaking back, plus the Hokies get Darren Evans back from an ACL injury.
A great offense will have to mask deficiencies on defense, or VT can forget about a BCS bowl. That lights-out performance in the Chick-fil-A Bowl was encouraging, for what it's worth.
No. 17: Oklahoma
Sooner fans greet the Landry Jones era with open arms!
Eh, kind of. Some Oklahoma fans are content with whomever Bob Stoops starts, but others have all but written off Jones as a necessary evil in between Sam Bradford and way-of-the-future 2010 recruit Blake Bell.
I like Jones, and I think he'd have a fine season if the Sooners could get healthy on the offensive line, but that's easier said than done. The good news is, they're welcoming two early enrollees on the interior line and also got a lot of kids playing time in last year's shufflefest.
On defense, major questions linger on the D-line and at linebacker. Keenan Clayton and Ryan Reynolds (not that Ryan Reynolds) are gone, as are CB Dominique Franks and Gerald McCoy.
In all, 15 starters return, which is a true gray area. The maturation of Oklahoma's young talent, specifically DT Jamarkus McFarland, will be the difference between another meh season and one Sooners fans are excited about.
No. 16: Clemson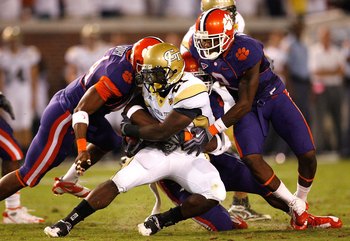 If the Clemson fanbase was wise, they'd throw palms at the feet of returning safety DeAndre McDaniel. The NCAA's interception leader returns for his senior season to help a remodeled Clemson defense strive for balance after being a liability all of last season.
On offense, the Tigers will, of course, miss C.J. Spiller and Jacoby Ford. Kyle Parker's status as the starter is, as of this moment, up in the air while he ponders his baseball future.
Backup QB Tajh Boyd was one of my redshirt freshmen to watch next year—he was Rivals' No. 4 pro-style QB in the 2009 class—so any funny business from Parker and we could see Boyd sooner or later.
In only his second full season as head coach, Dabo Swinney faces a major rebuilding project here. This is when being as good of a recruiter as he is pays off, which explains the hot start he's gotten on 2011's class.
All told, making the ACC Championship game again is a long shot, even with McDaniel.
No. 15: Stanford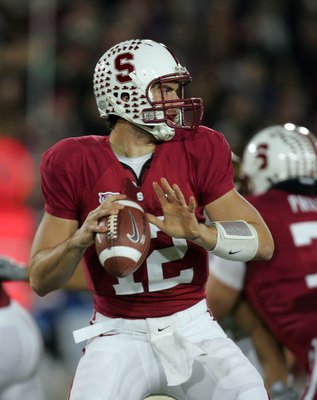 Sixteen starters return for Stanford, but the departures were costly.
Toby Gerhart was the identity of the Cardinal last year; replacing him is asking too much, so Stanford's offense will probably shift more towards relying on Andrew Luck and WR Chris Okoye. Graduate Chris Marinelli was an above-average tackle as well.
On defense, Stanford actually has more to worry about. They lose their nose tackle, two linebackers, and two defensive backs. Jim Harbaugh can recruit and has compiled good coaches, but only his most recent class was really worthy of note.
Getting back into Pac-10 contention will require an all-conference season from Luck.
No. 14: Georgia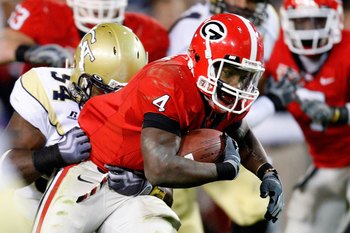 Plug in a great quarterback and Mark Richt's job is more than safe.
Ten starters return for the Georgia Bulldogs on offense, including a fully intact offensive line, two great tailbacks in Caleb King and Washaun Ealey, and the conference's best wide receiver, A.J. Green.
Healthy competition for the QB spot will hopefully result in a solid starter and not three guys separated by a decree. My money's on Aaron Murray, for the record.
On defense, the story isn't so encouraging. The Dogs lost their two leading tacklers, Rennie Curran and Reshad Jones, early to the NFL, and will also be replacing both interior defensive linemen plus both outside linebackers.
Keeping the UGA rush defense in the top half of the conference will be critical, and any help Georgia's younger players can provide in pass defense would be appreciated.
The Dogs are another team that will need to control clock to keep the pressure off their defense.
No. 13: Miami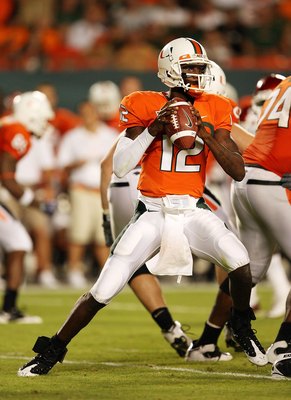 Nine starters return to a defense that got battered by Wisconsin in the Champs Sports Bowl, but I'm confident the Canes are not wanting for talent at any level. The ACC is still a league where speed and athleticism get the job done.
It's on offense that I have the most problems, particularly along the line. OT James Fox, a multi-year starter, is gone, as are center A.J. Trump and tackle Matt Pipho. For a team that had trouble protecting Jacory Harris against the blitz last year, and that wants to run the ball more in 2010, those are major losses.
The early return from Miami's spring practice is that the offensive line is already a pretty beat-up unit.
If the glass is half-full, that means a lot of guys will see playing time. If it's half-empty, that means Harris should take out an insurance policy on that arm of his.
No. 12: Georgia Tech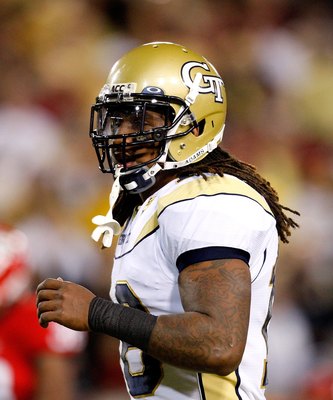 With 18 starters returning, I like Tech's prospects more than I thought I would.
They return nine of those starters on defense, even if the three players they did lose (Morgan Burnett, Sedric Griffin, and Derrick Morgan) were probably three of their best.
Hopefully, new defensive coordinator Al Groh makes for a better assistant than coach and can diagnose what was missing in last year's beleaguered squad.
On offense, Paul Johnson needs to find a replacement for Jonathon Dwyer at the B-back position, but Anthony Allen and Josh Nesbitt are sure to get their 1,000 yards apiece, and Roddy Jones came on as a capable backup to end the year.
Depending on how well the ACC plays next year, GT has reason to hope a return to the ACC championship is doable. As usual, it comes down to defense.
No. 11: West Virginia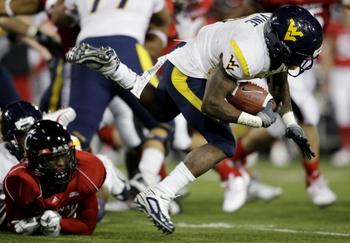 The Mountaineers return an above-average 17 starters, including RB Noel Devine and four-fifths of an able offensive line.
Far from a letdown, I think Geno Smith will be an upgrade over Jarrett Brown, who was too hesitant a passer and too tentative to beat teams with his (apparently) above-average speed.
The Mountaineers' defense seemed to be improving, but they got pantsed by Florida State's backup QB in the Gator Bowl. Luckily, nine starters return, and the Eers' recruiting on the defensive front has been good, or else I'd have reservations about replacing MLB Reed Williams and S Nate Sowers.
This is a make-or-break year for Bill Stewart, not for his job, but for the expectations surrounding the WVU program. As RichRod's tenure gets further and further in the rearview mirror, should Mountaineers fans legitimately expect BCS bowls, or will they become the exception?
Devine's senior farewell and Smith's maturation are two of the most intriguing stories in the Big East. Let's hope they end well.
No. 10: Oregon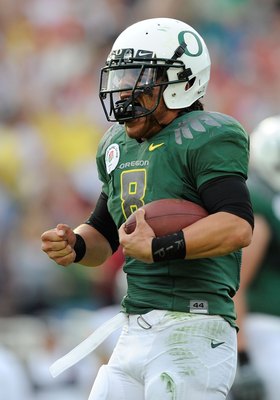 There was a time when Oregon boasted one of the best returning starter numbers in the country, particularly on offense.
The offensive line remains intact, but all-conference TE Ed Dickson departs, and with QB Jeremiah Masoli facing charges of robbery and LaMichael James of domestic violence, it's hard to say if the two most crucial players will see the field at all next year.
RB Lache Seastrunk was one of the top RBs in the 2010 class, but Nate Costa is a big step back from a mobility standpoint.
The Ducks also lose two defensive linemen, though their defense was playing well particularly against the pass until the Rose Bowl.
Kicker Rob Beard might face a suspension of his own for an MIP arrest.
Until things settle down in Eugene, I'm exercising severe caution for this team. Masoli was the engine, James the wheels that made this offense go.
No. 9: Missouri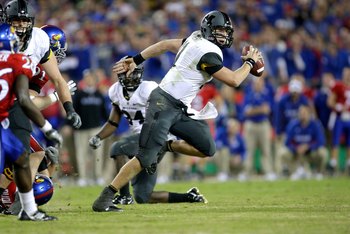 The Tigers get 19 of last year's players back, including all four defensive backs. In a league that demands great passing defenses, this could be the year the Tigers finally take a few away from the big boys in the South.
The criticisms of Blaine Gabbert are wildly off-target—he'll be the North's most statistically accomplished passer by the end of the year, and that's even after he loses his two best targets.
My only concern with this team is in rush defense. Based on his Combine results, Sean Weatherspoon was a terrifically underrated player whom the Tigers will have a tough time replacing. They also lose their weakside end and nose tackle without a decorated replacement for either.
A good running team could keep the MU offense off the field for long stretches and counteract the effectiveness of Gary Pinkel's system. Stopping the run will be key to combating Nebraska for the Big 12 North.
No. 8: Washington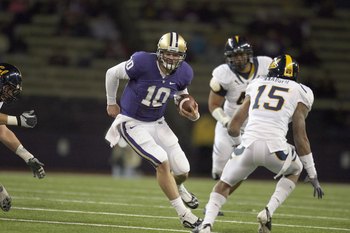 A whopping 20 starters return for the Huskies, including the entire offense, led by the altruistic Jake Locker in his second year under the Sark.
The Huskies drop their inside linebacker—troubling for an already iffy rush defense—but signed a 31-man class this past year. I like Victor Burnett, Rivals' No. 19 prospect at the MLB position, to step in and challenge for playing time immediately.
That said, this was not a great defense last year, but experience hopefully will be their guide. With an offense that should be able to score a lot of points and a time-tested defense, those predictions of a Huskies Pac-10 title run don't sound as far-fetched.
No. 7: South Carolina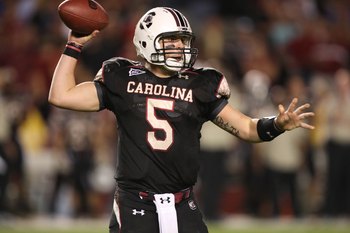 Is this the year Steve Spurrier makes good on his reputation as an offensive genius? Or will Stephen Garcia accept his fate as one of the BCS' worst quarterbacks?
With the Gamecocks' most experienced offense returning (they lose only their center), 2010 will be the best chance the OBC has at cracking SEC defenses like he did at his alma mater.
Terrific talent at the wide receiver position (Tori Gurley and Alshon Jeffry were both breakout freshmen) cries out for production. Five-star running back prospect Marcus Lattimore could be on the brink of a 1,200-yard season behind an experienced line.
You know the defense will show up—they've been SC's most reliable squad under Spurrier. They lose OLB Eric Norwood but gain Kelcy Quarles, Rivals' No. 2 DT prospect, whose play could open up some rush lanes for Cliff Matthews and Devin Taylor.
It's a total crapshoot at this point. Seventeen returning starters is a great sign, and I'm cautiously optimistic that with a solid run game and a veteran offensive line, this will be Spurrier's best SC team to date. But I'll reserve judgment until Garcia completes more than 55 percent of his passes.
No. 6: Wisconsin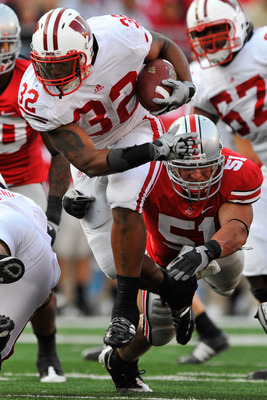 The Badgers return 10 starters on offense, including an entirely intact offensive line and the conference's leading rusher, John Clay. For a team hell-bent on wearing opponents down and killing clock, that's a scary thought.
What's not so scary are the three departures on the defensive line. Both inside tackles are gone, as is conference sack leader O'Brien Schofield, a top DE/OLB prospect.
Restocking on the defensive line is one of the tallest orders for a defense, particularly one that struggled to contain opponents' passing and developed its pass rush late in the season.
Luckily, three defensive backs return, because tight coverage will be crucial until elite pass rushers can be found.
If Clay rushes for 1,600 yards, it would be hard not to get a 10-win season out of that.
No. 5: Nebraska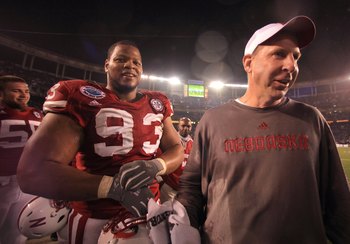 I would contest Steele's number for Nebraska's returning starters—I think it should be 17 and not 18. If Zac Lee gets the starting job at this point, it will be because he earned it, not because he was the starter last year.
Four-fifths of the offensive line returns sans center Jacob Hickman, and they're all upperclassmen. I like Nebraska's chances on the ground with returning 1,000-yard rusher Roy Helu and sophomore Rex Burkhead, who looked scary fast in the Holiday Bowl win.
The passing game needs some serious work, but hopefully out of the thick of Nebraska's QB competition a legit starter and some deep threats will emerge.
Replacing Ndamukong Suh on the defensive line is impossible, but Jared Crick and Baker Steinkuhler (Rivals' No. 2 offensive tackle who has swapped sides) will give it the old college try.
More troubling are the Huskers' losses at the weakside LB and strong safety positions. Both starters depart, so keeping that rush defense top 10 will be Carl Pelini's goal.
If they can look half as balanced as they did in the Holiday Bowl, this Huskers team is poised to dominate.
No. 4: Arkansas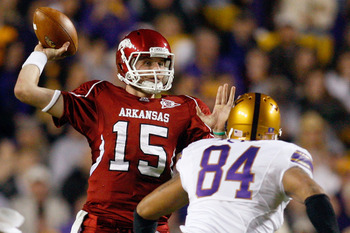 Eighteen returnees is a pretty high number, but most of the talent returns on offense.
The Hogs return the best wide receiving corps in the conference, plus a talented backfield and the most promising quarterback in the NCAA, and only need to replace departed guard Mitch Petrus.
The Razorbacks bid farewell to their best defender, DT Malcolm Sheppard, and still field a lot of questions in the defensive backfield.
Sophomore DT DeQuinta Jones will have to step up at the interior position, and someone from the Hogs' monster 2009 class needs to tighten up that secondary. Memo to Darius Winston: Stop floating transfer rumors on Facebook and start practicing.
Assuming Ryan Mallett gets back to full health, the Razorbacks could have the most potent offense in the SEC West. They'll have to prove they can field the defense to match it before I start talking conference championship.
No. 3: Ohio State
The most interesting player in college football leads the Buckeyes through his junior year, one during which a Heisman win and a national championship run are expected by many.
But is this the team? The Buckeyes must replace two key defensive linemen, Thaddeus Gibson and Doug Worthington, plus Kurt Coleman, one of the finest the Buckeyes have fielded at defensive back.
On offense, they lose TE Jake Ballard and OT Jim Cordle, two key parts of the offensive line. Four other line starters remain intact, but tackle was a must-get in this recruiting class that the Buckeyes didn't cover.
I might be nitpicking. OSU has seven backs ready to run wild, plus a host of up-and-coming wide receiving threats.
But if this is indeed the national title team, the Buckeyes will have to be as balanced and dangerous as they looked in the Rose Bowl in every game, at least until the defense adjusts. Let's hope Jim Tressel believes there's no going back.
No. 2: North Carolina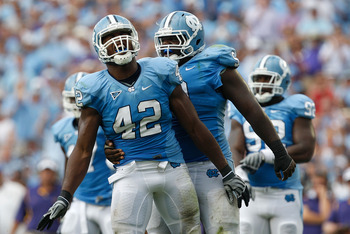 Nineteen is UNC's magic number, and it's all thanks to Robert Quinn, who will return for his senior season and convinced many of his teammates to do the same.
That defense finished sixth in the country against the run. Losing Cam Thomas at defensive tackle will hurt, but four-star end Brandon Willis enrolled early and could slide inside to free up lanes for Quinn and Quinton Coples.
The UNC offense started to click down the stretch, with T.J. Yates, Greg Little, and Erik Highsmith cooking up some positive chemistry.
Make no mistake: This team can throw, as we saw during Yates' performance in the Meineke Car Care Bowl in 2008. It's just a matter of keeping the QB protected. The good news is that line remains intact and gets a solid impact freshman in OT James Hurst.
If defense is the order of the day, then UNC's has what it takes to challenge for an ACC title and, if they can beat LSU in week one, even more.
No. 1: Boise State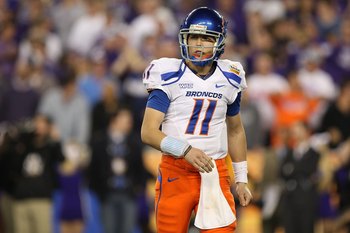 Twenty-three returning starters is the gold standard for 2010.
Just one player departs (albeit a great one, NFL-bound Kyle Wilson) from a Fiesta Bowl-winning team that showed it could hang with an explosive offense and win, as usual, on trick plays and superior coaching.
Kellen Moore was the NCAA's most efficient passer and is also the most well-prepared and the most humble. WRs Jeremy Avery, Austin Pettis, and Titus Young are the best trio of receivers in the country.
How could you not root for this team to go all the way to the title game? They'll be doing it whether you like them or not.
Keep Reading