Seattle Seahawks' Quarterback Controversy
Have the Seattle Seahawks created their own quarterback controversy?
Pete Carroll began his tenure in Seattle speaking highly of incumbent quarterback Matt Hasselbeck. While his tone hasn't changed, the actions by the organization seem to indicate that the future plans may not include Hasselbeck.
That isn't too surprising considering that Hasselbeck's contract is up after 2010, and most people do not envision him staying productive for more than a couple more years.
It appears that the Seahawks are exploring all of their options and deciding whether they should make the move now through free agency or trade, or invest a draft pick and have them learn behind Hasselbeck.
The news floating around over the last couple days seems to indicate that Seattle is more than willing to find a solution through an established player.
Either way, Seattle has put themselves in a position where they need to do something.
By trading away their back-up, Seattle has indicated that they don't believe they have the quarterback of the future.
You don't trade away your back up when your starter is injury prone and towards the end of his career, unless you plan on doing something.
Here is a look at the current QB's on the roster and names that have been connected with the Seahawks, and some pros and cons for each:
Matt Hasselbeck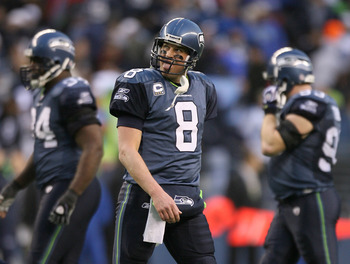 We will start with the guy who is already on the roster.
Hasselbeck's growth from a Mike Holmgren-protege he brought in from Green Bay to a three time Pro Bowl quarterback has been exciting for Seahawks fans to watch.
Some of Seattle's best days have been with Hasselbeck under center. He has given us a lot of memories, both good and bad. Who will ever forget, "We want the ball and we're gonna score?"
The good times of the early part of the decade are certainly being over-shadowed by the recent flops in the past two years. In Hasselbeck's defense—he hasn't had much help.
With no running game or consistent O-line to work behind, Hasselbeck has tried to do too much, and has been both mistake and injury prone.
He is not, and never has been, a quarterback that simply takes over the game.
He manages the West Coast offense wonderfully, but he needs the pieces around him.
As his supporting cast floundered, so has he. It is not hard to envision a glimpse of the efficient Hasselbeck of old if he was provided a steady O-line and running game, but the question is—for how long?
Do the Seahawks take the risk that Hasselbeck can remain healthy and productive a couple more seasons, enough to mentor a young QB through the draft?
A pro of keeping Hasselbeck is that you are keeping an intelligent QB who could do well in mentoring a young QB to end his season. You know Hasselbeck does not want to end his time in Seattle with his 17-17 TD-INT ratio.
You know he will do everything he can to get his team in position to win, but the results as we have seen can be disastrous if he is not provided with support.
A con would have to be that if his health does not hold out, we are looking at possibly starting a rookie QB in 2010 or 2011. There is also the chance that even if he can remain healthy, he will continue to play poorly and hurt the team's rebuilding efforts.
Sticking with Hasselbeck in the short term seems to be the most logical move.
Finding players for a succession plan is much better than replacing a starter over the offseason.
Mike Teel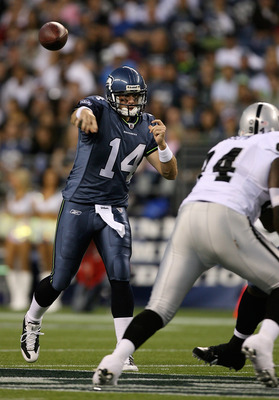 With long time back-up Seneca Wallace being shipped to Cleveland—is Holgren trying to pull a Hasselbeck, version two?
The next in line on the current roster is second year quarterback Mike Teel.
We have not seen much of Teel, well any of him during the regular season, so there isn't much to go off of.
He played his college ball at Rutgers and led the Scarlet Knights to a 27-12 record in his final three seasons. For his career he put up over 9,000 yards and 59 touchdowns. He was the Big East player of the year in 2008.
Going into the 2009 draft, he was considered the 28th best quarterback prospect and was graded as a "diamond in the rough"-type prospect by Scouts Inc. He was described as someone who does not have the full package, but has the potential in the future for development.
Considering how much Seattle seems to be looking around, it does not seem like they view Teel as much more than a third quarterback.
Pro: He is young and already on the roster.
Con: We don't know much about him or how his skill set will translate to the NFL.
Carroll's staff will have to evaluate for themselves, but considering the talk about finding a replacement for Hasselbeck, Teel looks to be an emergency option at best.
Teel could find himself the back-up in 2010 with Wallace's departure, but Seattle seems to feel that he is not the long term solution.
Donovan McNabb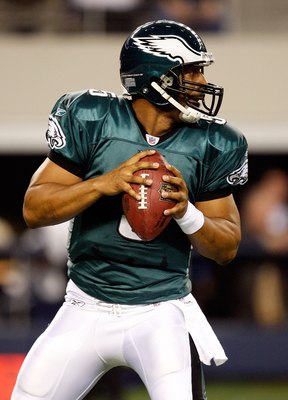 A name that has surprisingly popped up recently is Donovan McNabb. Not much needs to be said about McNabb, his career has been well-documented and is familiar to NFL fans.
The fact the Seahawks are even showing interest in McNabb, someone who is of a similar age/experience to Hasselbeck, means they are looking at all options.
Picking up McNabb would be bringing in a more productive version of Hasselbeck in that he is a quarterback toward the end of his career.
That said, a move for McNabb would indicate that the Seahawks feel they are only a few pieces away from competing and that quarterback is one of those main issues.
Pro: Still a top-10 rated quarterback in the NFL and a leader who could use a change of scenery from the brutal environment in Philly.
Con: Aging QB—how much longer does he have? They could be investing money that could be used in a more immediate-need position.
If the pieces fell in place, McNabb could provide a spark in 2010. If the other issues are not addressed, however, McNabb could be doing his best Hasselbeck impression and ending the year on the injured reserve list.
Kevin Kolb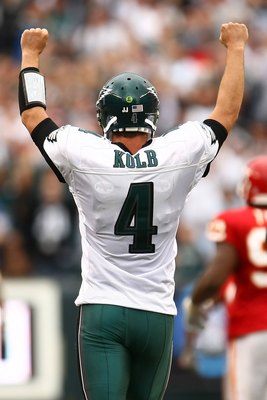 A second Eagles QB being linked to Seattle is Kevin Kolb.
While McNabb is clearly the bigger name, Kolb would be the more logical choice for Seattle to go after.
Kolb has been in the league for three seasons, learning behind McNabb. He has posted a 60 percent completion percentage with 4-7 TD-INT ratio—although in 2009, he had a 4-3 ratio.
The knocks to Kolb's game are that he can't always get the ball into a tight window and needs more experience to improve his timing and his accuracy.
A move to Seattle would potentially provide Kolb with both, while allowing Seattle to move on to their quarterback of the future without using a draft pick.
Pro: Young, already has NFL experience. Would be ready to step in and play, already had three seasons as a back-up.
Con: Not as high of a ceiling as some QB's in the draft.
His years in the league and playing experience are all positives, but it is telling that when McNabb went down, they brought in another QB rather than go with Kolb for the season. Still he might not be a bad value and could at least fill the hole left at the back-up position.
Charlie Whitehurst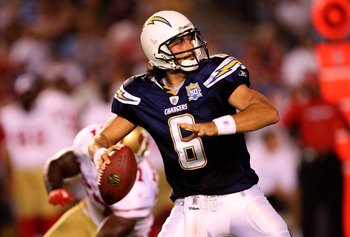 Another name that has been thrown around is San Diego's third string QB Charlie Whitehurst.
Like Teel, there really isn't anything to go off of as far as NFL production, even though Whitehurst has been in the league for four seasons.
He started his final two seasons at Clemson, but his stats were not all that impressive. A third round pick originally, Whitehurst has good size and strength, but his poor decisions and ball security are concerns.
Pro: Like Kolb, would potentially be ready to jump in and play. He has potential to develop with more experience.
Con: Has not had any real playing time in four seasons in the NFL and is still listed as a third string QB on his current team.
Unless you are bringing him in as a back-up, this seems to be a bit of a reach. We are not sure what he can do in the league, but he hasn't had much of a chance to prove one way or another. Might be just as much, if not more, of a risk than a draft pick.
Derek Anderson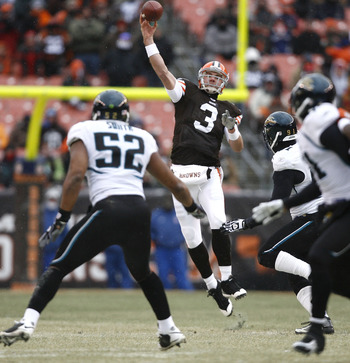 Derek Anderson went from hero to being ran out of town in Cleveland.
In 2007, Anderson turned in a Pro Bowl performance with 3787 yards and a 29/19 TD-INT ratio.
His other three seasons are the reason he is off the team, combining for a TD-INT ratio of 17-26.
Anderson has the arm to be a productive quarterback in this league, but his inconsistency and lack of mobility in the pocket seems to eventually bring him back down. He has a world of potential, but has never been able to realize it with any consistency.
Pro: Has a Pro Bowl season under his belt in the NFL already. He is available and could start right away.
Con: Wildly inconsistent and a huge gamble as a QB for the future. Could not hang on to starting job in open competition in Cleveland.
Anderson might come cheap, but his body of work makes this a bad decision. His one good season shouldn't overshadow his other years of erratic play.
The Draft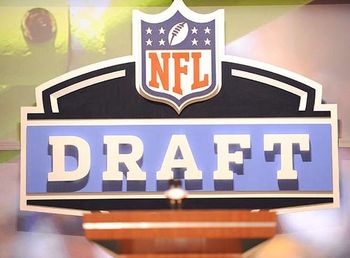 The traditional place to look for a quarterback is April's NFL Draft.
With two first round picks—No. 6 and No. 14—the Seahawks are in position to go after whatever position they feel is the biggest concern.
A lot of people feel that there are bigger concerns than quarterback that should be addressed in the first round.
If Seattle does choose to address it in the first round, the obvious choices are Sam Bradford and Jimmy Clausen.
Post first round favorites would be Colt McCoy, Tony Pike, Dan LeFevour, and Tim Tebow.
Bradford and Clausen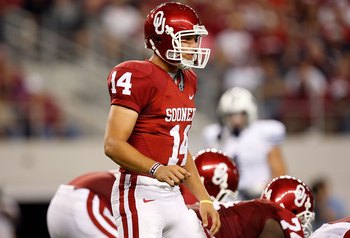 The top two QB's on the draft boards are Sam Bradford and Jimmy Clausen.
Bradford: After winning the Heisman in 2008, Bradford's 2009 season was cut short due to injury. Despite that, he is still projected as the top QB in the 2010 draft. He has good accuracy and what is considered good enough arm strength. Will need to add more bulk to his frame, but has the size teams look for.
Clausen: A highly-touted recruit for Notre Dame, the team never reached high levels of success with him. His growth as a player was immense. Has great leadership ability and is very accurate on his short throws. Has good size, mobility, and vision. Knocks against him are just adequate arm strength and inaccurate on deep balls.
Pro: By picking up either of these QBs, Seattle would be going for the player with the most potential. There would need to be a experienced starter, whether it be Hasselbeck or someone else, to give either time to adjust to the NFL. Although either could step in and play, it would be best for both the team and the QB if they had a least a year to sit.
Con: By taking a QB in the first round you are leaving a bunch of other holes open to be filled in free agency or in later rounds. Considering the depth of lineman in this draft, it makes sense to take advantage of that and wait for a more QB-heavy draft to solve that problem.
It is tempting to use a top-10 pick on your quarterback for the future. Between the two I would go with Bradford if available, but both have serious question marks for a team like Seattle to invest that much money in at this point in time.
Later Round QB's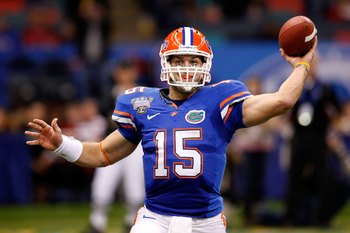 Seattle could also choose to address the QB situation by taking a chance on QB after the first round. Taking any player in the draft is taking a risk, however, and taking a QB in the later rounds provides the option of addressing other issues. Here is a quick look at four QB's Seattle could potentially look at in later rounds.
Colt McCoy: A wonderful leader who had an outstanding career at the University of Texas. He fell just short of a National Title his senior season. His strengths are his mental toughness, leadership abilities, mobility, and accuracy. His weaknesses include arm strength and size.
Tony Pike: Pike led his Cincinnati team to their first BCS Bowl win this past season. His strengths are his accuracy, timing, and height. Weaknesses include arm strength and durability concerns.
Dan LeFevour: LeFevour was a four-year starter for Central Michigan who put up some impressive stats. Like McCoy and Pike, he will have to prove that the numbers were not from the spread offense they ran. Strengths are that he is an accurate passer who is also a good athlete. Weaknesses include his arm strength and reading coverages.
Tim Tebow: Tebow had an amazing college career that included two national championships and a Heisman trophy. He posted incredible numbers, but they were in a run first spread option system, so his mechanics and knowledge of a pro-style offense are a concern. Strengths are his leadership skills, athleticism, and work ethic. Weaknesses include mechanics and footwork.
A later draft pick is an appealing option as Seattle might just find their future QB here.
Tim Tebow's stock has continued to rise, but if he is impressive enough at Florida's Pro Day, he may demand too high of a pick of Seattle to risk drafting him. The benefit to this option is if the QB doesn't work out, you didn't just use a top-15 pick on them. The downside, of course, is they could be a career back up.
Conclusion
The new staff is taking a sweeping look at what they have and appear to be exploring all of their options.
The easiest route would be to draft a QB to play behind Hasselbeck for the next season or two, but there are definite risks in that strategy.
Does Hasselbeck last two more seasons? He has been injury prone the last few years.
Will a later round rookie QB be able to beat out Teel?
Picking up an experienced back up from another team is a promising option, if you are convinced that moving on from Hasselbeck needs to be done sooner rather than later.
If Seattle isn't interested in keeping Hasselbeck past 2010, this would be the most logical option. You would not be risking a draft pick on a quarterback who may or may not be ready, and will be taking someone who at least has NFL experience.
Spending a first round pick on a QB may seem like the best bet in finding a signal caller for the long term future, but the risks are there as well and would be quite an investment financially on what would be a top-15 pick.
The Seahawks are exploring all of their options, but do not be surprised if we go into next season with Hasselbeck still behind center, and one of the post-First Round QBs sitting on the bench behind him.
We are not just a QB away from competing, so it would be harder to justify bringing in a veteran to oversee the position for a few years.
Keep Reading

Seattle Seahawks: Like this team?