New York Yankees All-Time Defensive Team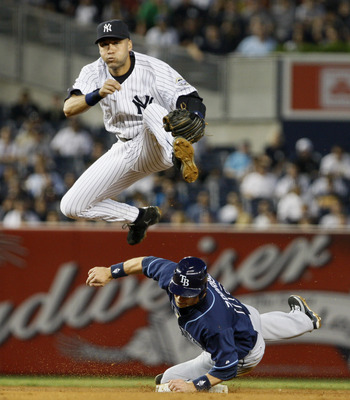 Saying you watch the New York Yankees for their defensive prowess is like saying you watch Jersey Shore for the thoughtful and intelligent dialogue.
In other words, you're not kidding anybody.
Defense is baseball's subtle art form, and the Yankees have made their mark on the sport by being the opposite. They are the Bronx Bombers, after all, and they didn't get that moniker for their soft hands and adroit use of the crow hop.
That said, you don't win 27 World Series titles with a team full of Giambinos bumbling around the field. The Yankees have had their share of defensive standouts in their history, and today we present the Yankees' all-time defensive team.
Catcher - Yogi Berra (1946-1963)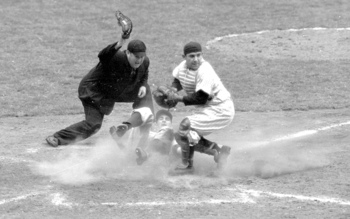 Before he became the Aflac pitch man, before his iconography was boiled down to creator of endearingly dim-witted cliches, Lawrence Peter Berra was arguably the greatest catcher ever.
Berra played 18 of his 19 seasons with the Yankees, serving as the primary catcher for most of them. Known for his quickness and agility, the 5'8" Berra was one of the most respected defensive players of his era and the backbone of a Yankees franchise that won 10 World Series titles in his time.
Berra retired with the American League records for catcher putouts (8,723) and chances accepted (9,520). He was also one of only four catchers to ever field 1.000 for a season, playing 88 error-free games in 1958.
The Gold Glove award didn't come into existence until the later stage of Berra's career. It's a good thing too—Yogi didn't have any more room in his trophy case.
Honorable mention: Thurman Munson (1970-1979)
First Base - Don Mattingly (1982-1995)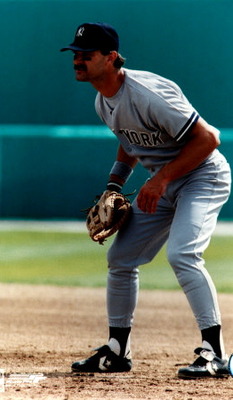 "Donnie Baseball" was a natural at first base, gifted with keen instincts, remarkably soft hands, and a strong and accurate throwing arm. His ability to turn the 3-6-3 double play was unparalleled.
Mattingly won nine Gold Gloves in his 12 full seasons in pinstripes, earning the reputation as baseball's best all-around player during the second half of the 80s.
From 1985 through 1989, he won five consecutive Gold Glove awards at first base. Along with Chick Gandil (1916-1919), Mattingly (1984-1987) holds the record of leading AL first basemen in fielding percentage for four consecutive years. Upon his retirement, Mattingly's .996 lifetime fielding percentage at first base tied him for the all-time lead.
Meanwhile, the Mattingly vs. Keith Hernandez debate as best defensive first baseman ever rages on. If you're reading this list, I can probably guess where you stand.
Honorable mention: Mark Teixeira (2009-present)
Second Base - Bobby Richardson (1955-1966)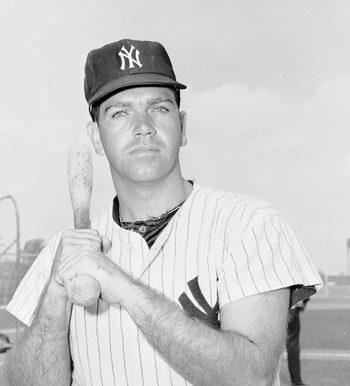 While the M&M Boys received the lion's share of media and fan attention in the great dynasty years of the 1950s and early 1960s, it was role players like Richardson who helped ensure the Yankees were a title contender year after year.
Richardson was the World Series MVP in 1960—the first and only player from a losing team to win the award—but he made his reputation as an elite defender. He won Gold Gloves in five successive years (1961-1965) and retired with the all-time fielding percentage of .979 at second base.
Richardson's most famous defensive moment came on the final play of the 1962 World Series. With the tying and winning runs in scoring position in a 1-0 game, San Francisco Giants star Willie McCovey ripped a liner directly at the Yankees second basemen, who snared it to end the game and series. McCovey later claimed it was the hardest ball he had ever struck.
Honorable mention: Willie Randolph (1976-1988)
Shortstop - Derek Jeter (1995-present)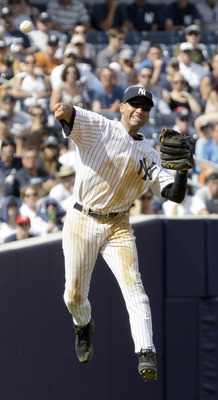 Jeter is the type of player that needs to be seen in person to be appreciated.
He doesn't make mental mistakes, converts virtually every routine play, and makes up for diminishing range with genius baseball IQ.
His famous "flip-toss" from the 2001 ALDS is perhaps the best example of this, but Jeter has been playing the game on a higher intellectual level his entire career.
That's what makes the Jeter defensive backlash so amusing. You can punch in all the numbers you want to try to come up with a computation that proves him to be a subpar defender, but at the end of the day, all you need to do is watch him for nine innings.
Seriously. Buy a ticket, take your seat, and keep your eyes fixated on him for three hours like you're Minka Kelly. I guarantee he'll do at least one thing (and probably more) that gives you a new appreciation about how he plays short.
That's why the four Gold Gloves only begin to tell the story.
Honorable mention: Phil Rizzuto (1941–1942, 1946–1956)
Third Base - Graig Nettles (1973-1983)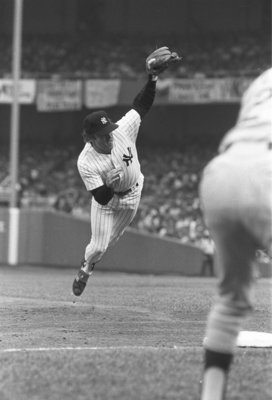 He may have been shackled with one of the worst first names in white person history, but Nettles' ability with the glove was a key aspect of the Yankees' success in the late-70s and early-80s.
Nettles earned his place in Yankees lore with his defensive performance in Game Three of the 1978 World Series. Down two games to none, the Yankees sent 25-game winner Ron Guidry to the mound in a must-win situation.
Nettles put on a clinic in the first of four straight Yankee wins to take the title, making several standout plays to thwart Dodgers rallies.
For his career, Nettles finished with a .964 fielding percentage, fairly remarkable for the position known as the "hot corner." By comparison, Alex Rodriguez has a .962 fielding percentage in his six seasons at third in New York.
Nettles was awarded a Gold Glove in 1977 and 1978, both Yankees championship seasons.
Honorable mention: Scott Brosius (1998-2001)
Left Field - Bob Meusel (1920-1929)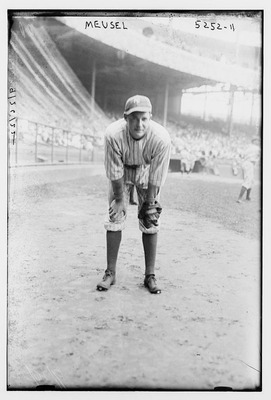 Left field has always been the redheaded step-child of Yankee positions.
Even in the 1990s dynasty years, Death Valley was patrolled by the likes of Chad Curtis, Shane Spencer, and Ricky Ledee. Johnny Damon and his noodle arm toiled there in recent seasons, and the position is again up for grabs in 2010.
Note to Curtis Granderson: The door is wide open for you, bud.
We gave Meusel the nod here because he was an overlooked member of the famed "Murderer's Row" of the Yankees in the 1920s. He was basically the Ringo Starr of that group, despite being one of the most prodigious hitters in the league.
He was also known as a highly-skilled defensive player. Standing at 6'3" (which translates to about 14'7" in flapper times), Meusel had a canon arm that scared baserunners more than a smallpox outbreak.
Honorable mention: Rickey Henderson (1985-1989)
Center Field - Joe DiMaggio (1936–1942, 1946–1951)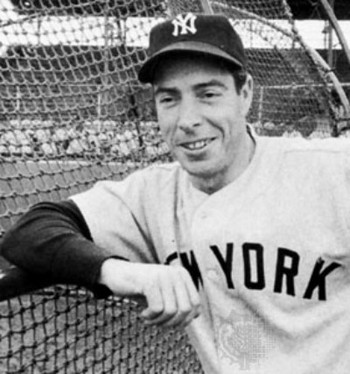 "The Yankee Clipper" may be one the great icons of American sport, but his baseball legacy is often boiled down to the amazing 56-game hitting streak of 1941.
DiMaggio was much more than an offensive force for the Yankees, however. He patrolled center field with grace for 13 seasons until another gifted Hall of Famer, Mickey Mantle, took his place.
Tigers legend Hank Greenberg told SPORT magazine in its September 1949 issue that DiMaggio covered so much ground in center field that the only way to get a hit against the Yankees was "to hit 'em where Joe wasn't."
DiMaggio was a five-tool player before it was commonplace. He was a man ahead of his time.
(Got Marilyn in her prime, too.)
Honorable mention: Mantle (1951-1968)
Right Field - Dave Winfield (1981-1990)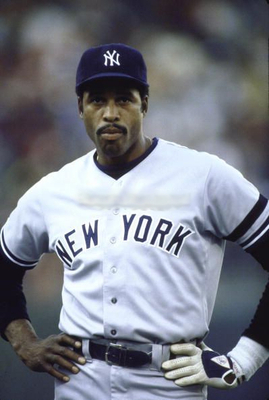 One of the most under appreciated players in Yankees history—and certainly the most put upon by the owner—Winfield paired with Don Mattingly to form the heart of New York's offensive attack in the 1980s.
Winfield was equally talented in the outfield, where he collected seven Gold Gloves, five of which came with the Yankees. He had a rocket for a right arm, and his massive 6'6" frame allowed him to cover ground with ease.
Winfield missed the 1989 season with back surgery, and then was shipped to the Angels the following season. The Yankees would spend four years trying to find a suitable replacement for the Hall of Famer before Paul O'Neill landed in the Bronx.
Honorable mention: O'Neill (1993-2001)
Pitcher - Mike Mussina (2001-2008)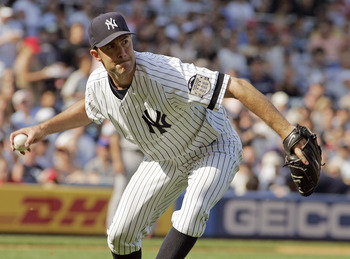 Mussina may be the best Yankees pitcher to never win a ring, joining New York the season after the 2000 title and retiring prior to the 2009 championship.
So yeah, timing wasn't his thing. But that doesn't change the fact that "Moose" was a stalwart for some very shaky Yankees rotations in the 2000s. He won 270 games in his career (including 20 in his final season), and was regarded as one of the best defenders of his position.
Mussina won seven Gold Gloves in his career, including three with the Yankees. When you factor in his defense, how he went out, and the consistent manner in which he performed, he will make one of the great "Hall of Famer or not?" debates of the new decade.
I say he's earned his spot.
Honorable mention: Mariano Rivera (1995-present)
Keep Reading

New York Yankees: Like this team?