Manchester United Cruise To Victory: The Funny Side of It All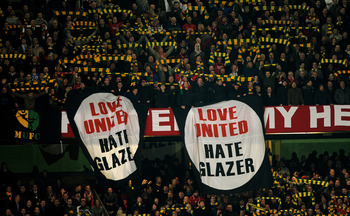 With Liverpool's early exit from the Champions League, my main interest in the Champions League turned to Manchester United. Although such a traitorous following of my teams main rivals could be apparent, the Red Devils in my opinion provided the best opportunity to witness some inspiring football from the remaining English teams.
And they did not disappoint as they cruised to a 4-0 win over AC Milan, and now provide the most probable bet for the English side to go furthest, as well as a reaching a third consecutive final.
But hey, lets not just talk about the victory itself. Instead I thought I'd remark upon a few events within the game that made me chuckle.
Wayne Rooney + Head = Definite No No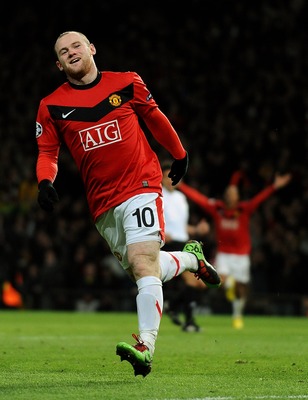 Given his recent goal scoring form and his newly discovered skill of using his head as well as his feet, you would have expected AC Milan to have been more adapt to Wayne Rooney's possible threats.
The main instruction from Milan's manager should have been along the lines of 'dont let that man get his head anywhere near the ball. Or we WILL be sorry.'
Alas this was either not offered in advise to the team, or a total lapse in concentration allowed Rooney to come through and score yet another headed goal. The event in itself meant that Milan were effectively out of the tie just fifteen minutes in.
Then his second goal harked back to the days of the usual Rooney, as he smashed a follow up into the back of the net, and consequentially claimed his thirtieth goal of the season.
Such a tally is now just twelve goals shy of Ronaldo's most glorious tally. Whether Wayne can accomplish a similar feat is still to be revealed, but the chance must at least be at the back of his mind.
How Wayne has now been able to score so many headed goals though is a mystery indeed. Coaches will need to do more research before they face the United team. Otherwise their players will be left to shake in their boots at the thought of attempting to divert Rooney's head and his efforts far and away from the target.
The Wizard of Oz Gives Another A Brain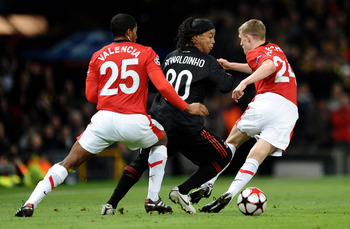 Come on, lets be fair – for all of the money that footballers earn they dont have to be renowned for their sparkling intelligence. They face a necessity to be skillfully technical in their chosen sporting career, but you wouldnt be wrong in assuming that many lack much in the way of intellect.
So Antonio Valencia's impressively clever and humorous back pass against an opposing player on the edge of the pitch was truly inspired. The subsequence of his back pass was that it went straight into the legs of the opposing defender, bouncing immediately off of the pitch, gifting United a corner.
No deliberate gift of a corner was evident, instead the culprit was left bewildered at the expertise of his superior competitor.
If only all players were as quick thinking we might see more of this type of play in football. Yet it was a moment of absolute beauty and amusement.
The Re-Introduction of a Legend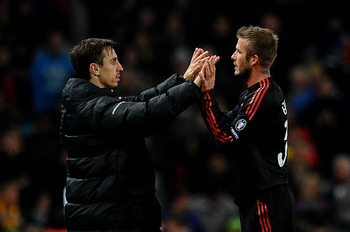 His manager put him on with thirty minutes remaining because his team were already dead and gone. He came on to a raptorous applause, amid a standing ovation and a mass of supporters not willing to forget their historical superstar.
Then comedically every time he received the ball against his former club boos were directed in a pantomime fashion.
Such were the scenes that encompassed the return to Old Trafford of David Beckham, in his first trip back to the stadium following his exit to Real Madrid in 2003.
With England fans yet to decide whether he is worthy of a place in the starting squad, Beckham gave food for thought to his critics, with a thunderous smash into the goal mouth that was stunningly saved by an unexpecting Van Der Sar.
It would have gone down an absolute treat with the spectators if it had hit the back of the net, and would have provided a fitting consolation goal for the Italian visitors. He backed up the shot with numerous promising crosses that poured more fire and opportunity Milan's way than throughout the rest of the match.
It was the perfect response to the early boos for his early occasions on the ball.
The loudly chanted requests towards Alex Ferguson that asked for Beckham's return to United also provided an enticing re-introduction for the lucrative player.
The fans well and truly gave Beckham a homecoming to remember, as he interacted with former team mates such as Paul Scholes before cheekily portraying his backing of United fans to displace Glazer and the American owners, thus providing pages full of headlines that we will feast upon in the upcoming days.
The Fairytale Awaits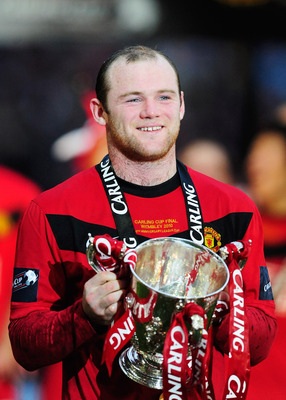 So well done to Manchester United as they gain yet another deserved quarter final experience. A third straight final showing is now waiting in the wings, with only a fool being clumsy enough to bet against the event from coming into fruition.
Rooney is now a fully fledged wonderkid, Valencia has shown some unknown creativity, and Beckham has got his sense of humour and loyalty still intact.
For all three we should take surely take note.
Keep Reading

Manchester United: Like this team?