NFL Draft 2010: 10 Players on the New York Giants' Board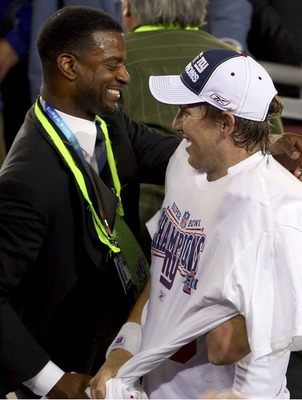 What I wouldn't give to capture that feeling from the picture again.
If the Giants want to be celebrating in Dallas in 2011, it will start with the 2010 NFL Draft.
Jerry Reese and his staff are unbelievable on draft day, their talent evaluation is second to none. Typically teams look for contributions from rounds 1-3, and the rest of the way it is a crap shoot.
Here are the players in that category since Reese took over:
2007 - CB Aaron Ross, WR Steve Smith, DT Jay Alford
2008 - S - Kenny Philips, CB Terrel Thomas, WR Mario Manningham
2009 - WR Hakeem Nicks, OLB Clint Sintim, OL William Beatty, WR Ramses Barden, WR/TE Travis Beckham
Every single one of these players are either starters or see significant playing time, with Barden and Beckham as two exceptions. Neither of them have gotten much of an opportunity yet. But they each should in the near future, especially in the red zone.
So, with that being said, the following slideshow will highlight players the Giants may or may not be looking for in the first three rounds come April.
Round 1—Brian Price, DT, UCLA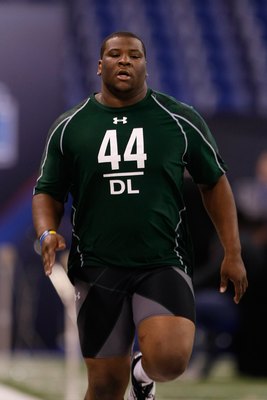 Price remains my first choice for the No. 15 overall pick. He is incredibly quick and explosive for a big man. The Giants' acquisition of Antrel Rolle in free agency pretty much means they will take a defensive lineman or a linebacker here.
The best fix to an average secondary is a dominating pass rush. And with the departure of Fred Robbins to the Rams, this selection is becoming more and more feasible
Round 1—Rolando McClain, MLB, Alabama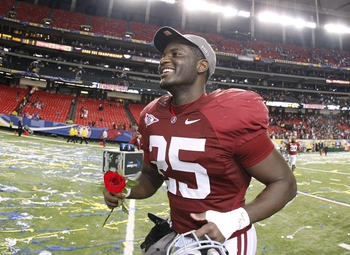 National Champion. Leader. Product of the SEC.
Those are three things that instantly make me love this guy McClain. It is doubtful that the stud from 'Bama will make it past the Broncos and Dolphins, but the Broncos have many needs and the Dolphins just gave Karlos Dansby big-time money.
McClain is a stud athletically and could come in and make an impact straight away, directly, or indirectly. He could directly effect the team if it lets him start, or indirectly by pushing Jonathon Goff and Brian Kehl to prove they belong in the starting role.
Round 1—Derrick Morgan, DE, Georgia Tech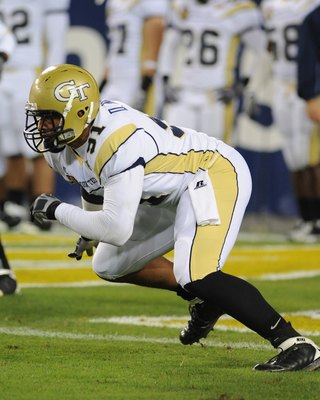 Derrick Morgan is an incredible athlete and gives 110 percent every play. The Giants have proven in the past that they will bolster their defensive line as well as get value for players who want to leave town.
The Giants did so with Jeremy Shockey, and they could be looking to do the same with Osi Umenyiora. He expressed his frustration in his reduced role towards the end of last year, and the team is probably more than willing to part ways for the right price.
If they do end up trading him, Morgan is a definite possibility.
Round 1—Sean Weatherspoon, OLB, Missouri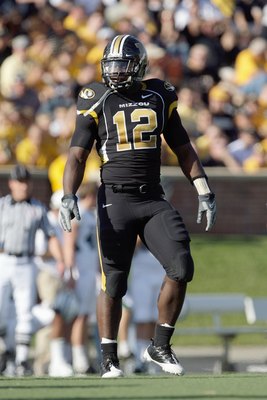 Weatherspoon is considered undersized for his position, but his leadership ability and speed should more than make up for that perception.
Considering the NFL is getting more and more pass-heavy, having someone like Weatherspoon would only improve the pass defense.
Round 2—Geno Atkins, DT, Georgia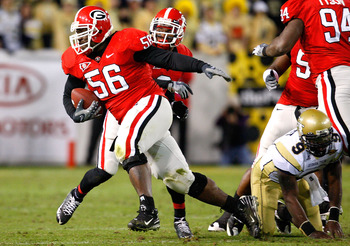 Geno Atkins is a good plan B if they decide to go with a linebacker in Round 1. He had a pretty good combine and should make for a good pro.
He also had a fantastic Senior Bowl, playing against fellow NFL prospects, including doing well against first round prospect Mike Iupati.
Round 2—Brandon Spikes, LB, Florida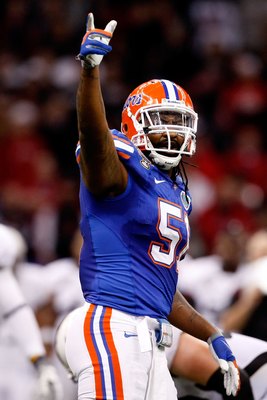 With all of the red flags surrounding Spikes, it is a very high possibility that he will fall to round 2, especially with all of the linebackers who helped their draft stock at the Combine.
Spikes had an unfortunate incident while at Florida when he poked another player in the eye on purpose after making a tackle. But he has expressed remorse for that incident and I believe the Giants might be able to see past it. He was a first-round prospect before coming back for his senior season.
Round 2—Jered Veldheer, OT, Hillsdale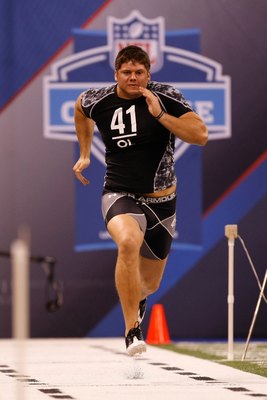 Even if Kareem McKenzie can come back healthy, he is still in the latter part of his career. They definitely will need to find a replacement somewhere. And if the Giants decide to invest in a player of Veldheer's caliber, they can move David Diehl back to his natural position of left guard.
Veldheer displayed some pretty fantastic athleticism at the combine and could be a great player at the next level if the Giants choose to take a chance on him.
Round 3—Pat Angerer, ILB, Iowa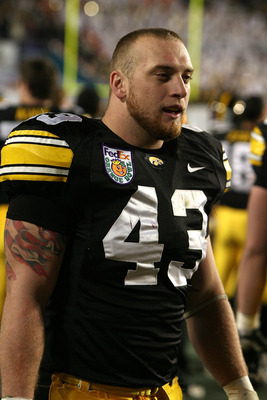 If the Giants pass on the option to take a middle linebacker in the first two rounds, it wouldn't be that big of a deal. There is plenty of talent at the position and they could find a stud in round 3.
Angerer fits that description. He had 135 tackles in 2009, leading Iowa to the top defense in the country and a win in a BCS Bowl Game. Pretty good credentials for a projected third-round prospect.
Round 3—Ben Tate, RB, Auburn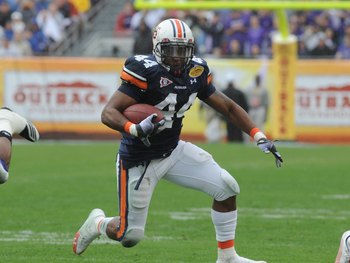 Ben Tate hopefully won't turn out to be a combine all-star and nothing more, he had a great college career and turned in an even better combine.
Getting over 1,000 yards in the SEC should be enough to get you on everyone's radar. And even if it isn't, he sure did turn heads at the combine.
The Giants' running game was sub-par last year, and you could point fingers at several different reasons. The offensive line was not as dominant as in '08, but Jacobs and Bradshaw were battling injuries all year.
You could use that as an excuse as to why the team will bounce back. Or you could just solve the problem by adding depth. I choose the latter.
Round 3—Austen Lane, DE, Murray St.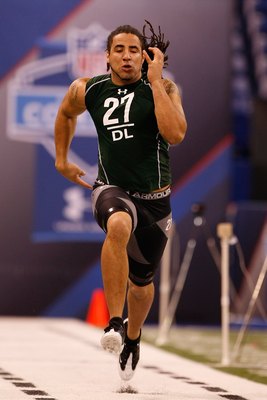 Lane had a good Senior Bowl—scoring a touchdown—but failed to run a good 40 at the combine. The Giants aren't one to place much emphasis on combine speed, they will look at the game tape first.
If the Giants choose to get rid of Osi Umenyiora, they will need to add depth at the position, and rounds 3 or 4 could be the time to do it.
Keep Reading

New York Giants: Like this team?