Chicago Cubs: Top 10 Prospects for 2010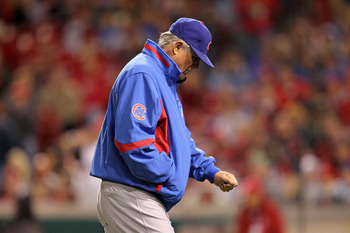 The MLB offseason is a time in which fans and scouts alike fantasize over newly acquired prospects, and the playoff impact they may have in the future.
Clearly, every neighborhood lemonade stand and their mothers have heard of the glorified right hander Stephen Strasburg, as well as Atlanta's Jason Heyward, both of whom have been deemed "franchise saviors" by their respective clubs; but what about the guys that have floated under the radar in one of the most respected farm systems in the entire league?
For the Chicago Cubs, bright young talent can be seen everywhere throughout the franchise; whether it be in short season Class A Boise, or one step from the big show in Iowa.
Though many of the Wrigley faithful may have caught wind of Dominican shortstop Starlin Castro, countless other young athletes wait throughout the ranks of Cubs organizations to catch the eye of the public.
For those of you who are also tired of hearing of pitching rotation woes, and Derek Lee trade rumors, here are ten of the most prominent Cubs prospects preceding the 2010 season.
10: Tyler Colvin, OF
Though still in it's opening stages, no prospect has made more noise at the Cubs' spring training camp in 2010 than Tyler Colvin.
In Chicago's Cactus League home opener, Colvin amazed fans at Hohokam Stadium with two doubles and a solo home run, ending the game 3-for-3.
Following his Tommy John surgery in 2008, Colvin stepped in as a designated hitter at Dayton, though he was quickly recalled to Class AA Tennessee.
Colvin has been praised for his above average power, as well as his speed after hitting 14 home runs with 50 RBI in 84 games with Tennnessee.
With immense amount of potential and upside, Colvin may appear with the club within two years after making his first appearance in September of the 2009 season.
Many analysts have predicted that Colvin will land a roster spot with Class AAA Iowa for the 2010 season, where he may regularly fill in at Wrigley.
For more on Tyler Colvin, see my recent profile on this young prospect: http://bleacherreport.com/articles/356775-tyler-colvin-proves-to-be-prospect-to-watch-after-cubs-spring-opener
9: Ryan Flaherty, SS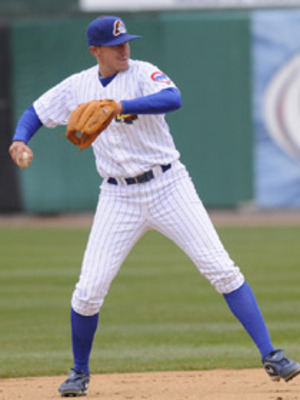 After being drafted out of Vanderbilt with the Cubs' first choice in the 2008 draft, Ryan Flaherty immediately began showing Cubs fans why he is a prospect to keep an eye on.
In his first professional season, Flaherty batted .297 and launched 8 home runs while in Boise.
The scouting report for Flaherty boasts plus power, with the capability of hitting over twenty home runs for the Cubs in the future. He also boasts above average speed, with good patience and contact.
With prospects Hak-Ju Lee and Starlin Castro also competing for the same position spot, the road to Wrigley may be tougher than expected for Flaherty. He will most likely see his first large amount of playing to with the Cubs midway around the 2011 season.
8: Welington Castillo, C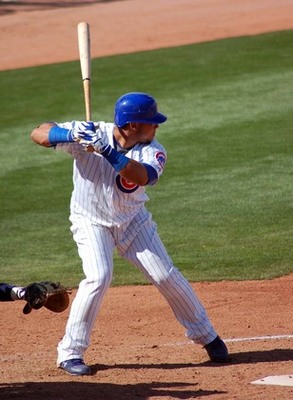 Once one of the top prospects for the Cubs, Welington Castillo has fallen down the list of Chicago studs of late, do to increased errors and a lackluster defensive effort.
With a strong arm and a powerful bat, the Dominican Republic product still remains a valuable catcher at just shy of 23 years of age.
Castillo made short stints with both the Arizona Rookie League and the Boise Hawks before being promoted to high Class A Peoria where, in 98 games, he hit a team leading 11 home runs in 317 at bats.
The better part of Castillo's young career has been spent with Tennessee, the Class AA affiliate of the Chicago Cubs. There, he hit .298 while throwing out 37 percent of base stealers from behind the plate.
Castillo has the potential to back up Geovany Soto in the future, if he can find a solution to his patience issues behind the plate (71 strikeouts with Tennessee in 2009).
Expect to see Castillo in Tennessee for the majority of the season in 2010, though he will most likely be promoted to Class AAA Iowa midway through the season.
7: Kyler Burke, OF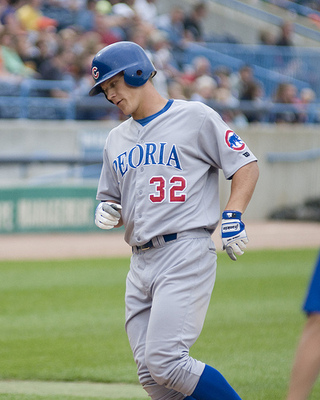 After being lobbied as a dangerous power hitter acquisition in 2007, the Cubs traded for Kyler Burke in exchange for catcher Michael Barrett. Unfortunately for Chicago fans, the hype didn't translate immediately.
Through 2008, Burke failed to hit better than .261, while bouncing between both Boise and Peoria Class A teams.
In 2009 however, Burke gave hope to scouts once again when he hit .303, while increasing his walk total by nearly 60 in one season. He also hit 15 home runs, with 43 doubles in 132 games.
Following the season, Burke was awarded the Cubs "Minor League Player of the Year" award in 2009.
Burke shows above average power, with gap and warning track consistency. If he can repeat the 2009 season, or better yet, improve even more, Burke will quickly find himself making a splash in Iowa.
6: Andrew Cashner, RHP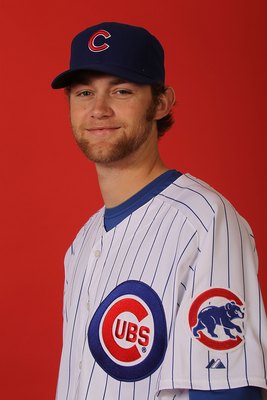 With the 19th pick in the 2008 draft, Chicago selected right handed pitcher Andrew Cashner out of Texas Christian, who holds one of the most dangerous sliders in the entire organization.
However, Cashner may also be the most uncontrollable talent for the Cubs franchise.
In only one year at TCU, Cashner sported a 9-4 record, with a 2.32 ERA in 54 innings pitched.
Unfortunately 2009 boasted an entirely different story for Cashner, who finished with 22 earned runs and a 3.39 ERA while with Class AA Tennesse, earning him a 3-4 record.
Many analysts believe that Cashner is bound for the Cubs bullpen in the near future, but his lack of control continues to dominate every conversation about him.
Though his ERA doesn't do it justice, Cashner could turn out to be a strike out machine for Chicago.
In 58 innings with Tennessee last season, Cashner set down 41 opposing hitters with a K/9 average of 6.3.
With Chicago's starting rotation and bullpen constantly in question, Cashner could play a key role for the Cubs in the near future, and may see his first action with the big club by late 2010 or the start of 2011.
5: Hak-Ju Lee, SS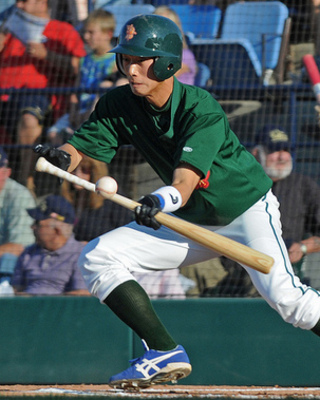 No amount of superfluous adjectives can accurately describe Hak-Ju Lee, who pulls into the number five slot.
At only 19 years old, Lee has completed one year of service for the Chicago Cubs after being ranked the best high school player in South Korea, and the number one prospect in the Northwest League by Baseball America.
In 68 games, Lee had 87 hits with an average of .330, as well as 25 stolen bases with the Boise Hawks.
Lee has proven in just one season that he didn't leave his talent in Korea. He has tremendous speed to match his constancy at the plate. Scouts have also declared Lee as having a big league arm at just 18 last season.
Though his time in Boise may have seemed like somewhat of a trial run by the Cubs, Lee passed with flying colors. However, Lee did commit 27 errors for the Hawks in 2009, showing that his talent still needs much refinement.
Lee will spend the majority of the 2009 season in Peoria and possibly in Dayton, while the Cubs are still being very cautious with their newly acquired secret weapon.
4: Brett Jackson, OF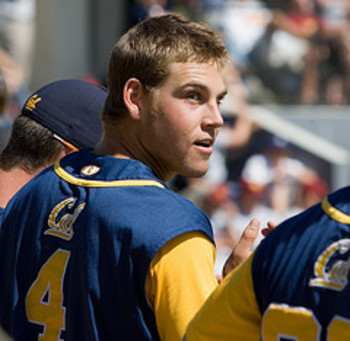 After being drafted in the first round by the Cubs, Brett Jackson immediately made an impact for three Chicago organizations.
The California Golden Bear's outfielder spent time in Mesa, Boise and Peoria throughout the 2009 season.
While in Peoria, Jackson caught fire early, slugging seven home runs and 17 RBI's in only 26 games, along with an average just shy of 300 with .295.
Jackson has been highlighted as having above average bat speed, with a strong upper half, typical of a power oriented young hitter. He also sports average to above average lateral speed, but has been criticized for his presence in center field.
Though Jackson is still a very raw talent in center, his bat will most likely secure him an everyday starting position, and with help, he could become the next great outfielder for the Cubs.
Jackson will likely be placed in Class A Peroria or Advanced Class A Dayton in 2010, pending his performance throughout spring training.
For more on Brett Jackson, read my in depth player profile analysis previously published. http://bleacherreport.com/articles/344215-prospect-profile-brett-jackson-to-be-next-top-cubs-outfielder
3: Jay Jackson, RHP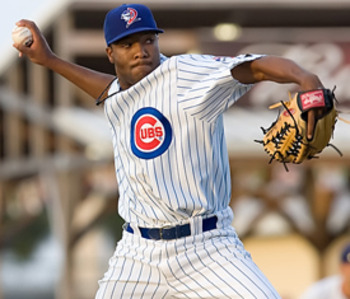 It took only one season (2008) for righthander Jay Jackson to advance three levels in the Chicago Cubs farm system, after being drafted in the ninth round.
Jackson's fastball and slider combination has shown scouts that he has the potential to be a big time pitcher, along with his overwhelming endurance levels.
In his only game with Class AAA Iowa, Jackson threw six innings, reaping a 1.50 ERA with four strikeouts and only three walks.
Jackson has also shown some talent at the plate as well, hitting .336 with eight home runs in his senior year at Furman University.
Most likely, Jackson will spend the early parts of the 2010 summer season with Iowa, making the trip to Chicago occasionally to fill in.
2: Josh Vitters, 3B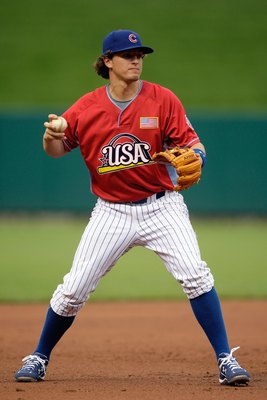 Former first round draft pick Josh Vitters was once considered the most feared hitter coming out of high school in 2007 with exceptional bat speed and power.
Though his range and defensive ability have been questioned of late by the Cubs organization, many believe Vitters will assume third base responsibilities by 2012, with Aramis Ramirez moving to first base.
Witih Peoria in 2009, Vitters hit 15 home runs, batting .316 in 70 games, though after being promoted to advanced Class A Daytona, his performance was simply subpar.
The power is certainly there for Vitters, but refinement of his mechanics will boost his performance substantially in the 2010 season. His success in the MLB is completely pending on his improvement defensively and his consistency.
Vitters will most likely end up on Class AA Tennessee, or advanced Class A Daytona to begin the season.
1: Starlin Castro, SS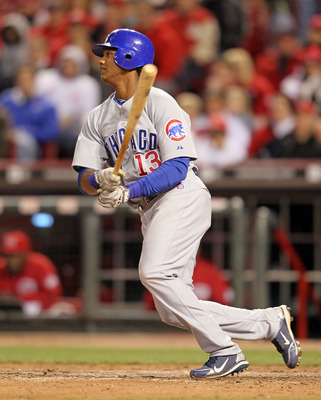 If any Cubs prospect needs no introduction, it's Dominican Republic native Starlin Castro.
In only two seasons with the Chicago organization, Castro has not only declared himself as one of the best young shortstops in the minor leagues, but has shown that he can be successful in Wrigley.
Castro spent the 2009 season between advanced Class A Daytona and Class AA Tennessee, where he averaged .302 and .288 in 127 games.
The scouting report for the young middle infielder yields below average power, with great bat speed and defensive presence. He stole 22 bases in Daytona, while only being caught 11 times, a 66 percent success rate.
In 2010, Cubs fans will find Castro in both Iowa and Tennessee, with chances of being called to Chicago. Spring training will show scouts much needed information about Castro's success against big league pitchers.
Keep Reading

Chicago Cubs: Like this team?