College Football's Top 10 Early Enrollees To Watch For in 2010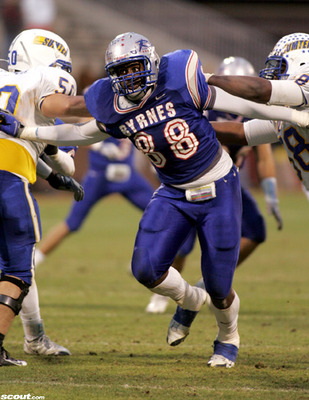 One of my favorite policies and practices in college football is the early enrollment system.
A recruit graduates high school early (who needs that diploma anyway?) and starts his freshman season in the spring semester instead of the fall.
This allows him to participate in all 15 spring practices plus the spring game, a tradition growing in popularity as America's insatiable drive for college football swells.
Most of the time, enrolling early gives the player a jump on position competition and familiarizes him with the playbook. In more rare occasions, it can lead to a starting job.
Here are the 10 most intriguing early enrollments to watch as spring practice kicks off around the country in the next few weeks.
Tyler Bray, Tennessee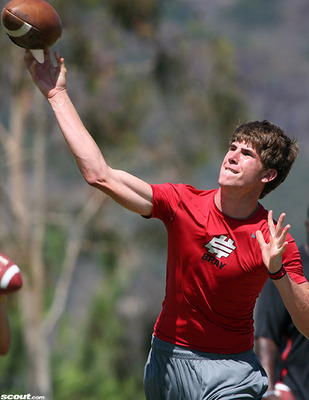 One look at this picture of Tennessee QB Tyler Bray tells you his biggest obstacle: the guy needs to get out to the Waffle House more often.
Honestly, he's probably not going to crack the two-deep ahead of presumed starter Nick Stephens and JUCO transfer Matt Simms.
But Bray doesn't have the baggage those two are carrying, Stephens from an awful 2008 campaign and Simms from a little bit of how you say smokin' the reefer.
Plus, he closed the recruiting season by accruing a load of national interest, and was continually mentioned as one of the QBs with the most upside. The conditions could be perfect for a coup.
Either way, Tennessee's QB competition will be one of the enduring storylines of the offseason. Get to know the interested parties now, and you'll be the delight of every dinner party you attend.
Other EEs to watch for: OT Jawuan James, an anchor for the Vols line sooner or later; DEs Jacques Smith and Corey Miller, two top end prospects who will keep the Vols' line up to speed; and WRs Matt Milton and Ted Meline, who restock an ailing unit on the UT offense.
Devin Gardner, Michigan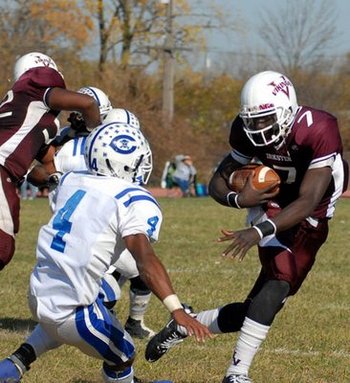 Not a single atom of my being desires to see Devin Gardner actually play in 2010.
Watching another true freshman trot onto the field would mean Tate Forcier is either injured or not playing well, and I saw plenty of that last year.
But man, am I excited to see Gardner, the consensus No. 1 dual-threat prospect in last year's class, take some snaps in spring practice.
His skill set and athletic strengths are ideally suited for Rodriguez's zone-read offense.
I'm curious to see just how raw of a passer he is as well. He won't need to be a complete player just yet, but we saw last year that at least the threat of throwing from an athletic QB is critical for Rodriguez's system to succeed in the Big Ten.
Other EEs to watch for: WR Ricardo Miller, who wants to be the next Braylon Edwards (be my guest!); RB Austin White, my favorite RB in the class; OL Christian Pace, Michigan's future starter at center.
Kyle Prater, USC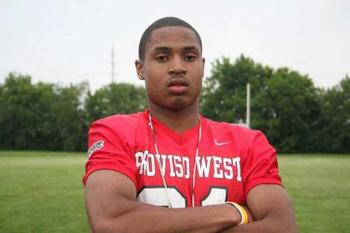 It's too bad USC is the big bad wolf of college football, because they've got some unbelievably exciting young talent on their rosters heading into next year.
Kyle Prater, Rivals' No. 3 wide receiver, combines height, speed, and blue chip agility, and is the most complete and dangerous catching threat to come out of the Midwest in years.
As long as Lane Kiffin calls passes on third down, Prater could accrue the kind of highlight-reel catches that dot an all-Pac 10 freshman campaign.
Developing a rapport with last year's no. 1 recruit, Matt Barkley, in spring practice will help Prater get up to speed.
But the reality is that everything is at once new, and as old as the Santa Monica hills, for the Trojans under their former offensive coordinator.
Kiffin essentially ran a knockoff of USC's playbook (and more) until he was able to reunite with the real thing, so the acclimation period for players old and new should be smooth.
If USC's offense gets rolling again, it will be due in large part to Prater and the other two great WRs in the 2010 class, Markeith Ambles and Robert Woods. This Trojans class is as driven to overachieve as its predecessors were content to underachieve. I guess that's the effect Ed Orgeron has on people.
Other EEs to watch for: RB Dillon Baxter, a durable all-purpose back who should add 400-500 yards to the stable as a freshman
Tony Jefferson, ATH, Oklahoma
Earlier today an emailer accused me of taking part in a conspiracy to bring down the Oklahoma Sooners because I left them off my list of 15 Teams Poised to Dominate Recruiting for the Next Decade.
I was touched. Someone really thought I could be a part of something big and organized like that.
But no, I am not conspiring to bring about the death of the Sooners. In fact, I like them about as much as someone can like a historically successful team that plays in a conference they do not root for.
I'm pulling for them to succeed in the Big 12 next year, with a lot of help from their outstanding 2010 recruiting class.
Though their defensive backfield returns almost intact, I'd like to see where athlete and early enrollee Tony Jefferson finds playing time.
I picture the Sooners using Jefferson much like Florida State used Greg Reid last year—as an immediate impact player in the return game who also subbed in in nickel packages and racked up tackles.
He could also be a threat at wide receiver if the Sooners saw fit to deploy him. He was one of the best two-way talents in the class, and was Rivals' No. 56 player.
Other EEs to watch for: Bronson Irwin and Austin Woods, two top-tier interior linemen. The Sooners were so battered on the line that they played all-conference OT Trent Williams at center in the Sun Bowl. Woods and Irwin are two of the nation's best interior recruits. They could crack the two-deep with good play in the spring.
Brandon Willis, DE, North Carolina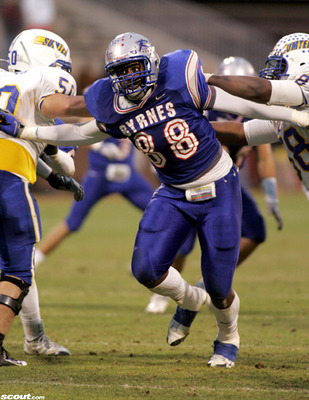 On a defense with very few gaps, Brandon Willis provides what the Tar Heels need most heading into what I believe to be a dark horse national title run: pass rushers.
DE Quinton Coples is supposed to step in on the weakside, but his weakness has been in his initial burst, and scouts had similar concerns with Willis. But the freshman DE has a strong lower body and a large wing-span, both of which will help UNC penetrate lines, force pressure and move double teams off of all-ACC end Robert Quinn.
Willis should definitely see time on passing downs before sliding into the starting lineup, possibly as a three-tech tackle, once his upper body develops later in his career.
I'll be interested to see how Butch Davis deploys him in spring ball—he could play as a stand-up end until his skills are more refined with his hand on the ground.
Paul Jones, QB, Penn State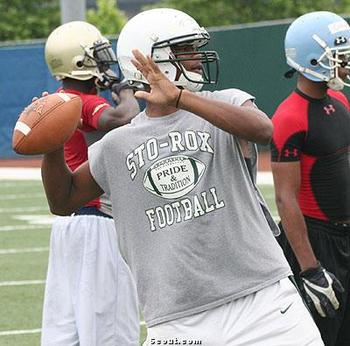 Call it a hunch, but I bet Paul Jones takes more than just garbage time snaps for the Nittany Lions this fall.
Based on limited video of sophomore Kevin Newsome and the buzz on his recruiting profile (he was a Michigan commit for a period of time), I don't see Newsome having nearly as strong a grip on the starting job as some are projecting.
Jones comes in as a better fit with a more traditional skill set for the Nittany Lions, and will require less tweaking of his mechanics.
If he's not still competing for the job in the fall, it will be because his spring practice went well. And that's worth watching either way.
Other EEs to watch for: Tons. LB Khairi Fortt, who could also play as a freshman; RB Silas Redd, a terrific all-purpose back; DE Dakota Royer and TE Kevin Haplea, both at positions of need.
Tai-ler Jones, WR, Notre Dame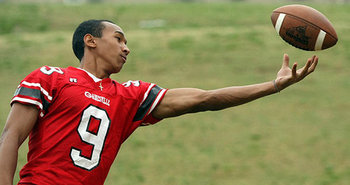 Aside from the Michigan game, when I hope they crash and burn, I'm very excited to see the shift in Notre Dame's offense next year.
Developing a wide receiver threat opposite Michael Floyd has to be Brian Kelly's top priority, at least on offense. Shaq Evans was sloppy in minimal play and trailed off to close the year, and Robby Parris graduated.
Kyle Rudolph is a terrific catching tight end, but having that No. 2 threat was what made Notre Dame so incredibly prolific last year. With some semblance of a defense, Charlie Weis might still be coach today.
I liked Tai-ler Jones' disciplined route-running and acceleration, and ESPN attests to his ability to find open spots in zone coverage. He has just the raw skills Kelly loves to develop into a deadly zone receiver like Mardy Gilyard.
Uncle Kelly did good in getting him to follow through on the spring enrollment. Now, getting him involved in the offense is a top priority.
Other EEs to watch for: Lo Wood and Spencer Boyd, two above-average corners who will help in the Irish's depleted defensive backfield
Demarcus Milliner, CB, Alabama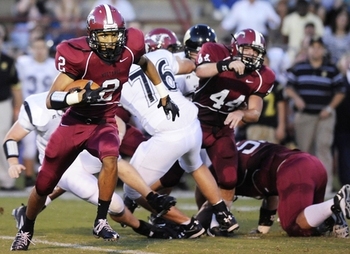 Demarcus Milliner was my favorite corner in the class (because he's big) and the top prospect in the state of Alabama, and he arrives in Tuscaloosa right on time to fill the gaps in Alabama's secondary.
With that size (6'2" and better than 210 lbs), he'll likely wind up at safety. But with six cornerbacks leaving the team, including both starters, Milliner can count on playing out on the edge for the defending national champions.
In spring practice interviews, Coach Saban recalled how departed Alabama CB Kareem Jackson was also an early enrollee as a freshman, and saw time as a starter in his first year. Milliner comes in with even better recruiting hype than Jackson.
I'm guessing he'll at least crack the two-deep by the time conference play starts. However, Milliner contributing on special teams is an iffy call considering Alabama's lack of depth at CB. But he's outstanding at that, too.
Other EEs to watch for: QB Phillip Sims, the no. 2 pro-style QB behind Jake Heaps, who could wind up starting next year; DB John Fulton, another possible contender at CB; RB Jalston Fowler, the no. 3 RB prospect in 2010; K Cade Foster, who will compete for Leigh Tiffin's vacated spot.
Jeff Luc, LB, Florida State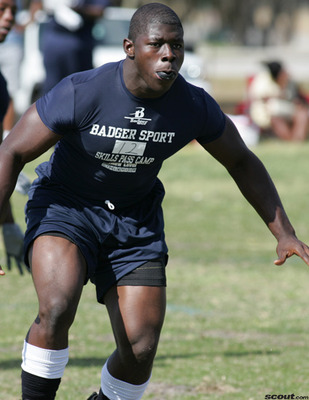 Ever since Michigan was forced to start a walk-on at middle linebacker last year, I've learned how important of a position it is for a defense.
Fact is, you might as well start a walk-on at quarterback and expect him to carry a team (we tried that too).
Even with starter ILB Kendall Smith returning for his senior season, I hope to see Luc on the field taking charge for the Seminoles D, which allowed the most rushing and the second-most passing yards per game in the conference last year.
Spring ball should show if new DC Mark Stoops tries out a stacked formation to get Luc and Smith together on running downs. Filling in for Dekoda Watson at the outside spot is another option.
Luc is too damn good a linebacker to ride the bench, even as a true freshman. He could have as big an impact as Vontaze Burfict, another all-star middle linebacker, did last year. Burfict led Arizona State's rush defense to best in the Pac-10 as a freshman.
Jake Heaps, QB, BYU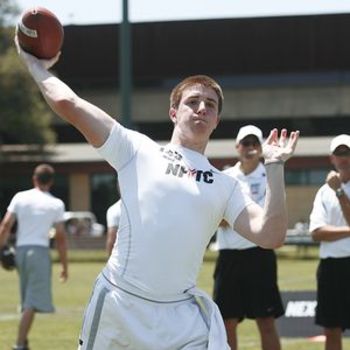 After watching footage of Heaps throwing to receiver Kasen Williams for my slideshow on the top WRs for 2011, I got a new appreciation for Heaps' poise and the strength of his arm.
The No. 1 pro-style quarterback of the 2010 pool enrolls early with his eye on the starting job after Max Hall graduates.
True freshmen starters are never a good sign, but Heaps isn't your average true freshman. He played at one of the top schools in Washington and was a multi-year starter.
He'll see playing time one way or another in 2010; spring practice is our first chance to see whether that's a good or bad thing.
Also watch for: WR Ross Apo, Rivals' No. 13 wide receiver and a blazing talent
Keep Reading