The 49ers Top 5 Strange Personalities In History: Characters Welcome
The 49ers have certainly seen their fair share of unique and interesting personalities over the years. Whether fans loved them, or hated them, nobody was ambivalent.
While this phenomenon has spanned the entire time line of franchise history, I have limited my consideration here to players only, starting from the Super Bowl era forward. I would love to hear input on what I messed up, who I left out, or how I got the order wrong.
We begin with honorable mention: Deion "Primetime" Sanders
From his "Neon" days with the Falcons, up through his "Primetime" days with the 49ers and that team from Dallas, Deion was never short on personality and the ability to draw attention. He was known for a variety of quirks, such as laying out his entire uniform, from his cleats up to his trademark red bandanna on the locker room floor, like a crime scene chalk outline prior to getting dressed for games.
His play on the field was equally flamboyant, with his high-stepping interception returns and end zone dances.
While these on-the-field performances drew scorn from many, he was with few exceptions a cult favorite to fans and teammates on any team he played for.
Deion actually would have ranked much higher on the list, were it not for the fact that I have an admitted bias for loyalty, years served, and Super Bowls won.
No. 5 – Merton Hanks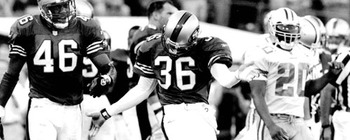 Merton may have won the same number of Super Bowls in Red and Gold as Deion, in fact they both won only one (Super Bowl XXIX), but Merton's long tenure with the team and enormous popularity vault him past Deion and onto No. 5 on my list.
Merton was both a talented safety with a nose for the football and an outspoken athlete never afraid to speak his mind and have fun.
One of the greatest examples of Merton's personality was his pre-game comments during player introductions and warm-ups for Super Bowl XXIX, caught for perpetuity by NFL Films. During introductions he was heard to yell out "my kids are tired of eating that bland cereal, they want a brand name!"
Of course Merton's signature move was the "chicken dance" celebration he broke into after each interception. Always getting a rise from the crowd, it conjured up equal parts enjoyment and amazement that he did not develop severe neck problems.
No. 4 - Ken Norton Jr.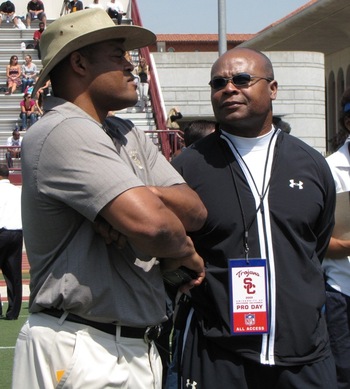 The son of a very successful boxer, Ken Norton Jr., came to 49ers in 1994 after establishing himself as a punishing linebacker with the arch rival Dallas Cowboys.
While his teammates were quickly won over by his on-the-field contributions, his trademark cowboy hat that he continued to wear off the field in San Francisco drew more than an occasional odd look.
Ken's personality was larger than life and he was always an outspoken and articulate team ambassador. I remember Ken best as the long-time co-host of 49ers Playbook on San Francisco FOX affiliate KTVU with local sportscaster Mark Ibanez.
Particularly memorable were the fan mail section, where Ken more than a few times got a little heated answering questions about why he still wore a cowboy hat, and the many guest appearances by local sports personality Gary Radnich.
Radnich and Norton always provided entertaining banter, nearly always drawing to a close with Ken's trademark phrase "Radnich, Radnich, Radnich." Always entertaining, Norton lands at No. 4 on the list.
No. 3 – Fred "Warrior" Dean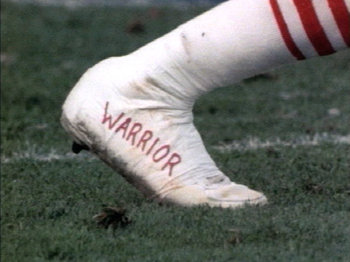 The first and only Hall-of-Famer on the list, Fred Dean weighs in at No. 3.
Dean came to the 49ers from San Diego during the course of the 49ers 1981 Cinderella season. He quickly turned heads in San Francisco with his impressive play on the field, and...er...unconventional training habits off it.
Ronnie Lott once recounted an early encounter with Fred Dean for the America's Game series. Ronnie was on his way to the workout room at the 49ers training facility (then located on Nevada St. in Redwood City) and upon entering, saw Fred Dean sitting on the weight bench, smoking a cigarette. He asked "Fred, what are you doing?" Dean replied "Well, I thought about lifting these here weights. But then I thought I would just sit here and smoke until the thought went away."
Such was the way of Fred Dean. Another quirk of his was writing the word "WARRIOR" on the outside of the athletic tape covering his cleats when preparing for big games. This greatly inspired his younger teammates, whether or not it intimidated the opposition.
His nonchalant style also came out in his Hall of Fame induction speech, when he lost his glasses and borrowed a pair from a fellow inductee.
No. 2 – Terrell Owens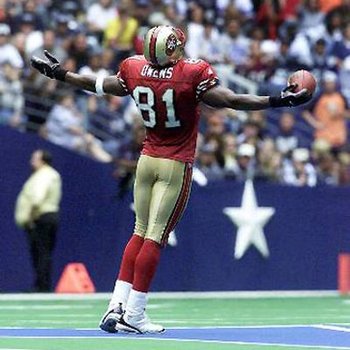 From the popular to the infamous, this list would be remiss indeed if it left off the incomparable (for better or worse) T.O.
While to most in the 49er community he had established himself as a pariah by the end of his tenure in San Francisco, two things were certain: T.O.'s personality (and ego) were of epic proportions, and life with T.O. was never lacking for excitement.
T.O.'s peak of popularity probably occurred in the 1999 NFC Wild Card game (following the 1998 regular season) when he caught a 25-yard TD pass from Steve Young on fourth down to lead the 49ers to victory over Brett Favre and the Green Bay Packers in what came to be known as The Catch II.
It probably would have been remembered even more fondly had the 49ers not lost Garrison Hearst on the first play from scrimmage in the division round in Atlanta the following week and lost to the Super Bowl-bound Falcons.
T.O. gave 49er fans and the rest of the NFL a huge library of eye-popping moments over the years to come, most of them coming after the clock had stopped.
The peak of his infamy was arguably his desecration of the Dallas Star at the 50 yard line of old Texas Stadium in 2000. And who could forget the "Sharpie" celebration of his Monday Night touchdown catch in Seattle in 2003?
T.O. provided some spirited "mic'd up" segments as well, screaming about how opponents hate to love him and asking coaches and teammates if they had their popcorn ready for the show he was going to put on. While most 49er fans will always curse his name, this list would be incomplete without him.
No. 1 – Jack "Hacksaw" Reynolds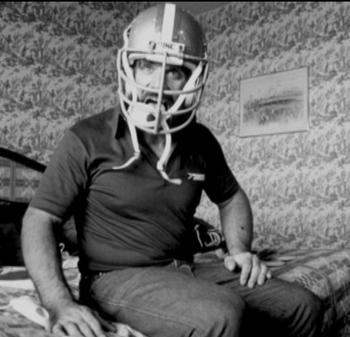 This is a no-brainer for me. Nobody in the long history of the 49ers can contend in this category with the one, the only Hacksaw.
Hacksaw came to the 49ers late in his career after many years of service with the in-state rival Los Angeles Rams. To call him quirky would be a tremendous understatement.
Hacksaw was known to show up to team breakfasts in full pads and eye black, yelling at his teammates and asking if they were ready to play. He would growl and snare at opposing players from across the line of scrimmage, trying to intimidate them. And his meeting demeanor was equally interesting.
Again, one of the best examples comes from 49er legend Ronnie Lott, when he recalled the first time he ever met Hacksaw, at a team meeting in 1981, Ronnie's rookie year.
Ronnie came into his first team meeting and sat down next to Hacksaw. He quickly noticed a large shoe box filled to the brim with sharpened pencils. Hacksaw was feverishly copying down everything Bill Walsh said and wrote on the blackboard, discarding pencils as they broke and digging a fresh one out of the box.
When Ronnie asked Hacksaw if he could borrow a pencil, Hacksaw looked up from his diligent note-taking and said with a glaring look "No. Next time you'll remember your own pencil." Ronnie reflected "That's when I knew what it meant to be a pro. If you want to play with the big boys, bring your pencil."
Younger fans may not be familiar with Hacksaw, but do some research. In my opinion he takes the cake as the most interesting 49er in team history.
From quirky, to prima donna, to downright weird, I hope you have enjoyed this look into the not-so-mainstream side of 49er history.
Keep Reading

San Francisco 49ers: Like this team?