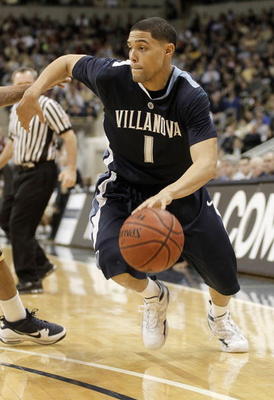 After another thrilling college basketball regular season, the Big East has proven once again that they are the conference to be beat. They should have plenty of representation in the always-thrilling NCAA Tourney. As the discussion about which bubble teams will survive heats up, here's a list of the most valuable player for each Big East team.
Cincinnati: Lance Stephenson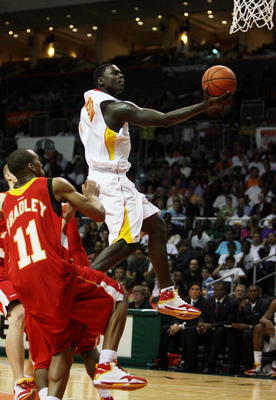 Best Performance: 18 points, 10 rebounds, four assists, and a steal vs Depaul.
Why Him?: Stephenson was a highly touted prospect out of Brooklyn, NY. He was considered such a talent that he was predicted to enter the draft after his freshman season. Although he did not appear to be worthy of a top NBA Draft pick, he certainly did not disappoint. He put up some major scoring numbers, including a 23-point effort in a loss in the regular season finale against Georgetown. Along with with his 12 points per game, Stephenson averaged 5.3 boards, a steal, and 2.4 assists. He was a big part of the the Bearcats' success this season.
UConn: Jerome Dyson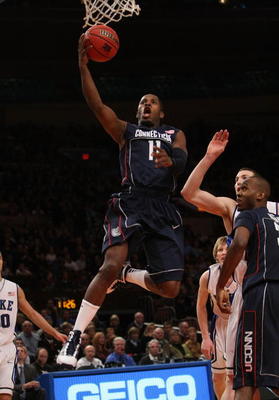 Best Performance: 32 points, 3 rebounds, 3 assists, and 2 steals vs. Texas.
Why Him?: Dyson came back from last season's injury with vengeance. He lead the Huskies with a remarkable 17.7 points per game. He was the senior leader for UConn throughout the year, especially when it mattered. He hit plenty of clutch shots for the Huskies including two key threes which kept them in the game until the end against Syracuse. Dyson also averaged 4.4 rebounds to go along with 1.3 steals per game.
DePaul: Mac Koshwal
Best Performance: 24 points, 12 rebounds, eight steals, two blocks, and one assist vs Rutgers.
Why Him?: Sure the Blue Demons struggled, but you wouldn't know it by the play of star center, Mac Koshwal. He averaged a double-double, with 16.6 points and 10.1 rebounds per game. Whenever the three ball wasn't falling, Depaul would throw the ball down low to Koshwal and allow him to do the rest. The big man also accumulated just under two steals per game.
Georgetown: Greg Monroe
Best Performance: 29 points, 16 rebounds, two assists, three steals, and four blocks vs. Villanova.
Why Him?: The numbers don't lie. Monroe was the best all-around big man in the Big East, and maybe even the country. He scored the basketball, averaging 16 points per game, grabbed boards, with just under 10 rebounds per contest, dished out assists, averaging 3.6, and played very good defense, with 1.2 steals and 1.5 blocks per game. Without Monroe, the Hoyas would have nearly no inside presence.
Louisville: Edgar Sosa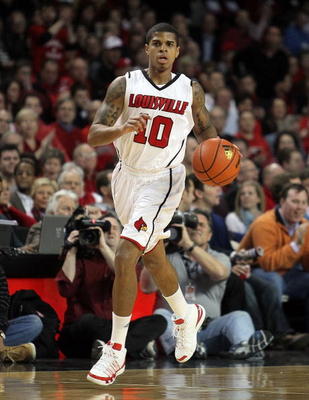 Best Performance: 24 points, 8 assists, and 2 rebounds vs Georgetown.
Why Him?: Some might say this should be Samardo Samuels for sure. But if you think about it, Edgar Sosa has been far more valuable. His numbers did not astound, with just under 13 points, 4.6 assists, two rebounds, and nearly a steal per game, though, his floor leadership did. The Cardinals' floor general showcased his poise against UConn with a pretty game-winning drive to put the Huskies away.
Marquette: Lazar Hayward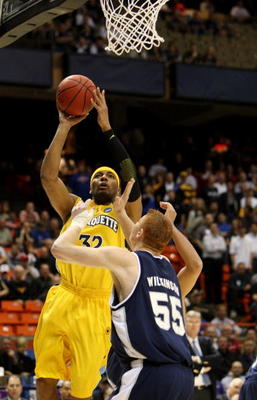 Best Performance: 28 points, nine rebounds, four assists, and a steal vs Providence.
Why Him?: Hayward was sensational for the Golden Eagles all season. With the loss of the trio of Dominic James, Jerel McNeal, and Wesley Mathews, along with Marquette's lone true big man, Dwight Burke, it looked like a rebuilding year for the Golden Eagle's. Someone forgot to tell that to Hayward. He played center all year, standing just at 6'6", and was extremely successful. He averaged 18 points, 7.8 boards, and nearly two steals per game.
Notre Dame: Luke Harangody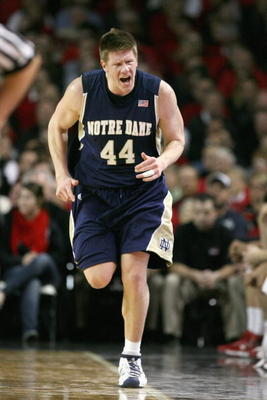 Best Performance: 37 points, 14 rebounds, and two assists vs Cincinnati.
Why Him?: As if there was any question here. Harangody had another spectacular season. He cemented his legacy in Big East basketball history by taking ownership of the conference lead for career rebounds and becoming one of the league's all-time leading scorers. He lead the Fighting Irish with 23.3 points and 9.7 rebounds per game.
Pittsburgh: Brad Wanamaker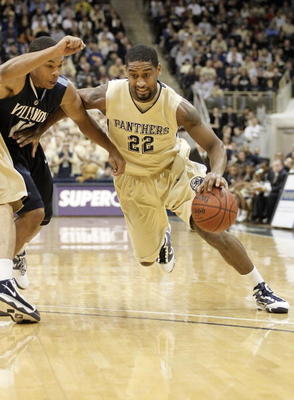 Best Performance: 24 points, 10 assists, five rebounds, and one steal vs. West Virginia.
Why Him?: This could have gone to Ashton Gibbs, but Wanamaker did more than Gibbs aside from scoring. He was great all around with 12 points, 5.7 rebounds, 4.7 assists, and 1.2 steals per game. He made up for the lack of size for the Panthers with his great job on the glass, which was key for Pitt.
Providence: Jamine Peterson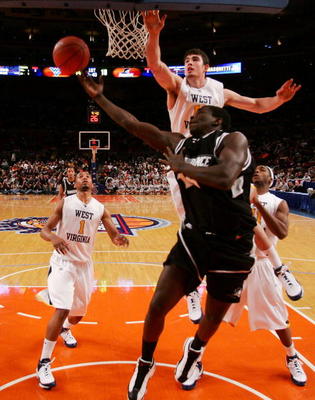 Best Performance: 29 points, 20 rebounds, one steal, and one block vs. Rutgers.
Why Him?: He was the Big East's biggest surprise by a mile. Peterson sat out the 2008-09 season because of the Friars' depth. He stunned the Big East this year with 19 points and 10 boards per game. He proved to be one of the most athletic players in the conference with his thunderous dunks. He even showcased his three-point ability this season, hitting nearly two from distance per contest. Basically, he was Mr. Everything for the Friars.
Rutgers: Dane Miller
Best Performance: 26 points, eight rebounds, six assists, two blocks, and two steals vs. Villanova.
Why Him?: Miller had a slow start to his career at Rutgers. He started to blossom as Big East play started. After scoring in double digits just twice in non-conference play, Miller was the leading freshman scorer in Big East play. He finished off the season with 9.5 points per game, but he also contributed in other ways. He grabbed six boards per game, to go along with 2.3 assists, 1.1 blocks (including 13 in the last five games), and one steal per game. (I apologize for the absence of a picture of Dane Miller.)
Seton Hall: Jeremy Hazell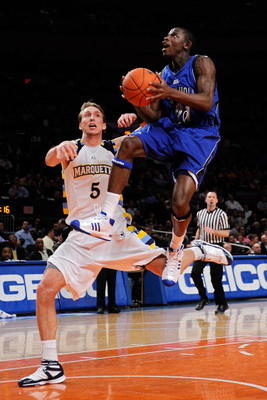 Best Performance: 38 points, five rebounds, five steals, and two assists vs. Syracuse
Why Him?: Hazell scored at will for the Pirates all season. Whether it be a drive or a fade away three, Hazell always found a way to get the ball in the hoop. He scored at least 30 points on seven occasions. He was also a good steal man, averaging 1.6 thefts per game. He was easily the most important player on the Seton Hall squad.
South Florida: Dominique Jones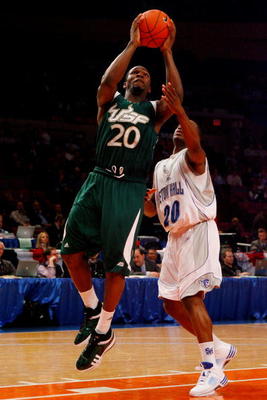 Best Performance: 46 points, 10 rebounds, eight assists, and three steals vs. Providence.
Why Him?: Jones put up some major numbers across the box score. He averaged 21.3 points, 6.1 boards, 3.7 assists, and 1.6 steals per game. He earned a spot on the All-Big-East First Team squad. He most certainly deserved it with his leadership of the Bulls.
St. John's: DJ Kennedy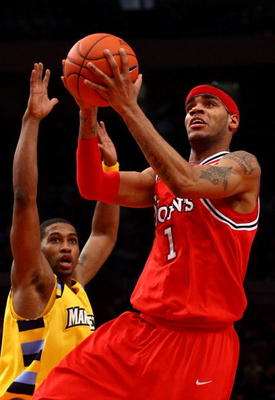 Best Performance: 32 points, nine rebounds, seven assists, two steals, and one block vs Depaul.
Why Him?: Kennedy, to me, was one of the most underrated and most valuable players in the Big East. Kennedy was the leader in almost each category for the Red Storm. He lead them in scoring, with 15.3 per game, rebounding, with six per contest, assists, with three per game, steals, with 1.1 per game, and even free throw percentage, shooting 76% from the charity stripe. Along with his stats, Kennedy's leadership for the Jonnies was second to none, and is a big part of the six wins in conference play.
Syracuse: Wesley Johnson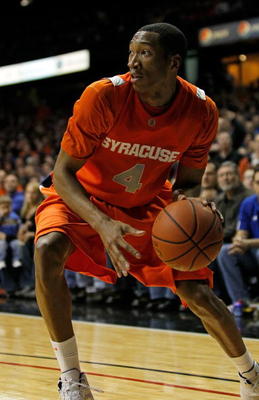 Best Performance: 22 points, 15 rebounds, two steals, one assist, and one block vs. Marquette.
Why Him?: Well, he is a lock for a spot on the All-American team and probably is going to be a lottery pick in the NBA Draft. In terms of his numbers, Johnson averaged nearly 16 points, 8.5 boards, and nearly two steals and blocks, respectively. Without his stellar play throughout the season, the Orange would most likely be struggling for a Tourney bid at this point.
Villanova: Scottie Reynolds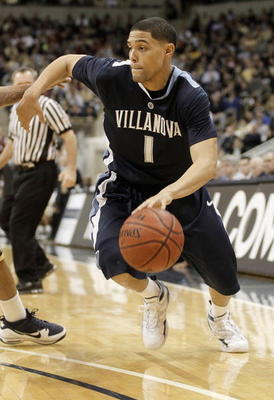 Best Performance: 36 points, four rebounds, and two steals vs Louisville.
Why Him?: The Big East Player of the Year by Rivals.com was perhaps the most clutch performer in the country. He scored the basketball at all the right times. He averaged just under 19 points per game, to go along with 3.4 assists, and 1.6 steals per contest. The sensational senior improved his three ball shooting to about 40% to compliment his superb penetration skills.
West Virginia: Da'Sean Butler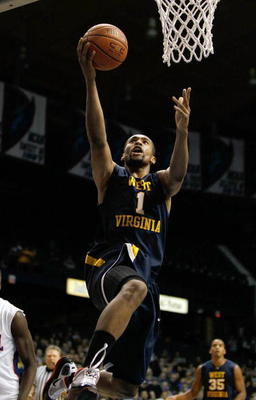 Best Performance: 32 points, 11 rebounds, three assists, and two blocks vs. Pitt.
Why Him?: Butler was a force offensively, averaging 17.2 points per contest. He also played well distributing the ball and on the glass, averaging 3.3 assists and 6.3 rebounds per game. Butler showcased his leadership while playing the point late against Marquette. The Mountaineers trailed by one, and Butler came up the court and faded away for a deep two and nailed it at the buzzer. He was the heart and soul of West Virginia's surge this season.
Keep Reading