NFL's Top 20 Most Memorable Touchdown Celebrations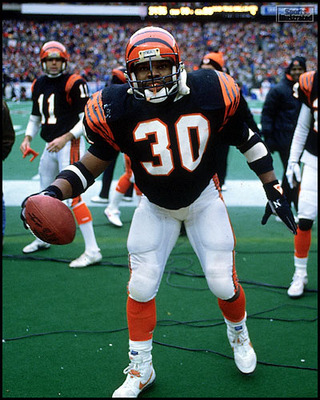 Call them what you will, but touchdown celebrations will continue to be a somewhat-contested issue with the NFL. They usually don't sit well with some football traditionalists—others can't get enough.
Hysterical? A lot of them.
Amusing? Check.
Tasteless and inappropriate? Some.
Motivating? Few teams claim so.
Memorable? Absolutely.
This isn't the first—nor will it be the last—list of memorable TD celebrations. However, I hope after you read this, you will learn a little bit of the stories behind them.
20. Moss Moons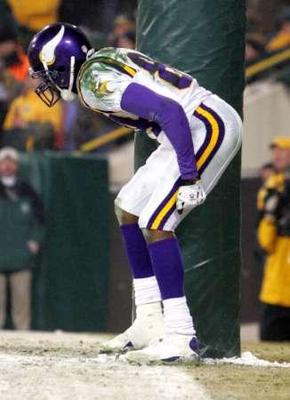 This was an A+ for shock value, F for appropriateness. It was one of those moments when you think to yourself, "Did that really just happen?"
19. Deion Sanders High-steps Into the End Zone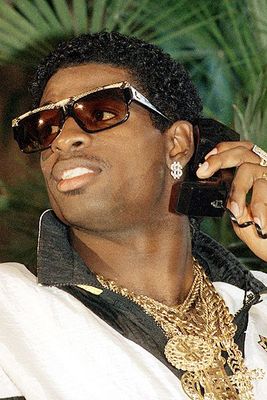 Personally, I didn't care too much for this, but it was memorable. This picture shows Sanders at the peak of his "Prime Time" days.
18. Leon Lett/Don Beebe Debacle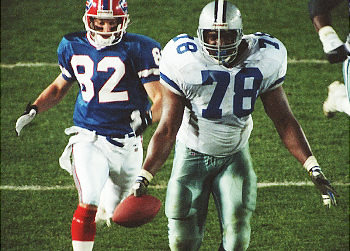 The infamous premature celebration—in the Super Bowl, nonetheless.
17. Steve Smith Snow Angel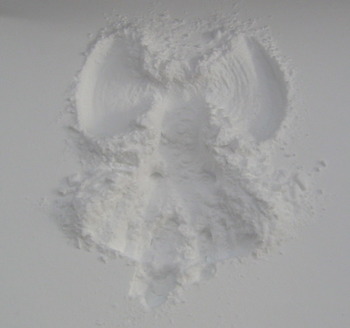 We can all relate back to when we were kids.
16. Homer Jones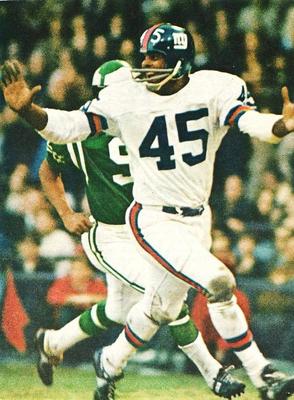 The New York Giant was credited with starting the trend of "spiking" the ball after a TD in 1965. It's bland compared with today's antics, but how could I create this list without showing some love to the man who started it all?
15. Joe Horn Calls Mom
Horn gets a B+ for creativity and making good on a promise he made to his mom before the game to get in touch with her. But he didn't receive a friendly reaction from Coach Jim Haslett.
14. Pregnant Brandon Jacobs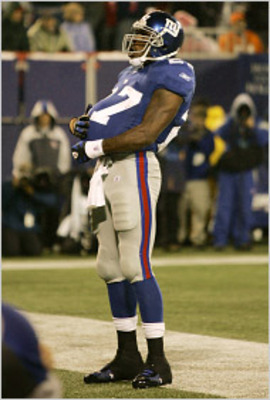 He stuck the ball under his jersey as a tribute to his pregnant wife in the stands. This gets an A+ for sentimental value and bonus points from the Mrs.—and he probably received a few "get of jail free" cards to pull out in the future. Smart guy.
13. Chad Johnson's Cheerleader Proposal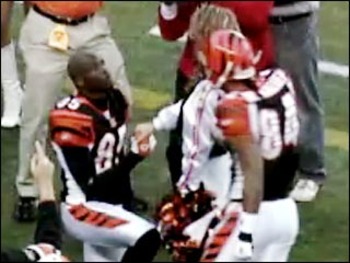 This was so off-the-charts unique that half the fun is trying to imagine what he will come up with next.
13a. Chad Johnson Uses Pylon To Putt Football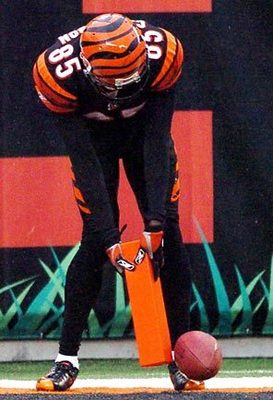 Nice creativity with the use of props, but he lifted up his putter on impact and caused his shot to bounce and not get a truer roll.
12. Steve Smith Changes Ball's Diaper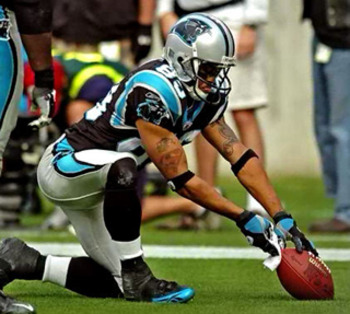 After changing its diaper and rocking the ball to sleep, he said afterward he just wanted to show others that even NFL Pro Bowlers have to change diapers, too!
11. Chad Johnson performs CPR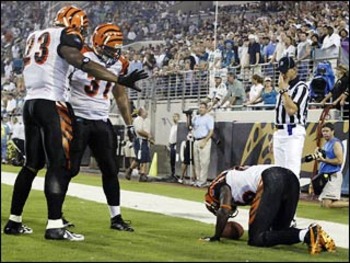 Ochocinco could actually take up a few more spots on this list—i.e. Hall of Fame jacket, posing for Peter Warrick, and many more—but for variety's sake, I had to limit his appearances.
10. T.O. Autograph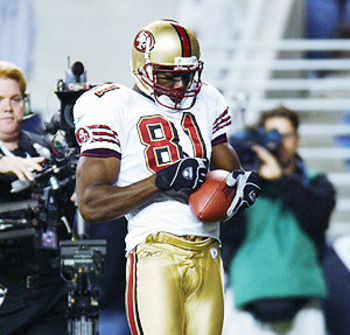 Owens pulled a Sharpie out of his sock to sign a ball for his financial adviser, who was sitting in the first couple of rows.
9. Atlanta Falcons "Dirty Bird"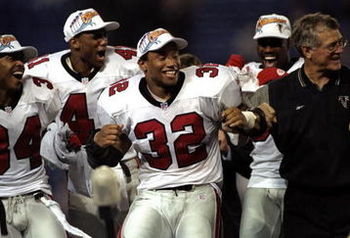 Although the picture isn't technically after a touchdown, Dan Reeves joining in one of the celebrations was too good to pass up.
8. Lambeau Leap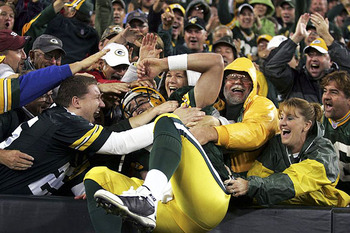 Perhaps no other celebration captures the true feeling of closeness between a team and its community as with the people of Wisconsin and their beloved Packers. The founding father was Leroy Butler. On a spectacular play, he forced a fumble that Reggie White recovered and ran a few yards before pitching the ball to Butler— who took it to the house and leaped into the stands.
7. Chad Johnson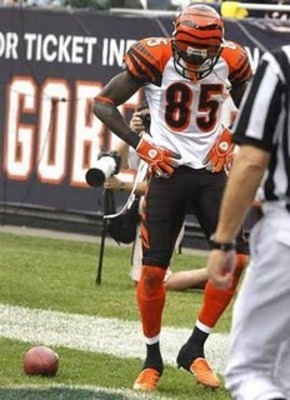 He pulled it off to perfection, but the funny part is, how many times did he practice in front of the mirror by himself?
6. Kelley Washington Spaz Dance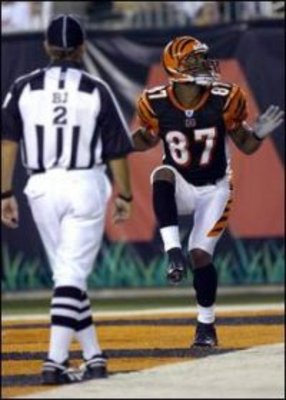 What really made this was Ochocinco being interviewed on the sideline. It was even more spectacular because Chad was being interviewed on the sideline by Andrea Kramer about the NFL's crackdown on excessive celebrations.
5. Redskins' "Fun Bunch"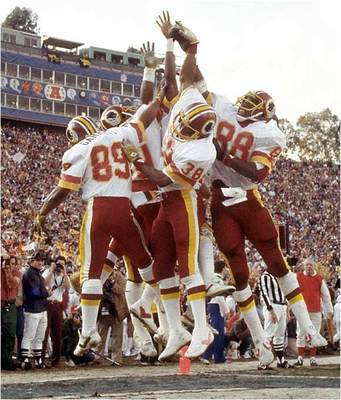 The group timed jump with a high-five at the top made its debut in an early 1980s playoff game against the Detroit Lions. I can't say for sure, but I think there was a watered-down version of the "Fun Bunch" celebration in the original Nintendo classic Tecmo Bowl.
4. Billy Johnson
One of the founding fathers of the touchdown celebration, Johnson was an entertaining player and played perhaps before his time. While maybe not as entertaining as the others on this list, he moves up for being one of the originators. Smart money says he is probably the most recognizable celebrator from a Division III school. He went to Widener College in Pennsylvania.
3. St. Louis Rams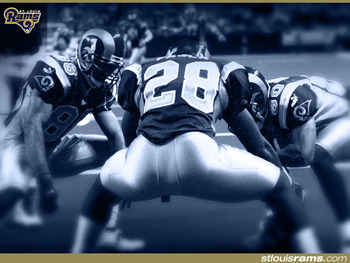 The brainchild of Torry Holt with the 2000 Rams served as a rallying point for the team in light of the scrutiny by the front office. Followed by the short- lived "Duck Down" in a response to league's ban. Another plus is that it allowed Kurt Warner to take on a leadership role by paying some of the individual fines of his teammates himself.
2. Ickey Shuffle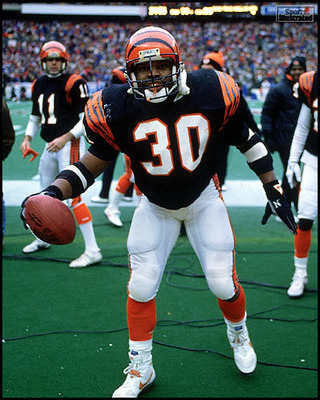 If you grew up playing backyard neighborhood football in the late '80s, chances are you busted this out a few times after scoring.
A few things you may not know about it: It was his dance, but he had some help. After performing a celebration in practice, teammate Ricky Dixon suggested he add some moves. After that, the "Ickey Shuffle" phenomenon began.
Also, after he tore his knee, which eventually ended his career, he took a job selling meat out of a truck to support his family. With all due respect to sellers of meat, I would assume that's a pretty drastic change in lifestyle.
To increase his sales, he would pull out the shuffle and perform it for customers. The feel-good story behind it propels it to one of the top spots.
Drum roll please………..
1. Barry Sanders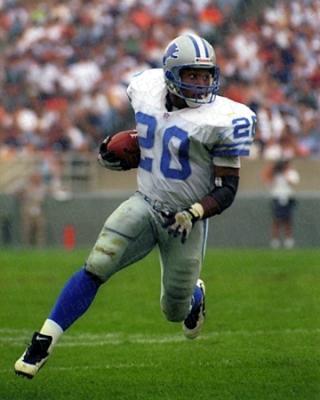 Surprised? The most electrifying player on the field was the most reserved in the end zone. He defined the term "act like you've been there before" better than them all. Barry was a class act—perhaps until the day before training camp to announce his surprise retirement. He was almost a rebel because he chose to kick it old-school, and he became one of the few players to simply hand the ball to the ref.
Keep Reading