2010 Big East Tournament Predictions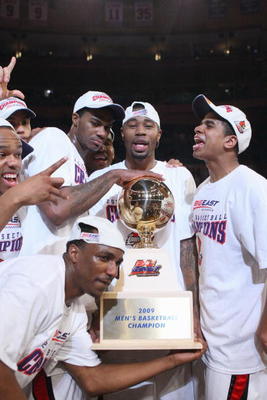 It's that time of the year again.
Arguably the most exciting conference tournament in all of college basketball is coming to the Garden again.
We all wonder what memories will be made this week in the Big Apple and who will help their NCAA tournament seedings and bids or hurt them.
There have been many classics at the Big East Tournament, and there's bright hope for more this year.
First Round Predictions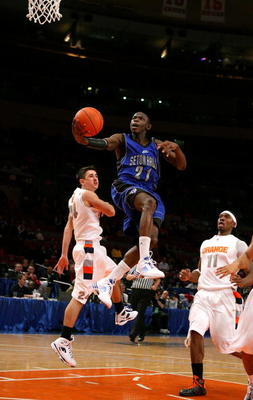 14th seed Rutgers vs. 11th seed Cincinnati
Rutgers' team hasn't won very many games the last few years but does have talent and a big-time player in Mike Rosario who may be able to steal Rutgers a win. Cincinnati has stumbled down the stretch and is historically poor in the Big East Tournament.
Rutgers pulls off the upset win 71-61.
15th seed Providence vs. 10th seed Seton Hall
The Pirates have a lot of talent and a solid coach in Bobby Gonzalez. The Friars from Providence have been tough luck losers on a streak of losing close games. The Hall knocked off Providence on the road, and I don't see them losing at a neutral site. Jeremy Hazell is a player to watch for in the tournament, as he can lead the Hall far.
Seton Hall wins 82-65.
13th seed St. John's vs. 12th seed UConn
The Huskies have to have this game to make the tournament in St. John's' backyard. The Huskies have talent and have played much better with Jim Calhoun back. UConn just has too much talent for St. John's.
UConn wins 78-59.
16th seed DePaul vs. ninth seed South Florida
The South Florida Bulls have had a nice turnaround season and played really well this year. Dominique Jones is an under the radar star who can light it up for USF. I don't see the worst team in the conference advancing like they did last year.
South Florida wins 66-51.
Second Round Predictions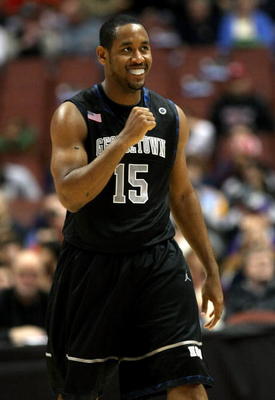 14th seed Rutgers vs. sixth seed Louisville
The Louisville Cardinals have turned it up as of late, including a season sweep of the Big East regular season champion Syracuse Orange. Louisville, trying to repeat as Big East Tournament champions, doesn't lose to a team that had a subpar season like Rutgers.
Louisville wins 84-66.
10th seed Seton Hall vs. seventh seed Notre Dame
The Pirates took care of the Irish in Newark, NJ earlier this season. Notre Dame has beaten some good teams without Luke Harangody but also had some poor losses.
Seton Hall is a dangerous matchup for anybody, and Hazell and the offense provide the firepower to win a second Big East tournament game in a row and increase their bubble hopes.
Even as a 10th seed, Seton Hall has all the tools to scare any team in the Big East tournament and has what it takes to advance another round. They are just in my mind a deeper and more explosive team than Notre Dame. They've lost a bunch of close ones, and that has to motivate them mentally coming into this tournament.
Seton Hall wins 80-72.
12th seed UConn vs. fifth seed Marquette
The Golden Eagles took a close one at UConn earlier this year. This time around I believe the Huskies, who are a much better team than they were at that point in the season, will make a statement and take this 12-5 game. UConn needs this game a lot more and helps its chances at making the tournament with a win.
UConn wins in an upset 69-63.
Ninth seed South Florida vs. eighth seed Georgetown
The Hoyas suffered a home loss to USF earlier in the year after having a second-half meltdown. I believe Georgetown just won't lose to the Bulls two times this year and will have a strong showing to try to improve their tournament seeding. Austin Freeman and Greg Monroe will carry the Hoyas past the Bulls.
Georgetown wins 77-60.
Quarterfinals Predictions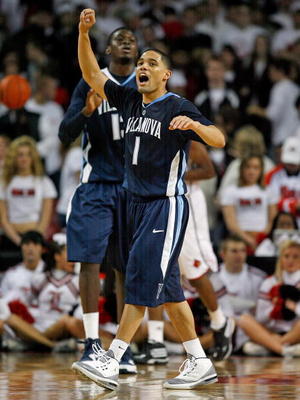 Now this is where we see the powerhouses come out in the Big East tournament and where it really starts heating up.
Sixth seed Louisville vs. third seed West Virginia
West Virginia blew Louisville away last meeting down in Morgantown. Louisville has still ended the season strong, however, and should make the Mountaineers work for this one.
West Virginia seems to always play well at the Garden and is flying under the radar, not getting the respect they should. The Mountaineers just match up too well for the Cardinals and continue the momentum from a huge win at Villanova last week.
West Virginia wins 76-74.
10th seed Seton Hall vs. second seed Pittsburgh
So far the surprise team of the tournament, Seton Hall runs into a Pitt team who had a surprisingly great year. Hall upset Pitt at home during the season, but Pitt got revenge in their house later on. Playing their third game in three days, the Hall may run out of gas against a deep and fresh Panthers team. The Pirates put up a great effort to make it close but fall short.
Pittsburgh wins 78-71.
12th seed UConn vs. fourth seed Villanova
UConn has the talent to make a deep run and has upset Villanova on the road during the season. Playing their third game in three days against a deep, talented, experienced, and fresh Villanova team is too much of a tall order though.
Villanova wins 76-66.
Eighth seed Georgetown vs. first seed Syracuse
Syracuse swept through the season series against a talented Georgetown team. The Hoyas nearly overcame a 23-point deficit to come back and beat the Orange in the last meeting.
This should be a close one and a tough one for the Orange, but I believe they prevail and recover from a loss in their final regular season game. They match up well with the Hoyas, who've stumbled into this tournament and get them for the third time this year.
Syracuse wins 81-70.
Semifinals Prediction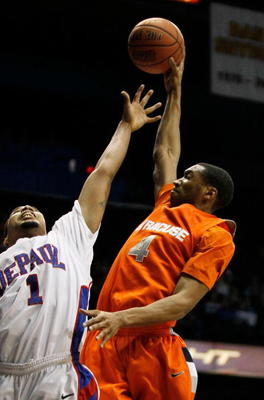 The Final Four of the Big East tournament is here.
Third seed West Virginia vs. second seed Pittsburgh
Last time they met it was a 3OT thriller in Pittsburgh won by the Panthers. West Virginia, I believe, gets its revenge in this game on the neutral floor at the Garden. For the second year in a row the Panthers leave the Garden losing to the Mountaineers. I think this one comes down to the wire.
West Virginia wins by a 76-75 margin.
Fourth seed Villanova vs. first seed Syracuse
Last meeting Syracuse just wiped the Wildcats out of the gym. Villanova's guards have trouble defending Syracuse's bigs and scoring against the Orange zone D. Cuse just matches up too well with the Wildcats.
Syracuse wins 92-81.
Big East Championship Game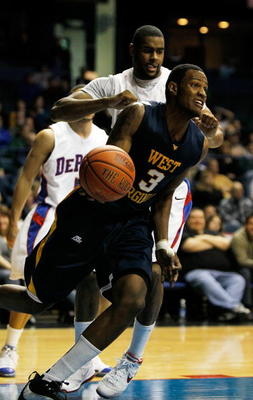 Third seed West Virginia vs. first seed Syracuse
They haven't played in a few months. This is maybe the most even matchup as far as depth, talent, and style of play in the whole conference in my opinion. Last time it was a thriller and a two-point road victory for Syracuse.
This time around, just by making it this far, the regular season champion Syracuse Orange secure themselves a No. 1 seed in the NCAA Tournament. West Virginia by making it this far would have a great shot at a No. 1 seed as well.
I think this time around West Virginia knocks off the Orange in a thrilling and evenly matched Big East championship game, taking advantage of this tournament and potentially giving themselves a No. 1 seed in the NCAAs, giving both teams that played in this game No. 1 seeds.
West Virginia wins in a thriller 80-79.
Keep Reading