Four races with Five major headlines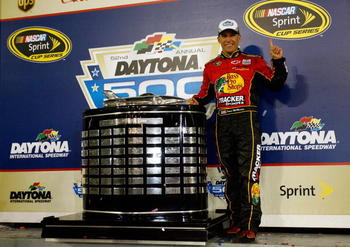 We are only four races into the 2010 Sprint Cup series season and some big things as happened. From the resurgence of Jamie McMurray and Kevin Harvick, to Jimmie Johnson continuing his winning ways, and "boys being boys", NASCAR is not lacking for headlines. Let's explore of headlines this far in 2010.
Jamie McMurray is back in the mix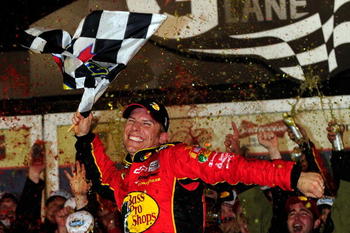 Jamie McMurray entered the 2010 season hoping to make himself a legitimate championship contender and win races.
He has made major strides to those goals. McMurray won this year's Daytona 500 making him for the first time the points leader of the Sprint Cup series and the first time he was in the top ten in points since 2007.
Even though he and crew chief Kevin Bono Manion have only had 4 points races together they have been solid. Were a top five car in the long runs at Auto Club, but a late caution causing a restart gave McMurray a 17th place finish, was running 9th after starting 24th at Las Vegas when he and teammate Juan Pablo Montoya made contact ad he finished 34th. Was running top five speeds late at Atlanta when a caution came out. He took two tires came out third, after getting boxed in after Menard spun his tire, Kahne passed McMurray extremely low on the race, then Kenseth took McMurray's air off his left rear quarter panel, plus with Bowyer coming down caused a big wreck. McMurray ended up 29th.
He is now 19th in points only 43 points out of 12th place. He hasn't ran well enough to show he is a championship contender, but has ran well enough to show that he can make the chase. Don't forget that he and Manion are getting to know each other, bringing brand new racecars to the racetrack, learning them and most important, making them faster.
The big test with the spoiler at Lowes Motor Speedway in 3 weeks will be great for this team. McMurray and Manion will get the chance to work on the cars and setups and really get to know each other even more and get him to where he is a championship contender.
Jimmie Johnson is still superman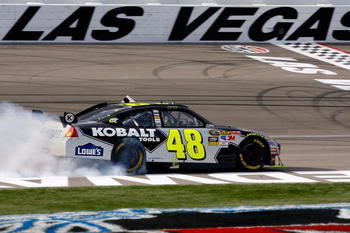 After Four races this year Jimmie Johnson is fourth in points, and has finishes of 35th and 12th. But there and a big but at that.
Johnson has won two races already back to back as a matter of fact. At Auto Club Kevin Harvick was the best car, but Johnson was the luckiest driver pitting just as a caution comes out, completes the pitstop, stays on the lead lap, gets the lead and the clean air, wins the race.
At Las Vegas Jeff Gordon led 219 lap and was the class of the field all day. But a bad call by his crew chief taking two tires cost him the race as Johnson was there ready to pounce took the lead with 18 laps to go and won the race.
Johnson hasn't had the best cars, but he has had the best luck and is always there ready to take advantage of any situation. But that human element of making mistakes will happen and it did a few times at Atlanta and perhaps this year Johnson might not win the cup. But so far he is still superman.
Kevin Harvick is Happy Harvick once again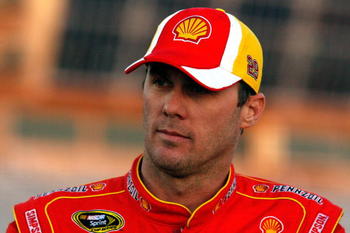 Kevin Harvick is having a career season right now and after one of his worst seasons of his career Harvick is feeling quite "happy".
In four races Harvick has had two second places and four top ten finishes and leads the points 26 over Matt Kenseth.
This is the first time in his career that he as ever led the points for more than one race. Harvick had the best car in the Daytona 50 but got shuffled late, had the bet car at Auto Club just didn't get that horseshoe, and at Las Vegas and Atlanta made amazing comebacks.
Atlanta proved that the 29 is for real and might be the team to beat for the championship.
Harvick never ran in the top 20 all day long at Atlanta and even got lapped.
But when it was all said and done, Harvick and the 29 team finished 9th.
That right there is signs if a championship caliber race team.
Harvick is looking at his options for 2011 and rumor has it he could be heading to Stewart Haas racing to join his buddies Tony Stewart and Ryan Newman.
But Richard Childress racing is making a strong case for why Harvick should stay with the 29.
Dale Earnhardt has speed, now he needs to finish well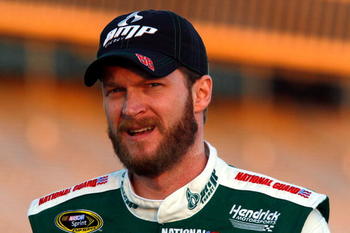 Dale Earnhardt Jr has had a great year when qualifyng is concerned. He has qualifed 2nd, 4th, and 1st in three of the first four races so far this year.
But with that said he has only finishd top five and top ten once that was with a second place finish in the Daytona 500, and has only one other top 15 which came at Atlanta.
Jr has always struggled with the COT, and that is no secret. He can't seem to drive the car to the best best of his ability unless it is near perfect which he hasn't had in a long time.
Perhaps the new spoiler which should give the COT more downforce, sideforce, and overall grip will give Jr the feel he is looking for. Greg Biffle even said that with the spoiler it kind of drives like the older car. I am sure that Jr loves that.
Carl Edwards vs Brad Keselowski
Brad Keselowski is a very talented young racecar driver.
But it is no secret that he has ruffled some feathers getting into it with drivers like Denny Hamlin and clearly Carl Edwards.
Early in the race Keselowski gave Edwards a bump sending Edwards in the wall and taking Joey Logano with him. Edwards felt he could have won for the first time in 39 races. But was sitting with a wrecked racecar instead and having to go another race winless.
With four laps to go Edwards 156 laps down and Keselowski running sixth, Edwards decided to give Keselowski a taste of his own medicine.
Edwards turned right into Keselowski spinning Keselowski then the number 12 dodge went for a wild ride on its roof. Keselowski was okay.
For this action Edwards was parked and penalties are expected to follow.
Edwards said that Keselowski knows "the deal" between the two and he hopes that this will end it.
Edwards is known as a nice guy, but not one to mess with. Edwards is also a patient driver was wrecked at Memphis last fall for the win by Keselowski but forgave. But you can look the other way only so many times.
It will be interesting to see how this develops. But don't expect Keselowski to be wrecking someone any time soon.
Four down 32 to go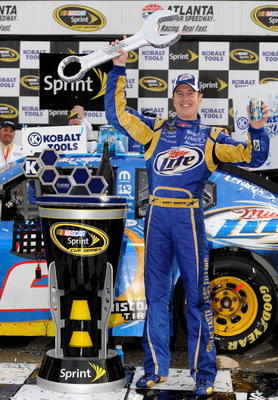 Four, 32 go. Three different winners, great racing and many surprises to come. Can Harvick keep it up? Will Johnson keep winning or has the media jumped the gun (most fans hope it is the latter part of the question). Is Penske racing going to get stronger being Dodge's sole team? How will the spoiler affect the racing? Will Keselowski and Edwards's feud continue? Who knows? Were all just in for the ride.
Keep Reading