The 15 College Teams Poised to Dominate Recruiting for the Next Decade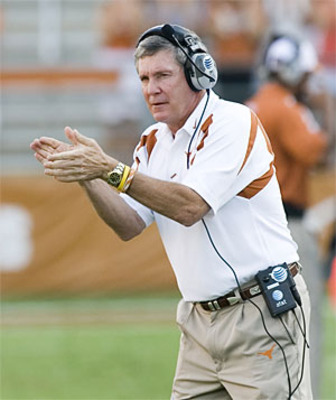 I've gone from casual observer of college football recruiting to extensive time waster to avid follower to sleep-loser to my current position, recruiting's No. 1 fan.
In the course of that evolution, I've noticed that a multitude of factors contribute to a team's ability to recruit well consistently: good geographical positioning; a strong base of talent; a great closer at the top; assistant coaches who know their targets; success on the field; at least a nod towards tradition; and on and on.
Based on these factors, and taking 2010 classes into account, I've picked out 15 college programs I think are poised to dominate recruiting for the next decade.
This is just a projection, and for some, serious roadblocks exist. But if these can be overcome, the recruiting picture we'll see ten years from now could be dominated by these 15 names.
No. 15: Miami (FL)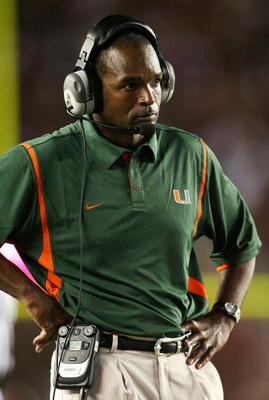 Of all the programs on here, I have the least confidence that Miami will dominate recruiting for the next decade.
The Canes built up a ton of momentum after landing top three recruiting classes in 2008 and 2009. But the most recent class was a letdown as the Canes came up short in a lot of head-to-head battles.
They're off to a good start for 2011, extending offers to a variety of Florida kids like Teddy Bridgewater and Sammy Watkins, as well as California prospects like WR George Farmer, the speediest prospect in the class.
And they still might land S Latwan Anderson from the 2010 recruiting cycle. The five-star athlete is deciding between Miami and USC after snubbing West Virginia on signing day.
They can pretty much recruit south Florida and still be ACC contenders every year, but their fortunes seemed to wane with Florida State's surge and Florida's typical dominance.
I'm including this caveat: winning in 2010 and signing another top five class against the Gators and Noles will go a long way towards better positioning. Getting the swagger back is still a work in progress.
No. 14: Louisville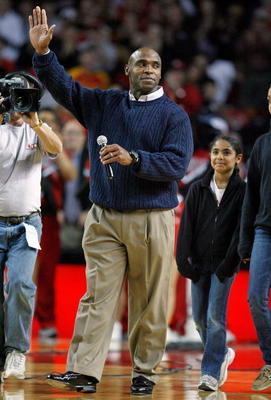 Louisville's geographical positioning is unique in that it is a waypoint between different talent-rich areas.
They can head northeast and grab Ohio plyaers; go west and poach from Missouri; give Tennessee a headache for Volunteers; draw interest from the growing talent in North Carolina; and also raid Illinois, Virginia, West Virginia and even Pennsylvania.
I'd vouch my confidence that Charlie Strong will be able to get it done both as a recruiter and a coach for Louisville. He's learned from the best, and despite Steve Kragthorpe's best efforts, t he Louisville brand hasn't been totally destroyed.
Strong, for now, can promise of improvement, and when the Cardinals start winning again—as I would guarantee they will—being a waypoint will start to pay off.
No. 13: Mississippi State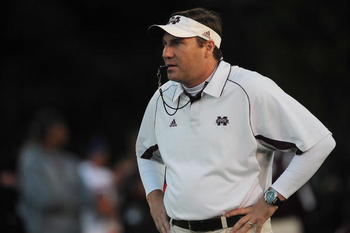 I think a lot of Florida ex-offensive coordinator and MSU head coach Dan Mullen as a recruiter and as a coach.
I think he'll be able to land Mississippi's abundant in-state talent much easier than the rival Rebels. The Ole Miss' head coaching position has become too much of a stepping stone (or a chopping block) for entrepreneurial head coaches, and I don't think Houston Nutt will be an exception.
Plus, just based on Mullen's ability, I think the Bulldogs will be the more successful team down the road.
Of the two, Mullen is the one who has won the national championship, and based on the Gators' struggles under a different offensive coordinator, I give Mullen a lot of the credit.
Off of a very solid recruiting class and some serious momentum in the Egg Bowl win, I think MSU is poised to dominate recruiting in, statistically, the country's most-talented state.
If Mullen can expand the recruiting parameters to the rest of the south and beyond, all the better.
No. 12: Michigan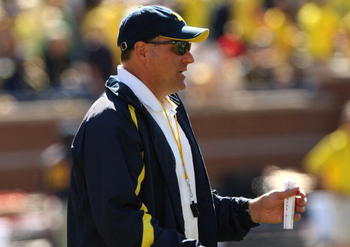 Major, major caveats exist—namely, Rich Rodriguez's job security—but if Rodriguez can survive year three and get back to his historical winning ways, the Wolverines will be poised to dominate recruiting once again.
Even in embattled times, RichRod has established a reliable pipeline to Florida, kept the recruiting battle alive in neighboring Ohio and also made serious inroads in Arizona, Maryland, New Jersey, Connecticut and Pennsylvania.
And don't forget the home state of Michigan, where Rodriguez grabbed the country's top dual-threat QB in Devin Gardner and is in good position on many in-state 2011 offensive linemen, defensive ends and running backs.
With or without Rodriguez, Michigan will eventually get back to its winning ways. But with him, it won't take nearly as long. He's as slick a recruiter and as capable a closer as Michigan has ever had. When the Maize and Blue start winning again, the sky's the limit.
No. 11: UCLA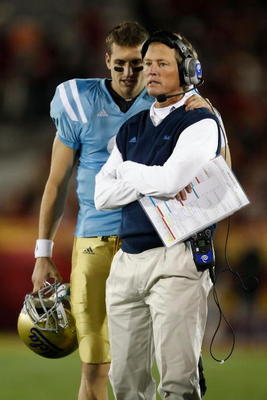 I very nearly chose Washington for my other Pac-10 school, based on Steve Sarkisian's magnetic personality and his early success as Washington's recruiter. And I wouldn't be surprised if the future proved me wrong.
But off of two terrific classes, it's hard not to say Rick Neuheisel has UCLA among the major players in recruiting again.
Top landings like Owamagbe Odighizuwa, Jordan Zumwalt, Anthony Jefferson and Dietrich Riley shocked those following National Signing Day closely. Riley seemed set for Notre Dame, Odighizuwa for Nebraska, Jefferson for Oregon, and Zumwalt at least 50-50 to remain at Stanford, but Slick Rick scooped them all.
It's also not hard to say Rick better back that recruiting up with some more success on the field. Top-tier athletes do not want to play in the EagleBank Bowl or break even on the year.
They do not want to be misused, or underused, as has been the accusation towards Neuheisel and OC Norm Chow in recent months.
A stable record would help recruits, and fans, believe the ship has been righted. A run at a Pac-10 championship would show the winds are changing in LA.
No. 10: LSU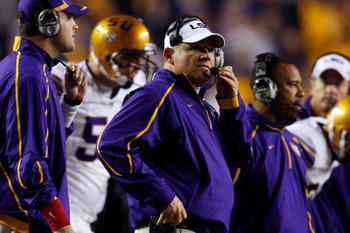 With no true in-state rival making moves, all LSU has to do is preach the local gospel to land Louisiana's top-tier talent.
That's exactly what the Tigers have been doing, with the enormous help of new RBs coach and recruiting coordinator Frank Wilson. Wilson is a native son of Louisiana and has the Tigers way ahead on the 2011 class.
They've already landed commitments from the projected top two in-state running backs, the top wide receiver, the top offensive tackle, a leading LB, a leading athlete, a leading offensive guard and a top defensive tackle, all within the borders of the boot.
LSU's assistant coaching ranks have been a revolving door of late, so holding onto Wilson and getting some semblance of order in the offensive and defensive coordinator position will determine how stable LSU's situation is.
Firing Les Miles would shake things up big time, but you won't hear a peep out of me on that question until after this year. The Tigers' success in 2010 is critical to Miles' job security; whether the Tigers can reestablish a claim on the SEC under his guidance will determine if a shakeup is called for.
But with or without Miles, I think the Tigers are and will remain in prime position as long as Wilson is around. It was probably the best assistant coaching hire of the offseason.
No. 9: Notre Dame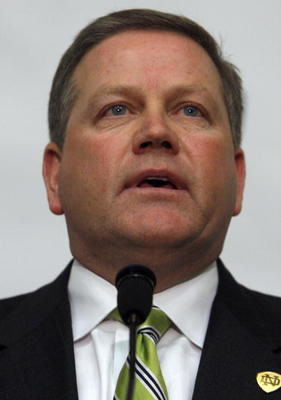 Irish fans, take this from a guy who has paid at least as much attention to Brian Kelly as your average beat-writer at the South Bend Tribune—Kelly cannot, will not, fail as coach of Notre Dame.
And when the Irish do start winning again, all the problems with football players not mixing with students; with religiosity; and with academic clearance will all disappear.
Winning will give Kelly the clout he needs to make the institutional changes he is more than sharp enough to diagnose.
Plus, Notre Dame still has one of the biggest endowments in college athletics; the lucrative NBC deal; the good geographical positioning; the lush BCS contract; the rivalries with the country's most prestigious programs; and the esteemed traditions that recruits love, all of which kept them afloat even through the toughest of times.
Kelly might not have done much with his first recruiting class, but he held onto what he had. If recruiting is all about relationships, then the charismatic Kelly only needs time. Winning is in the cards.
No. 8: North Carolina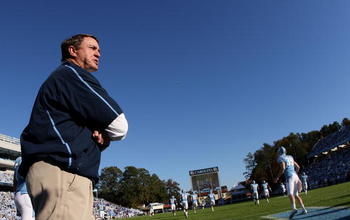 The Tar Heels are in the process of locking down North Carolina's growing talent pool, and are poised to challenge for an ACC (and, I think, a national) championship next year. Either or both of which will help their stock trend upward next year.
Championships, geographic location, and a terrific recruiting staff are a winning mixture, but there are some red flags. Butch Davis leaving for either the NFL or a more prestigious school is a legitimate possibility.
He did it before, after restoring Miami to national prominence in the wake of recruiting and off-field scandals.
And though the brand is nationally recognized, UNC isn't a traditional football power, which hurts for recruits raised watching different and more consistently successful programs.
With Davis in Chapel Hill, I really think UNC could become the ACC's flagship program. They have the academic prowess, the great location, and the underrated coach.
With Davis gone, the wheels might come off the bus a little bit. Defensive line coach John Blake, who has proved his mettle as a recruiter, would be my best guess for his replacement.
Despite his disastrous run as Oklahoma's head man, Blake has reestablished himself as a premier D-line coach, and convinced a variety of UNC's future NFL talent to remain for another year.
You can't do that without being able to establish good relationships, and relationships are what recruiting is all about.
No. 7: Ohio State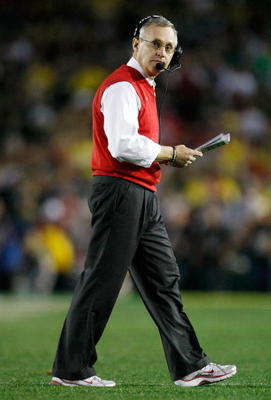 Almost an entire generation of players has grown up watching Ohio State dominate the Big Ten Conference.
The Buckeyes have played in the most BCS bowls (10) of any school since the system's inception. Stunning.
Aside from convenient geography, dominance of its rival Michigan and a great coaching staff with little turnover, the Buckeyes have gained recruiting prestige by landing Terrelle Pryor and forging him into the threat we all knew he could be.
Great recruiting begets great recruiting, year after year. Expect the Buckeyes to do it all over again with 2011's top target, Braxton Miller, and his brother-in-arms, OLB Trey DePriest.
Let the circle be unbroken.
No. 6: Clemson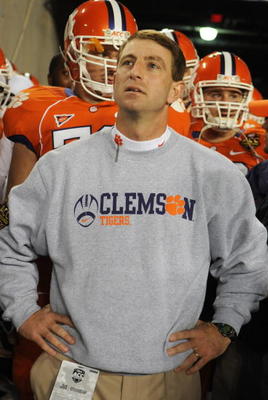 Dabo Swinney is one of the youngest and brightest coaches in the business, and he's earned a reputation as an outstanding recruiter.
After taking the Tigers to the ACC championship and nearly to the Orange Bowl in only his second year as coach, and his first in full, I'd say he has already surpassed whatever Tommy Bowden is credited with accomplishing.
As a state, South Carolina is making serious waves in churning out talent. Marcus Lattimore was last year's top get, and this year its all about defensive players like DE Jadeveon Clowney and OLBs Lateek Townsend and Stephone Anthony, the latter of whom both favor Clemson.
Swinney enters the 2011 cycle with terrific momentum—seven commits, six of which are ESPN watchlisters—and just landed Townsend last week. The longer he remains at Clemson, the further back his relationships with SC's talent go.
Steve Spurrier may have won 2010's battle (and even that could be true only in my mind). But Swinney and the Tigers appear poised to win the war.
No. 5: Auburn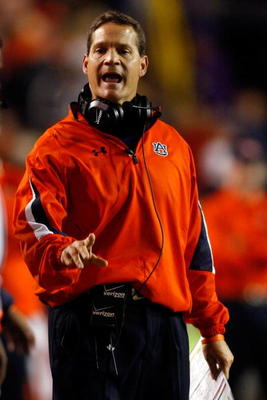 One of these days, Gus Malzahn—the highest paid coaching assistant in the country—will get a head coaching job.
Auburn fans have to hope that won't be for another few years or so, because as long as he's on Auburn's staff, Gus Malzahn looks like he can recruit the shortpants off of Nick Saban.
Malzahn, assistant Trooper Taylor and the rest of the AU coaching staff closed the 2010 class with possibly the strongest performance in Auburn recruiting history, landing Cameron Newton, Jeff Whitaker, Shon Coleman and Corey Lemonier over a four day period.
That staff has also already put some of the country's top running backs and QBs in play for 2011.
Malzahn is going on promise at this point, but based on his past successes at Tulsa and Arkansas, there's little reason to doubt he can marry on-the-field success with recruiting prowess.
Still, I can't speak for the defense, which will need as high-profile a coordinator as Malzahn to remain balanced. Current DC Ted Roof gets one more year to prove his mettle. If he can't, promoting defensive line coach Tracy Rocker, another terrific recruiter, could be in the cards.
If both sides keep finding success on the trail and start winning more and more in the SEC, the Tigers could be shooting for more than just a conference championship.
No. 4: Florida State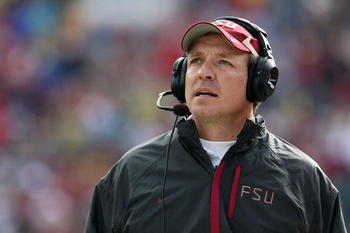 A few factors contribute to my belief that Florida State is poised to dominate recruiting for the next 10 years.
One is that Jimbo FIsher doesn't have the spectre of a serious cardiovascular problem hanging over his head, and can (and will) coach the Seminoles into perpetuity.
Another is how strong Florida State's recruiting came on in 2010 with Bobby Bowden out of the picture.
Florida State has never really been down, attracting at least a share of Florida's talent year after year. But nationally, its been a sleeping giant compared to what it was at the height of Bowden's powers.

The geographical positioning, the tradition and the promise of success at the next level are all still there. But with Fisher, there's an additional promise—the chance to overachieve, to compete for national championships at the college level.
The Seminoles just hired Mark Stoops, one of the country's up-and-comers at defensive coordinator and a potential coach-in-waiting candidate himself should the Seminoles see fit to deploy him.
A strong start to next year's class already has Florida State looking like the team to beat on the ACC recruiting trail in 2011. If the Seminoles can start utilizing that talent and winning games on the field, it's just as fair to project that success for the next decade, too.
No. 3: USC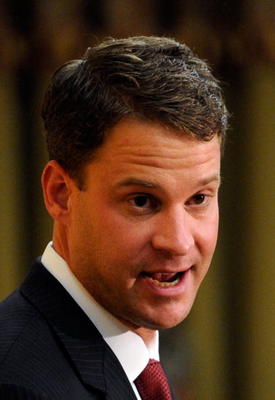 Contrary to popular belief, I think Lane Kiffin considers USC as at least a ten-year gig, if not a terminal program. I don't think he's stupid enough to try the NFL again.
All criticism aside, Kiffin, Ed Orgeron, and Ol' Monte are enormously talented recruiters stationed at the most prestigious college football program in the country.
The Trojans may have lost a little lustre last year, but you're fooling yourself if you believe their roster is in any way seriously depleted or their competitive spirit at all tempered.
Matt Barkley is still the no. 1 selection in whatever draft he enters, and behind him will be two or three more five-star QBs eager to prove themselves as pre-professionals.
The results of the NCAA investigation are the only concievable roadblock interfering with USC's poised domination of recruiting the Golden State and beyond.
But short of exercising the nuclear option, a serious reduction in scholarships and recruiting time allotted won't keep the Trojans down for long.
Even with a newly competitive conference loaded with hotshot recruiters, USC is operating, and will continue to operate, without fear. Without fear, you cannot lose.
No. 2: Alabama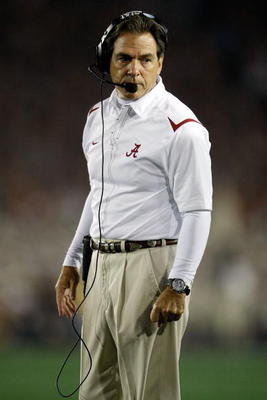 It's hard to argue against Alabama's chances at continued success in recruiting.
Contrary to my earlier assertions, I don't think Nick Saban will ever jump back to the NFL. I believe he's being genuine when he expresses a desire to reestablish the Alabama dynasty and settle down in Tuscaloosa.
He's been a hawkish recruiter for Alabama, flashing top 5 classes every year since taking the reins for the Tide. Winning a national championship is an investment that will pay enormous and repeated dividends down the road.
That said, one way Alabama could guarantee its continued recruiting dominance would be to exercise the coach-in-waiting designation, possibly on defensive coordinator Kirby Smart.
Though the NCAA rule on coaches-in-waiting handicaps the designee's freedom to recruit, it ensures that coach's allegiance, and the allegiance of at least three or four years' worth of prospects who don't need to fear a radical coaching change.
Alabama's only minor roadblock to continued success would be their in-state rivals, the Auburn Tigers. Gus Malzahn and the Auburn staff have proven themselves able recruiters per the last cycle.
The two teams could find themselves going head-to-head on in-state athletes who fit both schemes, i.e. defenders and offensive linemen. The outcome in the Iron Bowl and in the division could determine which of these programs cashes in on the reliable in-state talent year after year.
No. 1: Texas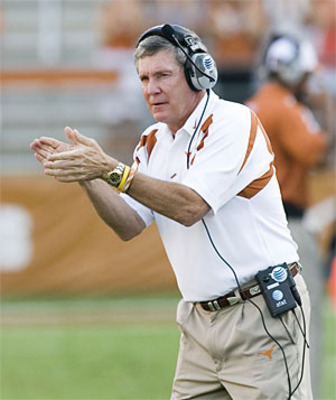 There are five-star players not yet conceived that have Texas as their top choice and all other contenders a distant second.
I'm only half-kidding. The Texas program recruits better on idle than most programs do at full RPM.
The Longhorn brand; the Hook 'Em sign; the national championship win in 2005 and appearance this year; almost uninterrupted Big 12 and BCS contention; plus a hotshot coach-in-waiting who guarantees uninterrupted transition from a charismatic current coach who doesn't appear ready to leave in the slightest; if it wasn't so darn difficult, it might just be the easiest job in the world.
And don't forget about how good that in-state talent is. Texas continually ranks among the top 5 states for producing high-caliber players. When you're their first and foremost consideration, it makes for a very simple process.
Texas is the elite of the elite, and getting better. They've jumped on the Junior Day bandwagon, and are reaping serious dividends—so far, 17 commitments for the 2011 class, while most programs are lucky to have one.
Barring a serious and sustained push from Oklahoma, the Longhorns are poised to dominate the Lone Star State for at least the next decade.
Disclaimer!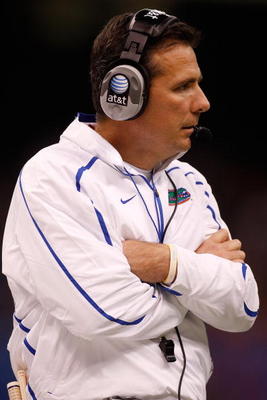 Yes, I realize Florida, Oklahoma, Stanford, West Virginia, Oregon and others are not on here.
You are all more than welcome to call out those exclusions in the comments, but don't think I don't have my reasons. They were weightily considered.
I would encourage you all to look forward to the 10 (or so) Programs that Will Struggle With Recruiting in the Next Decade, which I should be posting some time next week.
See you then!
Keep Reading