The NHL's Top Five Worst Contracts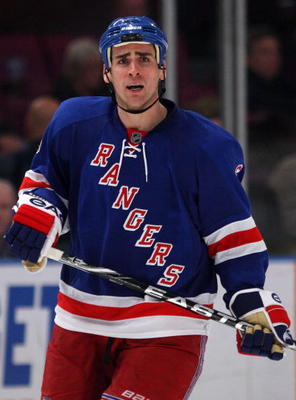 There are a lot of people who think that athletes are overpaid and I'm no exception to that.
While many athletes are overpaid, there are those who deserve their salaries and endorsements and whatever other monies come their way.
Is Alexander Ovechkin worth the $9 million he's getting this season? Of course. But it's no fun to look at which players are deservedly paid.
So let's take a look at those players who give new meaning to the term "overpaid."
5. Shawn Horcoff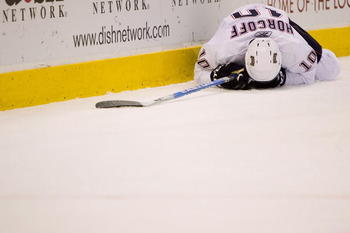 There were a few players vying for the first spot on my list such as Danny Briere, Scott Gomez, and Tom Gilbert, but ultimately, it was Horcoff who reigned supreme...kind of.
Horcoff had a couple very nice seasons in the NHL. In the year after the lockout, he finished with 73 points in 79 games.
In the 2007-08 season, Horcoff finished with 50 points in 53 games after his season was cut short by a shoulder injury. However, his production that season was enough to net him a six-year, $33 million contract with the Edmonton Oilers.
This season Horcoff is getting $7 million. Currently, he has 25 points in 59 games—that's $280,000 per point.
Nauseating, isn't it?
4. Cristobal Huet
While Huet's record this season is exceptional, his play has been mediocre at best.
On July 1, 2008, Huet signed a four-year contract with the Chicago Blackhawks that pays him $5.625 million per season.
Huet's numbers prior to his time with the Blackhawks were promising. However, he has struggled as of late and is a major reason why there is still doubt in Chicago.
Despite Chicago's relentless defense that allows just 24.2 shots per game, Huet has posted a career-low .900 save percentage and has left room for rookie goaltender Antti Niemi to grab the starting position.
Not to mention Huet has surrendered four goals or more on eight different occasions this season.
3. Michal Rozsival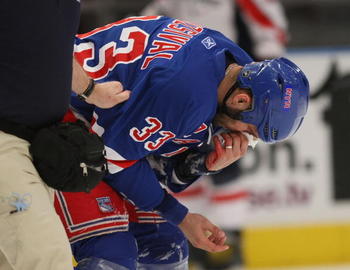 Several contract offers have made it easy to label New York Rangers general manager Glen Sather as one of the worst GMs in the NHL/ Rozsival's four-year, $20 million contract is certainly one of the worst.
After three consecutive seasons where Rozsival looked to be becoming one of the league's elite defensemen, he was rewarded with a very nice contract.
Since signing with the Rangers on July 1, 2008, Rozsival has done nothing but underproduce and is currently on pace for just 22 points and a minus-four rating this season.
Rozsival's contract pays him $6 million this season, which as of now is $333,333 per point.
Feeling even more nauseated? It's okay, me too.
2. Rick DiPietro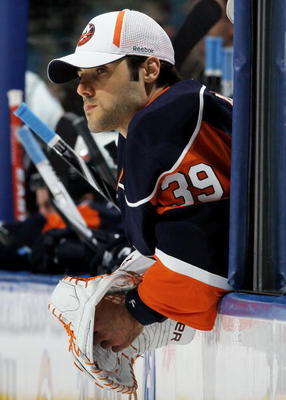 Remember when "D.P." was a healthy, No. 1 draft pick back in 2000? Or remember when he played for Team USA in the 2006 Winter Olympics?
Yeah, neither do I.
DiPietro's promise and potential have been overshadowed by the longest list of injuries ever suffered by one player.
On Sept. 12, 2006, DiPietro signed an NHL-record 15-year, $67.5 million contract with the New York Islanders.
While the contract might seem like a lot of money, it pays out to $4.5 million per season—which is a bargain for the goalie DiPietro was supposed to become.
But Ricky D. just couldn't overcome that injury bug.
DiPietro has played in just 10 games over the course of the last two seasons, that's $900,000 per game.
I'm getting sicker and sicker as this article progresses.
1. Wade Redden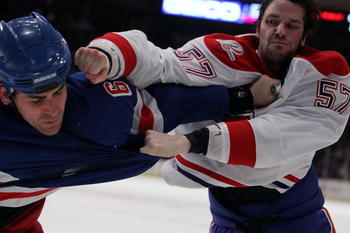 Just hearing his name gives me the chills, but leave it to Mr. Sather to propose yet another ludicrous contract to a player that doesn't deserve it.
After a couple of seasons of declining play with the Ottawa Senators, Sather rewarded the waning Redden with a—get those doggie bags ready—six-year, $39 million contract.
Redden greeted New York with a career-low minus-five rating in the 2008-09 season.
So far this season Redden has an atrocious 11 points—that's $727,272 per point.
Still a supporter? Redden has just one goal this year—that's $8 million per goal.
Still a supporter? He is averaging just over 17 minutes of ice time per game—that's $7,959 per minute.
Still a supporter? You need your head examined.
Redden's contract is arguably the worst deal of all time in any sport.
Keep Reading