Big East Tournament 2010: 10 Things You Need To Know For This Year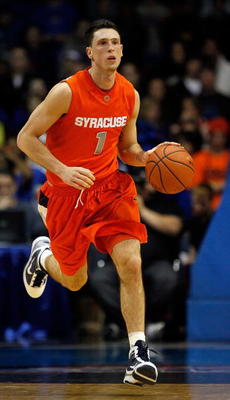 With the Big East Tournament set to start Tuesday (Mar. 9), fans from all around the country will see the best conference in college basketball showcase it's talent throughout the week.
So, what do you need to watch for you may ask?
There are tons of things to watch for in the Big East, especially with the high number of teams and the impressive talent in the conference. But, I have narrowed it all down to the top ten things you need to know involving the conference tournament.
This will range from teams that need some wins to solidify their NCAA Tournament bids, to the tight race of the Big East Player of the Year competition.
Which team(s) needs to make a big run in the Big East Tournament?
Who can fall out of the big dance picture with a loss?
Which player has the best chance to boost his Big East Player of the Year resume?
I have all those answers in this slideshow. Get ready to learn everything you need to know about the Big East Tournament!
How Will Louisville Respond to Their Big Upset?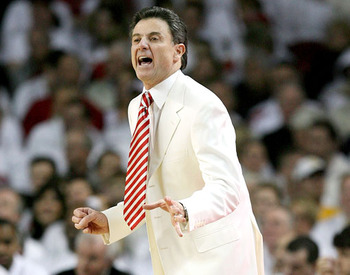 Coming off their big win Saturday against top-ranked Syracuse, Rick Pitino's team enters the Big East Tournament with momentum on their side and a probable invite to the big dance. However, the Cardinals can still help themselves with a couple of wins; they could also take a step back if they take an early exit.
If Louisville can get by their first matchup (Cincinnati/Rutgers), they will have to take on Bob Huggins's West Virginia team. With a win against the Mountaineers, they will easily be in the NCAA Tournament, no doubt. If they just win the first game, they should be a lock now.
We all recall Pitino saying, "Not even Joe's Bracket Buster can bust us out of this one." Well, Rick, I tend to disagree. If you lose to a team like Rutgers, your team could go right back to being on the bubble; probably the good side, but still, no one wants to be on the bubble.
Louisville is a dangerous darkhorse to make it to the Big East Championship, and to me, right now they are the most dangerous. I look for them to be playing on an emotional high after their big win Saturday in the great Freedom Hall.
Can Seton Hall Make a NCAA Tournament Run?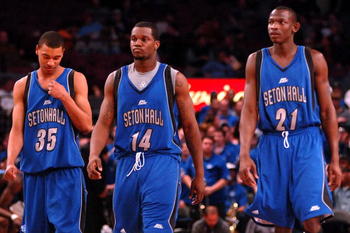 Bobby Gonzalez's team has a very favorable bracket that he hopes can help their NCAA Tournament hopes, as they are one of the first teams out according to many bracketologists.
Seton Hall will have to take on Providence in the opening round, which is a very winnable game for the young team. Saturday, Jeremy Hazell and company took down the Friars by 12 points, so Seton Hall knows they can take care of business early.
What is even more intriguing is their next game (if they win) against Notre Dame. I think if they can win against the hot Fighting Irish (which they did earlier), the Pirates will be in good shape referring to an at-large bid to the NCAA Tournament.
Then they could play a good game with Pitt, who I think is least deserving of that double-bye, but that's just my opinion.
Anyway, Seton Hall is in the perfect position to make something happen for themselves this week. They control their own destiny, and if they want to go dancing, they'll have to show up against these middle of the road teams.
Let's face it, when you have a guy like Jeremy Hazell on your squad, anything can happen.
West Virginia is a Sleeper for the Championship Game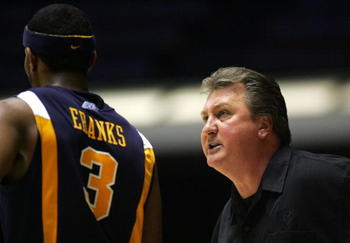 With all the media surrounding Syracuse and Villanova throughout conference play, West Virginia has quietly put together a good season. This is one of those "silent but deadly" assassins we can always have in sports, and I'm a firm believer that Bob Huggins can lead his team to the Big East Championship.
Like Seton Hall, the Mountaineers have a very favorable schedule, where they will face the winner of Louisville and Cincinnati/Rutgers. Disregarding the late Cardinal run, that schedule seems very easy; but, this is the Big East we're talking about, so anything can happen.
They are matched with Pitt, as they are the two seed, but I think West Virginia can make short work of Jamie Dixon's team, even if the Panthers came out victorious earlier in conference play.
I chose the Mountaineers as my Big East favorite to begin the year, and I'm sticking with it here. Coming off their big revenge win over 'Nova, West Virginia is carrying a great swagger on their shoulders.
Da'Sean Butler and Devin Ebanks can carry this very deep and athletic team to the championship game and ultimately get the automatic-bid from the Big East.
Notre Dame Has the Most to Lose this Week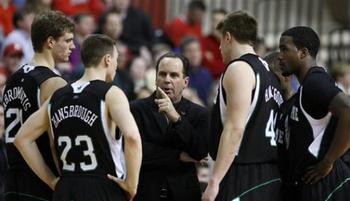 I have to say, I have enjoyed Notre Dame's improbable late run over the past few weeks. It has been a great story without their star and reigning Big East Player of the Year, Luke Harangody. Unfortunately, I think their time is up.
I wouldn't want to have to play Jeremy Hazell and Seton Hall, but it looks like that is what it's going to be for the Fighting Irish in their first game.
That will be huge for Mike Brey and his team's tournament hopes. If Notre Dame loses, they could very easily swap places with Seton Hall; Notre Dame would be on the outside looking in, and Seton Hall would grab an NCAA Tournament spot.
By far, Notre Dame can lose the most this week. If they are upset by a lower conference team, the Irish could be playing in the NIT later in the month. Brey's team better come ready to play each night, especially in the quarterfinals against either Seton Hall or Providence.
Notre Dame fans, you're not quite safe yet!
Player To Watch: Jamine Peterson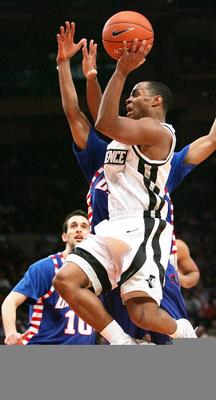 This sensational sophomore has really flew under the radar this season for Providence and the Big East. He has quietly put together a stellar season for the Providence Friars; what else does Providnce fans have to look forward to? Not much, but Peterson gives them a small light of hope.
Many fans have missed this, but Jamine Peterson has averaged 19 points and 10 rebounds throughout the year, and 20 and 10 in Big East play. That's right, THE BIG EAST.
It's tough to got out every night and produce like Peterson does, but somehow, someway, he finds a way to do so.
I'm not saying that he deserves to be considered as a Big East Player of the Year candidate, but hopefully he can get noticed a tad more after this week. After all, he is being showcased in the center of the basketball world: the one and only Madison Square Gardens in New York City.
I wish this young kid all the luck in the world.
Player To Watch: Austin Freeman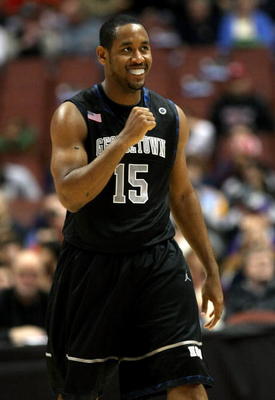 After being diagnosed with diabetes earlier in the week, Georgetown star Austin Freeman came back Saturday and responded with a usual game, getting 23 points in a huge Hoya victory.
This definitely is tragic news for Freeman and his family, but it could always be worse. I'm just looking forward to seeing this kind of talent back to full health and playing well again.
After his performance against Cincinnati on Saturday, it seems that he is back, and John Thompson III is going to need every ounce of energy from the junior sharp-shooter if they want to go deep in the Big East Tournament, as well as the NCAA Tournament.
If Freeman returns back to his normal ways, watch out for the Georgetown Hoyas this March.
Player To Watch: Da'Sean Butler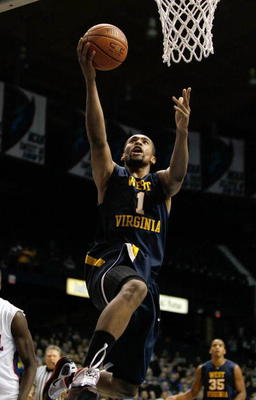 Da'Sean Butler is one of my three finalists for the conference player of the year crown. And as of late, I think he has made a strong push for himself to be included more in talks.
While my other candidates have slightly faded off, Butler has played strong as of late, leading his team to a big vicory of Villanova Saturday, as well as beating Georgetown earlier in the week.
He has averaged 17 points, six rebounds, and three assists throughout the season. That's definitely the numbers of a premiere and all-around great player.
He stepped up to the occasion on Saturday as he lead the Mountaineers with 21 points and 10 rebounds over the huge Villanova victory.
He'll be the go-to guy for Bob Huggins this postseason and it's going to take some good gameplan to stop this outstanding talent.
Da'Sean Butler could make a big run her elate to become the Big East Player of the Year.
Player To Watch: Wes Johnson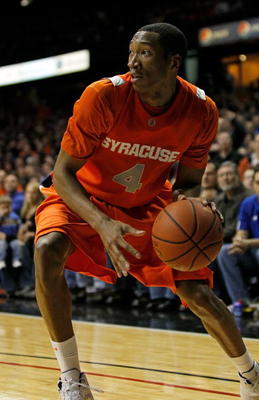 Syracuse isn't the deepest team in the world, but nevertheless, they still continue to surprise and they are a definite one seed as of right now. That, in large part, is due to the play of transfer Wes Johnson.
Along with Butler, Johnson makes my cut as the second Big East Player of the Year candidate. He is the best player on the best team in the conference, and let's face it, without Wes Johnson, where would Syracuse be today?
Probably not one of the top teams in the country that's for sure.
Johnson has averaged 16 points, nine rebounds, and two assists for the season, but his presence means even more, thus he being included more and more in the conference player of the year discussion.
If Syracuse goes on to win the Big East Championship, it may be a done-deal with this award.
Wes Johnson will be the vocal point for the Orange this postseason.
Player To Watch: Scottie Reynolds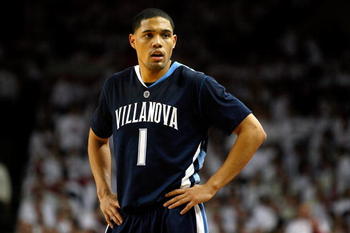 Last but not least, my favorite to win the Big East Player of the Year: Scottie Reynolds.
Reynolds has had a great four-year college career, and nothing would be better than to see him go out as the conference's best overall player; a championship wouldn't be bad either, as that is an easy possibility with his Villanova team.
The senior stud has lead his team to a 24-6 overall record this season, competing in the Top 10 all year.
Scottie Reynolds will have to play well, as well as have his team ready to play as they face a very gruesome schedule: first they will have to take on the winner of Marquette and UConn/St. John's; none of those are cupcakes either.
If they get by that huge roadblock, it would spark a probable rematch from a week ago against top-ranked Syracuse.
Big East teams, be glad you're not this team. This tough stretch will test the character and will-power of the Wildcats.
If Reynolds can guide his team to the Big East Championship game by playing well, accompanied by so mid-level play by Butler and Johnson (which probably will not happen), Reynolds will be crowned the best player in the best conference in basketball.
Nova Nation, your team is on the shoulders of Scottie Reynolds; not a very bad guy to have carrying the load, if I do say so myself.
The Ultimate Rematch: Villanova vs. Syracuse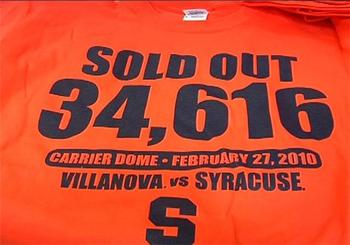 It's a shame this game won't have a chance to be the Big East Championship Game; however, it will be a bridge to the all-important game, as well as the one of the best semi-final matchups the college basketball world has ever seen.
If both Villanova and Syracuse can get through their first game, it will set the classic rematch, except this time on a bigger stage in Madison Square Garden, for a chance to go to the conference championship game, and be crowned the conference's best.
There's no telling how many people MSG will have if this matchup does indeed occur, especially after the record crowd in the Dome a short week ago.
If the rematch does occur, I expect another close game coming down to the end, except this time, the point differential will be a mere couple of points.
Who will win?
Your guess is just as good as mine. However, it will be an instant classic in the Big East.
Keep Reading