Big 12 Power Rankings: Who Has the Easiest 2010 Non-Conference Schedule?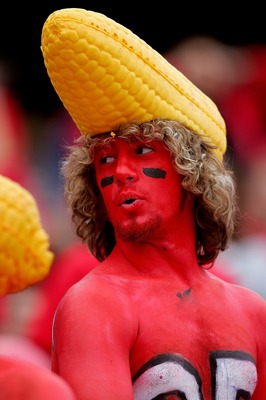 It's the time of year when schedules have been finalized, so let's take a look at the Big 12 for 2010.
Attached is a reverse ranking of the year's out of conference schedules from hard tack to éclair…tough stuff to the creamiest cream puffs.
Overall out of 48 out of conference games, twelve are against opponents from BCS divisions.
This reflects the continuing trend amongst all major conference schools to shy away from quality opposition and schedule only one good, tough non-conference opponent per year.
The league has also scheduled seven games against the Mountain West, which many consider to be on the cusp of getting into the BCS club.
Another recent trend in the last decade amongst the major schools is to schedule at home as much as possible.
The Big 12 again is following this trend, with only 12 away games (one of them on a neutral field) against out of conference opponents scheduled for 2010.
Only one school, Baylor, is splitting their out of conference schedule with two home and two away games.
There are also eight games scheduled against Division 1-AA opponents for 2010, also continuing a lamentable trend amongst larger schools to charge their fans full admission to what is essentially a full contact scrimmage.
So, starting with the toughest….
Colorado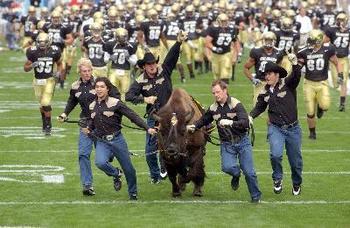 Ralphie ain't had much to cheer about lately, and if the seat under Coach Dan Hawkins gets any hotter, his pants will catch on fire.
The schedule this year might not make it any easier for him.
The Buffs are taking on two BCS conference foes…and both are pretty good. They get a rebuilding, but always tough, SEC Georgia Bulldog team at home.
And, they'll travel to Berkeley to play a California team that may contend for the Pac -10 crown.
Colorado State, their in-state rival from the Mountain West who always plays them as tough as nails (and who beat them in 2009) will visit them in Boulder. And WAC team Hawaii will also pay them a visit.
Two tough BCS opponents, a tough Mountain West rival, and a WAC team that will be jet lagging…Colorado get my vote for hardest out of conference schedule in the Big 12 for 2010.
Oklahoma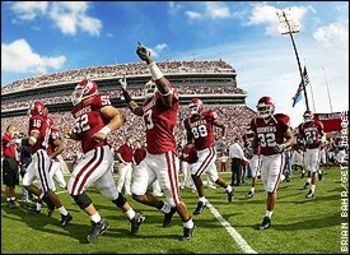 You have to hand it to Oklahoma. While other programs have fattened up with puny Division 1-AA completion and the dregs of D-1, the Sooners under Coach Bob Stoops have continued to play an entertaining and challenging out of conference slate.
While sometimes this may cause a few set backs, overall I think Stoops is doing the right thing. Because by playing tough teams he ultimately creates a stronger overall program.
This upcoming year is no exception, as the Sooners are taking on Florida State at home and Cincinnati away.
Both programs will be led by new coaches, so it should be interesting to see how they'll adjust. But both were bowl teams in 2009, have plenty of talent, and should give the boys from Norman a good test.
Oklahoma is also taking on a very dangerous Air Force team from the Mountain West at home.
This could be the best out of conference test on their schedule; Air Force has a slew of starters returning from last years 8-5 bowl winning team, and has a very tough defense that has proven capable of slowing down speed orientated offenses like Oklahoma's.
The Zoomies also play the triple option, which is a great offense to negate what should be some physical mismatches on the front line with the Sooners.
Finally, Oklahoma gets WAC team Utah State at home, which should be a relatively easy win for them.
Second toughest schedule in the league award goes to the Sooners.
Texas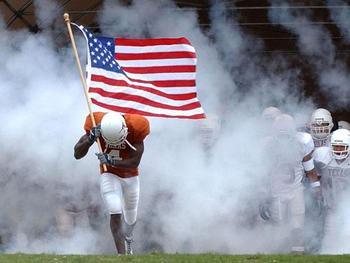 The Longhorns, defending Big 12 champs, had one fly in the ointment in 2009.
They took a lot of flak over an out of conference schedule that was, to say the least, a bit light.
In 2010 they've upgraded…a bit.
The Longhorns are taking on Pac-10 UCLA in Austin, which should give them a good test against a Bruin team coming off a mediocre season, but who have a good talent base and a large number of starters.
Texas also has, thankfully, avoided the dreaded curse of scheduling a 1-AA opponent. They get a decent Wyoming team from the Mountain West at home.
The Cowboys finished with a7-6 record and a bowl win last year, which included a blow out loss to Texas. With 17 starters returning they may be able to give the Horns a bit more of a tussle this year.
The Horns are also visiting Rice, where the stadium will likely be full of orange clad supporters from the Houston area and the second teamers should be playing by the third quarter. And they'll host Florida Atlantic, who stink like the beach at low tide.
Still, the Longhorns have the third toughest out of conference schedule for the Big 12 in 2010.
Iowa State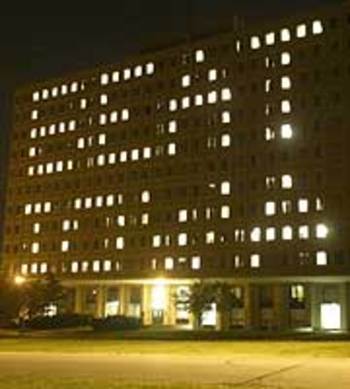 The big game on Iowa States schedule is, has been, and forever will be their cross state rival from the Big Ten, the Iowa Hawkeyes. This year the Cyclones take on a talented Iowa team away, which is always a tough row to hoe.
Iowa also gets a visit from a Mountain West team…the Utah Utes. I would be surprised if the Utes are not favored in this game, since they are returning a bunch of starters off of a 10-3 top 20 team from last year, including heralded sophomore quarterback Jordan Wynn.
Wynn threw for 338 yards and three TD's in their Poinsettia Bowl victory over California, and many are predicting a huge season for him this year.
The Cyclones fill the remainder of their out of conference schedule with what should be two easy home wins; Division 1-AA Northern Iowa and MAC conference Northern Illinois.
Kansas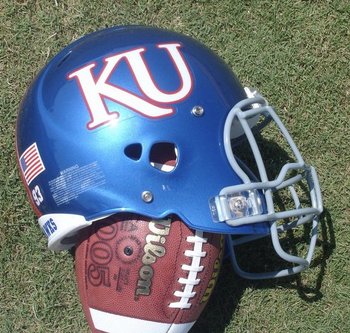 Can the Jayhawks continue to play big since Coach Mangino is no longer on the scene?
Will they remain hungry, now that he's not there to scarf down all the extra food during training? And what cupcakes has the administration lined up for new Coach Turner Gill to feast upon?
The Jayhawks were a program in total meltdown mode last year, and this was reflected in their seven loss death spiral that they finished with. The cupboard is not bare, however, and there is some talent for Gill to work with.
There are a couple of tasty out of conference morsels for the Jayhawks to feast on. A Division 1-AA North Dakota State game at home should be an easy win.
As should a game against the program with perhaps the worst long term record in D-1 football, the WAC New Mexico State Aggies. The Aggies last bowl occurred, literally, before seat belts were required equipment in automobiles.
The Jayhawks are also taking on Conference USA Southern Mississippi in an away game, which should be a bit of a test.
Southern Miss always plays very well at their home stadium, "the Rock", and the game will also be in the early season where the heat and humidity of the Mississippi coast may have a detrimental impact to visiting team players not accustomed to it.
The Hawks toughest test will be a visit by defending ACC champion Georgia Tech. That game should be a litmus test for the team, and how they are responding to Gill and his staff.
The Jayhawks get the vote for fifth toughest out of conference schedule in the Big 12.
Oklahoma State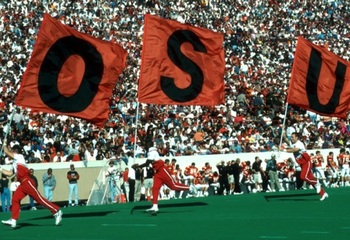 It's a rebuilding year for the Cowboys, having to replace nine starters on defense and find a new quarterback to lead the offense.
Fortunately for them, their out of conference schedule looks like one that they should be able to run the table on.
State's only BCS for is Washington State, and they get them at home. The Cougars, who were mediocre, have regressed to just plain horrible under Coach Paul Wulff since he took over.
They are coming off of a 1-11 campaign that was worse than the record sounds…their average margin of loss was over 30 to 10. Wow, that's really bad. Don't expect a turnaround in 2010, so pencil it in as a win for the 'Boys.
The remainder of the schedule shouldn't give Coach Mike Gundy much to rant and rave about. Other than the Rajin' that their Cajun opponents are prone to do that is. They travel down to Louisiana-Lafayette to play the Rajin' Cajuns in what should be an easy win.
At home, they'll take on Troy and Tulsa. Troy won the Sun Belt and has the horses to give them a good game, and Conference USA and in state rival Tulsa could also play them tough since it should be a down year for State. But since these are both at home for the Cowboys, they should prevail
Oklahoma State has the sixth toughest schedule in the Big 12.
Texas Tech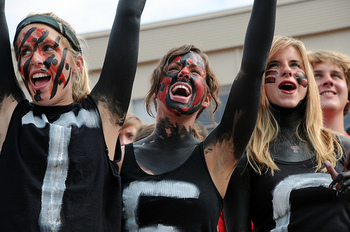 Tommy Tuberville takes over in Red Raider land this year and speculation is rampant about what changes he'll make.
Will he mess with the high powered offense? Will Tech run the ball more? Will the defense play a bigger role and be more effective? Will Adam James become his go to guy for getting stuff out of the tool shed?
Hey, inquiring minds need to know.
One thing that won't change much is their out-of-conference scheduling. Tech has traditionally liked to stay pretty close to home, only occasionally straying to play a distant opponent. 2010 is no different.
The Raiders dropped TCU this year due to schedule conflicts…they were, however, able to keep old SWC foes SMU and Houston on their schedule, both of whom will visit Lubbock.
When scheduled, these probably looked like easy wins. No longer.
The Cougars out of Houston beat Tech down in H Town last year, and look again to be formidable.
The SMU Mustangs have started to turn around under coach June Jones, and were able to pull off an 8-5 season capped by a bowl victory last year. So neither of these will be lay downs, although it does help the Raiders that they are at Jones.
Tech does have an easy win with a home game against 1-AA Weber State (they're from Utah, in case you're wondering) and should also have an easy time of it with their traditional foe (and traditional win) versus cross state rival New Mexico.
The Lobos are coming off a 1-11 season, have to replace a lot of holes on their O line, and are looking to be the bottom of the barrel for the Mountain West.
Net, we are looking at a schedule right in the middle of the pack; sixth easiest or seventh toughest, depending on your perspective and allegiances.
Baylor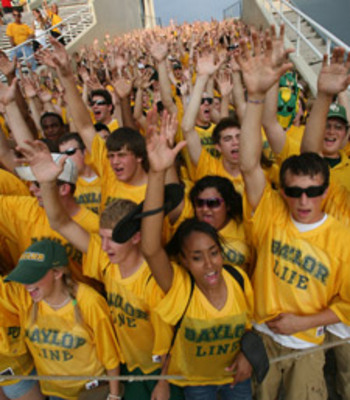 Baylor gets props for going on the road twice for their out of conference games.
The Bears visit Rice, an old SWC foe and in-state rival. Rice does, however, suck big time, and should provide the Bears with a win.
The Bears also visit Anon Carter stadium in fort worth to visit their old rival TCU. Expect excitement. Expect a sellout crowd. Expect a TCU win.
Their other two games are at home. One is against division 1-AA Sam Houston State. Yawn, easy win. The other against MAC foe Buffalo. Yawn, yawn, easy win also.
So with three easy wins (including a lesser division foe) and one probable loss, I'm rating the Bears as the fifth easiest schedule in the league, despite the fact that they'll lose one. This is Baylor, after all.
Kansas State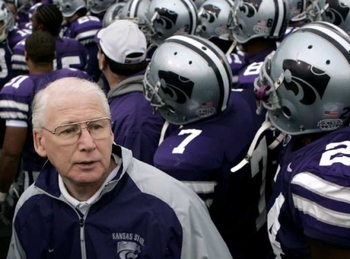 Kansas State was one of the forerunners of really crappy scheduling.
Coach Bill Snyder, taking over a program that had never realized much success, quickly became noted for scheduling patsies, cupcakes, pushovers, and fluffer nutters for his out of conference schedule.
2009 was no exception, as the K State had not one but two Division 1-AA opponent.
Yet it's hard to argue with Snyder. He did turn the program around, and a place that had become synonymous with the word 'loser' had some pretty good teams under his original reign.
Now he's back for Snyder 2.0, and State has a schedule that reflect his bias toward pounding on the weak.
He'll play a decent UCLA team from the Pac-10 at home. But other than that, you can write in three easy wins.
Win number one is a home game against Division 1-AA Missouri State. Win number two a home game against the University of Central Florida, who were OK last year at 8-5 but need to restock after losing a ton of key players to graduation.
Their lone away out of conference game, and win number three, is to visit North Texas State.
North Texas State finished 2-10 and was ranked as the third worst D-1 team last year. Snyder is probably making this trip as a recruiting tool; UNT is located ½ hour north of Fort Worth and as such is in the extremely talent rich Dallas-Fort worth metro area, which is stockpiled with D-1 caliber high school players
So K State gets the vote as fourth easiest Big 12 schedule next year.
Texas A&M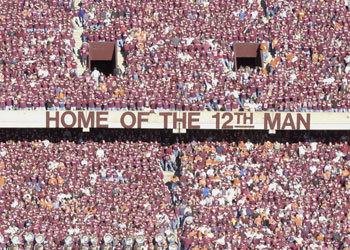 The Aggies renewed their old rivalry with traditional Southwest Conference foe Arkansas last year, and are now taking them on annually in Jerry Jones football palace in Arlington, Texas. (Jones is an Arkansas and Razorback football team alumni).
This is good. And it'll be a tough, tough game for the Aggies, since the Razorbacks are returning a bunch of talent including star quarterback Ryan Mallett.
The rest of A&M's out of conference schedule is, however, a complete lay down.
All are at home. Stephen F. Austin, a D-1AA school. Louisiana –Lafayette, who have a new coach and a quarterback who just got arrested for drunken driving and are coming off a sub par 4-8 season in WAC play. And Florida International, rated at the bottom of the Sun Belt conference.
So the Aggies get my pick as the third easiest out of conference schedule for 2010.
Missouri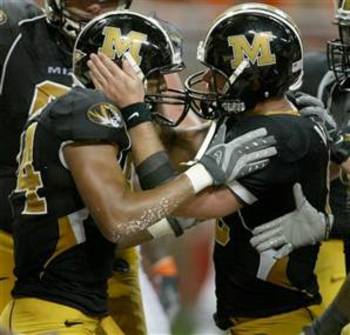 Coming in at second easiest out of conference schedule in the Big 12 are the Tigers of Missouri.
The Tigers have four, count em' four, home out of conference games lined up for 2010. Guess they don't want to leave the friendly confines of Columbia anytime soon.
None of the schools they play are powerhouses.
They get division 1-AA McNeese State, which is an easy win.
A MAC Miami of Ohio team that finished a dismal 1-11 and is not slated to improve much in 2009 pays a visit.
Mountain West San Diego State, which has not been to a bowl in over a decade and is a perennial league cellar dweller also comes calling.
And BCS conference foe Illinois, who finished 3-9 and who many have slotted in as the cellar dweller for the Big Ten in 2010 is their final out of conference opponent.
Mizzou should run the table easily against this line up. Perhaps by beating up on Illinois, they can impress some of the Big Ten big wigs and then make the switch to that league, per most of the runor mills on this and other sports blogs. Only time will tell.
Second easiest out of conference schedule award goes to the Missouri Tigers.
Nebraska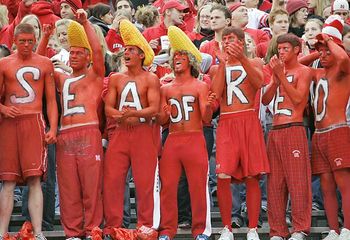 Seems like the Huskers learned a bit from the Longhorns in 2009.
Such as don't schedule quality out of conference opponents if you want to make a run at it.
For 2010, the Huskers are playing D-1AA South Dakota State at home. They get a woeful Sun Belt Western Kentucky team, who finished dead last amongst all D-1 football teams in the Sagarin power ratings at home.
A WAC conference Idaho, who is replacing half of their starters off of last years 8-5 team at home. And a decidedly mediocre Pac-10 Washington team, which once again finished with a losing season in '09, away.
Tell me again why they couldn't schedule Boise State?
If the Huskers don't easily run this table, there's big trouble in Big Red City. They win my vote for easiest out of conference schedule in the Big 12 for 2010.
Keep Reading

Texas A&M Football: Like this team?