2010 NFL Draft: Detroit Lions Seven-Round Mock (Updated)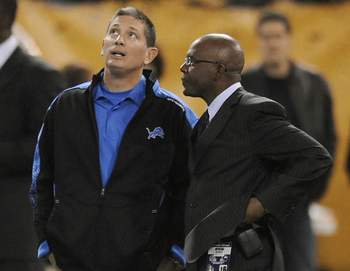 If anyone doubted the new Lions regime this time a year ago, perhaps the last 24 hours have helped change some minds.
General Manager Martin Mayhew and head coach Jim Schwartz have made the most noise thus far in free agency. Shortly after the 12 a.m. start on March 5, Schwartz was in Nashville waiting in his car outside of Kyle Vanden Bosch's subdivision, while Mayhew and Tom Lewand were working out the details of a deal for Seahawks wide receiver Nate Burleson.
Two hours before the frenzy began, Detroit pulled off what seems on the surface like an excellent trade by sending a fifth-round pick to Cleveland for Defensive Tackle Corey Williams and a seventh-round selection.
There's a chance the Lions might have another signing or two up their sleeves. Regardless, it seems that William Clay Ford has opened up the checkbook a little more than usual.
Perhaps the best part of all is the flexibility they now have entering the War Room in late April. One school of thought says to stay put and take either Ndamukong Suh or Gerald McCoy. The other, gaining steam after these recent signings, is to trade down and pick up an extra pick or two this year or next while they continue fixing the mess Matt Millen left them.
Detroit fans should be, for the first time during any offseason in recent memory, genuinely excited. A closer look reveals a 2011 season still undefined, but it appears things are headed toward a significant cut from the current $128 million salary cap. So, these signings are beneficial on many levels.
None of new contracts will handcuff the Lions if the cap is cut to, say, somewhere in the $105-$110 million range. Tom Lewand reaffirmed why he's one of the best in the business working the short- and long-term financial intricacies of contracts.
Vanden Bosch played about half of his career under the tutelage of Jim Schwartz's defense in Tennessee. His new contract is front-loaded in such a way that much of the risk is mitigated if (when) the cap comes back after next season.
Burleson's deal is for five years and $25 million, but only $11 million is guaranteed.
Nate Burleson has teased fans and fantasy owners alike, trying to convince everyone he was a borderline No. 1 receiver. Well, he's not. But that doesn't matter, since Mayhew's priority was to find a dependable receiver, who, by all accounts, is a quiet, humble professional. He also just happened to have his best season playing in Minnesota, under current Lions Offensive Coordinator Scott Linehan.
First, a quick look at both sides of the ball before getting to the Detroit Lions full seven-round prediction for the 2010 NFL draft.
Detroit Lions: DEFENSE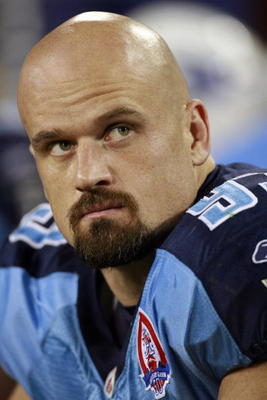 DEFENSE
Gunther Cunningham might be the happiest of all, since his aggressive defensive game plans depend on stability and pressure in the trenches. Another happy camper has to be new defensive line coach Kris Kocurek, who was probably dreaming of the possibilities with either Suh or Gerald McCoy but now in all reality will still get one of those guys, in addition to a three-time Pro Bowl defensive end and an upgrade at the tackle position with Corey Williams.
In fact, Williams is the same guy Green Bay franchised in 2008 before swapping him with the Browns for a second-round pick. He had back-to-back seven sack seasons (2006-07) for Green Bay, but in the Browns new, attacking 3-4 defense, Williams wasn't put in a position to succeed.
With Vanden Bosch and Williams added to a desperately weak front-four, along with the continued development of Sammie Lee Hill and Cliff Avril, their defense is already drastically improved compared to last year. Despite the decision to release Grady Jackson, 36, this unit goes from a liability to a functional group.
Assuming they at least follow the first round of the mock below, the addition of Suh will turn the defensive line into an asset. The younger Nebraska 'Husker will free up his elder Husker alum to make more plays, much like Albert Haynesworth did during Vanden Bosch's best years for the Titans.
DeAndre Levy's emergence means Larry Foote is likely gone. Ernie Sims might benefit the most from the rebuilt line because he's a smaller (but explosive) linebacker who will be freed up to roam the field and make plays.
Julian Peterson was the team's best playmaker on defense last year, but even he struggled by his own standards. With the recent acquisitions in front of him, perhaps he can have a terrific year while the team decides whether to keep Levy in the middle or move him back to an outside linebacker spot.
Jason Hunter was a pleasant surprise at defensive end last year and was tendered the highest offer ($1.76 million) by the team. After they signed him off waivers, he appeared in 14 games and collected five sacks to go with 34 tackles. If he signs elsewhere, the Lions will receive a second-round pick as compensation.
Daniel Bullocks was also tendered. Even though he was a second-round pick, the Lions would have to settle for a third round selection, because Hunter's tender was the highest, despite being an undrafted free agent. When healthy, Josh Bullock's younger brother is a serviceable part of an otherwise deplorable secondary.
The Lions released Philip Buchanon, but even with the under-performing former Miami Hurricane their secondary would still be the weakest part of the team. Louis Delmas looks like he's going to be a cornerstone of the defense, but beyond him the Lions are dangerously thin at strong safety and both cornerback positions.
Detroit Lions: OFFENSE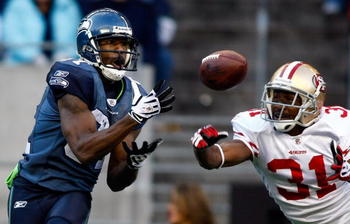 OFFENSE
Burleson has two nine-touchdown seasons and is more explosive and consistent than last year's signee, Bryant Johnson. Detroit desperately needed to line up somebody to at least cause opponents to stop triple-teaming Calvin Johnson. His presence alone should help prevent teams from stacking the box against the run too.
Last year's third-round pick out of Penn State, Derrick Williams, has done little to justify that high of a selection, and Dennis Northcutt couldn't hold down the slot position on a bad Lions team. It's hard to write-off Williams after only one year, so he should be given one more year to prove himself as a fourth or fifth receiver or return specialist.
Kevin Smith (major knee-surgery) was never explosive to begin with, and now what little tread he had left on his tires (after UCF ran him into the ground) has put his future in Motown in question. That's sad, because he's a gamer and leaves everything on the field. Regardless, Maurice Morris (30) outplayed him last year and figures to be a part of the backfield this year.
Aaron Brown is a speedster, and if he could prove to at least have a somewhat solid grasp of the playbook, he could carve out a nice role as a decent third-down or special package player.
Brandon Pettigrew was starting to approach the expectation level the coaches bestowed upon him before suffering a season-ending knee injury. He should return to full strength and continue his development alongside Matt Stafford. At 6'5" and 265 pounds, he's an excellent blocker and gives Stafford an important safety net on checkdowns.
Dominic Raiola is a smart, gutsy and fiery center, good enough to start on about half of the other teams in the league. Jeff Backus is well-liked by the coaching staff but takes a lot of flack from the Detroit fan base. However, he's durable and a pretty good, not great, offensive lineman.
Gosder Cherilus needs to take a significant step forward this season, and he seems to be slowly but surely progressing from game to game. It's not any physical or motivational shortcomings preventing the Haitian-born lineman's development: it's mental.
Detroit tendered offers to offensive lineman Dylan Gandy, Daniel Loper, and Manny Ramirez. Hopefully they can retain two of the three, but for whichever player they do lose, they receive a draft pick of the round in which said player was originally drafted (except for Loper).
They wisely re-signed Jon Jansen to provide depth for the 2010 season.
In one day, the Lions have essentially found 50 percent of their defensive line and a No. 2 receiver, and signed them to smart contracts.
While it doesn't necessarily change their plans on April 22, it probably does for the last two days of the draft. So, assuming Suh is their guy at No. 2 overall:
First Round: Ndamukong Suh (DT / Nebraska / 6'4", 307 pounds)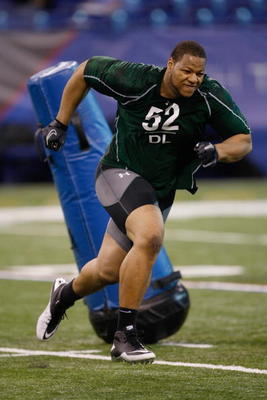 If there were any questions about who the Lions would take between Suh and McCoy, the recent trade and free agency acquisitions should clarify that Suh is their man
Second Round: Kyle Wilson (CB / Boise State / 5'10", 195 pounds)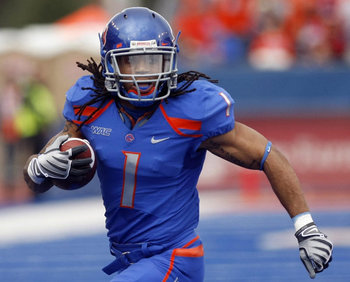 Before the Lions were known for using early picks drafting unproductive malcontents at the wide receiver position, they had similar success, or lack thereof, at cornerback. For seven consecutive seasons (1990-'96) the Lions picked a cornerback in the fourth round whenever they had a pick in that round. None of them made significant contributions.
Maybe that's why they spent the next two years using three of their first four picks on Bryant Westbrook, Terry Fair, and Kevin Abrams. Once again, these guys never panned out. (Note: Westbrook was finally fulfilling his potential in 2000 before blowing out his Achilles tendon, the first of two such injuries he would endure.)
Wilson just might be the best cornerback in this draft; at least from his point of view. I'm not sure I don't disagree with him, especially after Joe Haden looked like he was running with a backpack full of bricks at the combine when he registered a 4.6-40.
He's a muscled-up prospect who can fly (4.3–4.4) and plays with a swagger and aggressiveness similar to another Lions defensive back: Louis Delmas. During his four-year career, Wilson earned at least All-American or All-Conference honors each season.
If you happen to be driving in the Boise, Idaho area and see a bright orange and blue motor home (see next slide) driving along, pull up close to the passenger-side and you'll see a life-size custom mural of Wilson. Did I mention he's extremely confident?
Wilson's willing and capable of blanketing a receiver, knocking him in the mouth or stepping up to support against the run. If he's available and they decide to pass on a running back like Jahvid Best or Ryan Matthews early he's an attractive option.
Kyle Wilson's Customized RV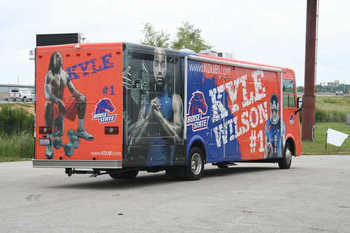 He's the only prospect who earns two slides in this mock because, well, he's the only one with a traveling publicity machine.
Besides confidence (or perhaps cockiness) he receives an A+ for originality.
Third Round: Jon Asamoah (OG / Illinois / 6'4", 310 pounds)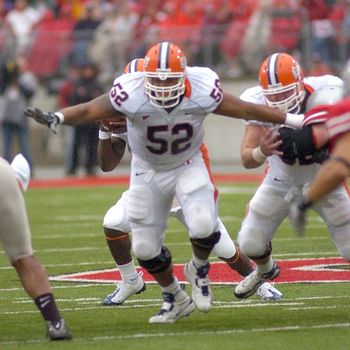 Despite injuring his shoulder at the Senior Bowl, Asamoah should still plan on being selected in the late second or, hopefully, early third round.
Strength and agility are the two biggest factors when projecting future success at either guard position in the NFL. Fortunately for Asamoah, those are his two strongest characteristics on the field, along with a tendency to play with a nastiness that suited him in the Big Ten and will continue to do so in the NFC North.
Off the field, he's one of the more well-liked players among teammates and coaches and demonstrated excellent leadership for Ron Zook's team. He was also an Academic All-American who could potentially start at some point this season for the Lions, if not right from the beginning.
Fourth Round: LeGarrette Blount (RB / Oregon / 6'1", 242 pounds)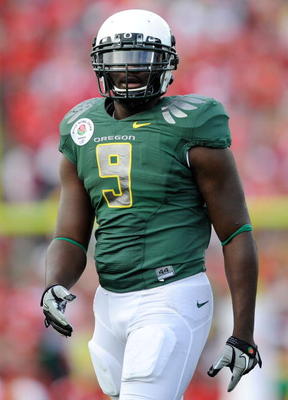 There's a couple ways to view this pick. Some may think his questionable and not-so-questionable decisions of the past are too much. Others will think more along the lines of Blount being an immature kid doing immature stuff.
Either way, the fact remains that he is a talented football player that's an absolute load to bring down. Detroit shouldn't struggle as much with short-yardage situations anymore with a potential Brandon Jacobs-like back at their disposal.
Would I be surprised if Mayhew grabs his second cornerback by the time Detroit picks in the fourth round? No, not at all. But I don't think Blount will be around the next time they pick, so Mayhew might not be able to pass this value up.
Fifth Round: Myron Lewis (CB / Vanderbilt / 6'2", 205 pounds)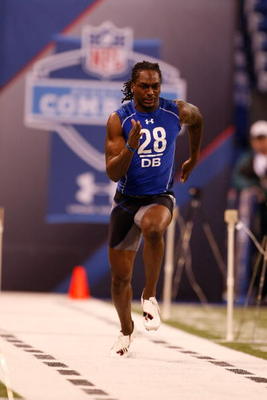 Vanderbilt was awful last year, so Lewis flew somewhat under the radar. He has decent speed but great size to jam and disrupt receivers' routes.
Lewis is a punishing hitter and plays with a sense of aggression rarely seen from a cornerback, which is nice.
He has the build to transition to Safety if need be. Detroit needs to up the level of competition in the secondary, and Lewis is the type of prospect to do that.
Sixth Round: E.J. Wilson (DE / North Carolina / 6'3", 295 pounds)
Vanden Bosch is 31-years-old, but he still has plenty left in the tank. However, his most important contributions won't always show up on the stat sheet. The one-time Arizona Cardinal is a pro's pro with a lunch pail-type work ethic that will hopefully instill a sense of how younger players should go about their business.
Now is the time to identify a couple of less heralded prospects who either fell off, or never appeared on, most radars, whether they missed time because of a significant injury or simply began their ascension late in the season. Wilson is that type of player.
First and foremost, he's a humble kid with his head on straight. Wilson excelled in the classroom and film room, the latter helping him build an impressive senior season: five forced fumbles, four sacks, 12 tackles for loss and 49 tackles (40 solo).
He continued that momentum into the postseason; Wilson had two sacks and forced a fumble to go along with five tackles. Watching his film, it's easy to notice his quickness, but he simply overpowered his opponent with lightning-quick shoves to the chest, knocking them back on their heels more times than not.
The Lions don't need to rush his development, which will only help his progression toward being part of a future rotation.
Seventh Round: Patrick Stoudamire (CB / Western Illinois / 5'10", 205 pounds)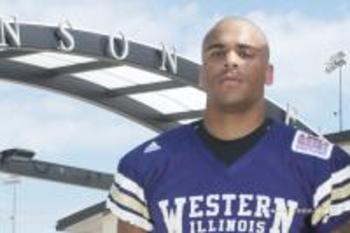 The beauty of picks made in the final round is that they're often a crapshoot. Mr. Irrelevant is annually picked in this round, but then again so were Marques Colston, Ahmad Bradshaw, Cortland Finnegan and Shannon Sharpe, among others. So the Lions will have two chances to unearth a hidden gem.
Stoudamire is a very stocky defensive back who earned three straight First Team All-MVC honors. The Fighting Leathernecks aren't the typical powerhouse NCAA team, but they have generated a couple of notable NFL defensive players, including Rodney Harrison and Bryan Cox.
The Portland, Oregon native is a former high school quarterback with more quickness than speed, and could at least become a part of the Lions' nickel package. He is a nice reserve with the potential to be a No. 2 corner in the future.
Seventh Round (Via Williams Trade): Chris Marinelli (OT / Stanford / 6'7", 310 pounds)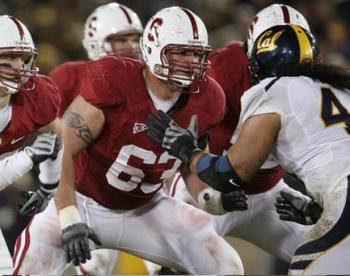 If prospects were drafted purely on work ethic, then Marinelli would be a Top-10 pick. But the cerebral lineman was talented enough to help pave the way for Toby Gerhart's Heisman-worthy season.
Marinelli actually earned First Team All-Pac 10 honors to go along with his selection to the Second Team All-America list. Born and raised in Boston, he plays with a chip on his shoulder, and if he ends up not making it at the next level it won't be for a lack of effort or desire.
Keep Reading

Detroit Lions: Like this team?