NCAA Tournament: Five Top Seeds That Won't Make It Past the Sweet 16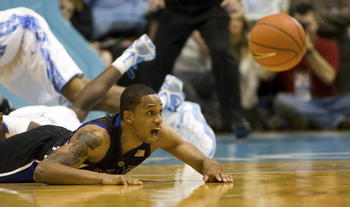 In a year that sports no dominant teams, there are many questions surrounding the elite teams this season.
Every team in the top 10 has a questionable loss to their resume, and we see a recurrent theme of the No. 1 team losing shortly after receiving the ranking.
What this means is that no team is safe for the NCAA Tournament, not even Syracuse.
There are a handful of teams that people are confident will be in the final four. There are an even bigger handful of people who are confident that the top 10 teams this year will be cruising past the sweet 16. Wrong.
Here are the five top seeds in the NCAA Tournament who will have their seasons ended surprisingly early.
Duke Blue Devils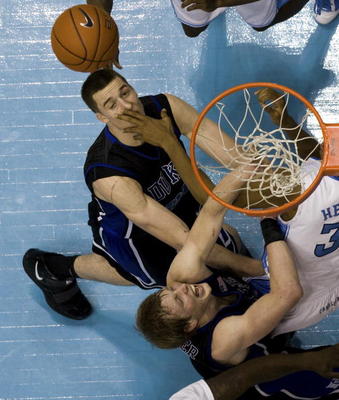 Potential Seed: 1
Last year's Duke team lost in the Sweet 16 and they were a better team. Last year's Duke team would not have lost to Maryland, home or away.
They also had NBA professional Gerald Henderson in addition to the cast they sport this year.
Duke's road record this year is 5-5. There are no home games in the tournament and I don't see a .500 road team winning three in a row on neutral sites.
Joe Lunardi's latest Bracketology sets up a potential Vanderbilt-Duke Sweet 16 matchup in Houston. Guess who's winning that game...
Purdue Boilermakers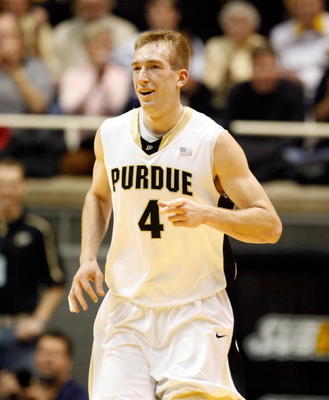 Potential Seed: 2
See that picture? Yes, he was Purdue's only chance for a title run. Without Robbie Hummel, the Boilermakers are a Sweet 16 team, at best.
They have the defense to cruise through the first round and maybe rough out a win in the second round, but no one actually sees them scoring more points than Butler, Pittsburgh, or even Virginia Tech—their potential Sweet 16 opponents according to Joe Lunardi's latest Bracketology.
I watched this team when Hummel was healthy and everytime he took a seat for a breather, Purdue looked completely lost on the offensive end.
Seventy-four points against a basement team in the Big ten team like Indiana doesn't count.
Forty-four Points in the loss at home to Michigan State is more like it.
Kansas State Wildcats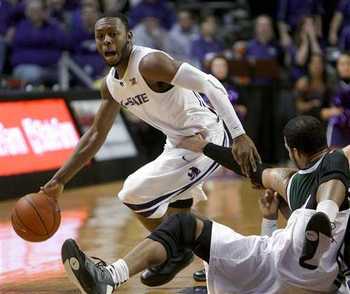 Potential Seed: 1 or 2
If I told you that Kansas State was playing the four seed Michigan State Spartans in the Sweet 16, would you tell me you were confident they'd win? I thought so.
Joe Lunardi's latest bracketology maps that path for the Wildcats. Let's hope they get a different one.
How many times must Kansas State disappoint us for us to learn that they aren't actually that good?
In their most recent disappointment, the Wildcats got ousted by in-state rival Kansas, 82-65.
They lean on their backcourt of Denis Clemente and Jacob Pullen, a gameplan that has been pretty effective all season, but not one that can't get them past No. 4 seeds like Michigan State, Tennessee, or even Wisconsin.
Villanova Wildcats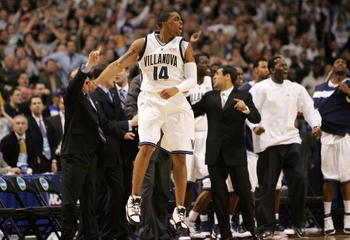 Potential Seed: 2
Even before the season began, I wasn't too high on the Villanova Wildcats.
Many believed that Dante Cunningham's departure could be overlooked, but as the season has come to an end, I find that void still looming.
The Wildcats of this year lack a front court. They rely on freshman Mouphtaou Yarou and returning junior Antonio Pena, who were clearly out-muscled in their five losses to Syracuse, Pitt, Georgetown, Temple, and Connecticut.
Their potential Sweet 16 matchup against No. 3 seed Ohio State looks very bad for the Wildcats and it looks like Evan Turner will be causing matchup problems for these small Villanova Guards.
West Virginia Mountaineers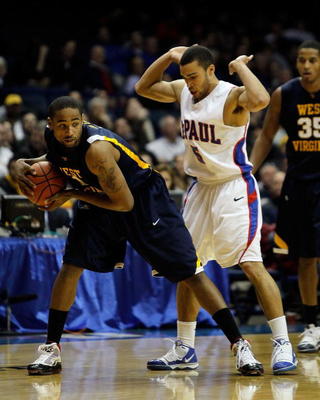 Potential seed: 2 or 3
What do you get when you start four small forwards and an undersized shooting guard? The West Virginia Mountaineers.
West Virginia is one of those teams that plays many players out of position in hopes that their players will adjust their games to fit the positions.
They have no true center and their two power forwards, Kevin Jones and Devin E'banks, have been shooting more jump shots this season than any other shot, and missing.
What does this mean for the Mountaineers come tourney time? Bad news.
Joe Lunardi's latest bracketology: The Potential opponents for the Mountaineers are the No. 6 seed Baylor Bears in the second round (who should be ranked higher) and the No. 2 seed New Mexico Lobos in the Sweet 16.
I don't even see West Virginia making it past the second round if this were the case. Baylor's Center Ekpe Udoh is too good defensively for West Virginia's undersized forwards to score in the paint, and Baylor's point guard, Tweety Carter, and shooting guard, Lacedarius Dunn, will run West Virginia's four forwards out of the building.
This team lives and dies by De'sean Butler and his three ball. When he's off they get clobbered, which was recently seen in their upset loss at UConn (he shot 0-4 from three-point and 2-10 from the field to finish with only nine points).
Keep Reading

Duke Basketball: Like this team?