San Francisco 49ers: 2010 Draft Picks (Post-Combine Edition)
Here's my second take on who I believe the 49ers will draft with all of their draft picks. This draft isn't a sexy mock draft as I've tried to keep it realistic. I've also tried to include who I think would be the best available picks on the 49ers' board when they pick. I tried to include trends of how GM Scot McCloughan has picked in the past. Scot appears to like players from the bigger conferences such as the SEC, although he does have a history of drafting small school players. I think the 49ers are not afraid to pick a player who has ability but requires coaching before he is able to contribute on a regular basis. This edition does not include compensatory picks. I'll try and do a post-free agency edition right before the draft. Please let me know what you think.
Round One: No. 13 - OT, Trent Williams, Oklahoma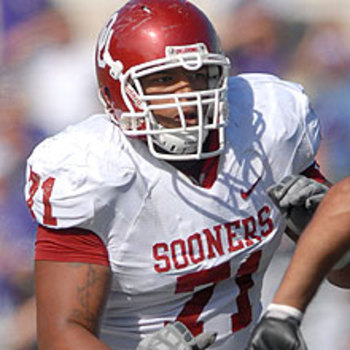 Trent Williams had an excellent combine; however, many teams might see him as a right tackle which will push him into the middle of round one. Remember he was an All-American at left tackle.
Round One: No 17 - SS, Taylor Mays, USC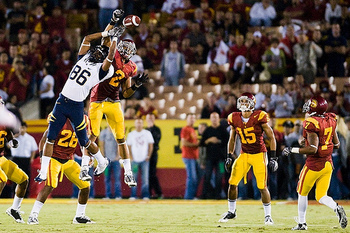 Rumors are the 49ers are interested in Mays. Mays would play in nickel situations early in the season and replace Michael Lewis as the starter in the middle of the season. Mays may lack bawlhawking abilities, but the 49ers will believe they can work on his coverage skills. The 49ers will also use him as a strong safety, which in their scheme is more responsable in run support. This pick will add speed in the 49ers secondary. If Mays is gone the 49ers also could go after Earl Thomas who would push Goldson over to strong safety.
Round Two: No. 49 - OT/G, Rodger Saffold, Indiana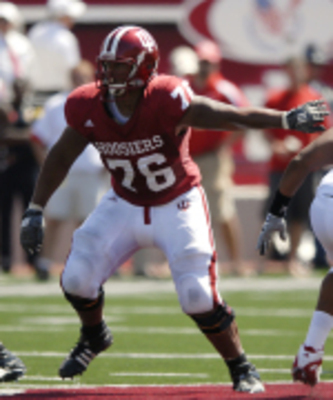 Brandon Spikes might be tempting at this pick. Spikes didn't run the 40 and looked slow in drills; therefore, he could slip into the middle of the second round. The 49ers have 4 inside linebackers on their roster and Spikes would need to be their best player at this spot to warrant consideration. I do believe Saffold would be the best rated player on the 49er's board at this positon. Saffold had a good combine. The 49ers will look for another lineman who could play tackle or fight for a starting job at guard. Either way the 49ers will upgrade their line with this pick.
Round Three: No. 79 - CB, Donovan Warren, Michigan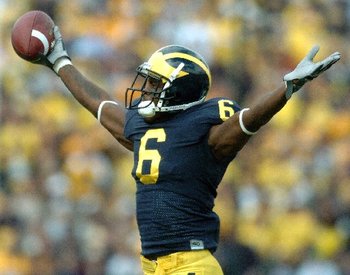 The 49ers need to get younger at the cornerback position. Warren's slow time in the 40 at the combine hurt his stock. He might fall to the middle rounds. If he does the 49ers will be excited. Warren has a chance to come in and be a nickel cornerback right away. Warren has the ability and size to eventually become a starting corner. Myron Lewis or Chris Cook are other possibilities with this pick. This draft has great depth at the cornerback position that is why the 49ers should look for cornerbacks in the mid rounds.
Round Four: No. 114 - RB, LeGarrette Blount, Oregon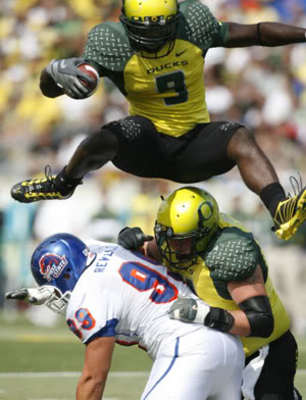 The 49ers find their change of pace back. I would of had Toby Gerhart here, but Gerhart had a excellent combine and showed why he was the runner up for the Heisman. Gerhart won't likely be here with this pick. Blount is a big powerful back. He's a player that will likely go in the 3rd round; however, because of character concerns he could slip into the 4th. I would like to see the 49ers draft Blount or Gerhart in the 3rd round because that is where I see them both going; however the 49ers did select Coffee in the 3rd last year. Picking up a running back in the 3rd might say that Coffee wasn't the right selection last year.
Round Five: No. 147 - CB, Walter Thurmond, Oregon
The 49ers continue to become younger in the secondary. Thurmond is a excellent cover corner and has return abilities; however last year he had a season ending knee injury. This is a reson why he falls this far and other injury concerns in his past. Thurmond has size and potential to compete for a roster spot.
Round Six: No. 185 - NT, Kade Weston, Georgia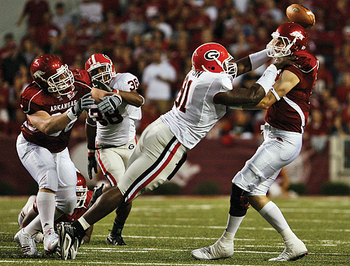 The 49ers pick up a huge nose tackle (6'-5", 320 lbs) to try and develop into the successor for Aubrayo Franklin. Another nose tackle to look at in this position would be Al Woods out of LSU. Weston would be the better choice.
Round Seven: No. 228 - OLB, O'Brien Schofield, Wisconsin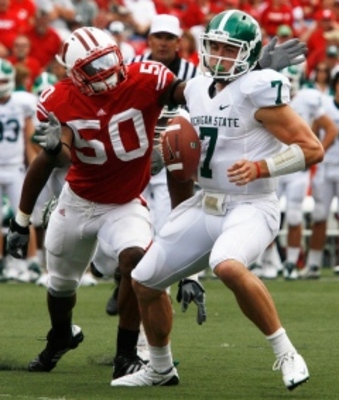 Unfortunatly, O'Brien Schofield tore his ACL in Senior Bowl practices; however, the 49ers could use his pass rushing ability and take him with this late round pick. Schofield probably wouldn't play at all his rookie year, as he recovers, but would have a chance to learn the playbook and other mental aspects of the game. This time would also give him time to put on additional muscle. This would be an excellent pick if Schofiled is still available at this spot.
Keep Reading

San Francisco 49ers: Like this team?