Here's a Thought: Analyzing the Los Angeles Angels' Bullpen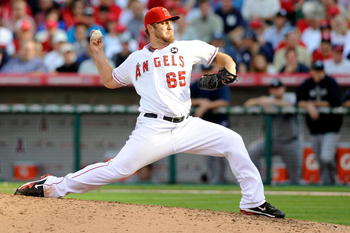 I've already taken a look at the strong bullpens of Seattle and Oakland; however, the Angels' bullpen is less set than either the Mariners' or the Athletics'.
Candidates I'll be analyzing include:
Brian Fuentes
Fernando Rodney
Scot Shields
Kevin Jepsen
Jason Bulger
Brian Stokes
Matt Palmer
Rafael Rodriguez
Fernando Rodriguez
Francisco Rodriguez
Rich Thompson
Brian Fuentes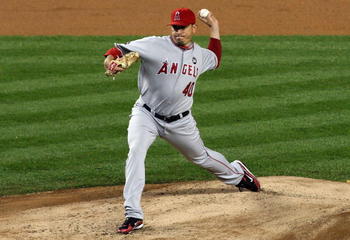 A sidearmer with a vicious low-90's tailing fastball, Fuentes racked up saves last year, but was surprisingly ineffective overall despite moving from Colorado to LA.
Fuentes' xFIP was an unacceptable 4.94, a huge jump from 3.05 in 2008.
Fuentes lost velocity on both his fastball and slider, and the slider turned into an ineffective slurvy pitch. This led to a decrease of over 4 K/9 from 2008.
If he regains his stuff, Fuentes could be a solid late-game reliever again. If he's still got his 2009 stuff, however, he's best suited as a sidearming situational lefty.
Fernando Rodney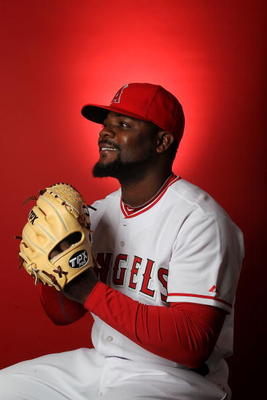 Rodney experienced a batted-ball revolution last year, decreasing his line drive rate by a whopping 15.2 percent, and upping his groundball rate by 17.7 percent. That led to a ERA improvement of .95 runs from 2008. Rodney's 4.40 ERA understates his 2009 performance a bit; he deserved to be in the 3.8-3.9 range.
That said, Rodney needs to hold every bit of that improvement, which is unlikely, to even be a viable second or third best reliever, which is what the Angels apparently think he is.
A flamethrower with a very good changeup, Rodney doesn't even throw a breaking ball, so he has a severe reverse platoon split. Like Fuentes, he's best suited for mowing down lefties.
Scot Shields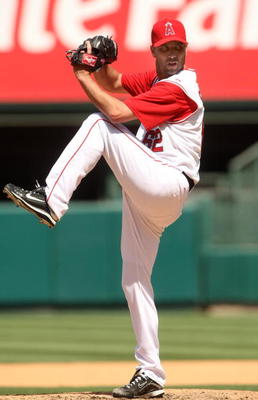 Like Fuentes, Shields was extremely solid in 2008 (deserving a 3.6-3.8 ERA) before collapsing in 2009, walking more batters than he struck out and posting a 6.62 ERA that was only a bit unlucky.
We can write 2009 off as an injury year, as Sheets had left knee trouble that limited him to 17 2/3 painful innings, but he is now pushing 35 (Weird, huh? He seems like he should be 30.) and it's possible that his 2004-06 stuff will never quite return.
A sinkerballer, Shields works in the low-90's with late life, and throws a decent sweeping curveball as his second pitch.
If he's healthy, expect a FIP around 4.00.
Kevin Jepsen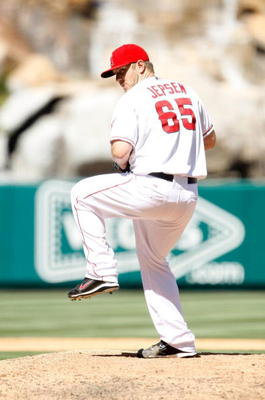 It might seem like I'm just being a negative A's fan when discussing Fuentes, Rodney, and Shields, finding everything wrong with them because of their uniforms.
But no, I'm just being honest about them. And I'll be honest again here: Kevin Jepsen is a very good reliever.
Ignore the 4.94 ERA. FIP and tERA both have Jepsen at 2.81, and his xFIP and true ERA are 3.53.
A .365 BABIP did Jepsen in in 2009, but that's unlikely to continue, and when it regresses, the Angels will realize that Jepsen is better than Fuentes, Rodney, or Shields.
Jepsen can dial his fastball up to 100 (on rare occasions, he usually tops out at 98), and he backs it up with a vicious cutter-curve combo.
Jepsen is a poor man's Andrew Bailey, and could become a dominant late-game reliever as soon as this season. An ERA over 3.50 would come as a surprise.
Jason Bulger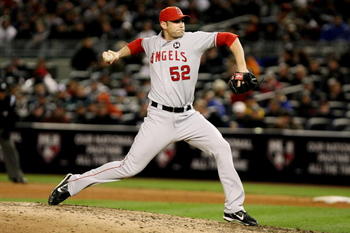 I've been an unapologetic Bulger fan for years, as he dominated Triple-A hitters but never seemed to catch a break.
He finally did in 2009 at age 30, and posted a well-deserved 3.56 ERA while striking out over a batter per inning.
Another power pitcher, Bulger works in the mid-90's, but it's his 80-mph curve, which he uses a whopping 40 percent of the time, that is his go-to pitch.
In my opinion, Bulger and Jepsen are well-equipped for high leverage work, and more equipped than Fuentes, Rodney, or Shields.
Brian Stokes
I've never been a Stokes fan; a 1.51 career K/BB ratio does nothing to inspire confidence, and neither does a HR/9 of over 1.
Stokes gets his fastball up there in the mid-90's as well, but lacks plus command or a second plus pitch. His curveball is okay, and his changeup is below-average. His fastball lacks movement, leading to the high homer rate.
Stokes is best served in Triple-A. He's an acceptable trash-time guy, but I wouldn't want him in high leverage spots.
Matt Palmer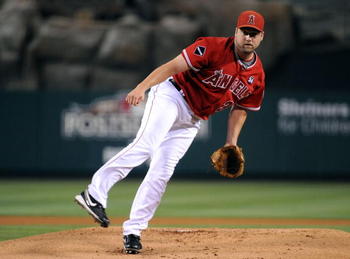 A pitch-mixing command guy in a bullpen of flamethrowers, Palmer acquitted himself surprisingly well as a swingman last year.
His 11-2, 3.70 line is very lucky, and his K/BB ratio barely broke 1, but Palmer limited liners (15.7 percent), and kept the ball on the ground (50.7 percent).
Palmer is a five-pitch guy who throws his heater in the 87-91 mph range, but backs it up with a very good cutter and solid curveball. He can also scrap his ineffective changeup if left in relief.
Palmer is better than Stokes, and is a nice long reliever, with the cutter to lefties and curveball to righties allowing him to work long stints.
Rafael Rodriguez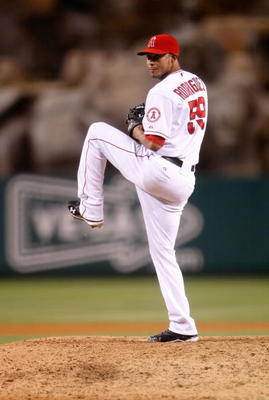 A control pitcher, Rodriguez couldn't even crack three K/9 in over 30 innings with the Angels last year.
ERA and all the advanced DIPS ERA metrics conclude he was not effective. His xFIP is by far the most optimistic figure, at 4.71, while tERA pegs him at 6.32.
Rodriguez couldn't get his fastball over for strike one, and he couldn't get batters to chase his slider, so he found himself in hitter's counts often. This led to Rodriguez avoiding walks by throwing meatballs, and batters smoked a ton of liners (25 percent).
Rodriguez has some "stuff," with a low-90's heater, solid slider, and acceptable changeup, but he clearly isn't fooling anybody, failing to crack even six K/9 in Triple-A.
He'll need to figure out some deception if he's going to survive in the majors, and is likely headed back to Triple-A.
Fernando Rodriguez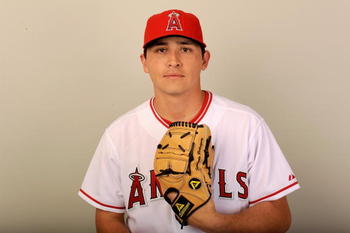 Rodriguez got off to a roaring start in Double-A in 2009, striking out 52 batters in 42 1/3 innings, not allowing a homer, and posting a 2.37 FIP.
Then the wheels came off at Triple-A.
His strikeout rate was cut nearly in half (6.08); he struggled with walks (5.59); and he got bashed around for a 7.34 ERA and 5.63 FIP.
A six-batter appearance in the majors led to two outs, two walks, a wild pitch, and a homer.
Rodriguez works in the low-90's. His best pitch is a mid-70's curveball, and he also has a cutter and change.
His Double-A stats are encouraging, and perhaps he just needs a year to figure out Triple-A before becoming an effective middle reliever. He's pushing 26, however, so he has to learn quickly.
Given his Triple-A struggles, it would be a shock for him to make the Angels.
Francisco Rodriguez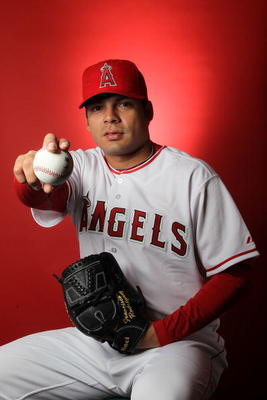 No, not that one.
This Francisco Rodriguez was Salt Lake's long man last year. His numbers with 3.96 ERA, 4.62 FIP, 1.50 K/BB, .93 HR/9 were pedestrian, but acceptable across the board.
Of the three Rodriguez's competing for the last bullpen slot, Francisco is the best. He's also the oldest at 27.
I wouldn't take him over Palmer, but Rodriguez is comparable to Stokes in terms of results.
Rodriguez throws a slow, bendy curve to complement a high-80's fastball and solid cutter.
Rich Thompson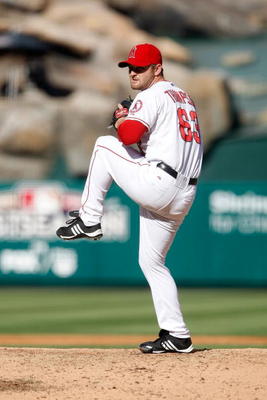 Thompson has seen action with the Angels in 2007, 2008, and 2009 seasons, posting a 7.71 ERA in 28 innings.
The ERA is partially due to horrible HR/FB luck (career 27.8 percent), which helps explain the 10 homers in those 28 innings.
The Australian righty works in the 90-95 mph range with his fastball, and has a plus curveball that serves as his out pitch.
His encouraging performance in Triple-A last year (51/11 K/BB ratio in 43 1/3 innings) lends hope that Thompson can become an effective, if slightly homer-prone, reliever. He's also struck out 31 in his big league career.
Conclusions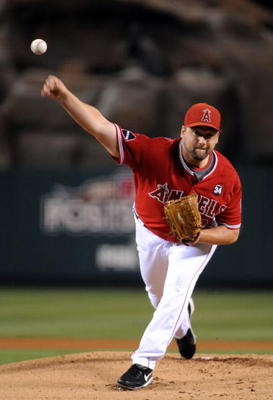 Fuentes, Rodney, and Shields are overrated, but they are certainly solid enough to pitch in the majors. Fuentes is the only lefty in the bullpen, so Rodney's changeup will be a valuable asset, essentially turning him into a second lefty.
Jepsen and Bulger are the two best pitchers in the unit, and should be handed plenty of high-leverage innings.
Beyond that, the picture gets fuzzier. Palmer should get a long relief slot, and the Angels could either end it there (going with a six-man bullpen) or pick from Stokes, Thompson, and Francisco Rodriguez.
Out of that group, I'd probably take Thompson, although the Angels could elect to use Rodriguez and send Thompson to Salt Lake to work on keeping his fastball down in the zone.
Keep Reading

Los Angeles Angels: Like this team?