NFL Combine Results 2010: Grading by Position: Offense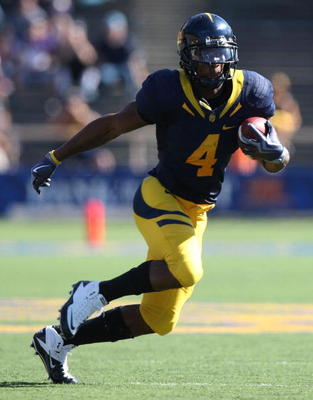 The 2010 NFL Draft class has proven to be one of the deepest both on the field and during the combine.
I have taken the time to evaluate each group of offensive players and compare it to previous draft classes.
It is judged on how many stars each group has, along with how deep the group is.
Please let me know what everyone thinks, both good and bad. Thanks!
Enjoy!
Quarterbacks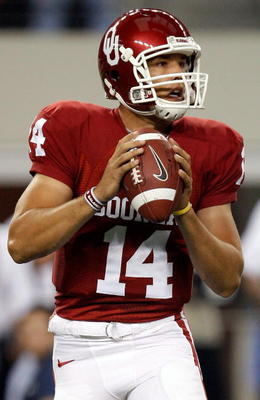 Despite lacking a "true" superstar—some could argue both Bradford and Clausen are elites—the 2010 class boasts a very deep roster.
Two potential franchise quarterbacks lead the class with Sam Bradford and Jimmy Clausen. Both have incredible arms and the ability to lead their teams.
But, both quarterbacks do have some downside that usual top five picks do not have.
The rest of the class is very solid as well.
Tim Tebow, Tony Pike, Dan Lefevour, and Colt McCoy are all very interesting players and have the potential of either starting or making an impact in the NFL.
The 2010 class also has players with a lot of potential.
John Skelton and Jarrett Brown have proven to have the potential to succeed in the NFL, and it is rare to have those caliber of players falling that late in the draft.
Grade: B+
Running Backs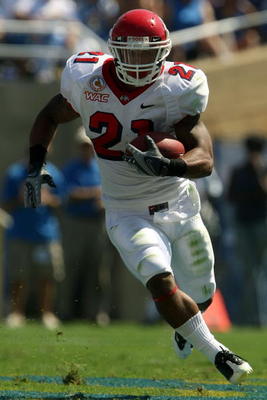 Another very deep group, the running backs have so many varieties this year.
There are big backs—Jonathan Dwyer, Toby Gerhart, Anthony Dixon, and LeGarrette Blount.
All-Purpose Backs—C.J. Spiller, Dexter McCluster, and Joe McKnight
And every-down backs—Jahvid Best, Ben Tate, Ryan Mattews, and Montario Hardesty.
This group proved at the combine to have many players that will be able to succeed at the next level.
In a league where teams are almost required to have at least two able running backs, the 2010 class will be able to fill many holes.
Look for many of these players to have big impacts in the NFL next year, and many more to end up starting in the years to come.
Grade: A-
Wide Receivers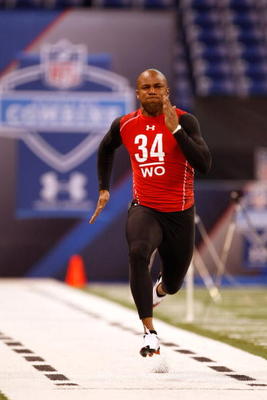 The 2010 group of receivers are as deep as they come, but many of them also come with a lot of baggage.
Dez Bryant—the consensus No. 1 rated receiver—is a guy I am not sold on. He has a lot of attitude problems, and from the tapes I have watched, has a tendency to drop the ball and take plays off.
Still, Dez Bryant is not the whole class, and their are many more talented players.
Golden Tate has proven to be one of these solid players.
He showed up at the combine in great shape, and he looks to be one of the safest picks in the entire draft.
Other players like Arrelious Benn, Demariyus Thomas, Brandon Lafell, and Mike Williams have a ton of upside, and could become big NFL players.
Where this class really takes off is in the later rounds.
Speed demons like Jacoby Ford, Taylor Price, and Carlton Mitchell should be steals in the later rounds, and could potentially impact the league immediately.
Grade: B
Tight Ends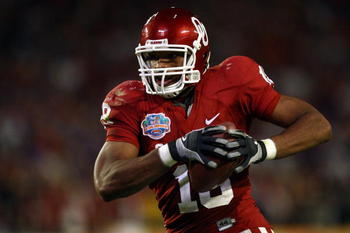 This group of tight ends shined above everyone on offense during the combine.
Many of the tight ends looked just as athletic as the wide receivers, and some were just as strong as lineman.
The 2010 class boasts not only some great receiving tight ends but also some excellent blocking ones.
Players like Nate Byham and Brody Eldridge should be steals in the later rounds, and they both have the potential of making a big difference in their teams' run game.
Then, the class really takes off with the receiving tight ends.
Jermaine Gresham, Rob Gronkowski, Aaron Hernandez, Dorin Dickerson—the list goes on—all can be starters in the NFL.
This class could send potentially three people in the first round, and another six could be taken in the second or third rounds.
With interesting players like Dorin Dickerson and Dennis Pitta—both of wh are extremely versatile—this class is a cut above everyone else.
Grade: A
Offensive Tackles
The tackle classes just seem to keep getting better. With three players selected last year in the top 10; the 2010 Draft could be following a similar pattern.
Russell Okung, Trent Williams, Brian Bulaga, Anthony Davis, and Bruce Campbell could all go in the top 15.
Okung is the consensus No. 1-rated offensive tackle. He is not only a physical machine, but he also has the tape to back it up.
Okung should go in the top five, and he will probably be a franchise left tackle for many years to come.
Bulaga and Williams are two other tackles who are very NFL-ready.
Both came from very good schools with great coaching, and they could both potentially start immediately.
The class gets very interesting with players like Bruce Campbell, Anthony Davis, and Tony Washington. All of these players have the talent to succeed, but some are not mature enough.
This class of tackles is a little top heavy. The top five really stands out above everyone else, and while there are some good prospects later in the draft; it lacks the depth of the running backs and tight ends.
Grade: B+
Guards/Centers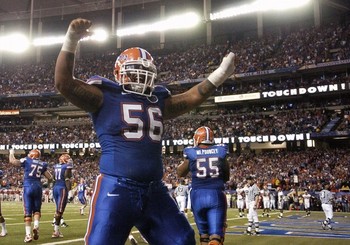 The guards and centers, while having some very good players, are still considerably weaker than the other groups of players in the draft.
Mike Iupati and Maurkice Pouncey both have first-round talent, and are both the No. 1-rated guard and center.
Iupati was projected to go in the mid-first round, but after a poor performance at the combine, his stock has fallen to the late first round.
Pouncey, on the other hand, had a very good solid combine, and he looks to move in the late first round to a potential contender.
Other top guards and centers include Rodger Saffold, Jon Asamoah, Eric Olsen, and Mike Johnson. All could go as high as the second round or as late as the fourth round.
Many players could become starters or solid backups in the years to come, but looking at the group as a whole; it neither has the star power nor depth as previous groups.
Grade: C+
Special Teams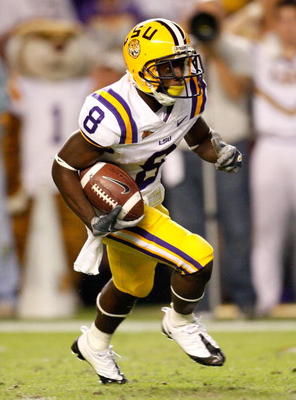 Another very group of players, the special teams players are strong in kick returners, kickers, and punters.
Trindon Holliday leads the class of speedy kick returners this year. The little Tiger can move with the best in the world, and he should immediately get playing time in the NFL.
The 2010 class also strong returners in Brandon James and Brandon Banks. Both may not get drafted, but they should both find their way into the NFL at some point and probably become regular special teams players.
The 2010 class is exceptionally strong at kicker.
Leigh Tiffin of Alabama and Aaron Pettrey of Ohio State lead the class, and both should be drafted somewhere between the fifth and sixth rounds.
Lastly, Zoltan Mesko leads a fairly talented group of punters.
The NFL is becoming more and more of a specialized league, and good punters are more of a priority than ever. Other top punters include: Matt Dodge and Brent Bowden.
Grade: B
Stay Tuned...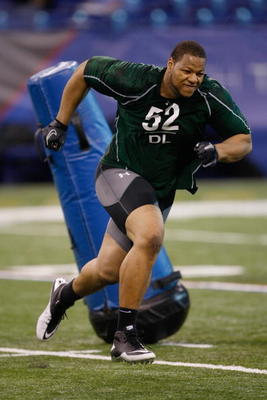 Stay tuned for the grading of the 2010 defensive players.
Please let me know what you think, both good and bad.
Keep Reading