2010 MLB Predictions: Pittsburgh Pirates' Projected Starting Lineup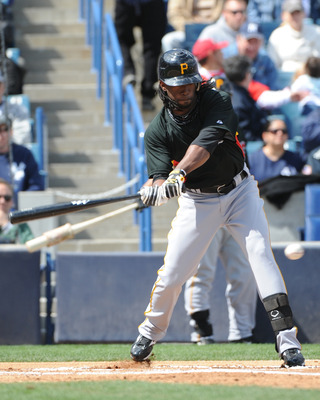 The Pirates don't have a whole lot to look forward to this season with the trading of so many of the best players on the team recently, such as Freddy Sanchez, Jason Bay, and Jack Wilson.
With the loss of closer Matt Capps, the bullpen is absolutely nothing, as well as a rotation anchored by either Paul Maholm or Zach Duke.
But a few bright spots, like young players Andrew McCutchen and Garrett Jones, at least give loyal Pirates fans something to look forward to.
Starting Rotation
Paul Maholm is likely to start on Opening Day for the Pirates. Maholm went 8-9 with a 4.44 ERA in 31 starts last season.
These numbers are not the greatest, but Maholm has more experience than Ross Ohlendorf (11-10, 3.92 ERA in 29 starts) and more consistency than Zach Duke (11-16, 4.06 ERA in 32 starts).
Duke will likely be the No. 2 starter, followed by Ohlendorf, coming off a surprising season with the Pirates.
Young pitchers like Charlie Morton, Evan Meek, and Kevin Hart will fight for the last two spots in the rotation.
Bullpen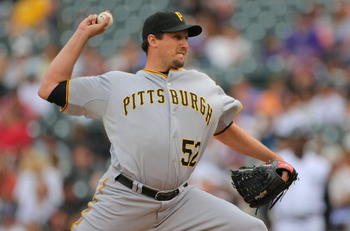 Joel Hanrahan is the man at the back of the Pirates' bullpen. He is taking over for recently departed closer Matt Capps, who signed with the Nats. Hanrahan had five saves last year in Washington and zero with the Pirates in 33 games.
Steven Jackson will set up for Hanrahan. Jackson pitched well in 40 appearances last season with a 3.14 ERA. Jackson could see himself in the closer's role if he continues to improve.
Chris Jakubauskas (6-7, 5.32 ERA with Seattle) will be a middle reliever, as well as young left-hander Donnie Veal (1-0, 7.16 ERA in 19 appearances).
CF: Andrew McCutchen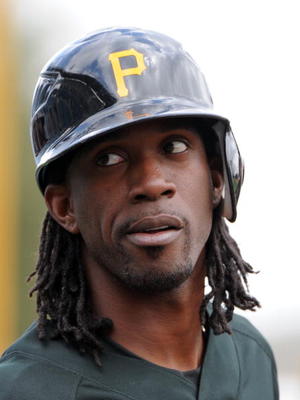 McCutchen played incredibly better than what was expected of him in 108 games last year.
With a .293 AVG, including 12 HR and 56 RBI, to go along with a team-leading 22 SB, McCutchen finished fourth in NL R.O.Y. voting behind eventual winner Chris Coghlan.
McCutchen is a perfect fit as a leadoff hitter right now, but he could eventually move down in the order if his power starts to develop.
Backup
Delwyn Young saw a little bit more playing time than McCutchen but did not impress as much (.266 AVG. 7 HR 43 RBI). Young will be the fourth outfielder going into the season but could move into a starting role if Garrett Jones moves to first base.
2B: Akinori Iwamura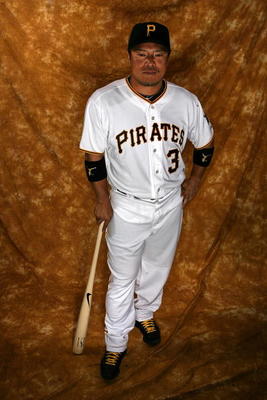 Iwamura saw a limited amount of playing time last season with Tampa Day due to injury, but the Japanese native still played pretty well. With a .290 AVG Aki will do well in the two spot but could swap with McCutchen.
Iwamura recorded a career-high 172 hits in 2008 in the Rays' magical World Series run. If he continues to develop to the American style of play, Iwamura could have a very good season.
Backup
Veteran Ramon Vazquez will likely be the backup. The journeyman saw success in 2008 with a .290 AVG and driving in 40 runs.
3B: Andy LaRoche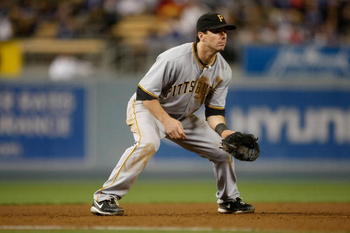 Andy LaRoche led all Pirates in games played last year (150) and saw moderate success in that time, driving in 64 runs to go along 12 HR and a .258 AVG.
LaRoche will hold down a spot at third for now, but it is likely that top prospect Pedro Alvarez will take it in a few years.
LaRoche needs to step it up if he wants to keep a spot in the starting lineup, especially in the power category.
The Pirates need more HRs from LaRoche this season so Garrett Jones is not the only HR threat in the lineup.
Backup
LaRoche could share time with September call-up Neil Walker.
RF: Garrett Jones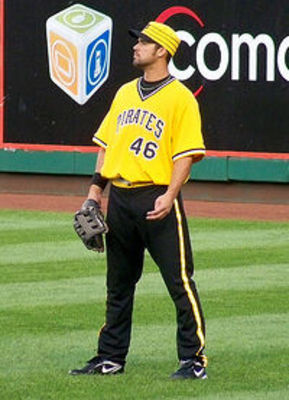 Garrett Jones only played in 82 games last year, but he made a very good first impression.
With a .293 AVG, team-leading 21 HR, and 44 RBI, Jones will be relied on to provide monstrous power numbers for the Pirates to see any type of success.
Jones has a lot of potential, and hopefully, for the sake of Pirate fans everywhere, he lives up to it...and then is traded for more useless prospects.
Backup
Ryan Church had a decent .276 AVG in 90 games last year with the Mets and will see very little time as a backup.
LF: Lastings Milledge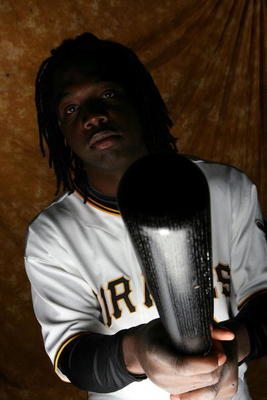 Lastings Milledge did not last with his two previous (WAS and NYM), but the highly regarded outfielder made an all right impression on Pirate fans in 65 games after the trade.
With a .279 AVG in 2009 , Milledge will look to continue improving his game, especially if he wants to make it with the Pirates. This could be his last chance.
Milledge will not "wow" you with his power numbers (18 HR), but driving in 82 runs is a way to keep yourself on an MLB roster.
Backup
Ryan Church
C: Ryan Doumit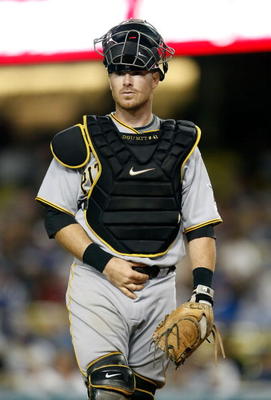 It seems like Ryan Doumit is the only veteran Pirate player that has not been dealt to a team in playoff contention.
Doumit has managed to be just mediocre enough to stay with the worst team in baseball. He hit a mediocre .250 with a mediocre 10 HR and a mediocre 38 RBI (see a trend).
With Jeff Clement coming up, maybe Doumit is replaced, but no improvement will be made.
Right now the Pirates are waiting for first round draft pick Tony Sanchez to arrive. It's going to be a long wait.
1B: Steve Pearce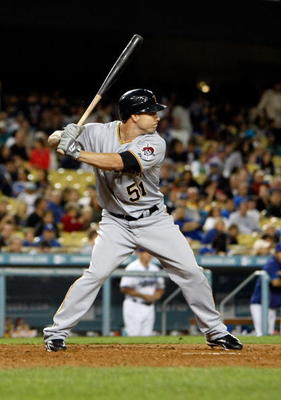 Only on the Pirates would you see a first baseman hitting this low in the order. Steve Pearce proved himself worthy as a No. 7 hitter last season, hitting .206 with only four HR in 60 games.
If Pearce continues to underperform, he could be replaced by Brandon Moss, who hit .236 and seven HR. This could be a slight upgrade, but Moss isn't a first baseman.
Pearce needs to evolve into something, or he will be on a fast track back to the minors.
SS: Ronny Cedeno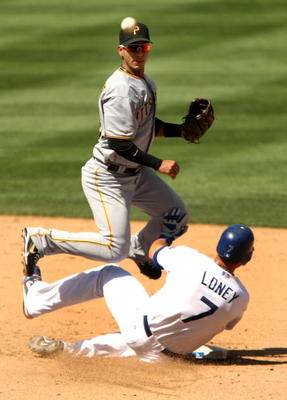 Ronny Cedeno was acquired from the Mariners last year in a deal that involved Jack Wilson, Jeff Clement, and a few prospects.
Wilson and Cedeno are very similar players; they both are horrific hitters with very good gloves. But Cedeno cost about $6 million less and came with a decent prospect.
Cedeno was well below the Mendoza line in Seattle at .167 but improved to .258 in Pittsburgh, hitting five HR for both teams.
Cedeno is valuable to maintaining the league's best fielding percentage but has no value otherwise.
Backup
Ramon Vazquez
Keep Reading

Pittsburgh Pirates: Like this team?