The Olympic Hockey Hangover: Fact Or Fiction?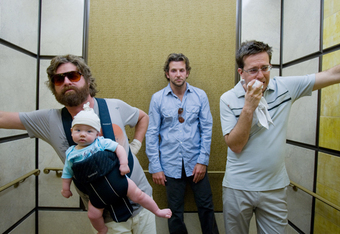 The first post-Olympic hockey game I watched was the Lightning vs. Flyers on Tuesday, just two days after a gold medal game for the ages.
And I have to admit, I had a bit of a hockey hangover.
Going from watching a gold medal Olympic rivalry game to a regular season NHL game felt a little like switching from a Canadian beer to an American.
Everyone knows the best cure for a hangover is just to drink more, right? Needless to say, shortly after the puck was dropped, my hangover was cured, and I was excited to watch hockey again.
But how does this Olympic hangover affect the guys that are actually playing the game?
In the game I watched, there were two players that really stood out. One was Steven Stamkos from the Lightning. Before the Olympics, Stamkos was on a ridiculous tear with 10 goals and 13 assists amassed over a 13-game point streak Fresh off a two-week vacation, he picks up a pair of goals against the Flyers, setting a franchise record scoring streak in the process. Fair enough.
Meanwhile on the other bench, Mike Richards, straight from arguably the most physically and mentally intense game of his life, puts up a goal and three assists against the Lightning. Despite very different February vacations, both players looked like they had a jump on the competition.
So, is the Olympic hockey hangover a real syndrome, or did we just make it up because we were bored?
Let's search for evidence:
The Detroit Red Wings have always fielded a big number of Olympians since the NHL started sending players in 1998. In 1998, the first year of NHL participation in the Olympics, the Red Wings went on to win a Stanley Cup. In 2002, the Red Wings also went on to win a Stanley Cup. Ok, I am really starting to doubt this hangover theory.
But in 2006, something interesting happened. The Red Wings supplied four of the key players for a Swedish team that took home gold. That year, the Red Wings went down in six games to an eighth-seeded Edmonton Oilers in just the first round of the Stanley Cup playoffs.
What happened? Had Detroit's players already emptied the tanks in February? Or, did they just happen to run into a very upstart Oiler team? After all, the Oilers did go on to make the Stanley Cup Finals that year.
Perhaps, the gold medal is just enough for one year. In 2002, Martin Brodeur led Team Canada to a gold medal, but then he went down in the first round of the Stanley Cup Playoffs with the Devils. The next year, 2003, Brodeur was back to his old self, hoisting another Stanley Cup.
There is no denying the importance of the Olympics and the Stanley Cup. For many players, choosing between a Stanley Cup with your devoted teammates, or a gold medal with your native homeboys, is like asking them to choose a favorite child. You love both of them, and they are special in their own ways.
An Olympic tournament crammed into an already grueling NHL season is a recipe for physical and mental exhaustion. It's like transplanting some game sevens directly into the month of February. It can be especially hindering, if you're the Vancouver Canucks and are forced to play an insane road trip.
Fatigue is a very real factor, especially in the playoffs, but it's hard to gauge the repercussions in May from an Olympic tournament back in February.
Ryan Miller was given a very well deserved day off in the Sabre's first game after the break. But now it will be business as usual for him the remainder of the season. If he falters, some will blame the Olympics for making him tired. If he succeeds, they will say the Olympics made him a better player and hungry for more.
Overall, despite some convincing evidence, I feel the Olympic hangover is not much of a phenomenon at all.
Different players react in different manners. Some players, like Stamkos and Richards, are left sparked, whether coming from a tournament or a vacation. The causes of slumps and scoring streaks are an aspect of hockey that no one will ever fully understand.
All NHL teams are affected by the Olympic break. So, it is up to the individual player to make no excuses and find reasons to push themselves. Whether it is for the fans, family, trophies, or the (sigh) paycheck.
Aside from a few nervous owners, NHL players in the Olympics are a treat for the whole world. The fans know they are witnessing the absolute best each country has to offer for hockey.
Hopefully, the NHL realizes this and continues this tradition in 2014, and we can all fight through the hangover together.
This article is
What is the duplicate article?
Why is this article offensive?
Where is this article plagiarized from?
Why is this article poorly edited?