2010 NFL Draft: Breaking Down the Oakland Raiders' First Round Possibilities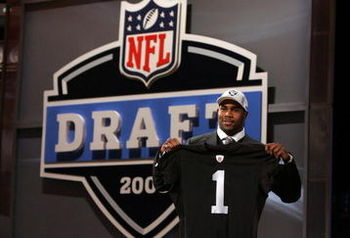 The Raiders have a lot of holes on their team, which also means they have a lot of options in the draft.
"Experts" and fans alike have countless opinions on who the Raiders will select with the eighth pick of the draft.
Here's a look at some of the players who have been seen going to the Raiders in mock drafts, as well as arguments for and against each player.
Bryan Bulaga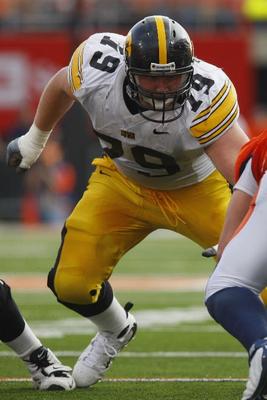 Bryan Bulaga is incredibly intelligent, and at 6'5", 315, he often plays with great leverage. By some he is considered the meanest, nastiest tackle in the draft.
His pass blocking is impeccable and among the best in the draft. His run blocking, though not much of a talking point, is still above average.
He also comes from a zone-blocking scheme very similar to what the Raiders currently run. He has great technique and understands angles and blocking schemes very well. He may have the best technique of all O-lineman in this year's draft.
On the downside, he has less than ideal athleticism for the position, as well as a thyroid condition that sidelined and limited him for part of the past season. Such conditions often cause uncontrolled weight fluctuations and will need to be kept in check with medication.
Verdict
The Raiders will not draft Bulaga in the first round because they value physical ability over polished technique and an understanding of the game. The thyroid condition is also too big of a concern to warrant being picked eighth overall.
Jason Pierre-Paul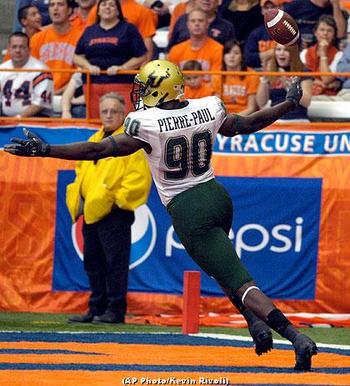 I know the Raiders don't need a defensive end or an improved pass rush. They ranked 11th in sacks last year and just franchised Richard Seymour.
But I had to include him because Mike Mayock and Todd McShay have him going to Oakland on both of their boards.
At 6'5", 260, he has impressive measurables and is expected to play OLB in a 3-4.
He can be described as a workout warrior and is likely either this year's Brian Orakpo or Vernon Gholston.
With the fastest 40 time among D-linemen, he is by popular opinion the best pure edge rusher in the draft. By some accounts he has the quickest first step of all defenders in the draft and may very well be the most athletic D-lineman.
Yet he lacks the strength to hold the edge in run support and may be too small to be an every-down player. He only has one year under his belt starting against top competition and often disappears against the run.
Verdict
The Raiders may actually draft this guy, as D-end is a bigger need than first glance would suggest. Trevor Scott recently moved to linebacker, and Greg Ellis is often sidelined with an arthritic knee.
But they shouldn't draft him because they have other needs, and there may very well be better options at defensive end.
Bruce Campbell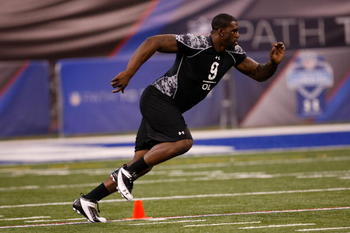 By many considered as the most athletic OT in the draft. At 6'7", 310, he has amazing quickness and agility for a man of his size.
He has great arm length, footwork, and lateral movement, which helps him mirror and shut down speed rushers.
Because of his athleticism he is quite possibly the best OT in the draft at getting to the second level or in situations that require him to work in space, such as plays that require him to pull or blocking in screens.
Because of his physical attributes alone, he is an ideal fit in the ZBS, and Al Davis may have his eye on him.
He continued to impress at the Combine. He had the fastest time of all O-linemen in the Combine. He put up an impressive 34 reps in the bench press and had a 32" vertical leap.
Unfortunately, like the last player the Raiders drafted out of Maryland, he is considered a very raw talent. His technique run blocking is suspect. He lacks aggression and a mean streak. He relies on his athleticism too much and because of his height often loses leverage.
Scouts have described his technique using words like sloppy and lazy. He also developed some injury problems his last year in college.
Verdict
Bruce Campbell may very well be on Al Davis' radar because of his physical ability. But because of his raw talent, he may not be an immediate starter at left tackle and will need good coaching to reach his full potential.
However, he may still be a viable option to play right tackle.
Taylor Mays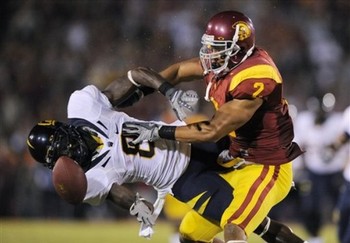 Taylor Mays put up monster numbers at the Combine. At 6'3", 230, he ran a scorching hot (unofficial) 4.24 40-time, had a 10'5" broad jump, and a 41" vertical jump.
During the season he excelled in run support, and though his pass coverage isn't bad, it is his weak point. He is known for being hesitant in pass coverage and often goes for the big hit on the receiver rather than making a play on the ball.
His technique, pursuit angles, decision-making are often less than ideal as well. But he often makes up for mistakes with his superior athleticism and excellent effort.
Despite his big hit ability, he often misses open-field tackles and rarely drives through while tackling. He is often fooled by play fakes and pump action, and his hips are said to be too tight to excel in man coverage.
Verdict
Many believe Al Davis will fall in love with Mays' physical ability and won't be able to resist taking him eighth overall.
Because of his tight hips and impressive range covering, he would make a great FS for the Raiders covering the deep zone...except for when the offense runs play-action.
But drafting Mays would mean giving up on Michael Huff (former first round pick) and Michael Mitchell (former second round pick). That is why the Raiders will not pull the trigger on Mays.
Anthony Davis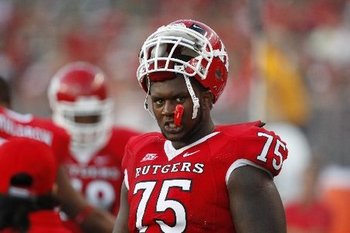 Mel Kiper's latest mock has Anthony Davis going to the Raiders.
Antony Davis, by some accounts, is an ideal build for an NFL offensive tackle and has more upside than any other prospect.
At 6'5", 325, he has massive legs and a broad wingspan. He plays with tremendous strength and leverage and is easily the most dominant run blocker in the draft.
His pass blocking is above average, but he lacks lateral movement and may have trouble with some of the NFL's speed rushers.
Unless he improves his athleticism and quickness, he is an unlikely candidate to play left tackle, but he is an ideal candidate to play on the right side.
His weight, conditioning, and ability to get to the second level are all mild concerns. He may be this year's Andre Smith.
At the Combine he only disappointed. He looked slow, out of shape, and out of sync. In the bench he only put up 21 reps at 225.
Verdict
Because of his results at the Combine he has likely fallen off the Raiders' radar. But if they are willing to disregard the Combine, they may consider him. He is by no means a left tackle but is well suited to play the right side.
Russell Okung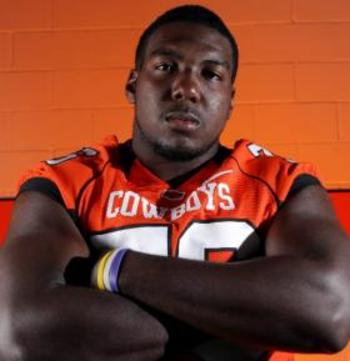 By many considered as the only "can't miss" O-line prospect in the draft. The chances of him falling to the Raiders are slim to none.
At 6'5", 305, the man seems to have no weaknesses. He is overly athletic for an O-lineman. He is great in pass protection and is a road grader run-blocking.
It would be a blessing if he were to fall to the Raiders, and he would be the answer to many of the Raiders' offensive woes.
Despite the fact that a few new mocks have Anthony Davis passing Okung as the first OT taken, such scenarios are no more than wishful thinking, especially now that the Combine is over.
Verdict
If somehow he falls to the Raiders at the eighth pick, it would be a blessing the team cannot pass on.
Carlos Dunlap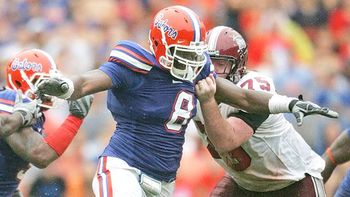 Physically, Carlos Dunlap is in a league of his own.
He opted out of most of the Combine events, choosing to work out at his pro day. But he did weigh in at a lean 6'6", 277 pounds and ran a 4.7 40-yard dash. That's down from his former 290-pound self.
Regardless, the man is a beast.
Because of his size and strength, he excels against the run, and because of his superior physical ability, he is among the draft's top pass rushers.
But there is no such thing as a perfect player—the man has his flaws.
He is an above-average pass rusher, but he relies on his athleticism too much. He can beat offensive linemen around the edge or with a bull rush, but he has no "moves"—no spin, no swim, nothing.
He also has been accused of taking plays off, and there is that whole DUI thing. Many think despite his vast array of physical tools he is yet to live up to his potential.
By some accounts he has the most boom or bust potential, making him a real gamble.
Verdict
If the Raiders drafted him, they would have the most dominant D-end tandem with Seymour and Dunlap, but at the expense of neglecting the O-line and interior D-line.
Al Davis may fall in love with his height-weight-speed combination, but the Raiders should not use the eighth pick on him because of other needs.
Trent Williams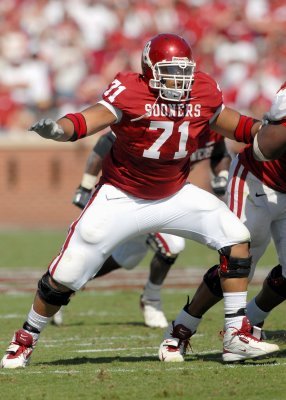 Though a likely first round selection, opinions about his ability vary. He either has tremendous upside and should be one of the first OTs taken in the draft, or he is the most overrated OT in this year's draft.
At 6'5", 315, he has great athleticism, strength, and size. He has a good mean streak in the run game and is good at getting to the second level. He has the agility, quickness, and lateral movement to shut down pass rushers.
His run blocking is above average but not spectacular.
But he has some issues. He has been accused of taking plays off at times. He has short arms for his size, and his motor and focus are often questioned. He is said to be not playing up to his full potential.
At the Combine he impressed with the second fastest 40 among all O-linemen at 4.88 and showed great athleticism in many of the other events. But in the bench press he was only able to complete 23 reps.
Verdict
Though he is an impressive physical specimen, he is too big of a reach to take eighth overall. There are too many concerns about his work ethic and consistency. Plus, there will be better talent available when the Raiders pick.
Dan Williams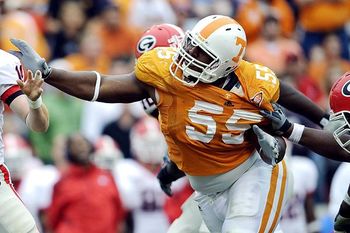 Dan Williams may be a reach at the eighth pick, but he would fill the Raiders' biggest need on defense.
Sure, his stat line may not be very impressive, but he makes life easier for every other defender in the run game and is even effective in the pass game, collapsing the pocket.
At 6'3", 327, his 5.17 40 time was little to brag about, but his 40 shouldn't be a concern. His 27 reps in the bench also didn't turn very many heads.
Verdict
A big run-stuffing DT is the Raiders' second biggest need behind fixing the O-line. If they aren't happy with any of the OTs available when they pick, don't be surprised if they reach for a DT like Dan Williams.
Tim Tebow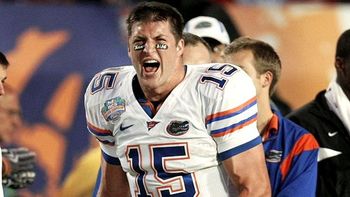 Tim Tebow has all of the intangibles you would look for at QB. He is an emotional leader, has amazing work ethic, heart, desire, and great faith, and some would even say he has God on his side.
In college he showed great decision-making and ran much like a power running back.
At the combine he also showed to be very athletic. Weighing in at 6'2", 236, he ran a 4.72 40-yard dash and tied Josh McCown for the highest vertical leap of a QB in the Combine's history.
Not all is good though. He has questionable arm strength, and his deep balls often float and have been described using words like sloppy, ugly, lame duck, and nonexistent.
Though he has changed his throwing motion for the NFL, his throwing technique has been called awful. He has a windup, a slow release, and little velocity on the ball.
Verdict
The Raiders will not invest a high draft pick in a QB who will require coaching and will be a multi-year project. The team is already has too much invested in first overall pick JaMarcus Russell.
Plus there's no crying in football, or in Silver and Black.
Brandon Graham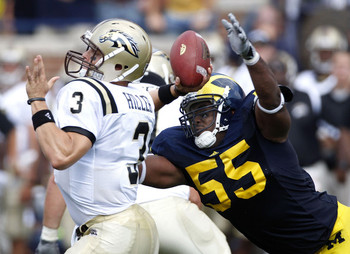 Mel Kiper had Brandon Graham going to the Raiders in one of his early mocks.
At 6'2", 263, Graham is not only athletic but also arguably the most versatile defender in the draft.
Though he is projected as an edge rusher as a 4-3 DE or a 3-4 OLB, in college he has seen action at ILB, OLB, DE, and even DT (in obvious passing situations).
The man dominated in the Senior Bowl and was named MVP. He had two sacks: one beating Ciron Black with the bull rush and the other beating Selvish Capers around the edge with pure speed. He also had five tackles, one for a loss, and a forced fumble.
He plays bigger than he is in the run game and is able to get to the QB with his speed and power, as well as a vast variety of moves. Out of all DE-OLB prospects, he may very well have the best technique and be the most polished.
In the Combine he did nothing but impress. He showed off his athleticism in every event, including a 4.71 40-yard dash and 31 reps in the bench press.
But despite his tremendous ability and success, his critics have alot to say—mainly about his size. At only 6'2", some say he is too small to be a 4-3 DE or 3-4 OLB.
Also, many suspect he has reached his peak. Because of his frame he has little room to gain mass, and because of his already great technique he has already hit his full potential in that area.
They also say he just doesn't have the experience to to play linebacker effectively in the NFL.
Verdict
Graham likely already has a chip on his shoulder from the criticism he's received. If the Raiders reached for him, that chip would only get bigger.
Though he is among the draft's most polished defenders, the Raiders should not draft him eighth overall, as D-end isn't their biggest need.
Terrence Cody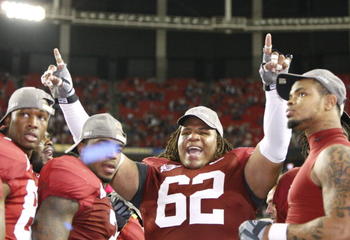 At 6'6", 370 pounds, Terrence Cody (AKA Mount Cody) is an absolute beast of a man. During his time in Alabama he faced constant double teams and was able to open up lanes for the linebackers behind him.
He has huge hands, huge legs, huge arms, huge everything...and he also has great technique. Despite his massive size he has a very quick first step and is able to use leverage to his advantage in the run game to shed defenders.
Terrence Cody is often compared to Ted Washington.
But on the down side, he has a lot of negatives.
His weight is a huge concern, and teams would like to see him around 350. He often gets winded and at Alabama was only able to play in 43 percent of the snaps.
He is also often accused of not going 100 percent and taking plays off, so there are a lot of work ethic concerns.
Verdict
The Raiders may simply draft this guy based on his massive dimensions. Like DHB last year, they may be drafting the right position but may very well draft the wrong player.
Derrick Morgan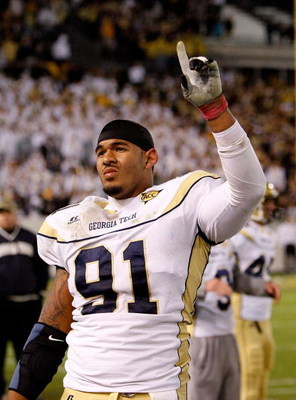 At 6'4", 274 pounds, Derrick Morgan is nearly the ideal physical specimen to play D-end in the 4-3.
Early in the offseason a lot of the "experts" had the Raiders taking him with the eighth overall pick because he was expected to amaze at the Combine.
He did well in the events he chose to participate in, including a 4.72 40-yard dash, but sat out of many of the events, choosing not to participate in the bench press.
In 2008 Morgan had a breakout season, but he was also part of one of the most dominant D-lines around. In 2009 his numbers dipped as teams began to focus on him.
He is a very polished D-end with a great set of moves and may be this year's most balanced D-end against the pass and run.
On the downside, he lacks versatility. Though he is a good DE, that's all he is good at. He is expected to only be able to play DE in a 4-3, so all teams running a 3-4 will be disinterested.
Verdict
The Raiders will not draft him in the first round. With his stock dropping because of his inability to play in the 3-4, he may very well be there when the Raiders pick in the second.
Mike Iupati
Mike Iupati is quite possibly the most versatile offensive lineman in this year's draft. Though he has played tackle in college, it is unlikely teams will look for him to play the position in the NFL.
He has great pre-snap awareness and is great at getting to the second level. Despite his size—6'6", 330 pounds—he is very athletic and moves very well pulling or working on the second level.
He is very strong in the running game but sometimes loses leverage because of his height.
If he is drafted to play tackle, he may be a project and won't be able to start day one. If he is drafted as a guard, then he has NFL-ready strength and ability.
Verdict
The Raiders will not draft him to develop at tackle, as they need someone who can contribute now. It is also unlikely they will draft a guard so early in the draft.
The only way Iupati becomes a Raider is if they find a viable option to play RT or he falls to the second round.
But hey, with that hair he would look good next to Samson Satele.
Rolando McClain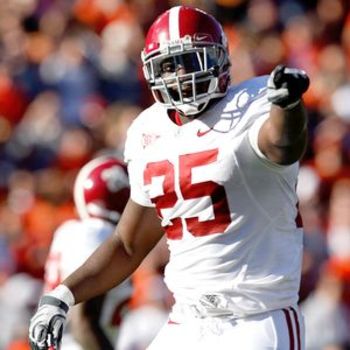 At 6'3", 254, this guy is exactly what you would want in a linebacker. He is very explosive and has the strength to take on O-linemen at the point of attack or lay the wood on running backs like no other player in this draft.
He is considered among the most intelligent and instinctive defenders in this year's draft. He is also often considered a field general, playing at Alabama he was like a defensive coordinator on the field.
He excels in run support and is very good covering the underneath in zone coverage schemes.
Unfortunately, by many accounts he is somewhat limited in man coverage and may be a liability in that phase of the game. Man coverage is all the Raiders run.
According to scouts, he also lacks versatility, which may be a huge turnoff for many teams.
He also sat out most of the Combine's events, and there are concerns regarding his speed. Furthermore, some have doubts if he can succeed in a defense without a dominant D-line like he had in Alabama.
Verdict
The Raiders have never paid ILBs very well, and being picked eighth overall means a big payday. McClain's speed and struggles in man coverage will be the two huge red flags that prevent him from wearing silver and black.
Keep Reading

Oakland Raiders: Like this team?