NFL Combine 2010 Results: Iowa Hawkeyes Report Card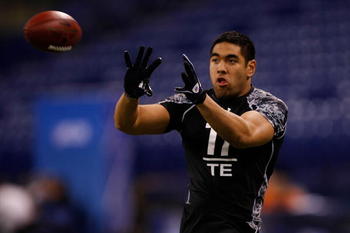 The NFL Scouting Combine is a week-long showcase in Indianapolis where college football players perform physical and mental tests in front of coaches and scouts.
Surprising no one in the Big Ten, five Iowa Hawkeye seniors and two juniors were invited to the 2010 NFL Combine. That is the most players of any Big Ten team, and close to tops in college football.
Also surprising no one, most of the Hawkeyes performed well during Combine weekend.
Tony Moeaki: A+
Height: 6'3"
Weight: 245
Arm Reach: 33.25"
40-yard: 4.69
Bench: 18 reps
Moeaki was one of the best tight ends participating in the Combine. His blocking and ability to run pass routes had a lot of teams talking about him. According to his agent, Jack Bechta, several scouts were gushing over the Iowa tight end.
"Had many scouts text me after the TE workouts that client Iowa's Tony Moeaki will move up their board," Bechta tweeted.
According to Jag Nation, Moeaki has spoken to several teams at the Combine including the Jaguars, Ravens, Texans, and Vikings.
Bryan Bulaga: A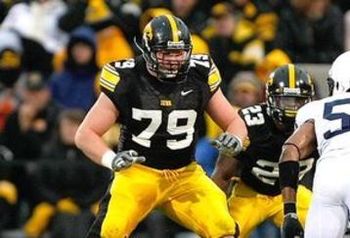 Height: 6'5.375"
Weight: 314
Arm Reach: 33.25"
40-yard: 5.26
Bench: 26 reps
Bulaga is now easily a top 10 draft pick. He didn't put up impressive numbers during the bench press, but his technique and agility were definitely superior to other linemen. Some consider him the No. 2 offensive lineman in the draft now.
NFL.com's Pat Kirwan has Bulaga at No. 5 in his latest mock draft, due in part to the Scott Pioli/Kirk Ferentz bromance,"Chiefs GM Scott Pioli wants high character guys, and Bulaga fits the bill."
Amari Spievey: A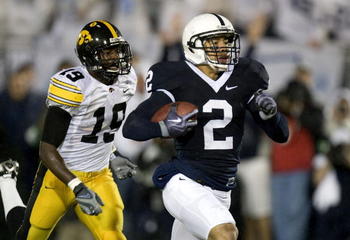 Height: 5'11"
Weight: 195
Arm Reach: 32"
40-yard: 4.47
Bench: -
Among Iowa's top performers at the combine was cornerback Amari Spievey, who now has a lot of people talking about him. His 40-yard dash time showed his speed, and he displayed his athleticism in the skill drills.
According to a league source of the National Football Post, several teams are interested in Spievey. The Atlanta Falcons were one of the teams most impressed and consider him to be a first-round talent.
Spievey did 15 formal interviews including the Falcons, Raiders, Bears, Vikings, and the Buccaneers.
"This Spievey kid from Iowa, another second-round type of kid that could be a top-round-level corner," says NFL Network's Mike Maylock.
Pat Angerer: A-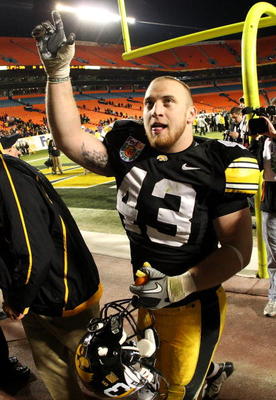 Height: 6'0"
Weight: 235
Arm Reach: 30.5"
40-yard: 4.69
Bench: 26 reps
Anger showed he isn't as stiff as people thought he was. He ran an excellent 40-yard dash time among the top linebacker performers.
He also benches as much as fellow Hawkeye Bulaga.
He is likely a late third-round to early fourth-round pick.
A.J. Edds: B+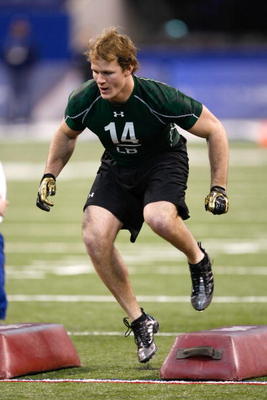 Height: 6'4"
Weight: 246
Arm Reach: 32.75"
40-yard: 4.71
Bench: 16 reps
Edds' bench press wasn't the greatest, but he turned in the 10th best 40-yard dash time among linebackers (4.71). He did well in other drills too.
He was a three-year starter at Iowa who finished with 226 tackles, which shows teams he has experience and durability. His agent, Jack Bechta, who also represents Moeaki, tweeted that he performed better than scouts thought he would.
Kyle Calloway: B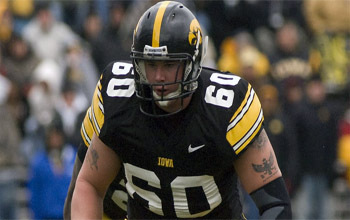 Height: 6'6"
Weight: 323
Arm Reach: 33.25"
40-yard: 5.51
Bench: -
Not much post-Combine news on Calloway, which could either be a good thing or a bad thing. He ran a slow 40-yard dash, but it isn't that crucial for a lineman.
This is an OL favorable draft, and he did put up respectable numbers, so he is likely to still be a third or a fourth-round pick.
Dace Richardson: D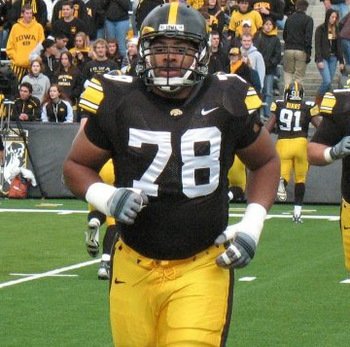 Height: 6'5"
Weight: 320
Arm Reach: 33.5"
40-yard: 5.78
Bench: 19 reps
Richardson was considered a possible sleeper, but he came in sluggish and didn't impress anyone with his bench press performance or drills. His 40-yard dash was slower than most too.
At this point, Richardson isn't likely to be drafted, but he could get picked up in the free agent route.
"After running poorly and failing to distinguish himself in other drills Saturday, he will not get drafted," says Russ Lande of Sporting News.
Keep Reading

Iowa Hawkeyes Football: Like this team?